Every item on this page was chosen by The Fed & Fit team. The site may earn a commission on some products (read more here).
90 seconds and 2 ingredients are all you need to make these super creamy, hearty microwave oats that will jumpstart your energy for the day and leave you satisfied.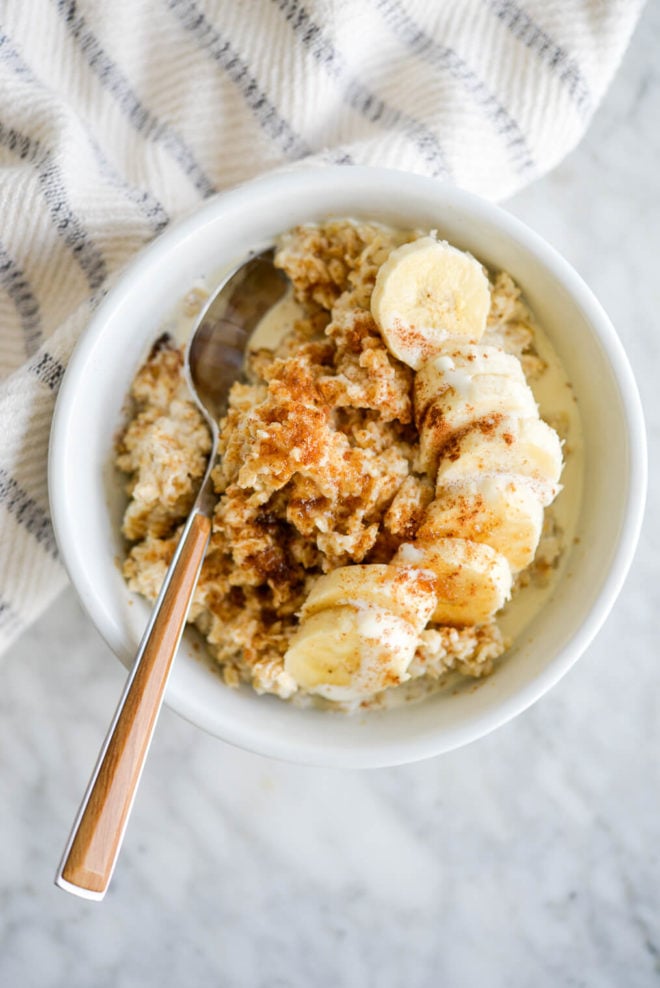 Microwave Oatmeal Recipe
Microwave oatmeal is the quickest and easiest way to start your day with a healthy dose of energizing carbs, especially if you're in a time pinch. This recipe calls for quick-cooking, old-fashioned oats that make for the creamiest texture and create the perfect blank canvas for whatever your taste buds desire (think all the yummy toppings and add-ins!).
Microwave Oatmeal Ingredients
The ingredients could not be more simple and the serving size can be easily adjusted using a 1:1 oatmeal to liquid ratio. Here's what you'll need:
Quick-Cooking Oats – to make your oats, you'll need 1 cup of quick-cooking rolled oats. They will give you the creamiest texture.
Milk – 1 cup of milk helps cook the oats to perfection.
Salt – salt doesn't count as an additional ingredient, right? A pinch of salt adds just enough seasoning for your oats.
Ingredient Modifications
This recipe is a blank canvas for however you want to enjoy your oats. Here are some ideas of how you can flavor things up:
Add spices – a dash of cinnamon, nutmeg, or ground cloves give a warming flavor to the oats.
Make it sweet – before cooking, add a drizzle of honey, maple syrup, or a sprinkle of coconut sugar or brown sugar to your oats for a slightly sweeter oat.
Make it dairy-free – sub the milk for water or a dairy-free milk of choice .
Microwave Oatmeal Toppings
The sky's the limit for toppings! Customize your microwave oatmeal to your taste buds' desire! Here are some ideas:
Peanut butter, banana, and chocolate chips
Granola, strawberries, and yogurt
Maple syrup, blueberries, and lemon zest
Shredded carrots, coconut flakes, and raisins
Molasses, cinnamon, ginger, and granola
Heavy cream, apples, cinnamon, and honey
Peanut butter, jelly, and crushed peanuts
Maple syrup, brown sugar, and yogurt
More of our Favorite
Quick Breakfast Ideas
Supplies Needed to Make this Recipe
How to Microwave Oatmeal
As promised, this process is SO quick and simple. Here's how you'll make your microwave oatmeal:
Combine oats and water – in a deep, microwave safe dish, add your oats, water, salt, and additional seasoning (if desired).
Microwave – place the dish in the microwave and heat for 90 seconds.
Stir – stir your oatmeal to combine. Top if desired.
Serve and enjoy!
Just for You
Breakfast Recipes
Want more recipes like this?
Microwave Oatmeal Frequently Asked Questions
Q
Can I microwave oatmeal?
A
Yes! You can absolutely microwave oats to cook them. A microwave is a great option when you're looking for a fast hearty and healthy breakfast.
Q
Is cooking oatmeal in the microwave healthy?
A
Absolutely! There are so many health benefits to oatmeal. It provides antioxidants, supports digestion, is rich in soluble fiber, and can help lower blood sugar levels. A microwave is a great option for accessing these benefits when you're short on time.
Q
Do you cover oatmeal when cooking in microwave?
A
No, you do not have to cover your oatmeal when cooking in the microwave. 
Q
How Long to Microwave Oatmeal
A
This will depend on the type of oats you use as well as the strength of your microwave, but I found that  90 seconds was the perfect time for quick-cooking rolled oats.
Q
How do you know when you've finished cooking oatmeal in microwave?
A
Your oatmeal should be plump and creamy in texture. 
Q
How to Microwave Oatmeal without it exploding?
A
Exploding happens when the liquid boils too rapidly and doesn't have enough space to go. If your oatmeal is exploding, you can try to reduce the power (to 70%-80%) and increase the cooking time (to about 2 minutes) so your liquid doesn't boil so rapidly. 
Q
How do you keep oatmeal from boiling over in the microwave?
A
Make sure that you combine your oats and water in a deep, microwave-safe dish or a larger, wider bowl. This helps ensure the oatmeal and liquid have plenty of space to bubble and expand.
Q
What is the film on top of oatmeal?
A
The thin film that sometimes forms on the top of oatmeal is harmless and most likely is from the starch in the oats. It usually forms when the oats have cooled and the top of the oatmeal has dried out some. Rest assured, your oats are not ruined. Just give them a good stir to recombine.
A
If the consistency of your oatmeal feels too dry, you can always add a splash or water or milk and mix it in to add some additional moisture.
Q
Is oatmeal gluten free?
A
Oats themselves do not contain gluten, but often are processed on machinery that also processes wheat and other gluten-containing products. Certified gluten free oats are processed in gluten-free facilities.
Ingredients
1

cup

quick-cooking rolled oats

1

cup

milk

1

pinch

salt
Instructions
In a deep, microwave safe dish, add your oats, milk, salt, and additional seasoning or add-ins (if desired).

Place the dish in the microwave and cook on high for 90 seconds.

Remove and stir your oatmeal to combine.
Nutrition Information
Nutrition Facts
How to Cook Oatmeal in the Microwave
Amount per Serving
% Daily Value*
* Percent Daily Values are based on a 2000 calorie diet.
Recipe Notes
Easily adjust the serving size of this recipe using a 1:1 oat to liquid ratio.
Topping Ideas:
Peanut butter, banana, and chocolate chips
Granola, strawberries, and yogurt
Maple syrup, blueberries, and lemon zest
Shredded carrots, coconut flakes, and raisins
Molasses, cinnamon, ginger, and granola
Heavy cream, apples, cinnamon, and honey
Peanut butter, jelly, and crushed peanuts
Maple syrup, brown sugar, and yogurt