Old-Fashioned Chocolate Cream Pie
jump to recipe
With a no-bake gluten-free graham cracker crust, old-fashioned chocolate mousse, and honey-sweetened real whipped cream, this 7-ingredient Old-Fashioned Chocolate Cream Pie is one of the most delicious desserts to ever come out of my kitchen.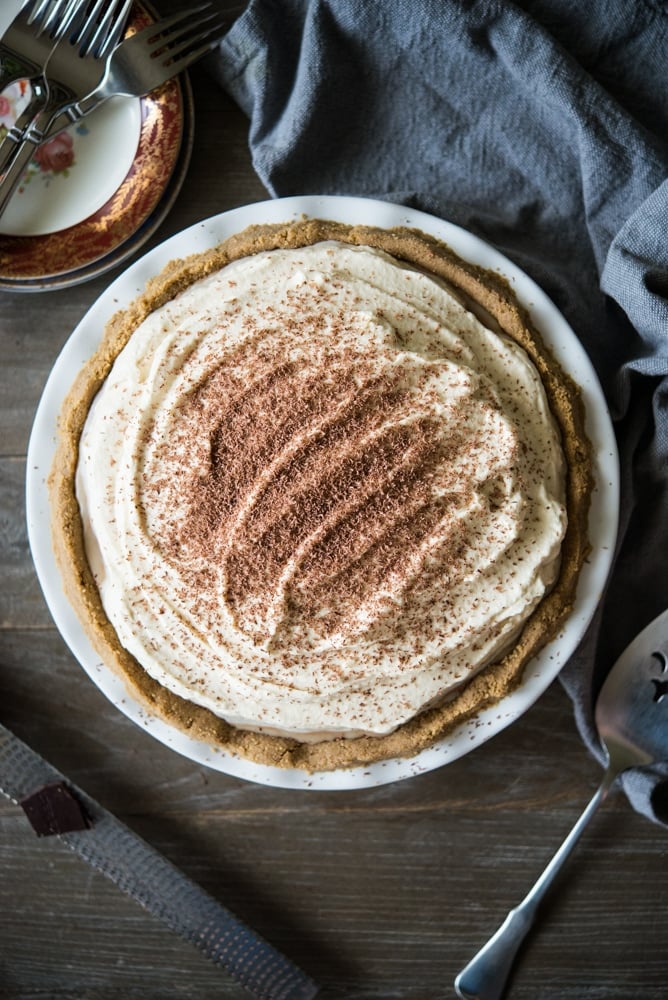 Confession time …y'all, I had no intention of sharing this recipe here UNTIL hundreds of you pleaded for it on social media. I had no intention of sharing it because it's a little "outside-the-scope" of the recipes I usually publish on Fed & Fit! While I DO enjoy the occasional high-quality sweet treat, fun cocktail, and even gluten-free pizza, I try to hold myself accountable to keeping Fed & Fit published recipes as healthy as possible. THAT being said, all things evolve! When I started this blog back in 2011, I posted not-perfect Paleo recipes ALL the time. Check out this OLD recipe for "Pineapple Cilantro Goat Cheese Appetizer" for an example of not-Paleo perfect (goat cheese) and REALLY bad photography (I've learned a lot in the last few years about taking food photos).
My personal dietary direction (also referred to as my PYP, or "Perfect You Plan," as outlined in my 'Fed & Fit' book) calls for my pursuing the foods that make me feel GREAT the majority of the time. The minority of the time, I find myself with the occasional dairy/gluten-free treat and glass (or two) of wine. It's *MY* personal brand of balance, one that is now natural and intuitive. I don't calculate my treats just like I don't calculate my healthy breakfasts. Because I put in the work with a extended version of my Fed & Fit Project years ago, I am now able to effortlessly and guiltlessly enjoy a relaxed balance between indulgent treats and healing foods. Though I lost 10 dress sizes at the beginning of my journey, this natural balance that I've struck has kept my weight and pant size EXACTLY the same for the last 5 years. No fluctuation, no guilt, no restrictive eating …the old me would have thought that this state was pie-in-the-sky and utterly impossible. The new, proven, practiced, confident me knows that anything is possible with dedication to mindset and the rest of the 4 Pillars of Health (Re: 'Fed & Fit' book).
NOW, let's talk pie. I have been making this pie for a few years and it ALWAYS goes over extremely well. It calls for REAL dairy; though, you could absolutely substitute with the whipped coconut cream from my Holiday Feast eBook if dairy is problematic for you.
[Note: before healing my gut, dairy used to bother me a LOT more than it does now; now, I can get by with the occasional dairy-filled treat with little-to-no issue. This is NOT the case for everyone, though! Knowing your personal spread of in-scope vs. out-of-scope foods (as discussed in the 'Fed & Fit' book and Project Online is crucial to knowing which treats are worth indulging in.]
The crust is *not* Paleo, but gluten-free. Following in the method footsteps of my grandmother and then mother, I grab a couple boxes of my favorite graham crackers, pulverize in a food processor, and then add a BUNCH of butter. Spreading the graham cracker crust out into a pie pan and then storing it in the refrigerator to chill signals the time to start preparing the other ingredients! We get busy making an old-fashioned chocolate mousse; one that's complete with whipped egg whites, rich egg yolks, and a generous amount of honey-sweetened whipped cream. The top layer of the pie is, as you suspected, a big dollop of that real whipped cream. After garnishing with a generous sprinkling of chocolate shavings, the pie needs a few hours in the refrigerator to chill and set to perfection.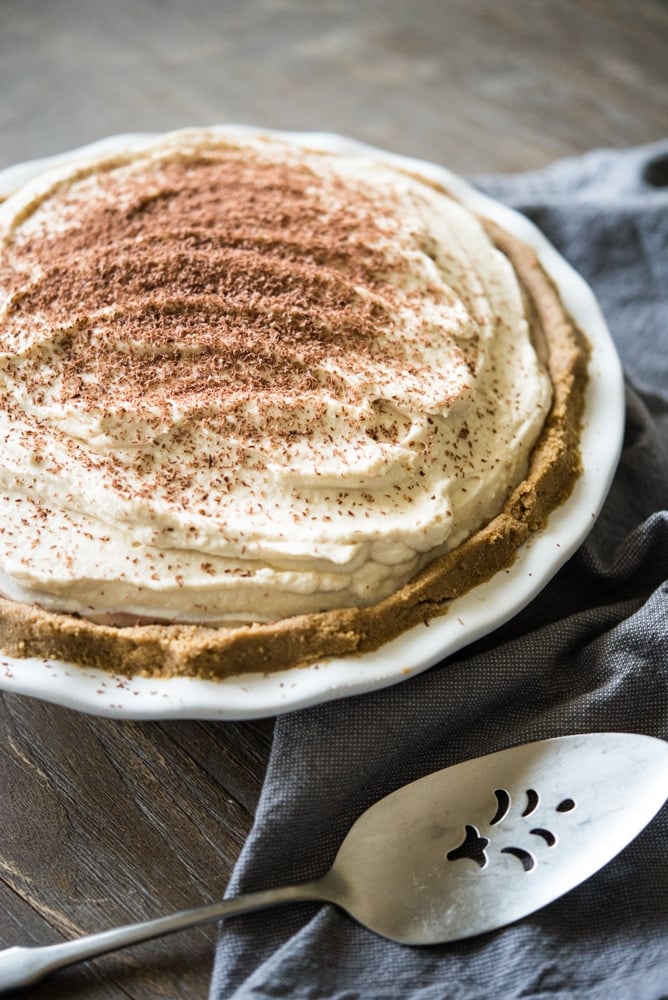 It is DELICIOUS. Truly. Gluten-free nor not, this is the best chocolate cream pie I've ever tasted. As it's my Mom's favorite dessert, I usually make it once a year for her birthday and then again around Easter. I hope you enjoy it as much as we do! While I may continue to branch out by providing the occasional gluten-free treat recipe here on the blog, I *will* continue to keep the majority of my recipes squeaky-clean. I do that BECAUSE I want to support YOU. When getting started on a healthy, balanced lifestyle, I understand that it can be difficult to tune into how to heal YOUR body when you're constantly seeing treat recipes.
If you'd like to learn more about the Fed & Fit Project, click HERE for information! As soon as the waiting period is over, we'll send registration information out to everyone who submitted their email.
If you'd like to pursue a self-guided Project, I recommend snagging a copy of my debut printed book, 'Fed & Fit!' It's available online HERE and in stores nationwide.
Happy cooking and balancing!
written and cooked (as always) with love,
Cassy Joy
Print
Old-Fashioned Chocolate Cream Pie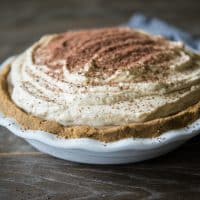 Author:
Prep Time:

2 hours 25 minutes

Cook Time:

5 minutes

Total Time:

2 hours 30 minutes

Yield:

10 servings
Ingredients
Graham Cracker Crust:
2

boxes (about 16 ounces) gluten-free graham crackers (THIS is my favorite brand)

1 1/2

sticks grass-fed butter (

12 tablespoons

), softened and cut into 1/2-inch chunks
Honey-Sweetened Whipped Cream:
1 quart

(or

2 pints

) heavy whipping cream (grass-fed is ideal), chilled

2/3 cup

honey (local is ideal)

1 teaspoon

vanilla extract Chocolate Mousse:
1 cup

chocolate chips

3

eggs at room temperature, eggs and whites separated

1

square dark chocolate, for garnish
Instructions
For the graham cracker crust, place the two boxes-worth of graham crackers into a food processor and pulverize until you have a fine powder (no chunks). Adding 4 tablespoons-worth of softened butter pieces at a time, pulse the food processor with the butter. Continue for the rest of the butter, until the graham cracker crust comes together in a flaky, slightly-crumbly dough. Spoon the dough into a pie pan. Working the dough along the bottom of the pan and up along the sides, form an even 1/4-inch-thick crust with your hands. If pieces of the crust feel too crumbly, remix until it holds together.
For the honey-sweetened whipped cream, add all the ingredients into a large mixing bowl. Using either a stand mixer or hand mixer, whip the ingredients together until stiff peaks form. This may take about 5 minutes. Set aside in the refrigerator to chill while you prepare the mousse.
For the chocolate mousse, melt the chocolate chips in a double boiler over simmering water. Stir continuously until it's completely melted then set aside off the heat. Place the egg whites in a medium-sized bowl and whip with a mixer until they form stiff peaks. Once the chocolate is cooled so that you can touch it, stir in the three egg yolks. Note that if the eggs are not at room-temperature, the chocolate may seize up – this is OKAY. Don't sweat it, the chocolate will still melt into the rest of the ingredients. Next, fold the whipped egg whites into the chocolate until well-incorporated. Next, spoon in about 1/4th of the whipped cream and fold into the chocolate mixture. Then, fold in another 1/4th of the whipped cream. Pour this now lightened and evenly combined chocolate mousse into the chilled pie crust. Place the chocolate mousse-filled crust in the refrigerator for about 1 hour, or until the mousse starts to set.
To assemble, spoon the remaining half of the whipped cream over the chocolate mousse, sprinkle the top with the shaved chocolate (using a microplane or hand grater), and chill for an additional hour before serving. Serve chilled and with an extra sprinkle of shaved chocolate if desired!