Homemade Gluten-Free Pie Crust – Two Ways
jump to recipe
Today we're bringing you our ultimate guide to gluten-free pie crust! We'll walk you through step-by-step instructions for a grain-free, Paleo version and a gluten-free, egg-free, nut-free version as well so you can enjoy, tender, flaky pie crust no matter your dietary restrictions.
It is officially pie season, we have pretty much made it our mission in life to create the perfect pie crust for all of your holiday baking needs. We have a beautiful, golden, tender and flaky, paleo-ish crust (we use cold grass-fed butter because we are definitely team butter), and we also have perfected an egg-free and nut-free version (with dairy-free substitution options) that is just as delicious.
We have been blown away by your response to our DIY Egg-Free Breakfast guide, and prior to getting creative with recipes minus eggs, we never realized how many of our readers NEED this accommodation to feel their best. Based on our own experience (see Cassy's Everlywell results here), and your feedback, we've found that this is such a common food sensitivity that can make navigating the holidays really challenging for some people. Here at Fed + Fit, when we see a need we try to present a solution, and we are so proud of our homemade gluten-free pie crust options that will essentially make it possible for so many people to indulge in their favorite baked goods this holiday season!
Crafting the perfect pie crust is a science y'all. More often than not, a true rich and rustic pie crust recipe is one that has been passed down for generations as a family secret. There are tons of "tips" to get the ideal crust too! Anywhere from the temp of your butter, how to cut it in to the flour, how long to refrigerate it for, or what type of water to use, depending on who you ask you'll get a different "swear by" recipe. Not to mention most of those tips are for creating a pie crust that uses gluten as an essential ingredient to create the right texture and look.  So you can imagine that developing our original homemade gluten-free pie crust was a challenge that was gladly accepted, and NAILED after about 11 tries (we are very determined)!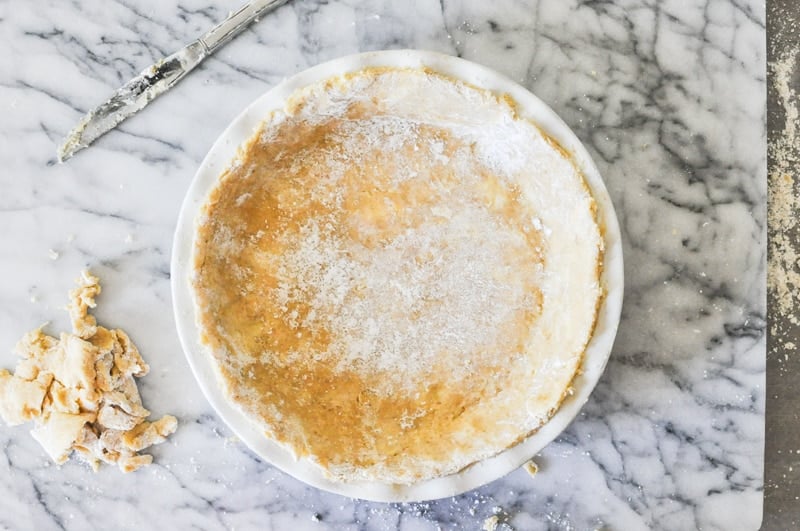 Version A, or our original pie crust, is gluten-free of course, but uses a precise blend of paleo-friendly flours like almond, coconut, and arrowroot to get the right dough-like consistency for crust. It also uses egg as a binding agent to hold everything together for baking purposes. This version is made in a traditional way (originally in our Healthier Dutch Apple Pie) so we've outlined the steps for you below in visual form to really help guide you to get that elusive buttery and flaky texture. For many, this pie crust will be exactly what they need, cutting gluten out as the usual suspect for digestive upset. For others, even grain free pie crusts can be problematic for two reasons: eggs and nuts. Most paleo-friendly baked goods lean heavily on nut-based flours that can be tricky in large quantities (i.e. holiday feasts) for some people.
Enter Version B. The golden child for those of us that really need egg-free, nut-free and potentially dairy-free options to feel our best. This crust is made using a gluten-free flour baking blend, grass-fed butter, and a few other simple ingredients to get the exact texture you need for a crust that holds up! If you're in need of a dairy-free crust, we recommend using coconut oil (not melted), cold ghee, or even lard to create a similar crust. Ours was tested using a hand method to cut the butter/flour, making it really easy to create with minimal steps (always a bonus!).
We hope that these two homemade gluten-free pie crust options really alleviate the stress of having to navigate tricky holiday gatherings with food sensitivities! Both of these versions are great options for your next potluck or family feast, and we can't wait to hear what you create with them. Be on the lookout for a brand-new recipe coming your way soon that uses Version B for an egg-free dessert option this holiday season!
Print
Homemade Gluten-Free Pie Crust – Two Ways
The perfect buttery and flaky pie crust for all your baking needs!  We've got you covered with a paleo/primal version using real, grass-fed butter AND an egg-free / nut-free version complete with optional dairy-free subs!
Author:
Prep Time:

00:35

Total Time:

00:35

Yield:

1 pie crust
Ingredients
Version A: Paleo-friendly/Primal 
Version B: Egg-Free/Nut-Free
Instructions
Version A: Paleo-friendly/Primal 
Place the arrowroot, almond flour, coconut flour, coconut sugar, and sea salt together in a large bowl
Whisk them together until evenly incorporated.
Pull the chilled and cubed butter out of the refrigerator.
Quickly toss the butter in the dry ingredients.
Pour the dry ingredients and butter onto a clean countertop or marble pastry board.
Using your cold rolling pin, start to roll the butter into the dry dough.
Keep rolling and folding more flour over the butter until all the butter is pressed into long, very thin sheets. It will look very crumbly and not well incorporated – this is how you want it.
Gather the dough up, place it back in the mixing bowl, and refrigerate for 30 minutes further – this helps keep the butter firm.
Take the dough from the refrigerator and create a small cater in the center. Crack the cold egg into the middle of the dough.
Quickly mix the egg into the dough until it's incorporated, but still shaggy. Place it (plus your rolling pin) back in the refrigerator to chill for an additional 30 minutes.
To roll the dough out, dust a sheet of wax paper with a generous amount of arrowroot flour. Place the dough in the center.
Using the palm of your hand, press the dough into a 2" thick disk and then dust with more flour.
Cover it with an additional sheet of wax paper and then, using your cold rolling pin, roll the dough out into a ¼-inch thick sheet.
If the dough cracks as you roll it out, just pinch the tear together.
And then press down to flatten the mend.
Try to roll it out into a rough circular shape.
To lay the dough in a pie pan, slide a baking sheet under the bottom sheets of wax paper so that the dough is sitting on top.
Having buttered the inside of your pie pan, lay it face-down centered on the dough.
Flip the baking sheet and pie pan over so that the pie pan is right-side up. Pull the baking sheet and wax paper away (slowly) and then guide the dough down into the pan.
Mend any breaks with additional dough and trim the edges to your liking.
Fill and bake according to your pie instructions.
Version B: Egg-Free/Nut Free
In a large bowl, whisk together the flour, coconut sugar, and salt. Once fully incorporated, add the butter and work it into the mixture either with your hands or with a pastry cutter, until it forms a fine crumb.
Add the water in one tablespoon at a time until the dough begins to hold together. When you can pinch the dough between your fingers and it flattens instead of crumbles, you've added enough water.
Form the dough into a ball and place on a piece of plastic wrap, then flatten it into a disk and wrap it with the plastic. Refrigerate for 1 hour (you can leave it up to a day if needed), until the dough is slightly hardened.
Let the dough sit out on the counter top for about 10 minutes so that it becomes pliable and easy to work with again.
Place a large sheet of parchment on your counter top and sprinkle about 2 tablespoons flour on the parchment. Place the dough on top then sprinkle additional flour over top. Begin to roll into a round 1/8th inch thick disk. If the dough starts breaking on you, form the dough back into a ball and add one more tablespoon cold water, then roll out again, making sure it is smooth. If you have any one-off cracks in the dough, simply pinch them back together and apply a touch of water if needed.
Carefully flip the crust into a pie pan, mend any cracks by pinching them together, and trim off any excess crust, then follow the baking instructions included with your pie.
Notes
*For dairy-free: replace the butter with an equal amount of solid coconut oil. The oil will be easiest to work with at a scoopable consistency. If your coconut oil has gone liquid, you can place it in the refrigerator to firm it up before making the crust.