Every item on this page was chosen by The Fed & Fit team. The site may earn a commission on some products (read more here).
I don't think I've ever loved a veggie side dish more than I love this Roasted Asparagus with Lemon Cardamom Sauce. Bold statement, I KNOW, but hear me out.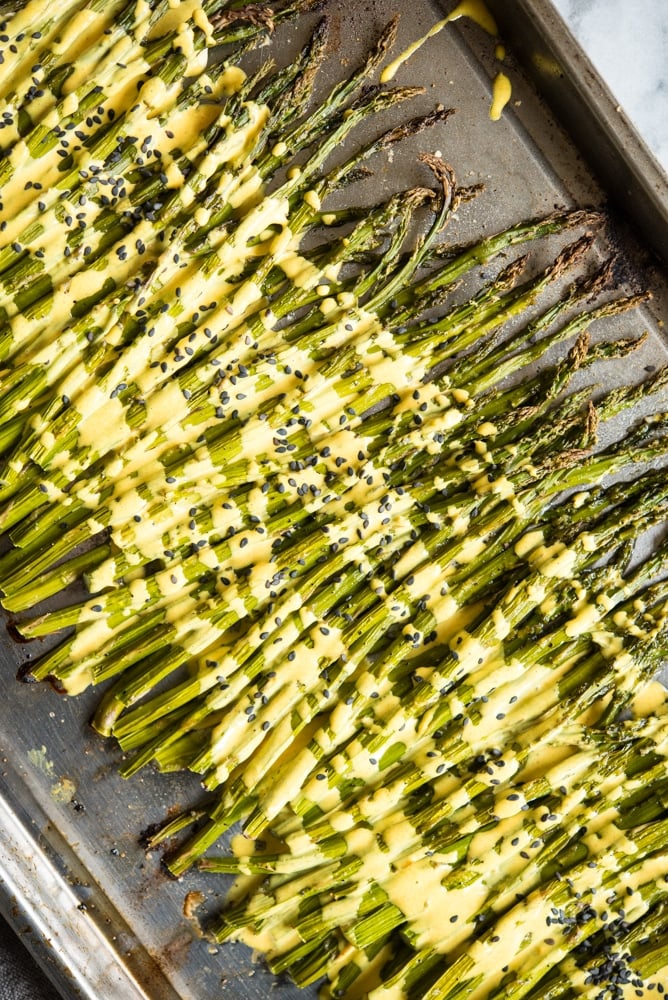 We take what is quite possibly the easiest vegetable in the history of all vegetables to cook, and we jazz it up with a sauce that is so incredible that I can sum it up in one word: HEAVEN. We've got butter for a rich flavor, lemon for a bright, fresh tang, and cardamom for a subtle spice that really makes this dish special!
Asparagus is that one vegetable that I've just continued to fall in love with a little more each time I serve it. I love that its so very versatile in terms of what you can do with it! Saute it with some butter or olive oil for a nice quick side. Blanch it quickly to keep that fresh, crisp snap, or roast it to bring out the deep flavors and crunchy potential. Most of the time we do ours fairly plain, with a little oil and seasoning, but this Roasted Asparagus with Lemon Cardamom Sauce is my new favorite way to go!
Not only is the roasting process so easy and hands-off, but the sauce itself comes together in minutes – MINUTES I tell ya'! It's as simple as taking all of your sauce ingredients (grass-fed butter, mayo, lemon juice, turmeric, and cardamom) and whisking them til they're smooth. The bright yellow hue from the turmeric, plus the contrast of the black sesame seeds make this dish one that looks fancy enough to serve at a dinner party, but easy enough to make for your weeknight dinners. It's the perfect side!
More than likely, you have all the ingredients for this sauce in the fridge and ready to go, you just need to grab yourself some fresh asparagus and make it happen! I love serving this with my Herb Garden Turkey Breast and a little Browned Butter Parsnip Mash for the perfect balanced meal. This Roasted Asparagus with Lemon Cardamom Sauce has now become an all-occasion favorite and I can't wait for you to try it!
Instructions
Preheat the oven to 425 F.

Place asparagus in a single layer on a rimmed sheet pan and toss with the olive oil, salt, and pepper. Cook for 25 minutes, until asparagus is browned.

Add all of the ingredients for the sauce to a small bowl and whisk thoroughly to combine until no lumps remain.*

Pour the sauce over the asparagus, then garnish with black sesame seeds and serve!
Recipe Notes
For a smoother sauce you can blend all ingredients with a blender or by hand with an immersion blender.