These Greek Chicken Salad lunch bowls are colorful, healthy, and loaded with delicious, fresh ingredients!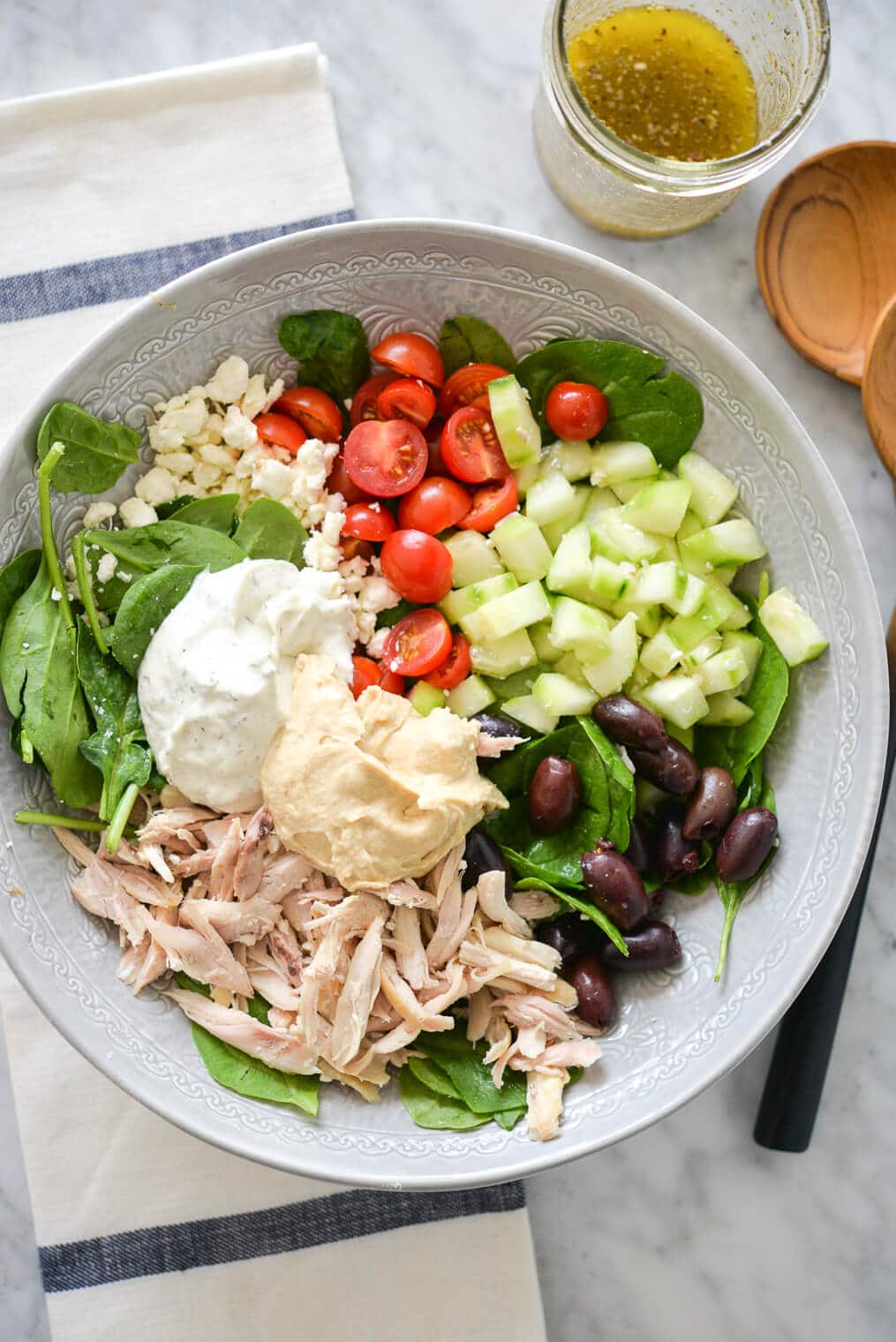 Prepping lunch for the week is an absolute game-changer, y'all! I think everyone can agree that having dinner prepped (thanks, Cook Once, Eat All Week!) is a necessity, and I'm here to say that prepping healthy lunches ahead of time is, too! Especially when the lunches you meal prep are THIS good: Greek Chicken Salad for half of the week and Caprese Orzo Salad for the other half. These two healthy salad dishes were designed to work in tandem with one another – sharing ingredients to lessen food waste and giving you a full week's worth of lunches in the process!
Looking for more Greek-inspired meals? This Greek Chicken and Potatoes dinner is our favorite.
Greek Chicken Salad Ingredients
This salad falls right into the "embarrassingly easy, but TOTALLY delicious" category. You won't need to do any cooking to throw this one together, and all you'll need is a few fresh ingredients for the salads themselves and then a set of flavorful ingredients for the homemade Greek dressing. Know that you can totally buy your favorite store-bought Greek dressing if you'd like, but if you've got a few extra minutes, this homemade dressing is a super easy and delicious option!
For the Bowls
Baby Spinach or Mixed Greens – this will make up the bulk of your salad, so you'll need 6 cups of spinach (or mixed greens) to fill up your bowl!
Rotisserie Chicken – 4 cups of shredded chicken will give your salads a boost of protein! We opted for a rotisserie chicken to keep things super simple, but you can totally use chicken breasts to make your own shredded chicken if you'd like! Leftover chicken from last night's dinner totally works here too!
Hummus – now for the toppings! A cup of hummus (homemade

or store-bought!) adds the perfect creaminess to the salad,…

Tzatziki – …while a cup of tzatziki (homemade

or store-bought!) adds a really yummy tanginess!

Crumbled Feta Cheese – you'll use about 1/2 cup of crumbled feta here too (and if you decide to add just a bit more, we promise not to tell!), as well as…
Kalamata Olives – …2/3 cup of whole, pitted kalamata olives. These add a really delicious briney flavor to the mix.
Cucumber – to finish things off, you'll dice one large cucumber, and…
Cherry Tomatoes – …slice a cup of cherry tomatoes for some added texture, crunch, and veggies!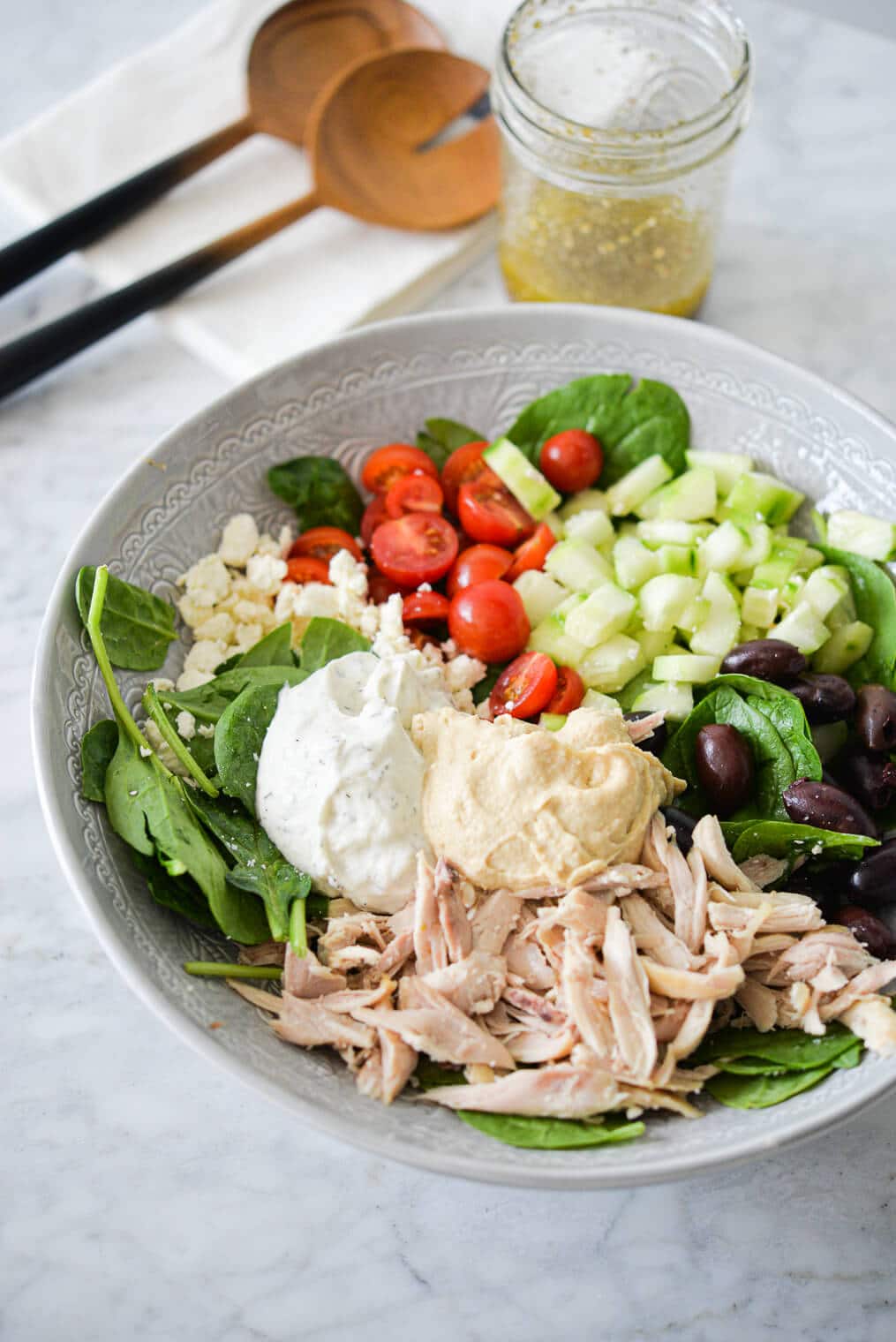 For the Greek Dressing
Lemon Juice – 3 tablespoons of lemon juice will do the trick to brighten our dressing – we always opt for fresh-squeezed citrus, so you'll need to squeeze one lemon to get 2 tablespoons of juice!
Red Wine Vinegar – 3 tablespoons of red wine vinegar adds the perfect acidic punch to our dressing!
Extra-Virgin Olive Oil – ¼ cup plus 2 tablespoons of extra virgin olive oil will do the trick here. Since this dressing is olive oil-based, we recommend going with quality olive oil so that you get a really nice, rich taste! We love this

one.

Dried Basil – 1 1/2 teaspoons of dried basil,…
Dried Oregano – …1 1/2 teaspoons of dried oregano,…
Garlic Powder – …1 teaspoon of garlic powder,…
Sea Salt + Black Pepper – …and a pinch each of salt and pepper will get thrown in the mix for a really delicious Greek flavor!
How to Make Greek Salad Lunch Bowls
It's SO EASY! In fact, even the word "recipe" makes it sound harder than it is. That's the beauty of this lunch series though…almost no *actual* cooking is required, giving you time to spend with your family (and not in the kitchen) while still getting lunches prepped for the week! Here's what you'll need to do:
Make the Greek Dressing – if you're opting for homemade Greek dressing (which we highly recommend!), you'll need to get started on that first. To make the dressing, add all of the dressing ingredients to a mason jar or other small bowl with lid, then place the lid on, and shake for about 15 to 30 seconds until the dressing comes together.
Assemble – you can go one of two routes here: either portion these salads into 5 individual containers

ahead of time (a GREAT on-the-go option), or store this as one big salad and portion out when you're ready to eat (a great option if you're planning to eat lunch at home). Either way, you'll combine all of the salad ingredients, but hold off on the dressing until you're ready to enjoy your meal!
How to Store Prep Ahead Greek Chicken Salad
These salads are best stored in airtight containers (these same-sized containers are perfect) in the fridge. To prevent sogginess, we recommend storing the dressing separately from the salads, and drizzling it over your salad when you're ready to enjoy!
Greek Chicken Salad Lunch Bowls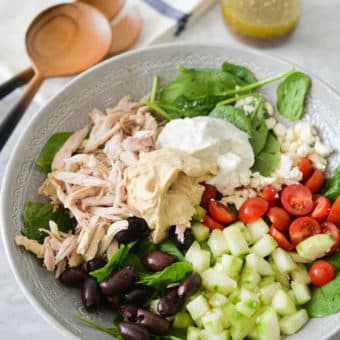 These Greek chicken salad lunch bowls are flavorful, refreshing, and so easy to meal prep for the week ahead!
Ingredients
For the Bowls:
6

cups

baby spinach or mixed greens

4

cups

shredded chicken

either from 1 rotisserie chicken or about 2 pounds cooked boneless, skinless chicken breast

1

cup

hummus

homemade or store-bought

1

cup

tzatziki

homemade or store-bought

1/2

cup

crumbled feta

2/3

cup

kalamata olives

1

large cucumber

diced

1

cup

cherry tomatoes

sliced in half
For the Greek Dressing:
3

tablespoons

lemon juice

about 1 1/2 lemons

2

tablespoons

red wine vinegar

1/2

cup

extra-virgin olive oil

1 1/2

teaspoons

dried basil

1 1/2

teaspoons

dried oregano

1

teaspoon

garlic powder

Pinch

of fine sea salt

1/4

teaspoon

ground black pepper
Instructions
To make the dressing, add all of the ingredients to a mason jar, then place the lid on and shake for about 15 seconds, until fully combined.

Fill 5 lunch containers with mixed greens, then divide the chicken, hummus, tzatziki, feta, olives, cucumber, and tomatoes evenly amongst each. Store in the refrigerator for up to 5 days. Once you are ready to eat, pour over the dressing and enjoy!
Nutrition
Calories:
623
kcal
|
Carbohydrates:
17
g
|
Protein:
44
g
|
Fat:
43
g
|
Saturated Fat:
9
g
|
Polyunsaturated Fat:
5
g
|
Monounsaturated Fat:
22
g
|
Cholesterol:
116
mg
|
Sodium:
992
mg
|
Potassium:
799
mg
|
Fiber:
5
g
|
Sugar:
4
g
|
Vitamin A:
3908
IU
|
Vitamin C:
22
mg
|
Calcium:
247
mg
|
Iron:
5
mg