Non-toxic, inexpensive, and as easy to throw together as it is to use, this homemade wood dusting spray is the ultimate safer cleaner recipe!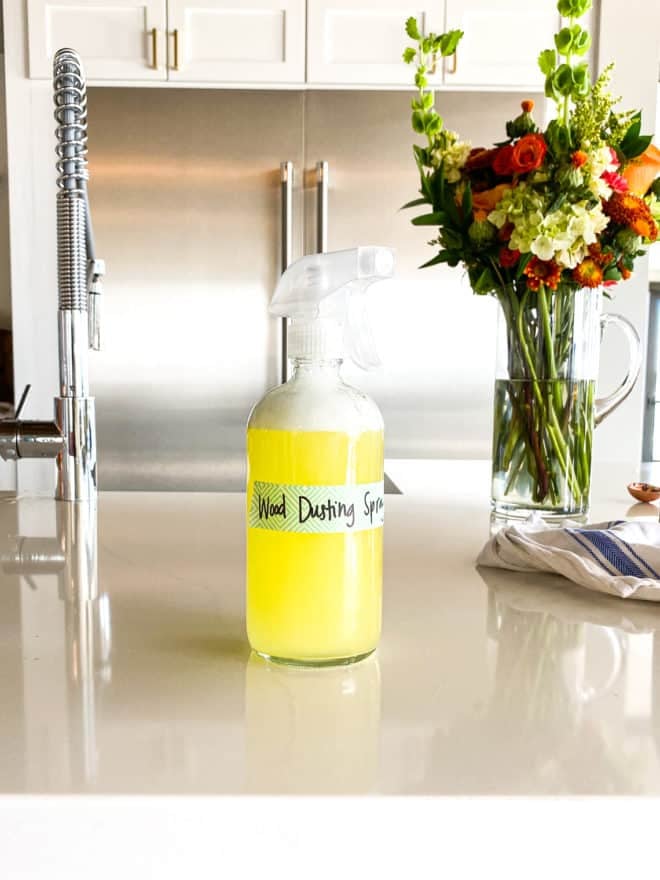 Homemade Natural Wood Dusting Spray
This dusting spray is ideal for any wood surfaces in your home that need a little extra love. Not only does it remove all of the pesky dust, but thanks to the addition of olive oil, it also polishes and protects the wood itself.
Aside from the fact that it's non-toxic, it's also incredibly easy to make, super effective, and budget-friendly.
What is dust?
While dust certainly looks icky and is something most of us try to wipe up on a regular basis (or, for some of those hard-to-get-to spots, just before guests come over!), I do think it's important to touch on what it is. Is it even something we need to be worried about?
The short answer: yes. It's not fun to look at and it's not good for us. The old tale of dust being sloughed-off human skin is true and ALSO, it likely includes decomposing insects, animal fur, clothing fibers, bacteria, pollen, and more concerning components like lead and arsenic. While short-term exposure to dust may not be much of an issue, chronic exposure may lead to the development of asthma, allergies, and an accumulation of toxins in the body.
The bottom line here is that it's definitely something to keep a watchful eye on. If you see dust starting to collect, wiping it off sooner rather than later is a really, really good idea.
Ingredients for Easy Dusting Spray with Essential Oils
Here's everything you'll need in order to get rid of dust safely and effectively:
Water – to start, you'll need 1 ¾ cups of water. Both tap and distilled water work great here.
Branch Basics Concentrate – because dust contains all kinds of yucky stuff, having a cleaning agent like Branch Basics Concentrate in the mix really helps to clean the surface of whatever it is that you're dusting. You'll need a teaspoon of Concentrate here.
Olive Oil – 2 tablespoons of olive oil help to both shine and polish the wood. If you'd like to use fractionated coconut oil instead, go for it!
Essential Oil – while this ingredient is completely optional, it's really nice to add a subtle scent to your dusting spray! You'll need about 20 drops of essential oil here — we used a mixture of lemon and orange, but any combinations you love would be great!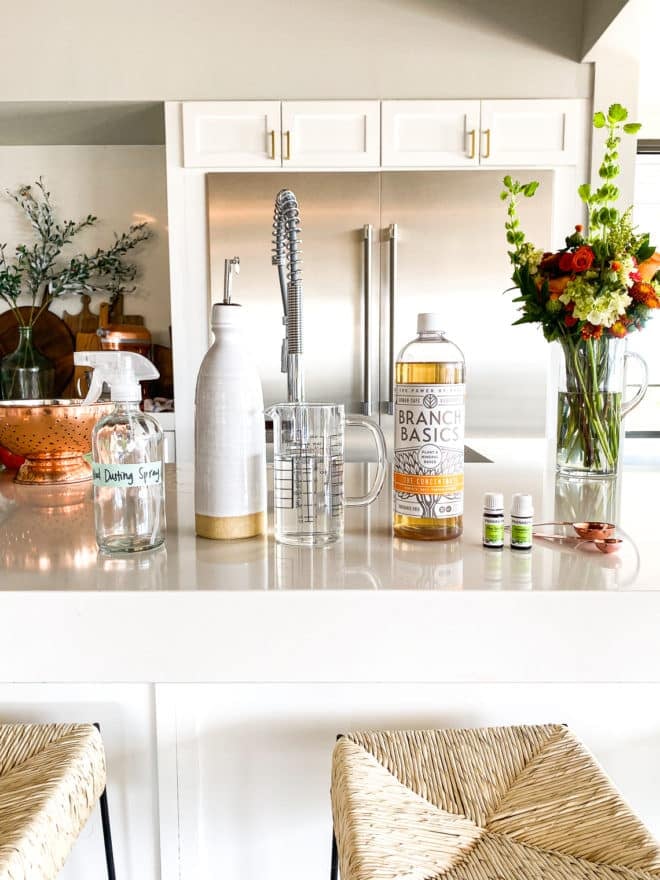 How to Make a DIY Wood Dusting Spray
As with our other safer cleaning recipes, the process is incredibly easy! Simply add all of the ingredients to a spray bottle, screw the lid on, and give it a good shake. Easy peasy.
How to Use this Spray
Now that you've got your bottle of dusting spray ready to go, it's time to get your dusting on! Here's how you'll do it:
Shake – because the dusting spray ingredients will separate in between uses, shake the bottle to re-combine everything before using it.
Spray – give whatever you're dusting a good mist of the dusting spray.
Wipe – use a washcloth (microfiber works GREAT) to wipe down everything that you sprayed.
That's it!
Why should I make my own dusting spray?
The biggest reason to make your own dusting spray (vs. grab a bottle from the store) is because the conventional, store-bought stuff tends to include a bunch of yucky chemicals that, when sprayed and inhaled, are just as bad for you as the dust you're trying to get rid of.
Homemade cleaners also tend to be a lot less expensive than their store-bought counterparts! For this one specifically, there is the upfront cost of a big bottle of Branch Basics Concentrate, but because you only use 1 teaspoon at a time (assuming you're only using it for this homemade dusting spray), it'll last you a really, really long time.
What should I use this dusting spray for?
Use your dusting spray on ANY dusty wooden goods in your home. This includes shelves, furniture, desks, etc.
How to Store Dusting Spray
Store your spray wherever you store your other cleaning supplies. I store mine in a cabinet under the kitchen sink!
If you're interested in cleaning up more of your cleanup (it's easy, budget-friendly, and effective, we promise!), use code FEDANDFIT for 15% off of a Branch Basics Starter Kit.
More Safer Cleaning Recipes
Simple Homemade Wood Dusting Spray
Non-toxic, inexpensive, and as easy to throw together as it is to use, this homemade wood dusting spray is the ultimate safer cleaner recipe!
Instructions
To Make:
Add all of the ingredients to a

spray bottle

. Screw the lid on and shake to combine.
To Use:
Shake the bottle to re-combine all of the ingredients.

Give whatever you're dusting a good mist of the dusting spray.

Use a washcloth to wipe down everything you sprayed!
Recipe Notes
The wood dusting spray will separate between uses, so give it a good shake before using!