Every item on this page was chosen by The Fed & Fit team. The site may earn a commission on some products (read more here).
Made with just two safe, non-toxic ingredients, this homemade bathroom cleaner is the effective, heavy-duty, homemade cleaner of your dreams!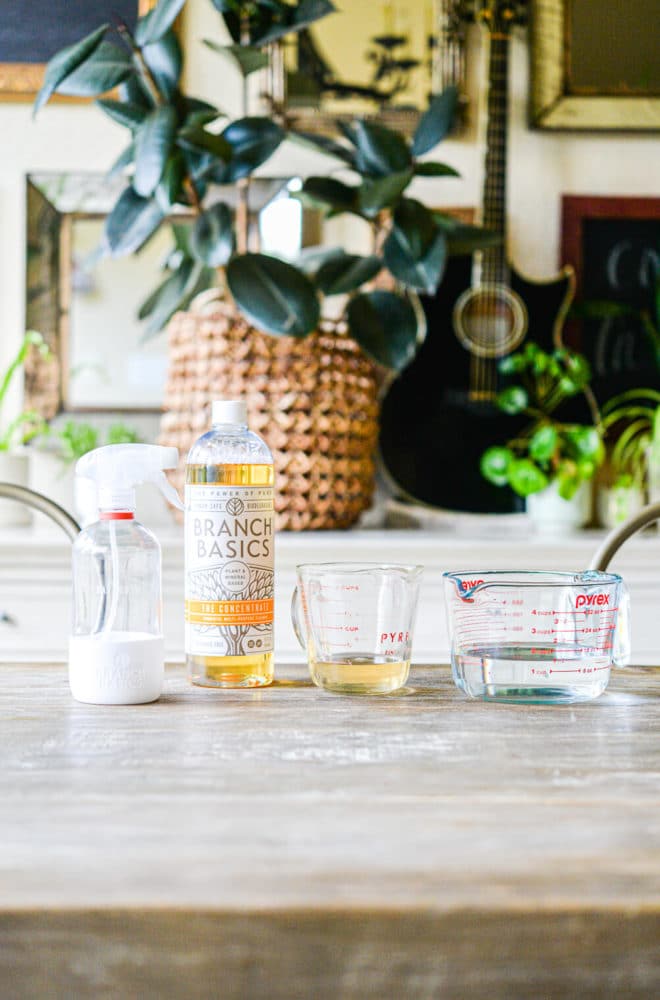 Homemade Bathroom Cleaner Recipe
This bathroom cleaner is ideal for all of your heavy-duty cleaning (bathroom or not). It's made with 2 safe ingredients — water and Branch Basics Concentrate — and, unlike many non-toxic, homemade cleaning options, is completely effective + budget-friendly.
Best DIY Bathroom Cleaner Ingredients
Here's what you'll need to grab in order to make your very own homemade bathroom cleaner:
Branch Basics Concentrate – to start, you'll need a ¼ cup of Branch Basics Concentrate.
Water – to the Concentrate, you'll add 1½ cups of water — both tap and distilled work great here.
How to Make Bathroom Cleaner
The process is super simple: just add both the Concentrate and water to a spray bottle (Amazon and Branch Basics both have great options), put the lid on, and shake to combine.
How long does it take to make homemade bathroom cleaner?
While making your own home cleaner may feel intimidating, this one is anything but — it'll take no longer than 5 minutes and a few quick measurements to put together.
How do you use all natural bathroom cleaner?
This safe bathroom cleaner is used no differently than any other spray cleaner. You'll spray any areas that require heavy-duty cleaning and wipe clean with a washcloth or retired, cut-up t-shirt squares!
When I'm ready to give the bathroom a good scrub, I'll follow the following steps:
Put all the "stuff" away. This is where I'll clean off the countertops, put up all the makeup, fold up any clothes left out, and tidy up any kid toys laying around. A clear surface makes it easier to have a clean surface.
Grab the nearest towel or cleaning rag. If you happen to have any old rectangular cloth diapers laying around, know they make great cleaning rags!
Spray all the surfaces with a generous mist of this bathroom cleaner. I'm talking: sink, fixtures, counter tops, shower surfaces, bathtub, and toilet.
Then, get your cleaning rag damp with (ideally hot) water and wring it out.
Working in the same order of spraying (though I do save the toilet for last), I will wipe each surface down.
If a stain is especially stubborn (think caked-on soap scum) let the cleaner sit a bit longer before you scrub.
If it's the toilet or sin, I will do a quick spray down with fresh water, otherwise, you're done!
Do you have to rinse after cleaning with homemade cleaner?
You don't! Just like a traditional, conventional cleaner, you'll just need to spray and wipe. No extra step of rinsing necessary. Sometimes, like in the bathtub or shower, I do like to do a quick rinse just to make sure any grime makes it down the drain.
Is this homemade bathroom cleaner a disinfectant?
It isn't — disinfectants actually kill bacteria + germs while products like Branch Basics Concentrate remove germs. This is preferential because disinfectants tend to include strong, toxic chemicals AND actually kill any good bacteria with the bad. Branch Basics Concentrate is safer and keeps the good stuff around. For more information on disinfectants vs a soap and water approach, click HERE.
What can I use to disinfect my bathroom?
While this cleaner won't *disinfect* your bathroom, it will remove the germs, dirt, and grime from it. It's incredibly effective, safe for you and your family, and (major perk!) budget-friendly. It checks all of the boxes, and because of that, is our very favorite bathroom cleaner option.
Is vinegar a good bathroom cleaner?
Vinegar is a great cleaning option. I didn't include it here because the quantity and power of the Branch Basics Concentrate alone really gets the job done, but if you're looking to clean something that is ultra-dirty and needs an incredibly strong cleaner, feel free to add a couple of tablespoons of white vinegar to the mix too.
Is it better to use bathroom cleaner with bleach?
I like avoiding bleach because of the chemicals that it contains, and when it comes right down to it, the cleaning power of this homemade bathroom spray is just as effective without the potentially health-hazardous ingredients.
How long will homemade bathroom cleaner last?
That depends on how often you use it! As far as how long the Concentrate will last, once mixed with water, it'll be good for about a year, and completely unmixed (with water or other ingredients), it'll last for up to 2 years.
Can this homemade cleaning solution for bathroom be used to clean anything else?
Absolutely! This bathroom cleaner can be used for *any* heavy-duty cleaning you need to do. If you're looking for a delicate cleaner, this homemade streak-free cleaner is excellent, and if you're looking for a regular, everyday cleaner, this homemade all-purpose is your best bet.
More Safer Home Cleaner Articles

If you're interested in cleaning up more of your cleanup (it's easy, cost effective, and actually works, I promise!), use code FEDANDFIT for 15% off of a Branch Basics Starter Kit.
Ingredients
1/4

cup

Branch Basics Concentrate

1 1/2

cups

water
Instructions
Combine the Concentrate and water in a sprayer bottle and shake to combine.

Spray on heavy-duty messes and wipe clean with a washcloth.