If you're looking for a streak-free, non-toxic window and mirror cleaner that is easy to make and easy on the budget, you're in the right place!
Homemade Window Cleaner Recipe
This homemade window, mirror, and glass cleaner is the best way to get a streak-free clean on these delicate (as in, they show EVERYTHING) surfaces. It's incredibly easy to make, includes just a few really accessible ingredients, is super cost effective, and actually WORKS!
What is the best homemade window cleaning solution?
If we're being honest, we think this one is! Here's why:
It's easy to make – 4 ingredients total (and 1 is optional) go into a spray bottle, then you shake to combine. SO EASY!
The ingredients are accessible – yes, you'll need to buy the Branch Basics Concentrate from their website, but the rest of the ingredients can be found really easily at the grocery store.
It's cost effective – for many, when it comes to transitioning to safer products for our bodies and homes, one of the biggest setbacks is the cost. Clean products can be really expensive! This cleaner, though, is not! The Branch Basics Concentrate itself may seem pricey, but when you really sit down, do the math, and see how much you can get out of 1 bottle of concentrate, it's actually really cost effective.
It works – one of the biggest misconceptions around safe cleaning products is that they don't *actually* work. We've kissed a lot of ugly cleaning product frogs (so we know 'em when we see 'em), but this, my friends, really, truly works.
Homemade Glass Cleaner Recipe Ingredients
You'll just need a few ingredients (don't worry, nothing intimidating or obscure!) to make your own safe, effective window/mirror cleaner:
Branch Basics Concentrate – to start, you'll need 1 drop of Branch Basics Concentrate. This stuff WORKS, y'all, and when you break down the amount of cleaner you can get out of it, it's also really cost effective!
Distilled Vinegar – the acid in the vinegar really helps to clean the germs from surfaces. You'll need 3 tablespoons here.
Water – 1 3/4 cups of water (tap water or distilled, bottled water both work great here) dilutes our window cleaner.
Essential Oil – this ingredient is completely optional, but 5 drops of lemon essential oil gives the window cleaner a light, lovely scented finish!
How to Make Homemade Window Cleaning Solution
While making your own cleaner may seem intimidating, the process is anything but! You'll just need to add all of the above ingredients to a spray bottle (we prefer glass – THESE are great + Branch Basics sells really great ones too!), screw on the lid, and shake to combine. It's that easy!
How do professionals clean glass?
We'd be willing to bet that professional cleaning companies do not use non-toxic cleaners to clean windows (unless you ask them to + supply it for them, which is a great idea!) If you really love hiring a professional company to come out and clean your windows a couple of times a year, though, KEEP DOING IT, and then use this non-toxic cleaner every time you clean the windows! Our mission here is to expose our homes and families to as few toxic chemicals as possible, but that doesn't mean that you have to give everything you do a complete overhaul right away.
What is the best thing to clean windows with?
This non-toxic, Branch Basics Concentrate + vinegar-based window and mirror cleaner works REALLY well. Instead of buying new rags to clean with, we actually like cutting up the material from old t-shirts or towels and using that instead!
How do you make glass sparkle?
The distilled vinegar and Branch Basics Concentrate in this recipe are the key cleaning ingredients, so the two of those combined will leave your windows, mirrors, and other glass surfaces sparkly clean!
What is the best way to clean windows without streaking?
We've formulated this window cleaner to have enough Branch Basics Concentrate + vinegar to clean effectively while not having enough of either to leave streaks on windows or mirrors.
How do you use glass cleaner?
It's easy: simply spray the cleaner onto the window or mirror that you want to clean and then wipe it off using a piece of an old t-shirt or towel, or a cleaning washcloth!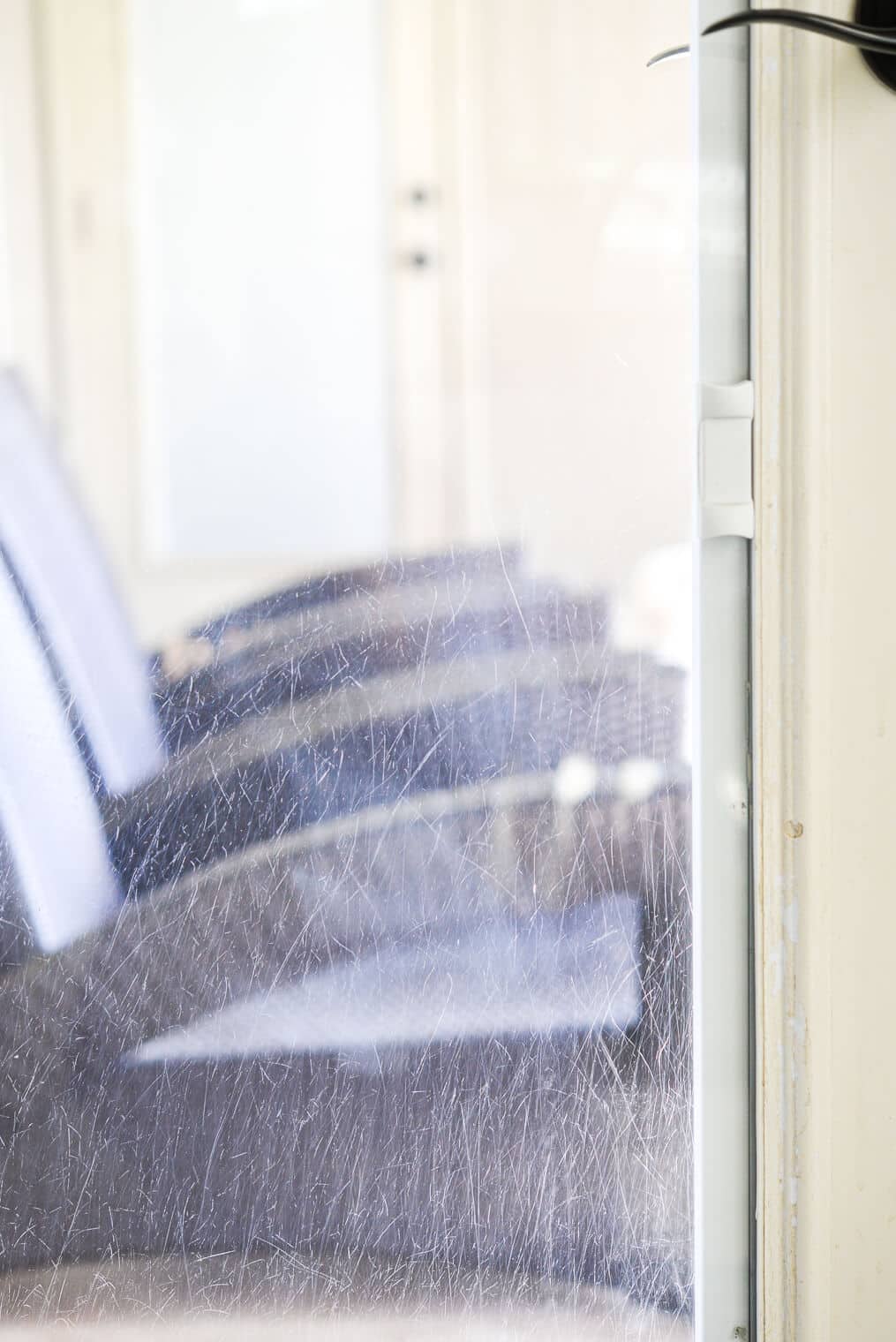 What else can you use glass cleaner on?
Glass cleaner isn't *only* for glass. It's non-streak, so if your countertops tend to streak with regular cleaner, using this formula may be a really great idea. Also, just because it's formulated with windows and mirrors in mind doesn't mean that it can't be used anywhere else that may need a quick clean!
Can the same recipe be used to make homemade outdoor window cleaner?
Sure! Keep in mind that the outside of your windows are likely much grimier than the inside of the windows, so you may just need to use a larger amount of cleaner (and have a few extra rags on hand) to clean the outside of your windows completely!
More Safer Home Cleaner Articles

If you're interested in cleaning up more of your cleanup (it's easy, cost effective, and effective, we promise!), use code FEDANDFIT for 15% off of a Branch Basics Starter Kit.
Best Homemade Glass Cleaner
This streak-free, non-toxic window and mirror cleaner is both easy to make and easy on the budget!
Ingredients
1

drop Branch Basics Concentrate

3

tablespoons

white vinegar

1 3/4

cup

water

5

drops lemon essential oil
Instructions
Add all ingredients to a spray bottle, shake, and use as needed!