I'm showing you the easiest, most efficient way to make two different meals using tuna steaks. Meal 1 is a chili-lime tuna steak dinner served alongside tricolor quinoa, and Meal 2 transforms the planned-for tuna steak leftovers into a really delicious, comforting Tuna Noodle Casserole.
I'm REALLY excited to introduce you to this dinner series concept! In my new book, Cook Once Dinner Fix, I show you how to create a delicious and healthy dinner, then transform it into an entirely different dish on another night. These recipes are designed to help you be as efficient as possible in the kitchen without sacrificing flavor. In this Dinner Fix-style series, I focus on seared tuna steaks as our main ingredient!
Our Two Tuna Steak Dinner Recipes
This seafood dinner series is a perfect balance of both lightness and comfort. If you're unfamiliar with cooking tuna, don't sweat it — I'll walk you through exactly how to cook these steaks so you can feel confident and at ease in your kitchen.
Dinner #1: Chili-Lime Tuna Steak with Tricolor Quinoa
The tuna first marinates in a zesty chili-lime marinade that's my absolute favorite for fish (the combination will knock your socks off!). The steaks then get cooked in butter and paired with fluffy tricolor quinoa. It's delicious, nutritious, and super easy.
Dinner #2: Tuna-Noodle Casserole
For this dinner, we get creative by taking the remaining already-cooked tuna steaks, breaking them up, and using them as the protein anchor for my famous tuna-noodle casserole.
Combined Shopping Lists
Here's everything you'll need to make these two dinners:
Produce
Cilantro, chopped, 2 tablespoons
Garlic, 2 cloves
Mushrooms, button or baby bella, sliced, 4 ounces
Limes, 2
Parsley, chopped, 1 tablespoon
Frozen
Meat
Tuna steaks (1-inch thick), 3 pounds
Dairy/Refrigerated
Butter, salted, 4 tablespoons
Mozzarella cheese, shredded, 1 cup
Whole milk, 1 ⅔ cups
Pantry
All-purpose flour, 2 tablespoons
Chicken broth, ½ cup
Extra-virgin olive oil, 4 tablespoons
Soy sauce, 2 tablespoons *use tamari for gluten-free
Tagliatelle or linguine, dried, 9 ounces
Thai chili sauce, 2 tablespoons
Tricolor quinoa, dried, 1 cup
Seasonings
White sesame seeds, 1 tablespoon
How These Recipes Work Together
While each of these really delicious recipes has its own home on the website and can absolutely be made all on its own, this is how you'll make the two work together in the most efficient way possible.
Meal One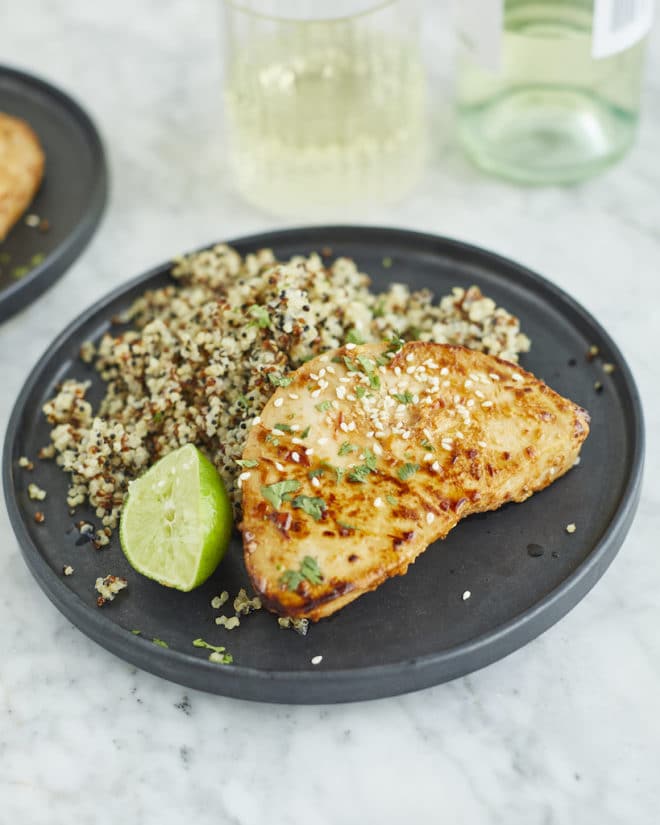 Here's what you'll do for the Chili-Lime Tuna Steak with Tricolor Quinoa:
To start, buy 3 pounds of tuna steaks instead of 1 ½, leaving half of the steaks out of the marinade (1 ½ pounds). Just before cooking the marinated tuna steaks, coat the plain steaks with 2 tablespoons of olive oil, sprinkle with sea salt, and cook for 3 to 4 minutes per side in the skillet. Once cooked through, transfer the tuna steaks to an airtight container and refrigerate them to use for Meal 2 (they will keep for up to 5 days).
Once you're finished cooking Meal 2's tuna steaks, add the butter to the same skillet, and follow the directions for cooking Meal 1's tuna steaks: Seared Ahi Tuna Steak Recipe.
Meal Two
Here's what you'll do for the Tuna-Noodle Casserole:
Cook the tuna-noodle casserole according to the instructions here: Tuna Noodle Casserole. Skip the instructions for cooking the tuna and use the planned-for leftover tuna from Meal 1 instead!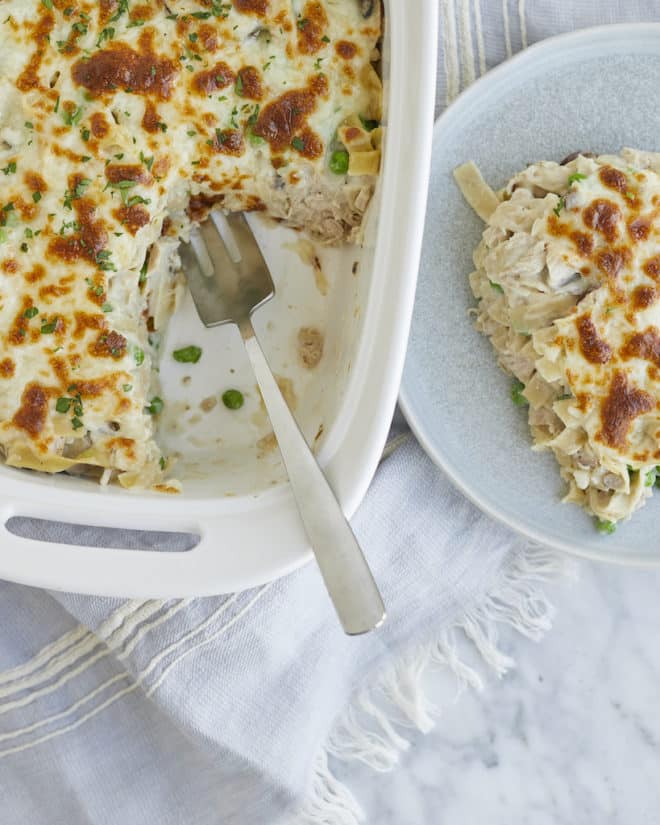 There you have it: two really delicious meals made easy-as-can-be through strategic planning.
How to Make these Recipes as Separate Meals
If you'd rather enjoy these meals independently of one another, find the Chili-Lime Tuna Steaks with Tricolor Quinoa here and the Tuna-Noodle Casserole here.
If this method piques your interest, you can find 60 more dinner series (120 dinners + a bunch of side dishes!) in my book, Cook Once Dinner Fix. Learn more about the book + order it HERE.