Veggie-Lover's Meatza
jump to recipe
This veggie-lover's meatza uses ground meat for the crust, a spicy mayo for sauce, and an abundance of veggies for topping! It's an easy dinner that everyone can get behind.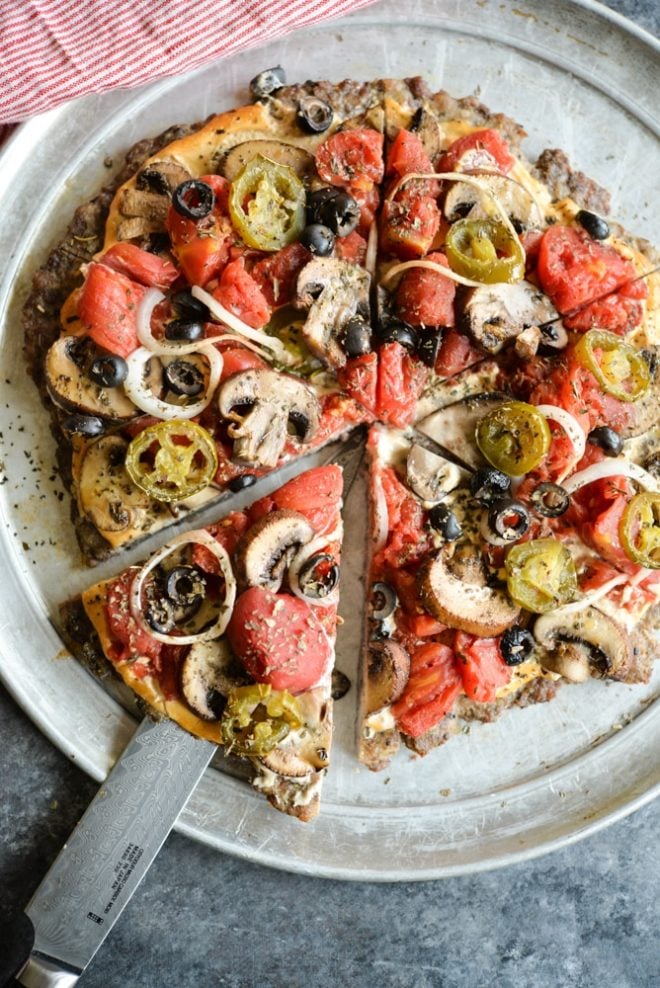 I need to ask your forgiveness, my friend. You see, I have been making a version of this "veggie-lover's meatza" for YEARS (and years) …but I never shared the recipe. I honestly *thought* that I had a "meatza" recipe here on the blog …but alas, I was wrong. I can't believe I kept this from you!
So, what's is a meatza? It's a little like an inside-out pizza! Ground meat is used for the "crust" and then toppings are applied as you like. I've tried several varieties, but my favorite meatza "crust" is a mixture of half ground pork and half ground beef. I have tried variations in every other direction, but really love this combination. It results in awesome flavor!
For pizza sauce, I like to alternate between a pesto and a spicy mayo (shown here). I've found that a red sauce is just a little too watery.
Because all my protein is in the crust of a meatza, I like to add LOTS of veggies to the top! My favorite veggies include mushrooms, onions, olives, peppers, and (the best part) whole peeled tomatoes from a can that I cut into big hunks.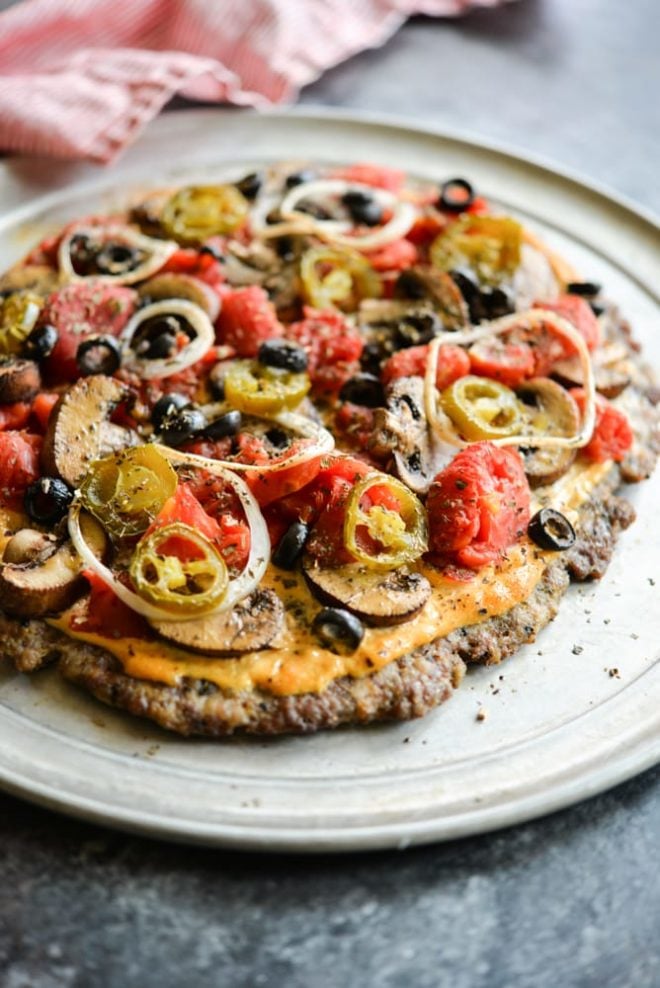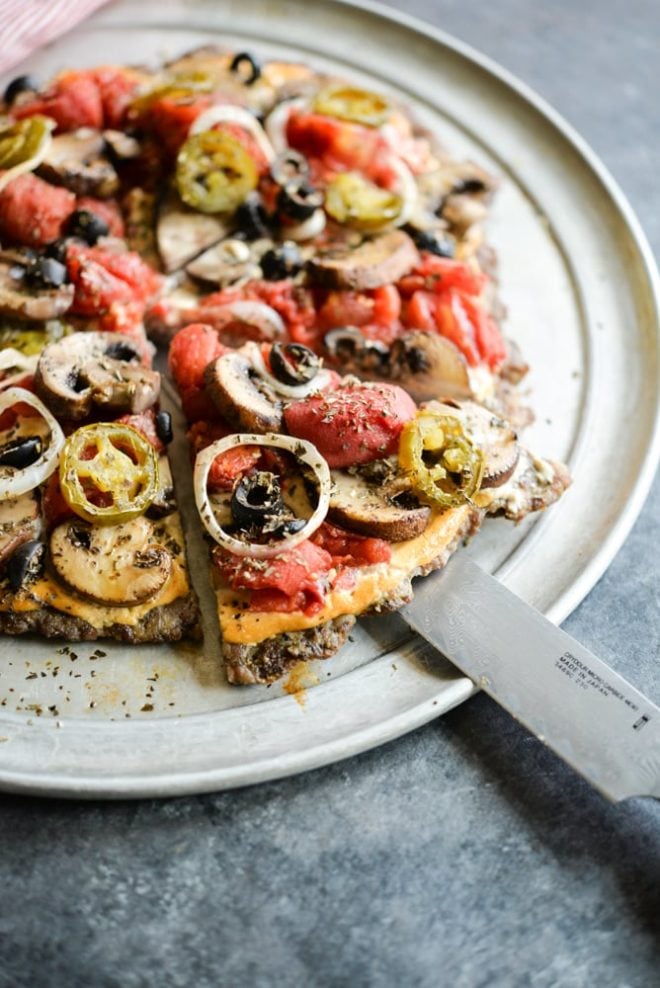 To pull this meatza together, spread the seasoned ground meat out on a parchment paper-lined baking sheet (with walls!!) in as *thin* of a disc as you can. Know that the "crust" will shrink considerably as it cooks, so spread! Bake the crust until it's done. It's important to use a baking sheet with walls because the meat will release a lot of liquid as it cooks. Once cooked, carefully pour off the liquid and then top as you like.
This spicy mayo sauce looks a LOT like cheese and it's totally delicious. You can either cheat (like I do) and use the Primal Kitchen Foods Chipotle Mayo or you can add some paprika + cayenne + lemon to a bit of mayo.
This meatza is such a fun way to mix up dinner and satisfy my craving for pizza! It keeps me away from ordering takeout, makes a delicous meal, and my hubby is ALWAYS happy. I hope you enjoy!
Print
Veggie-Lover's Meatza
Author:
Prep Time:

15 minutes

Cook Time:

30 minutes

Total Time:

45 minutes

Yield:

6

1

x
For the Meatza:
For the Toppings:
1/4 cup

chipotle lime mayo

1

, 28 ounce can whole peeled tomatoes, drained and chopped into

1/2

inch pieces

1 cup

sliced baby bella mushrooms

2 tablespoons

sliced black olives
Instructions
Preheat the oven to 375 F.
Combine the ground pork, beef, and seasonings in a medium-sized bowl, then mix with hands until well-combined.
Line a large, rimmed baking sheet with parchment paper, then spread the meat mixture into an even circle. Bake for 15 minutes.
Remove the meatza from the oven after 15 minutes and spread the chipotle lime mayo evenly over it, then top with tomatoes, mushrooms, and black olives. Return to the oven to bake for an additional 15 minutes.
Let the meatza cool for 5 minutes, then slice and serve!