In this bite-sized article series of harmful ingredients found in our personal care products, here are 5 personal care ingredients to avoid: part 3! Check the bottom of this article for direct links to the (very) few companies that I use, know, and trust.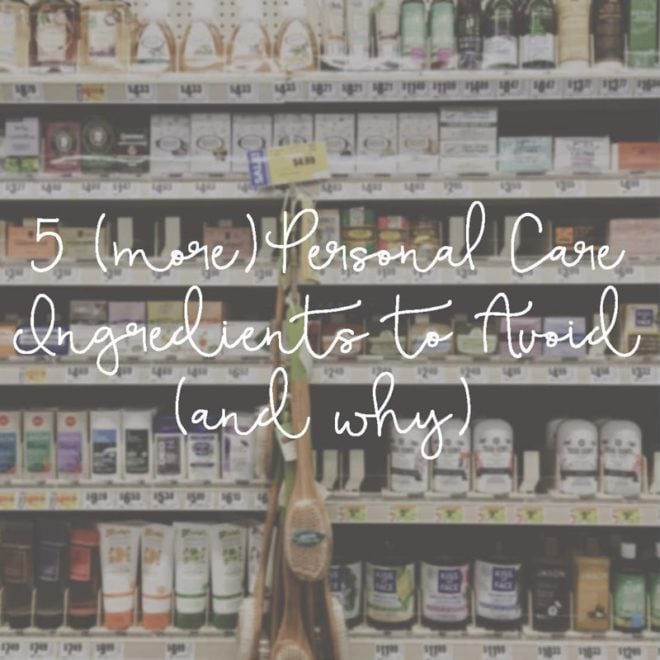 5 Personal Care Ingredients to Avoid: Part 3
Part 1: 5 Personal Care Ingredients to Avoid and Why
Part 2: 5 Personal Care Ingredients to Avoid: Part 2
1. Hydroquinone
One of the chemicals found in black and white photography development, this high-powered compound is ALSO (unfortunately) found in a number of skin-lightening creams. It is currently banned in several countries and in 2006, the US started to catch up by revoking the previously-issued approval for the compound (in all over-the-counter products) due to evidence in safety tests identifying it as a potential carcinogen (cancer causing agent). Note that this compound could still show up in non over-the-counter products and it's important to ask questions.
If you're looking for a safer way to battle skin hyper-pigmentation (dark spots), I recommend looking into this Radiance Serum and these Toner Pads.
2. Methylisothiazolinone and methylchloroisothiazolinone
This dynamic duo represents a commonly-used preservative that can be found in a number of personal care products ranging from shampoo, conditioner, lotion, sun screen, and body wash. Specifically used to help prevent bacteria from growing in water-based products, it has been identified as a cytotoxin. It has been documented as an irritant to the skin, eyes, and lungs. Though numerous countries have flagged it as a concerning ingredient, it is still commonly found on our US shelves.
3. Oxybenzone
This special compound is utilized to help absorb UV light and, therefor, is commonly found in sunscreen and SPF moisturizers. In addition to absorbing UV light, the body absorbs it at an alarming rate. It is estimated that it contaminates the bodies of 97% of Americans. It is linked to significant skin irritation, sensitization, allergies, and as a possible hormone (endocrine) disruption.
4. Petrolatum (petroleum jelly)
Petrolatum is a semisolid goop made from hydrocarbons extracted from petroleum. It is commonly found in some hair products as an agent for shine (conditioners) and as a moisture barrier in some lip balms, lip sticks and moisturizers. A petroleum product can be contaminated with polycyclic aromatic hydrocarbons, which may cause cancer. It is also suspected of instigating premature aging.
5.
Cyclopentasiloxane
Commonly found in hair spray and sunscreens, this compound is derived from silicone and is flagged as a likely endocrine disruptor.
Safer Options!
Below are the safer beauty companies that I trust. They do NOT use any of the ingredients I'm sharing in this series in addition to *hundreds* more. To shop these companies, simply click on their name below.
My personal choice for anti-aging skincare, shampoo/conditioner, activated charcoal cleansing bar, and a whole suite of performance-based safer makeup.
They make my favorite deodorant, body butter, toner, and lip balm!
I personally love PLO for spa-like specialty products such as their Fire & Ice Skin Treatment and Vitamin C-Serum.
Adore for the "Myrrhaculous" face oil, oil cleansers, and tallow-based moisturizers.