In this article, I'm sharing my best tips and lessons learned from training for a half marathon – or for just getting into running shape.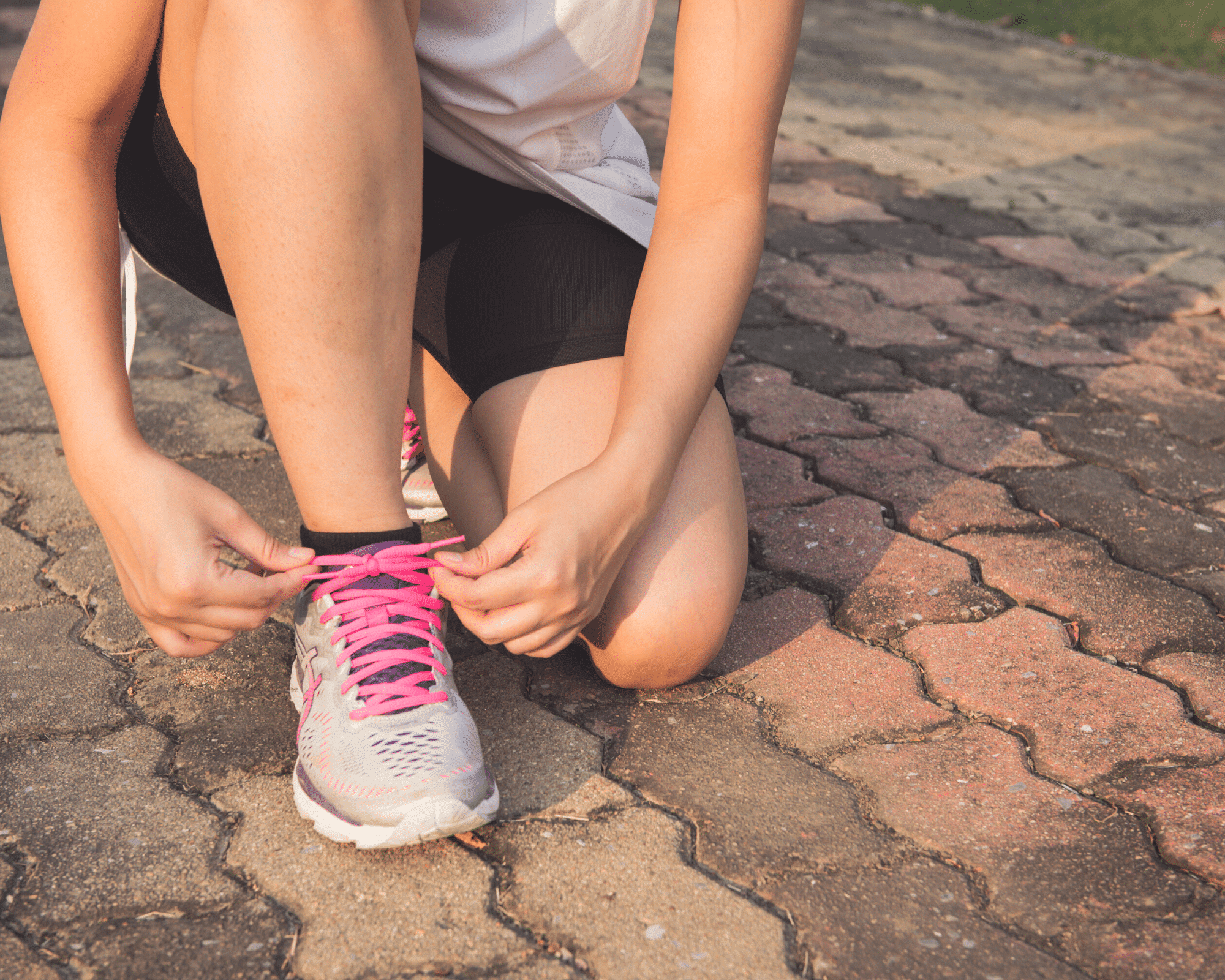 If you're anything like me, you have a love-hate relationship with running. I love it when I'm finally in shape and feel good while running, but I strongly dislike the long, hard journey to get there. It's hard work and takes determination! Today, I'm discussing 6 tips that helped alleviate the pain and frustration of training for a half marathon, and actually made my training process, dare I say, fun! 
Tip #1: Invest in High-Quality Shoes
For about the first half of my training, I was running in two-year-old running shoes, which I later found out were actually too small for me! Finally, after one month of training, I came to terms with the fact that I needed a new pair of running shoes. One day before a run, I met my dad at iRun to pick out a new pair. When the iRun employee looked at my current shoes, he said, "Yeah, they no longer make those models." I immediately hid my embarrassment with a nervous laugh and asked to see what newer models he had. Before bringing out the new shoes, the iRun employee watched how I walked and ran.  He wanted to determine if I ran on the outside of my feet, the inside, or if I was considered neutral. I found out that I am a neutral runner. He also measured my arches to determine what type of arch support I needed. Then, the employee gave me three shoes to try on and asked me what my price range was. The best part about being fitted for running shoes was that he determined that I was wearing a half size too small! After trying all three pairs, I picked a newer model of the same brand I had before, paid, then headed out for a run to try them out. The new shoes felt like running on clouds. My knee, which usually bothered me, felt great and I was no longer bothered by running on cement. The new shoes were a game changer! I only regret waiting so long to get a new pair! 
Tip #2: Run With a Partner
Running with a partner is obvious for safety reasons, but it also made perseverance during hard and discouraging runs possible. I ran by myself about 2 times a week, but the other 2 or 3 days, I ran with my dad or cousin. The small talk made the time pass and made me forget how much pain I was in! Consistently running with my dad was also an amazing bonding time. "What did you do today?" turned into talking about what I was worried about or what I needed advice on. Running is conversational, deeply relational, and can be an amazing way to help you grow closer to someone. 
Tip #3: Figure out what foods fuel your body the best
I try to consistently eat healthy on a regular basis even if I'm not training, but I found that the cleaner I ate, the better I felt on runs. Cleaner meaning more whole foods, less processed foods. It's important to fuel your body well while you train, but I also didn't obsess over it. I would have wine and dessert every once in a while, but when I listened to my body, I felt better. When I finished a run and felt amazing, I would make note of what I had eaten that day and how much sleep I had the night before. I specifically noticed that the times I hadn't had any wine or much sugar the day before a run, I would feel the strongest, so I tried to keep those things at bay. I also tried to include collagen and MCT oil into my diet every day.
Tip #4: Consider adding a plyometrics workout in once a week 
If you have never done a plyometrics workout, I'm going to warn you right now that they are not fun! But wow, do they improve your athletic performance! About a month into my training, I noticed that my legs were tired during every run. I reminisced back to my middle and high school days running cross-country and I remembered that my Coach, Coach Poppy, always had us run hills and do a plyometrics workout. If you aren't familiar with this kind of workout, plyometrics is jump training that gives you endurance during all of your other workouts. It is also one of the hardest workouts I have ever done, but completely worth it. During the workouts, you strengthen and tone your legs. After adding a weekly plyometrics workout, I noticed that my legs started to get stronger and they were less tired during my runs. If you own the P90x workout series, they have an amazing (and terribly hard) plyo video, but you can also find a handful of them on YouTube (here is the one I consistently used). Don't get discouraged! I often did the modified version of each move and sometimes couldn't even finish the entire video! 
Tip #5: Don't give up, even if you miss a few runs
Three weeks before my race, I didn't have time to get my long run in (I usually did them on Sundays). My dad texted me that Sunday: "We running?" I dramatically responded, "No, I don't have time today and don't think I can run most of next week either. I think I'm just not going to do the race." I needed to keep running, he said. Just because I couldn't get one long run in, I panicked and quickly gave up to the point of wanting to quit my race. My schedule opened up the next evening and I had time to get my long, 9 miler in. Crisis averted. Moral of the story, don't be dramatic. Take one day at a time and figure out what your options are before you completely quit.  You never know if your schedule will open up. Appointments cancel all the time or you may get off work an hour earlier than you thought. Before you panic, see if you can make it work. Don't give up just because you miss a run or two. 
Tip #6: Try as many new locations for long runs as possible 
For my long Sunday runs, I found that if we were running in a new location, I looked forward to the runs, especially if it was a pretty, scenic area! On the flip side, if we were going to run somewhere we had been before, I semi dreaded the run. Even if we were running on the highway, if it was a new highway, it felt fun, new, and adventurous! 
Half Marathon Training FAQ
Below are some of the questions I get asked most frequently that may help you with training too!
What should you eat during training?
As I mentioned before, I try to eat as clean as possible throughout training. About a month before my race, I completely eliminated alcohol, and about two weeks before, I tried to eat as little sugar as possible. If I was craving something sweet, I tried to snack on dried mango or dried figs. 
How often did you run?
Believe it or not, I only ran about 4, maybe 5, days a week! I started training about three months before my race and followed a plan similar to this one that I found on Pinterest. The plan had me do my long runs every Sunday, where I would just add one mile each week. The longest run I did before my race was 12 miles, which I did two weeks before, followed by 8 miles the Sunday before my race. I had never gotten up to 12 miles before any of my other half marathons, and I think it was one of the best things I could have done for myself psychologically. I remember running the race thinking, "I've already done 12…I can do this!"
What should you eat the night before/day of?
The day before my race, I sipped on coconut water ALL DAY. The night before my race, I indulged in a hamburger and gooey, pimento cheese dip for an appetizer. The meal was delicious, but I regret ordering what I did because it was a little too rich for my stomach. I recommend eating something on the lighter side, maybe even bland, and definitely something safe that you know won't upset you. Sadly, I went home with a stomach ache from all the rich food I had consumed. On the day of the race, I woke up and immediately had a cup of coffee with MCT oil and Himalayan pink sea salt. I was a little nervous to eat any solid food but my dad encouraged me to eat a piece of toast. I continued to sip on coconut water up until the race started. During the race, my dad, who ran it with me, held a large bottle of coconut water for me the ENTIRE race. I can't really put into words how helpful this was for me, and yes, I am fully aware that I won the dad lottery. I trained with small water bottles that you wear on a belt around your waist, but of course, I accidentally left them at home on race day. Dad came in and saved the day! I don't recommend running with an entire bottle for 13.1 miles, but I do recommend the small running water bottles filled with coconut water or water + a pinch of sea salt. After about mile 6, I would suck on a tiny piece of an organic energy block chew and lick a little salt for every mile we did. The coconut water, sea salt, and energy blocks seemed to be the perfect combination to keep me hydrated, electrolytes in my system, and just carbohydrates to burn while I ran. 
What is running a half marathon like?
The overall experience was so fun and one of the greatest challenges that I have put myself through. It helped to have my dad run it with me to encourage me along the way. Since the race was honoring the fall of the Alamo (I live in San Antonio), the race began with a cannon being fired and running past the Alamo. If you are considering a half marathon, I highly recommend finding one that is unique to your personality or one that has scenery that you enjoy! This can make all the difference. I used to teach American history, so this particular race was right up my alley.
What would you do differently? 
For my next race, I will incorporate more speed work! I've always thought, "oh, I'm a slow runner," but I think that's because I've never challenged myself to run anything faster than my regular pace! 
Would you do it again?
In a heartbeat! I have already started researching races for the near future! 
Basic Running Gear
Though running doesn't take much equipment at all, investing in some basic, high-quality gear can make all the difference in the comfort of your runs!