Dewy, glowing skin combined with SPF and light coverage. Is there anything better?
Beautycounter Dew Skin
I have tried out my fair share of safer foundations over the years. Since turning 30, I also started to prioritize a daily facial sunscreen. If I had a time machine, I would go back to 20-year old Lauren and tell her, "WEAR SUNSCREEN EVERYDAY!" I would also warn her that high waisted jeans would be in her future so that she could emotionally prepare. While there are several brands that have mastered the foundation game, I'm going to go out on a limb and say that Beautycounter's Dew Skin Tinted Moisturizer has cracked the code for combining a daily SPF with a hint of color that also leaves my skin looking youthful, natural, and glowy. In this article, I will be discussing why Beautycounter's Dew Skin is a regular in my makeup routine.
What is Beautycounter's Dew Skin?
Beautycounter's Dew Skin combines a natural-looking, tinted moisturizer with a safer sunscreen, as well as some powerhouse skincare nutrients (hello, Vitamin C!). The result is a beautiful, sheer coverage that protects your skin from the sun's harmful rays, while also providing your skin with some wonderful nutrients. Because Beautycounter also screens their ingredients for harmful metals, I know I am getting the very best when it comes to safer beauty.
Dew Skin Ingredients
One of the most unique ways that sets Beautycounter products apart from other safer beauty brands is that they routinely add skincare nutrients to their makeup. While you could find a tinted moisturizer that also uses clean ingredients, Beautycounter goes out of their way to add ingredients to their makeup that will benefit your skin, and Dew Skin is no exception.
While the goal of most tinted moisturizers is to provide hydrating, lightweight coverage (with an additional SPF sometimes), Beautycounter takes it a step further with Dew Skin. In their tinted moisturizer, they add Black Currant Seed Oil, Peony Root Extract, and Vitamin C so that you aren't simply wearing a tinted moisturizer all day, you are enhancing the complexion of your skin! What do all of these skincare superstars do? So glad you asked!
Black Currant Seed – contains essential fatty acids and antioxidants, which can improve the texture and firmness of your skin. It can also regulate how much oil your face produces so if you think that a "dewy" product isn't right for your oily skin, this product might just be the perfect fit for you!
Peony Root Extract – helps to regulate the oil your face produces, as well as diminish dark age spots over time.
Vitamin C – (in the right form) has been used for years to help boost collagen production in the skin when applied topically. It also helps even out skin tone and brighten when used regularly.
Non-Nano Zinc Oxide (fancy word for mineral sunscreen) – this is the most important ingredient for me personally. You can read about the importance of choosing a mineral sunscreen over a chemical one here.
How to Pick the Right Shade of Dew Skin
One of my favorite aspects of Dew Skin is that the shades are super forgiving. Dew Skin comes in 8 shades, blends in nicely, and matches your skin tone with ease. I have found that combining shades 1 and 2 gives me my favorite shade but I can technically wear shade 1 or 2 individually and be just fine!
How to Use Beautycounter Dew Skin Tinted Moisturizer
There are a few different ways I have added Dew Skin into my makeup routine. I absolutely love experimenting with different skincare products before and after using Dew Skin to see what helps it set the best and last the longest. I have blemish prone skin that tends to be on the oily side. I also live in Texas, so "hot and humid" are words regularly used in our weather vocabulary. Because Dew Skin is technically a moisturizer, you could use a moisturizer before using it or omit it all together, However, a moisturizer can have other benefits that your tinted moisturizer does not, so as a general rule of thumb, it is good to use both! Now let's just say, in the dead heat summer in Texas, it is best for me to skip a regular moisturizer and just use Dew Skin. The ideal time of the year to apply a moisturizer before applying Dew Skin are the fall and winter months. I have also found that if my skin is happy and healthy, my makeup (this includes Dew Skin) sets better and looks flawless. Here is how I prep my skin for Dew Skin in the morning:
*Honorable Mention- I use this overnight resurfacing peel every other night or 3xs a week to sluff off old skin cells. This really helps my makeup set beautifully! If you want to make sure your makeup looks as flawless as it can, prioritize a daily skincare routine and a weekly exfoliating treatment!
Should I use a tinted moisturizer or foundation?
This all depends on your skin goals! Because I prioritize mineral sunscreen in my skincare routine, I regularly use this tinted moisturizer because it is both a sunscreen and a tinted moisturizer. I love not having to worry about adding sunscreen before or after my foundation. With that being said, I am definitely team foundation for an evening out or special event! If I am going somewhere nice during the day though, where the good ol' sun will be shining, you can bet your bottom dollar, this girl is wearing Dew Skin. I love adding a hint of color with the cream blush to add some fancieness to my Dew Skin look! I apply it with a small blush brush to create the perfect blended and natural pop of color!
Beautycounter Dew Skin vs. Skin Twin
The benefits of Beautcounter's Dew Skin vs. Skin Twin Featherweight Foundation all comes down to the look you are going and/or your desire to include an SPF in your makeup routine. Dew Skin contains a mineral SPF, while Skin Skin does not. Both Dew Skin and Skin Twin feature the amazing ingredient, hyaluronic acid, but Skin Twin has an even higher dose of it. Skin Twin also provides buildable coverage and comes in an expansive 27 shades. I have tried both and am definitely team Skin Twin. I prefer to wear Dew Skin on a daily basis, but love using Skin Twin for fancier evenings out with friends or on a date.
Tips + Tricks for Using Beautycounter Dew Skin Tinted Moisturizer
Some of the feedback I have received about Dew Skin is that it's too, well, dewy. I hear you on this. No one wants to feel like their makeup is melting off their face during the day. Here are a few tips and tricks that I have found to help my Dew Skin set properly and last all day. If you live in a humid climate like I do, I recommend using Dew Skin as your primary moisturizer during the summer (during the day). I have also found that a primer REALLY helps set my Dew Skin and help it dry beautifully. As a reminder, Dew Skin contains ingredients that actually help regulate the oil on your skin, so don't be nervous to add moisture if you tend to have more oily skin like myself. It's also worth noting that Dew Skin does take a few minutes to dry. I usually let my Dew Skin dry while doing my hair and then apply my blush and highlighter. The last trick that works like a charm for me everytime is to apply a mattifying powder on top of your Dew Skin if you prefer a less dewy finish!
Just for You
Beauty Articles
Want more articles like this?
Dew Skin Skin Care Routine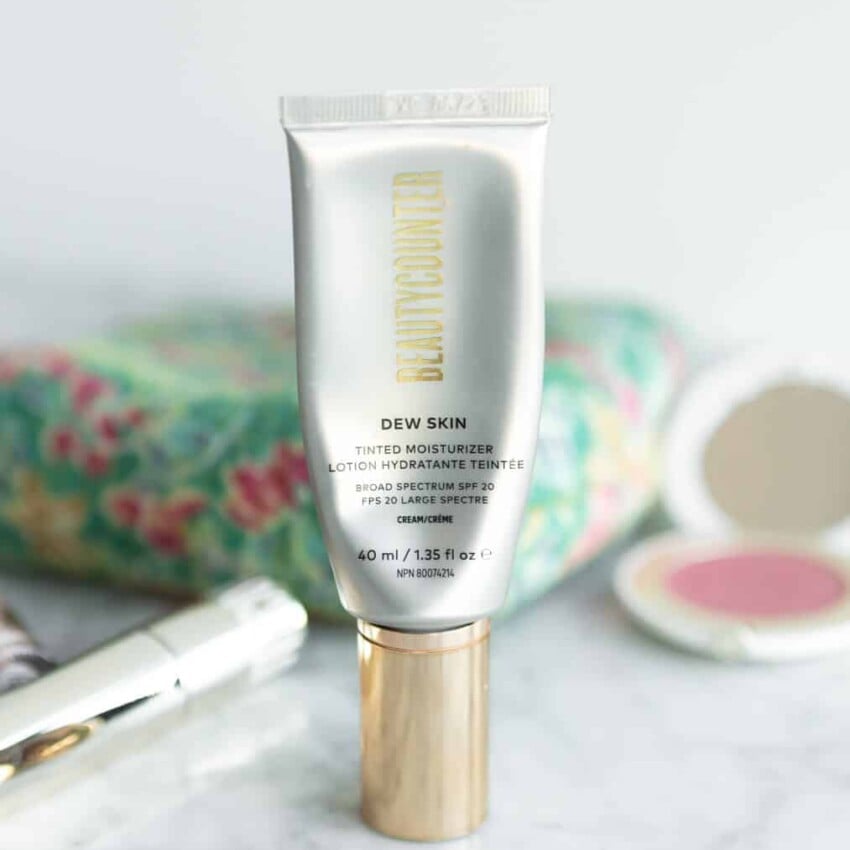 Here's how I use Beautycounter's Dew Skin in my AM routine!
Instructions
With clean hands, wash your face thoroughly with the cleanser. Pat dry.

Apply 2-3 sprays of Everything Spray Toner to your entire face.

While the toner is still wet (see notes), apply your serum, and then the moisturizer.

Let the moisturizer dry, then apply the primer.

Wait 20-30 seconds, then apply 1-2 pumps of Dew Skin (just like you would with a moisturizer).
Recipe Notes
Applying the serum and moisturizer while your face is still wet from the toner will allow your face to absorb the ingredients from the products more effectively. Bonus: you're also likely to use less product with this application method.