As the daughter of a painter, I am well acquainted with the benefits of priming your walls before you paint. Primer for your face is the exact same concept! Without it, your makeup may look good, but with it, your makeup can look GREAT.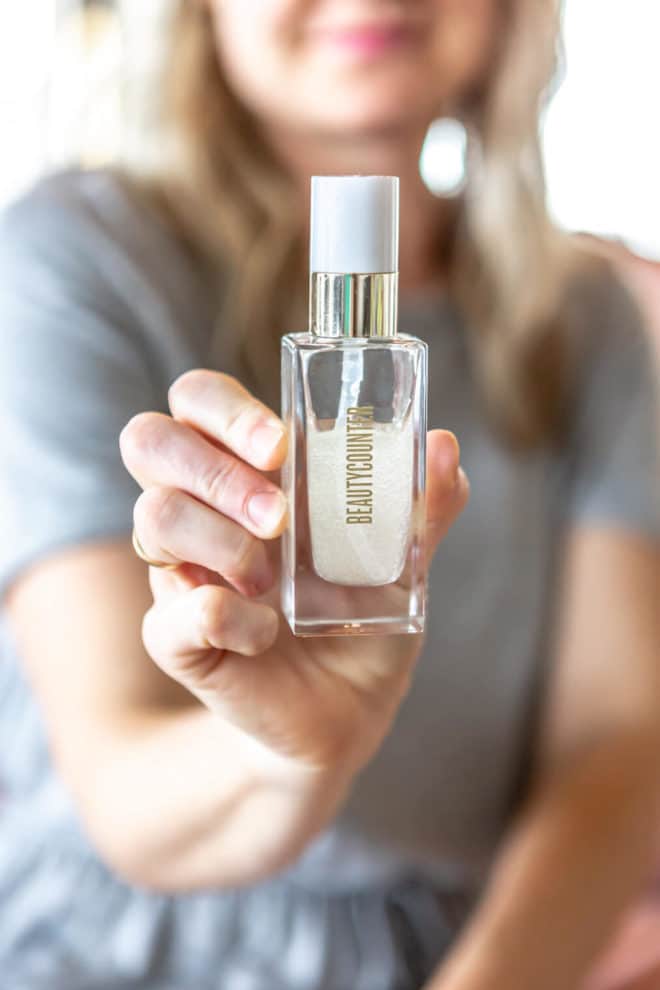 Beautycounter Glow First Priming Serum Review
Once I starting researching and testing makeup primers, I quickly realized that there are A LOT of options out there. I am passionate about safer skincare care, so I chose four primers (Beautycounter's Glow First Priming Serum, Beekman 1802 Serum, Physician's Formula, and Revlon's Prime Plus) that score well on the Environmental Working Group (EWG) to try out for comparison. EWG Skin Deep is an online database that allows you to look up skincare and makeup products to see what their ingredients are, the toxic load of those ingredients, and their overall score based on safety. The "ingredient hazard score" ranges from 1 to 10 and is determined through an analysis of known and suspected hazards of ingredients. A score of 1-2 is considered low hazard, 3-6 is moderate hazard, and 7-10 is high hazard. Beautycounter's Glow First Priming Serum and the Revlon Prime Serum are both EWG verified which means, according to ewg.org, they "avoid EWG's ingredients of concern, have full transparency, and have good manufacturing practices." Incorporating a primer into your makeup routine might just be the thing your skin needs to take your makeup to the next level. Let's get started!
What is makeup primer?
If you've ever painted your house, you know the importance of prepping the walls before you start painting. Paint primer is the perfect way to get the prettiest paint job. If you are going from a red wall to a white wall, primer is especially important – it brings your wall to a place where the new paint will look its best with a smooth and fresh surface. Makeup primer does the same thing! It creates the perfect canvas so that your foundation, blush, and bronzer look their best.
Beautycounter Priming Serum Ingredients
Not all primers are created equal, and the quality and composition of the ingredients really matters. Here are some of the key ingredients in Beautycounter's Glow First Priming Serum that really make this primer special:
Microdroplet Technology: this part is so fun! 4,000 jojoba ester bubbles burst when you apply the serum to your skin. These bubbles give your skin an extra dose of hydration.
Jojoba Esters: hydrates the skin and improves the skin's texture.
Tripeptides: this might be my favorite benefit of this serum! The tripeptides "brighten and even skin tone, boost skin elasticity, and minimize the appearance of skin imperfections" and help stimulate the production of collagen.
Biopolymer: taken from red algae and tara gum, this ingredient smooths the skin so that your makeup applies flawlessly.
Responsibly-Sourced Mica: this gives the serum that subtle shimmer look (which is ideal if you choose to wear the serum solo without foundation). If you're not familiar, mica is the natural substance found in pretty much any makeup product that shimmers. It also is largely sourced through the use of child labor, so finding products with responsibly sourced mica is really important.
What does the Beautycounter Glow First Priming Serum do?
One of my favorite things about this serum is that it serves as a primer (a way to prep your face for foundation, blush, bronzer, etc.) AND a skincare product. Beautycounter is notorious for this! They like to sneak (but not too sneakily) skin-enhancing ingredients into their makeup so that not only do you feel and look your best, but you're also improving your skin over time. The Glow First Priming Serum is designed to hydrate and brighten your skin, as well as prep and smooth your skin for the perfect makeup application. It's not talcy like some other primers can be and is slightly mattifying, while also locking in hydration.
This sounds like an oxymoron, hydration and oil control, but I promise, it's a thing! When we don't give our skin the correct type of moisture, our skin can overcompensate and produce MORE oil. By giving your skin a hint of moisture, you will have less oil, so don't be afraid of it. According to Healthline.com, "If your skin is dehydrated, it can actually exacerbate your oil issues. People with oily skin often have compromised barrier function, which makes it hard for their skin to retain moisture. As moisture leaves the skin, it becomes dehydrated, causing the skin to produce more oil. It's a vicious cycle, and the only way to break it is to give your skin the proper hydration and moisture it needs." If you have oily skin, don't shy away from moisture!
Makeup Primer FAQs
How do I use it?
The application of the Glow First Priming Serum is super easy! You would simply apply it after your skincare products and before your foundation. I use about 2-3 pumps, let it dry for a few minutes, then start my make-up routine.
When should I apply primer?
The ideal time to apply the Glow First primer is right before your foundation. Here are the steps:
1. Cleanse – my favorite daily face wash is this daily exfoliating cleanser.
2. Prep – I love this witch hazel toner!
3. Treat – I have used this serum for about a year and am such a huge fan. My skin is so soft, firm, and more even when I use it regularly.
4. Moisturize – this soft cream is wonderful!
5. Primer – the star of the show!
6. Foundation or Tinted SPF
Does makeup primer make your skin look smoother?
It does! The reason you might want to consider adding a makeup primer to your routine is that it preps your face to get it ready to apply makeup flawlessly, this includes smoothing it, filling in wrinkles, and reducing the size of your pores.
Do I have to wear makeup if I use this primer?
You don't! The beauty of the Glow First Priming Serum is that it can be worn as a makeup primer to prep your skin or be worn by itself. Because of the mica in the product, this primer provides a very subtle shimmer (emphasis on "subtle" – this is not a 90s shimmer!) and looks lovely if worn solo. You are also getting all of the amazing skincare benefits if you want to wear it by itself just for that reason! The tripeptides and Jojoba esters hydrate and brighten the skin.
Safer Drugstore Options
Price: $9.97 on Amazon
EWG Score: EWG Verified
Pros:
Contains Vitamin B5 and Hyaluronic Acid – both help to lock in moisture and firm the skin
Price point
Provides a very beautiful base and prep for my foundation
Keeps my makeup in place all day
Cons:
My skin was oily by the end of the day
Price: $11.98 on Amazon
EWG Score: 2
Pros:
Price point
Perfect for combination skin
Helps control and lessen the oil on my face throughout the day
Makeup stayed on all day
Includes great skincare ingredients that hydrate and nourish the skin: organic aloe vera, organic jojoba oil, and botanical cactus flower
Cons:
Slightly sticky formula
A white formula that needs to be rubbed in very well
Caused skin irritation and a slight break out around my chin
Price: $13 on Amazon
EWG Score: EWG Verified
Pros:
SPF 35
Price point
The smell – it's very earthy and reminds me of the smell of clay (which I really liked!)
Uses a safer mineral sunscreen, zinc oxide
Oil-free, matte formula
Includes goats milk and probiotics, which helps hydrate and strengthen the skin
Cons:
A white formula that needs to be rubbed in very well
Caused slight breakout
More Safer Skincare + Beauty Articles
Sources: