I am thrilled to share my weekly at-home facial routine with you! I've fine-tuned it over the last year and am really pleased with this current routine AND the results, especially after being somewhat consistent. It takes about 45 minutes, is packed full of nourishing to-do's for my skin and my week, and is only possible because of very strategic overlapping tasks.
I started a weekly at-home facial when I was freshly postpartum with our 2nd daughter, Bishop. She was born at the end of April 2020. We were in the height of quarantine and I wanted a way to "get away" without actually leaving the house. Each weekend, on either a Saturday or a Sunday, I'd send our oldest off to play with her Daddy in the backyard while the baby napped, then I spend a little time loving on my skin.
While the products were lovely and my skin showed visible improvements in texture, more even skin tones, calming of my rosacea, and softening of fine lines, it was the effort and time invested that meant the most. The time I spent lovingly using my gadgets, washing, applying serums, painting on masks, painting my nails, moisturizing, and maybe even eventually adding a touch of makeup …that time was a physical and tangible way I could show myself that I was important to be poured-into, too.
That was especially needed then (newborn + working to keep my business healthy + global pandemic), and I've found it's needed now, too.
So, no matter the season of life this may find you in, if the invitation is intriguing to take 30-45 minutes out of your week, to pamper yourself, use all the gadgets, all the good goops, to love on yourself in whatever way takes shape, I encourage you lean in. Lean in, take the time, use the goops, show yourself love in a way that is meaningful to you, and be open to how it may nourish both your mind and your body.
Table of Contents
My Weekly Facial Routine
I'm going to break this up into several sections! First, I'll cover the skincare gadgets I use and why. Then, we'll tackle the skincare products I'm using + why I chose them. Then I'll review the at-home safer manicure system I love that I try to always incorporate into this weekly routine. I'll also cover the routines I incorporate into my "weekly facial" that have nothing to do with beauty or skincare. These are the tasks that help set me up for the week to come, and I usually tackle them quickly while a skincare mask sets. Lastly, I'll show you how I do all of these things in a 45-ish minute window.
In the meantime, here's a peek at my at-home facial from a 50,000-foot view:
Dermaplane
Detoxifying Mask
Paint nails while mask sets
Wash
Hydrating Mask
Prep clothes + planner for the week ahead while mask sets
Serums
Moisturizers
Makeup
If this seems like a LOT, know that the secret to success is overlapping tasks. As in, HOW I go about this 45-minute routine is incredibly efficient and action-packed. The efficiencies themselves give me a thrill, if I'm being honest.
All of the items marked below with an ** are the ones I'm using in my current routine.
The Gadgets
The Skincare Products
Detoxifying Masks
The masks in this category are the kind that really help pull impurities from the skin. I like to lean on those with activated charcoal or any mask that may have some kind of a chemical exfoliator.
**Beautycounter Charcoal Mask: This mask is my go-to. The application is simple, especially if you have a flat brush like this one. Its peppermint-like finish and the fact that you can see the oils pulling out of pores have it at the top of my list. I also appreciate how it lightly polishes my skin when removing the mask. A warm wet cloth can help finish the exfoliating job leftover from the dermaplaning step.
Primally Pure's Calming Mask: When my skin is really inflamed, this mask helps calm it down. The clays help detoxify while ingredients like spirulina and chlorella help calm my skin. This is the one I reach for when I'm in a rosacea flare, usually caused by me trying a new skincare or makeup product that I didn't spot test first.
GOOP Microderm Instant Glow Exfoliator: this mask really powerful and I'll only reach for it when my skin is NOT in a rosacea flare. The combination of mechanical and chemical exfoliators make it a really lovely polishing treatment. Note that if you use this mask after dermaplaning, it can sting. I recommend using it either before the dermaplane or on another day. It also only takes a couple of minutes to dry.
Cleansers
I've kissed a lot of cleanser frogs over the years and these are the three that I keep coming back to time and time again.
**Beautycounter Countermatch Foaming Cleanser: this is my favorite out of the list! I especially love to use it with the Foreo. It's a creamy, but somehow still foaming, cleanser that's gentle on my skin, but that also still gets a good squeaky clean.
Beautycounter Countercontrol Clear Pore Cleanser: when I'm wearing makeup or (to be honest) haven't washed my face in a day (or more), this is the cleanser I grab. I also like to lean on it when I have some acne popping up. It's foaming, has a light citrus scent, and has light exfoliating properties.
Beautycounter Activated Charcoal Bar: This bar is my "old reliable." It offers a good deep clean but is gentle enough to not bother my skin, even when I'm in a flare.
Hydrating Masks
The masks in this category are the ones that I will apply after cleansing, with no real intention of washing them off. I think of them more as a very intense moisturizer that I get to leave on my skin while I tackle other tasks (like filling out my planner for the week). In total honesty, the masks I use are below. Not all of them are on the same page in terms of safer skincare formulation/testing, but these are the ones I'm using right now!
Serums
The most powerful step of all! I'm a serum girl and find that when I'm consistent in using them, my skin SHOWS IT.
**Beautycounter Countermatch Intense Moisture Serum: I'm a big believer in a hyaluronic acid serum and this is the one I use! I've found that it's great for almost all skin types, but especially great for those of us with dry and sensitive skin. During the summer, I apply 2 pumps on each application (AM and PM), and then during the more dry Winter months, I up that to 4 pumps.
**Beautycounter Vitamin C Serum: speaking of things my skin loves, this serum is it. I use one pump daily and mix it into my hyaluronic acid serum. It helps brighten my complexion, evens skin tones (especially the hyperpigmentation patches that develop when I'm pregnant), and somehow, also makes my skin feel smoother. I love this stuff.
Moisturizers
Lock all that goodness in with a really quality moisturizer! The list below is long, but it feels more straightforward in practice. Depending on when you're doing this routine, you'll either grab your AM or your PM moisturizer.
Makeup (Cream-Based)
If you haven't heard much about cream-based makeup yet, you will soon! I've fallen deeply in love with this new makeup trend. I find that the dewy finish adds an even more youthful glow to my finished looks, lasts all day, and nourishes my skin while also providing some coverage. It's like skincare and makeup had a baby and I'm here for it.
Body
This category is the cherry on the top! These are the moisturizers and other creams (like those with CBD) that I like to apply as a final touch in my weekly facial routine.
Codes
I couldn't share my beloved products without a few codes that could help you save some pennies! Here are the ones I have right now…
Beautycounter: the Friends and Family Sale is live! From April 21st to the 27th, you can take advantage of their "buy more, save more" offer. If you're reading this after the 27th, please email me directly (beauty@fedandfit.com) so I can share the current offer! Truly! Don't be shy! I LOVE getting beauty emails and can't wait to help you.
Equilibria: this is my go-to for responsibly sourced and formulated CBD. I adore the people behind this company and trust the products. Current offer: get 15%-off when you go through the link I added here! They also usually allow you to generously combine offers, so if there's a deal that pops up, don't forget to ALSO make sure the "fedandfit" code is included in your cart.
The Manicure/ Pedicure System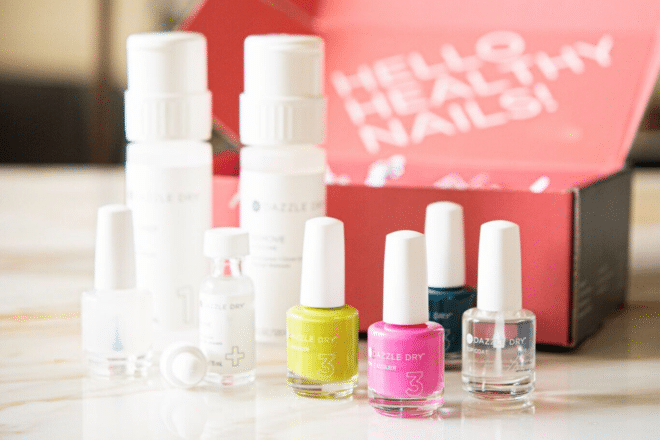 It's no secret how much I adore the Dazzle Dry system. This safer nail system dries INCREDIBLY fast (making it ideal for this quick beauty routine) and yields beautiful results. I first discovered it while I was on a trip at the Ojai Valley Resort. I marveled at how well the polish applied and how long it lasted. I then purchased my own at-home system and have since that first introduction about 2 years ago, transitioned all my nail products over to Dazzle Dry. I'm not affiliated with the company, but you can read my full review (with tips + tricks) HERE.
In the meantime, here are a few of my favorite colors:
The Weekly Prep Routine
The four steps below may seem simple, but they make a huge impact in setting myself up for a smooth week ahead!
#1: Roll Workout Clothes
This step, though it may seem silly to some, has changed my life. I'm actually not joking. Here's the context… you see, I need to workout first thing in the morning before the rest of my house wakes. It's pretty much the ONLY time I get in the day to do this! Otherwise, I'm chasing babies, cooking, cleaning, working, chasing babies, cooking, cleaning, (you get the picture) until I go to bed, at around 8pm. My alarm goes of at 4:30 am (this works for me, so please don't needlessly worry about when I wake) and, before my pre-rolled workout clothes days, I'd rummage around in the dark for the pants, top, bra, and socks I needed. In an ideal day, I'd have pre-selected my workout clothes the night before, as a last step after brushing my teeth before bed, but this always felt like an odd haunting to-do. It was ONE MORE THING I needed to do when all I wanted was to curl up in my bed, read my book, and prepare my body for rest.
Then, it hit me. If batch cooking relieves the daily struggle of getting food on the table, could batch outfit organizing be just as magical?
It is. It's just as magical.
In addition to the joy of condensing the daily task (choosing clothes) into a weekly task (prepping all at once), it actually also made it more likely that I'd go through with the workout. Somewhat similar to how a meal-prepped dinner on hand can make it less likely that you'll order takeout, having my workout clothes pre-rolled at the top of the week gave me permission to fully dedicate myself to showing up each day REGARDLESS of motivation.
Clear as mud or almost helpful? I hope the latter. I'm going to keep exploring this idea of how we can leapfrog the search for motivation in an effort to honor the commitments we make to ourselves. More on this at some point…
How to roll your workout clothes:
Step 1: choose the number of days you plan to workout. For me, that's 5. I like to work out Monday – Friday.
Step 2: take a quick peek at the weather forecast (especially if you workout outside, go for a run, have a commute, etc.) and make mental notes (like, "it'll be chilly on Wednesday").
Step 3: think through what kinds of workouts you have that week. Maybe you enjoy a yoga class twice a week, run once, and do some interval training on the other days. These workout styles may impact the kind of clothes you pull for those days.
Step 4: lay out all the bottoms.
Step 5: lay your chosen tops to go with each bottom.
Step 6: if you wear a sports bra, grab those for each outfit.
Step 7: add a pair of socks to each pile.
Step 8: roll each outfit tightly, placing it in a basket or bag upright (so the spiral of clothes faces up).
Step 9: go about your bedtime routine knowing that because past-you was looking out for future-you, your workout clothes are already organized. All you need to do is grab the right roll in the AM and go on with your fantastic day.
#2: Synchronize Planners
This next activity also qualifies as "game-changing" for my week. It's simple but profound: I open my calendar in Outlook (where the majority of my appointments live) and I transcribe them over to my Full Focus Planner in pencil. I will then fill in any blanks I know of (like swim class for the girls, lunch with Austin, etc.), and start to get an idea of what my week ahead will look like.
Then, when I meet with my Fed and Fit team first thing on Monday morning, I have a clear picture of the working hour windows available during the week for the tasks on my plate.
#3: Clean Out Fridge
This one activity only takes a few minutes but sets us up for success in the week ahead. I'll do a quick inventory of what's in our fridge. I can usually find past-due leftovers that were shoved to the back of the fridge, a half-drunk kombucha, and too many open containers of Greek yogurt that I can consolidate.
Dirty containers head into the dishwasher and any "almost expired" vegetables are set aside for some kind of big soup that I will make ASAP.
#4: Put Frozen Proteins in Fridge
This is one more activity that takes very little time but has a big impact. Most of the proteins I feed our family are stored, at some point, in our deep freezer. We gather our proteins through various farmer co-ops and like to invest in large portions (like ¼ of a cow) at a time. So, defrosting frozen protein is a constant to-do in the house. If I pull the protein on the weekend and let it thaw slowly in the refrigerator, it's as convenient as if it just came from the grocery store when the time comes to cook dinner.
My Full Routine
Now that you know what all is included in my routine, the exact products, the gadgets, and the unabridged "why's," it's time to stitch the "how" together! This, possibly fussy and overly detailed, list below is exactly how I do all the above in about 45 minutes. It's a long list, but GOSH does it pay off big time. After I finish, I feel like I'm walking on air …practically skipping into Monday.
Put on some water to boil. A few cups nuked in a microwaveable container will work, an old fashioned kettle will work, or you could use an electric kettle, like me (I own this one and I love it). I like to boil about 4 cups of water, I'll split this between my hot tea that I'll enjoy during my facial routine (an Earl Gray if I'm doing this in the AM and a Ginger tea if it's PM) and a bowl of hot water to heat/prep the Dazzle Dry base + ridge filler nail steps. I usually put the water on, using my electric kettle, before I put Bishop (our youngest) down for her nap. That way, it's already hot and ready by the time I walk out of her room.
Make my tea and pour hot water into a bowl where I'll soak the Dazzle Dry base coat and the ridge filler (it needs to be heated and run thin before you can use it).
Secure hair back with your favorite headband.
Dermaplane! Again, be sure to read my more thorough how-to HERE.
While you could wash your face after the dermaplane, I like to go right into applying the detoxifying mask.
While the mask sets, I paint my nails! The mask takes about 10 minutes to set and my nails takes about 15 minutes (including drying time, it's really fast, dazzlingly fast), so the mask just sits on my skin a few minutes longer.
Rinse off mask! Now is another use for that hot bowl of water that was warming the Dazzle Dry nail products. I dip a clean washcloth in the warm water and use it to wipe the mask away.
Wash skin thoroughly. Now is when I'll break out the Foreo, add a generous amount of the Foaming Cleanser, and scrub away. I love this step so much.
Apply the hydrating mask. Now that my skin is silky smooth, detoxified, and squeaky clean, it's time to apply some nourishing love. First up is my hydrating mask of choice. I'm a big fan of a sheet mask for this step because it helps hold the product on my skin, prolonging the absorption of the serums present by preventing them from drying out too quickly.
While the mask sets, I tackle the non-beauty-related to-do's! This is where I: roll my workout clothes, fill out my planner for the week ahead, clean out the fridge, do some light meal planning, and put frozen protein I'll need defrosted later into the refrigerator.
Apply the serums. Even though that hydrating mask is essentially one giant serum treatment, I like layering on even more. The one I NEVER go without (unless I'm on empty) is this hyaluronic acid serum. I also adore this Vitamin C serum. I usually use 2 pumps of the HA serum and one pump of the VC. This is a lot of moisture going onto your skin, it'll feel dewy and maybe sticky, but it will set. Be patient, the moisture is a very good thing.
Apply your moisturizers. Now that the skin is so thoroughly prepped, it's moisturizer time. Apply the moisturizer (AM or PM) that make sense for when you're working through this!
If you're in the mood for a little makeup, it can be fun to apply makeup right after a facial treatment like this because your skin will be noticeably softer and the makeup will go on so smoothly. I recommend a cream-only makeup routine if you can swing it! The creams, especially those that are makeup + skincare hybrids (essentially, makeup that's good for your face) will continue to benefit your lovely face without adding a whole lot of junk that will be tough to scrub off later.
Apply those body-care products! This is when I'll rub a little Relief Cream into my shoulders and apply some lotions on my hands and arms.
…though, not an official part of this routine, I want to throw out there that if you DO opt for makeup after your lovely home facial, please don't forget to wash your face before bed. I recommend THIS "clear pore" cleanser, best even if it's used after wiping off with a reusable makeup removing cloth. Then, reapply the serums you love and lather on a thick coat of your favorite night cream. Your skin has just been so pampered and I want it to fully benefit from a night's sleep that is makeup-free.
If you give this, or a your own version of this, a whirl, I would LOVE to know! How did it go? How did it make you feel? Did you craft any efficient tips of your own? Please share. <3
xo,
Cassy Joy