Make-up trends come and go (I'm looking at you eyebrows), but one consistent trend that is as classy as it comes is full eyelashes. I have never looked back on old photos and thought, wow, my lashes were so full, what a bummer! I think it is safe to say that having full and luscious lashes is a trend that is here to stay.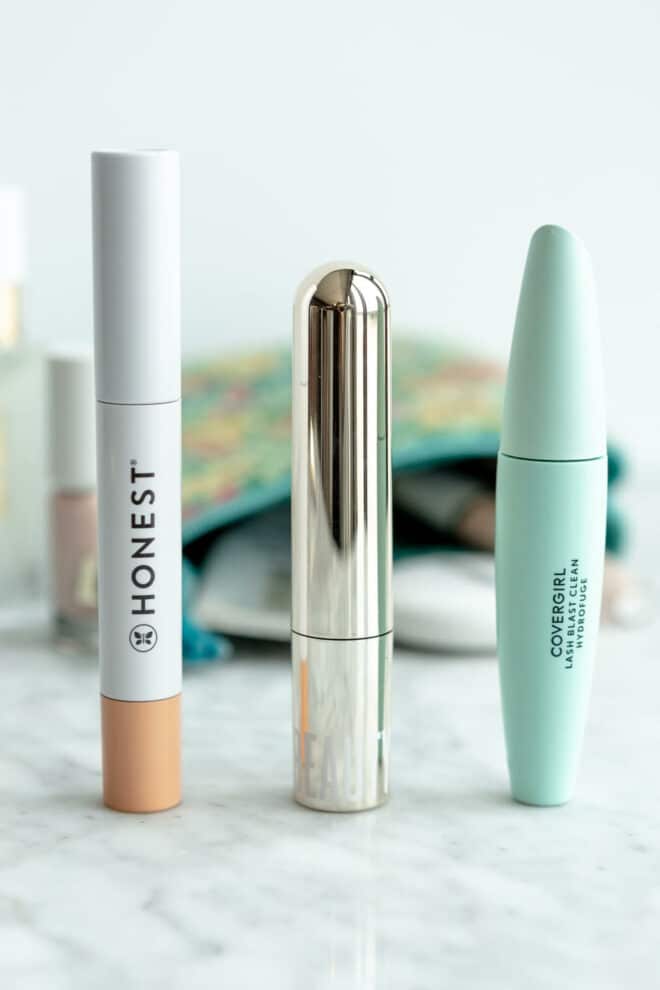 Best Clean Mascara
I have been on a health journey since high school. The more I learn about the benefits of putting whole and nutritious foods into my body, the more I try to do it. Sadly, it wasn't until a few years ago that I learned what I put ON my body matters too. Why? Make-up, lotion, deodorant, etc., all have the ability to be absorbed by our body's largest organ, our skin. Harsh chemicals and fake fragrances can disrupt a variety of things, including our endocrine system, where our body produces hormones. While I continually choose foods that are life-giving for me, I am now also on a skincare and makeup journey, understanding product ingredients, if those ingredients are harmful, and which safer products actually deliver results. In this article, I will be looking at three safer mascaras that you can actually feel good about using AND that give you the benefits of full lashes.
Why does clean mascara matter?
Whether it's your body lotion or foundation, putting products on your body can have a positive or negative impact on your health, this includes the mascara you choose. According to the CDC, the ingredient "Carbon Black" that is used in a variety of mascaras can actually have a negative effect on your DNA and can potentially be poisonous to our organs. Considering that our bodies absorb what we put on them, and knowing that we might be putting a potentially carcinogenic material close to our eyes, it is important to prioritize a clean, low toxic mascara.
The Best Clean Mascara Options
Here are my top three safer mascara picks, what I love about them, and how they can each improve, as well as their EWG rating. EWG Skin Deep is an online database where you can look up skincare and makeup products to see what their ingredients are, the toxic load of those ingredients, and their overall score based on safety. The "ingredient hazard score" ranges from 1-10 and is determined through an analysis of known and suspected hazards of ingredients. A score of 1-2 is considered low hazard, 3-6 is moderate hazard, and 7-10 is high hazard.
Mascara #1: Beautycounter Think Big All-in-One Mascara – $27
The Beautycounter mascara claims that it "achieves ultimate lift, length, and volume—without potentially harmful ingredients—and supports stronger lashes, thanks to intensely nourishing tripeptide technology." It is made without carbon black, mineral oils, cyclic silicones, and BHT.
EWG Score: 2 (EWG Verified)
Pros
Buildable volume (shown above with 1, 2, and 3 coats)
Water resistant
Ingredients that help your lashes grow (tripeptide technology: panthenol (provitamin B5) and biotinyl-tripeptide, which strengthen and lengthen your lashes over time)
Cons
Smudges with oily-prone skin
Removal requires an oil-based product
Must purchase online (can purchase in a store if nearby)
One shade – black
Price point
Mascara #2: Honest Mascara with Eyelash Primer – $16.99
The Honest Mascara claims that it "boosts lash length, volume & definition. It is free of silicone and paraben-free. Dermatologist & Ophthalmologist tested."
EWG Score: 2 (EWG Verified)
Pros
Price point
Comes with a primer
Extends lash length after 2 coats
Can be purchased at Target
Made with Jojoba Esters
Cons
Doesn't provide very much volume
One shade – black
The Covergirl Clean mascara claims that it "provides 10x the volume of bare lashes and the applicator brush separates and defines for visibly longer, fuller lashes. This lash-loving vegan mascara is infused with argan and marula oils. Formulated without parabens, sulfates, talc, or mineral oil."
EWG Score: 2-3 (depending on the shade)
Pros
Has both black and brown shades
Price point
Easily accessible to buy at Walmart or Target
Contains argan and marula oils (which helps lengthen and thicken lashes)
Cons
Couldn't find a non waterproof option (the shade I purchased "Black Brown" didn't have waterproof on the packaging but it was very hard to get off without makeup remove)
The wand shape isn't my favorite- a little too thick
Doesn't provide buildable volume or length
Provided the least amount of volume and length between all three mascaras
Shade Black contains triethanolamine (potentially toxic ingredient over time)
Bottom Line: which mascara is the best?
While all three mascaras have their pros and cons, my top pick was based on performance and ingredients. The mascara that gave me the most length and volume, while also having ingredients that help my lashes grow, was the Beautycounter Think Big All-in-One Mascara. While some safer mascaras use some type of oil to nourish lashes, Beautycounter uses a combination of Panthenol (provitamin B5) and biotinyl-tripeptide in their formula to help lengthen and strengthen lashes significantly over time. One of the most important aspects of this mascara, compared to other clean brands, is that Beautycounter obsessively tests all of their products to ensure overall safety. Not only do they go out of their way to omit 1,800+ ingredients from their products, but they also "test for trace contaminants that can unintentionally contaminate raw materials through sourcing and manufacturing." Since I have oily skin and prefer a non-waterproof product, I provide my top pro-tips below on how to remove it. The Honest Mascara came in a close second because of its non-waterproof formula! This is a personal preference when it comes to the removal process. I love how easy it is to wash off.
Tips for Using Beautycounter's Think Big Mascara
I have naturally oily skin, including my eyelids and under my eyes, and because Beautycounter's formula is removed through oil-based products, here are a few of my tips for keeping it on all day and removing it easily.
How to Apply
The most important step, in my opinion, for applying the Beautycounter Mascara is to slightly wiggle your wand from right to left as you apply. This will provide the most length and volume. You can apply up to three coats of this mascara (alternate applying coats between each eye).
How to Avoid Transfer
I have found that the best way to avoid transfer with the Beautycounter Mascara is by either putting a coat of the Honest Mascara with Eyelash Primer on before applying the mascara or by dabbing a tiny bit of a Mattifying Powder under my eyelids and on top where I put my eyeshadow. Or both!
How to Remove Mascara
My favorite way to remove the Beautycounter Mascara is by using this Instant Eye Makeup Remover. The oil-based formula helps to gently remove the mascara without damaging my eyelashes. You can also use the Countertime Cleanser. Both are formulated with oil and can easily remove water-resistant products without damaging the delicate skin around your eyes.
How often should I replace mascara?
Because most mascaras have water in them, it is important to replace them regularly. The safest timeline is every 3 months, otherwise, bacteria can start to grow in the mascara. When using 2-3 coats of the Beautycounter Mascara, I was out of the product by month three and ready to purchase a fresh new tube!
More Safer Skincare + Beauty Articles
Sources: