This blueberry smoothie bowl is packed with antioxidants and hunger-satisfying protein with an uber, creamy texture.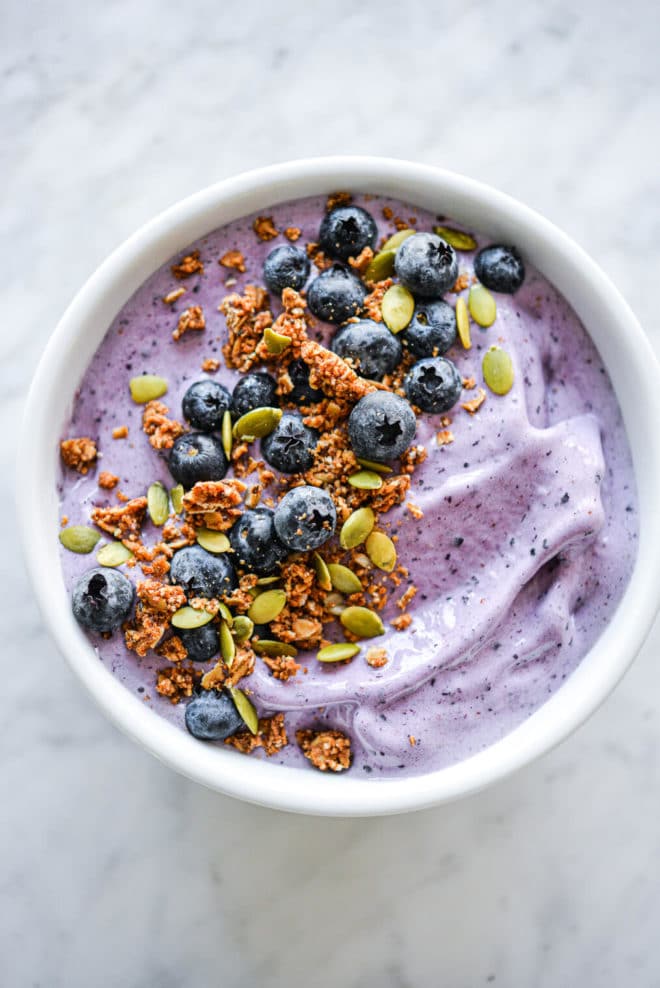 Blueberry Banana Smoothie Bowl Recipe
Four simple ingredients are all you need to make this satisfying, blueberry banana smoothie bowl. It is so well balanced and the quickest to pull together. You can also easily put together smoothie bowl packs to keep in your freezer so they're prepped and ready to go! To make individual packs, add the blueberries, banana, and protein powder to a freezer bag or container and label (name + a reminder to add ½ cup milk). It's an easy smoothie bowl on the fly!
What is a smoothie bowl?
A smoothie bowl is a nutrient-packed equivalent to the smoothie in a thick and creamy form that you can eat with a spoon. Smoothie bowls can also be topped with a variety of toppings–fresh fruit, nuts, seeds, and granola are some of my favorites!
What ingredients are in a Blueberry Banana Smoothie bowl?
The definition of simple–you just need a few ingredients to pull this banana blueberry smoothie bowl together. Here's what you'll need: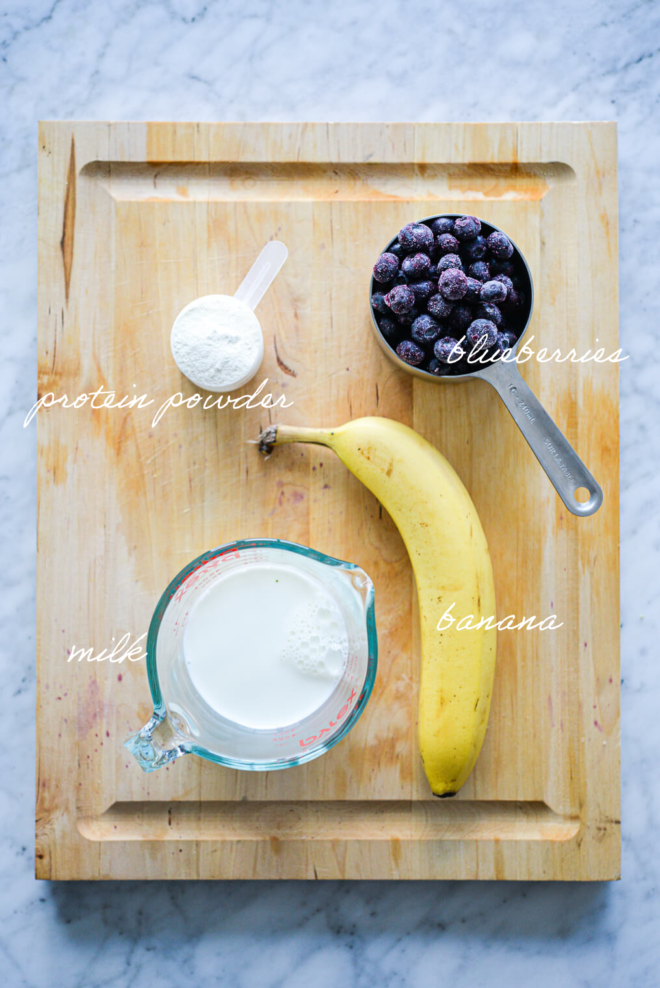 Frozen Blueberries – 1 cup frozen blueberries add a sweet and tart flavor and loads of antioxidants.
Frozen Banana – 1 sliced-then- frozen banana gives this smoothie bowl its lucious and thick texture.
Milk – a ½ cup of the milk of your choice helps blend all the ingredients together to a smooth texture.
Protein Powder – 1 scoop of protein powder is an easy add to get an extra serving of protein added to your day. (Need help finding the right protein for you? Here are our recommendations on the healthiest protein powders).
Ingredient Modifications
Use mixed berries – want more than just blueberries? Use 1 cups of a mixed berry blend (strawberries, blueberries, and blackberries are a popular trio).
Add Greek yogurt – want an extra dose of protein plus the benefit of probiotics? Add a ½ cup of Greek yogurt to the mix. You can also freeze the Greek yogurt in with the smoothie bowl packs if you make them ahead.
Substitute for the milk – use orange juice in place of the milk for a more tropical flavored smoothie bowl.
Add greens – for an extra serving of vegetables and the nutrients from a powerhouse food, add a cup of spinach to the mix.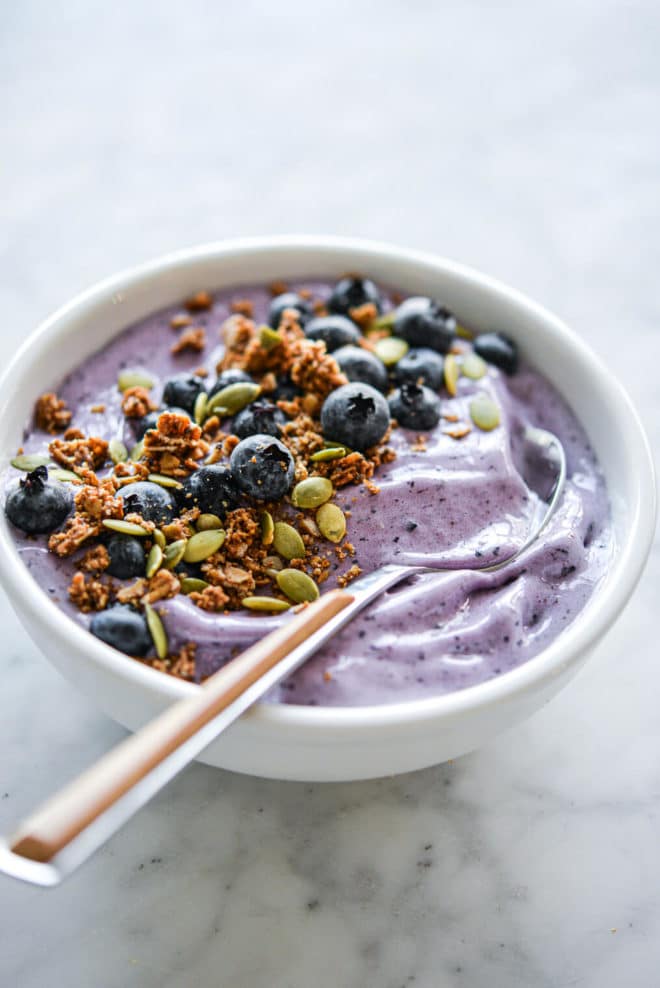 What toppings go well with a blueberry smoothie?
Some of my favorite toppings for this blueberry smoothie bowl are:
Fresh blueberries – for a bright freshness that pops in your mouth.
Granola – for added crunch and texture. I like a simple granola like Purely Elizabeth.
Pumpkin seeds – for an addition of healthy fats and a texture.
Supplies Needed to Make this Recipe
Best Blender for Smoothie Bowls
The best blender for smoothie bowls is a high powered blender. This will help ensure that all the ingredients are blended completely resulting in the smoothest and thickest texture.
How to Make a Blueberry Banana Smoothie Bowl
This process truly could not be any easier! To make your blueberry banana smoothie bowl: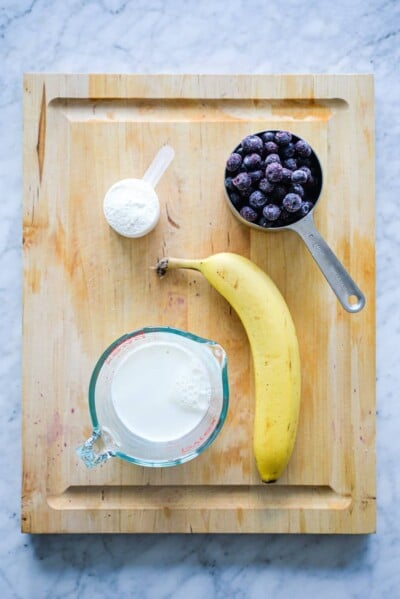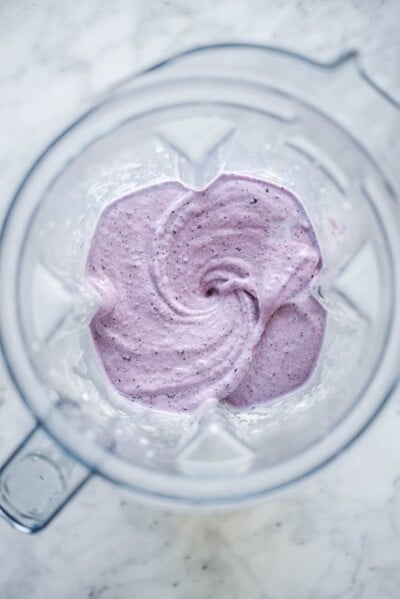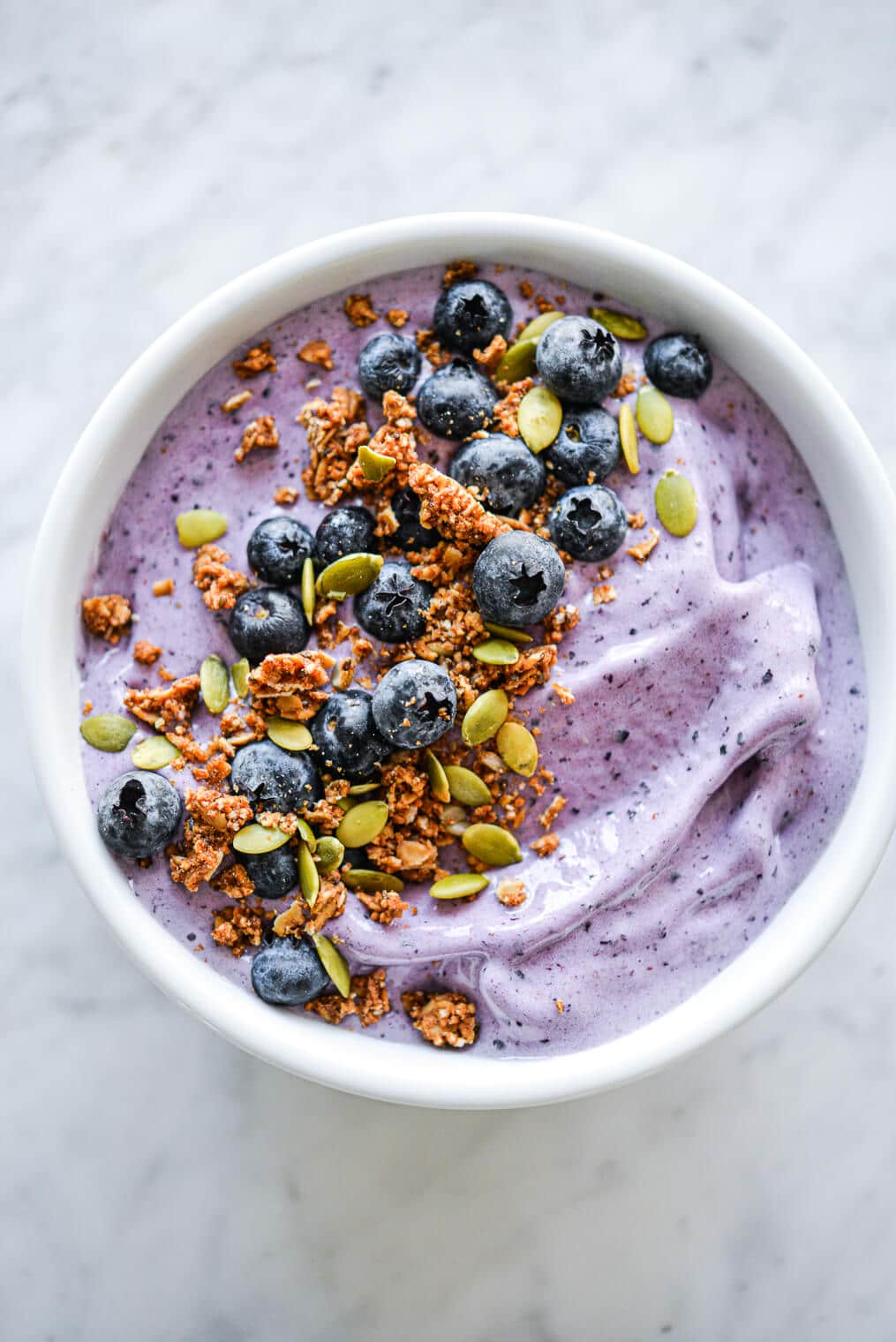 Add ingredients – add all your ingredients to the blender pitcher.
Blend – blend on high until smooth.
Pour and top – pour your smoothie into a bowl and add your favorite toppings (if desired).
Serve and enjoy!
What makes a smoothie bowl thick?
Using as many frozen ingredients as possible and using a high-speed blender will help achieve the thickest texture. Try to use as little liquid as possible (just the ½ cup milk in this recipe). Another tip is to blend your protein in your liquid first, then add the fruit.
Is this smoothie bowl healthy?
The key to a healthy smoothie bowl is a balance of nutrients. This smoothie bowl combines energizing carbohydrates, healthy fats, and protein making it a balanced and healthy addition to your daily nutrition.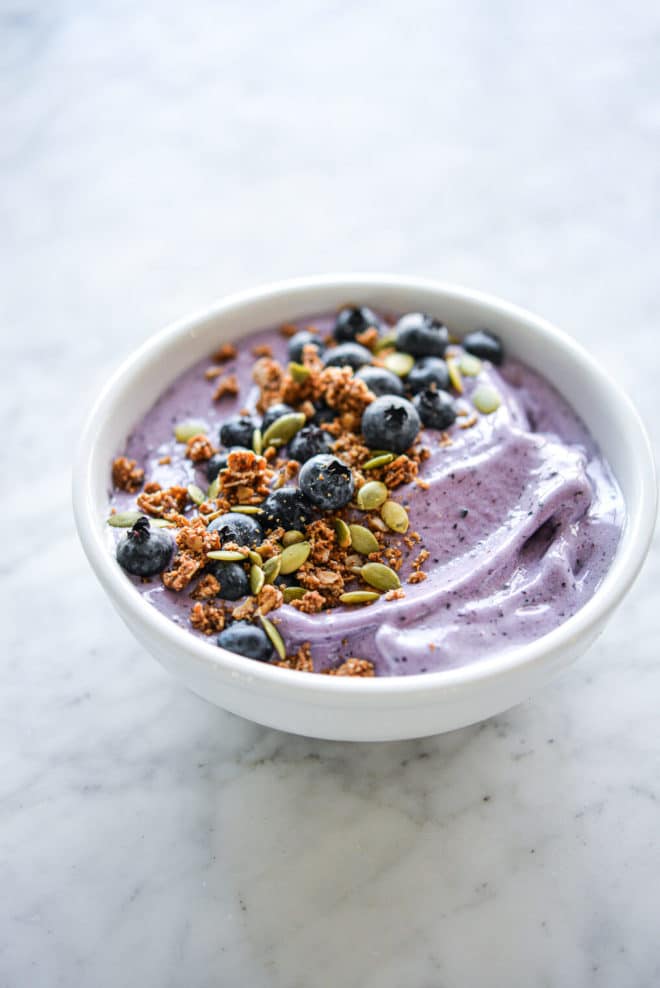 How long can I refrigerate a smoothie bowl?
To get the best texture and creaminess, you'll want to eat your smoothie bowl straight from the blender. If you're making your smoothie bowl ahead of time, store it in an airtight container and consume within 3 days of blending. You may notice some separation in the smoothie. This is normal and a quick stir to re-mix the ingredients should do the trick!
More Smoothie Bowl Recipes
Blueberry Banana Smoothie Bowl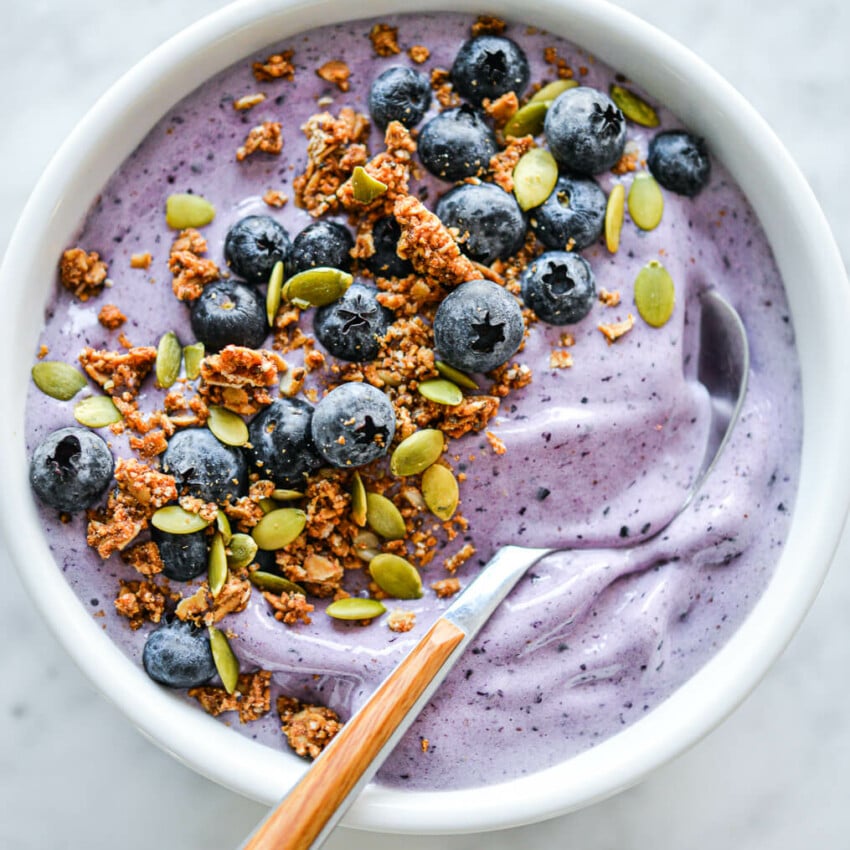 This blueberry smoothie bowl is packed with antioxidants and hunger-satisfying protein with an uber, creamy texture.
Ingredients
1

cup

blueberries

frozen

1

banana

sliced-then-frozen

½

cup

milk

of choice

1

scoop protein powder
Instructions
Add ingredients to blender.

Blend on high until smooth.

Pour your smoothie into a bowl and add your favorite toppings (if desired).

Serve and enjoy!
Recipe Notes
Nutrition
Calories:
334
kcal
|
Carbohydrates:
62.8
g
|
Protein:
23.2
g
|
Fat:
1.3
g
|
Saturated Fat:
0.4
g
|
Cholesterol:
5.9
mg
|
Sodium:
160.8
mg
|
Fiber:
6.6
g
|
Sugar:
35.7
g