Decadent and creamy, this chocolate smoothie bowl will satisfy your sweet tooth without overloading with sugar.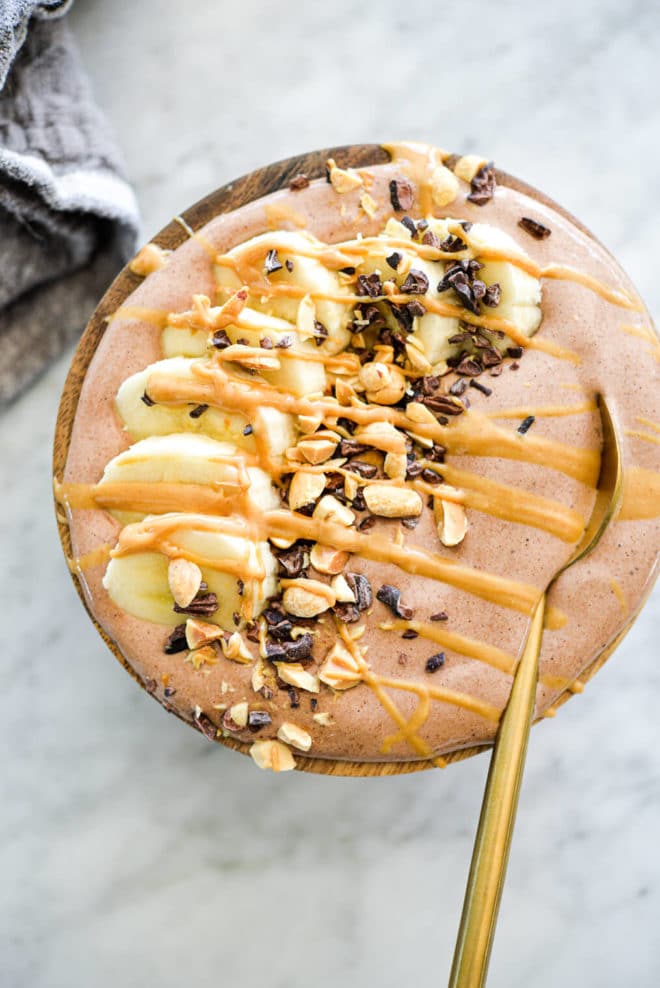 Do you like chocolate ice cream? Then you'll LOVE this chocolate smoothie bowl! The best part is you get the smooth, decadence of ice cream without the extra added sugars, plus a bounty of vitamins, protein, and healthy fats. With just a few simple ingredients, this chocolate smoothie bowl is a breeze to whip together and the perfect way to start your day or add to your routine!
How do you make a balanced smoothie bowl?
Balance is truly in the hand of the maker (in my opinion) and will look different for everyone depending on what is efficient or inefficient for your body. That said, I think the key to building a balanced smoothie bowl is to construct a bowl that contains a variety of macronutrients (fat, protein, and carbohydrates).
Healthy Fat – A couple spoonfuls of nut butter, full-fat Greek yogurt, and chia seeds are great ways to add in some healthy fats.
Protein – Greek yogurt or protein powder make great additions for a boost in protein.
Carbohydrates – Fruits (specifically berries and bananas) are ideal to make up the base flavor of the smoothie and provide key antioxidants and other nutrients.
Chocolate Peanut Butter Banana Smoothie Bowl Nutrition
This chocolate peanut butter banana smoothie bowl provides a bounty of nutrients.
Bananas – rich in soluble fiber, bananas help support healthy digestion and also are a good source of potassium, vitamin C, magnesium, and antioxidants.
Peanut Butter – a true key player, peanut butter contains the trifecta of macronutrients (fats, proteins, and carbs).
Protein Powder – the addition of protein powder is a great way to incorporate more protein into your daily intake.
Recipe Ingredients
This recipe comes together with just a few simple ingredients! Here's what you'll need to get blending:
Bananas – the true key to a thick and creamy smoothie bowl. You'll use 2 sliced-then-frozen bananas.
Peanut Butter – gives this smoothie bowl a luscious, nutty flavor, 2 tablespoons of peanut butter head into the blender next.
Cocoa Powder – 2 tablespoons cocoa powder adds the bold, chocolatey flavor to the mix.
Protein Powder (optional)- 1 scoop of protein powder provides an extra boost of protein.
Milk – a ½ cup of milk provides just enough liquid for blending without taking away from the thickness of the smoothie bowl
How To Make
This process truly could not be any easier! To make your chocolate smoothie bowl:
Add ingredients to the blender – add all your ingredients to the pitcher.
Blend – blend on high until smooth.
Pour and top – pour your blended smoothie into a bowl and add your toppings (if desired).
Enjoy!
Smoothie Bowl Toppings
Some of my favorite toppings to enhance the flavor profile and add texture to this smoothie bowl are:
Banana – slice half of a fresh banana to layer on top.
Cocoa Nibs – add a slight bitterness and crunch.
Peanut Butter – who doesn't love more peanut butter? A little drizzle on top adds just the right amount of additional flavor.
Crushed Peanuts – a sprinkle of crushed, salted peanuts gives an earthy, salty contrast to the sweetness of the bowl.
Chia Seeds – for a little pop of texture and extra antioxidants.
Smoothie Bowl Variations
This recipe is deliciously flavor-balanced on its own, there are lots of fun ways to change things up! Here are some ideas:
Add strawberries – for a little extra tartness and a chocolate-covered-strawberry feel, sub in 1 cup of frozen strawberries for one of the bananas.
Use a different nut butter – for a spin on the nut profile, try cashew butter, almond butter, or hazelnut butter.
Add some spices – to give the smoothie bowl a real warmth, try adding some spices like cinnamon or cayenne (for a little kick!)
How to Store
This recipe is perfect for a single serving! If you manage to have leftovers, you'll want to store your smoothie bowl in an airtight container in the fridge and consume within 3 days.
Can I freeze a banana peanut butter smoothie bowl?
You can certainly freeze your smoothie bowl and thaw it in the fridge when you are ready to eat. However, my best recommendation is to prep the ingredients (with an exception of the milk) and freeze them (pre-blended) in separate portions. When you're ready to make your smoothie bowl, simply empty the contents into the blender, add your milk of choice, and blend!
Frequently Asked Questions
Is a smoothie bowl better than a smoothie?
It honestly comes down to personal preference and desire for portability. Both serve as potentials for consuming a wide variety of nutrients in one meal/drink. The benefit of a smoothie bowl is that you can play with different textures through the addition of toppings. Smoothie bowls are a great option if you prefer to eat out of a bowl with a spoon versus drink out of a glass, while smoothies are more portable and easier to consume on the go since you can drink them out of a straw.
Is banana and peanut butter a healthy breakfast?
Banana and peanut butter make for a solid choice for a healthy breakfast. Bananas are rich in soluble fiber and help support healthy digestion. They are a good source of potassium, vitamin C, magnesium, and antioxidants. Peanut butter provides healthy fats, carbs, and a bit of protein to start the day, so the combination of both makes for a rounded start to the day.
Are bananas healthy in smoothies?
Adding bananas to smoothies provides for a large variety of nutrients and antioxidants. With any fruit, you don't want to overdo it depending on how your body responds to sugars, but they are a great choice for adding volume and creaminess to the smoothie as well.
What makes a smoothie bowl thick?
For the thickest smoothie bowl, use as many frozen ingredients as possible. Bananas, specifically, are the best frozen fruit to achieve that thick, smoothie bowl consistency. A high powered blender also helps achieve the thickest, smoothest, and creamiest texture.
What are good toppings for smoothie bowls?
You really can't go wrong with how you top a smoothie bowl! Some favorite toppings for this chocolate smoothie bowl include sliced, fresh banana, cacao nibs, a drizzle of peanut butter, granola, chia seeds, and crushed peanuts.
Peanut Butter Chocolate Smoothie Bowl
Decadent and creamy, this chocolate smoothie bowl will satisfy your sweet tooth without overloading with sugar.
Ingredients
2

bananas

sliced-then-frozen

2

tablespoons

peanut butter

2

tablespoons

cocoa powder

½

cup

milk of choice

1

scoop protein powder

optional
Instructions
Add all ingredients to the blender.

Blend on high until smooth.

Pour blended smoothie into a bowl and add toppings (if desired).

Serve and enjoy!
Recipe Notes
Tips for how to thicken your smoothie bowl:
Use as many frozen ingredients as possible. Frozen bananas, specifically, will help achieve the thickest texture.
Use a little liquid as possible.
Use a high powered blender.
Nutrition
Calories:
570
kcal
|
Carbohydrates:
81.7
g
|
Protein:
32.4
g
|
Fat:
19.1
g
|
Saturated Fat:
4.6
g
|
Cholesterol:
5.9
mg
|
Sodium:
298.8
mg
|
Fiber:
10.9
g
|
Sugar:
39
g