Every item on this page was chosen by The Fed & Fit team. The site may earn a commission on some products (read more here).
This green smoothie bowl is nutrient packed with healthy fats, protein, and energizing carbohydrates without compromising on flavor!
Nutritious Green Smoothie Bowl Recipe
This green smoothie bowl is the ultimate in balance and flavor, with the healthy fats from the avocado, protein from the milk and protein powder, natural sweetness from the banana and mango, and the nutrient power boost from the spinach! The combination of ingredients makes for the creamiest texture and a great way to get in an extra dose of vegetables.
Spinach Smoothie Bowl
Spinach is such a versatile green and blends flawlessly into smoothies without impacting the taste. It is ultra, nutrient-dense, and an excellent source of fiber, folate, zinc, calcium, and vitamins A, C, and K, B vitamins, and antioxidants. Adding spinach into your smoothie bowl is an easy way to add extra vegetables to your daily intake. Fresh and frozen spinach both blend well (if you use frozen, I recommend ½ a cup since it wilts and it is more compact when frozen). If you find your spinach isn't blending completely, try blending it with milk first before adding the other ingredients.
Avocado Smoothie Bowl Recipe Ingredients
The ingredients for this avocado smoothie bowl are simple, fresh, and nutrient-dense. Here's what you'll need:
Banana – 1 sliced, frozen banana adds potassium and magnesium in addition to being supreme for thickening your smoothie bowl
Mango – a ½ cup of mango gives the perfect citrusy, tart flavor plus a boost of antioxidants.
Avocado – ½ of a fresh avocado gives the smoothie bowl a healthy dose of omega-3 fatty acids and rich nutrients to help keep your hunger satiated.
Milk – a ½ cup of milk (of choice) helps the ingredients blend smoothly together.
Spinach – 1 cup of packed spinach (or ½ cup of frozen spinach) packs in a powerhouse of nutrients.
Protein Powder – 1 scoop of your favorite protein powder heads in last to give this smoothie bowl a boost of macronutrients. (Need help finding the right protein for you? Check out our recommendations here).
Supplies Needed to Make this Recipe
How To Make a Green Smoothie Bowl
The process to make your green smoothie bowl is quick and easy! To make your green smoothie bowl: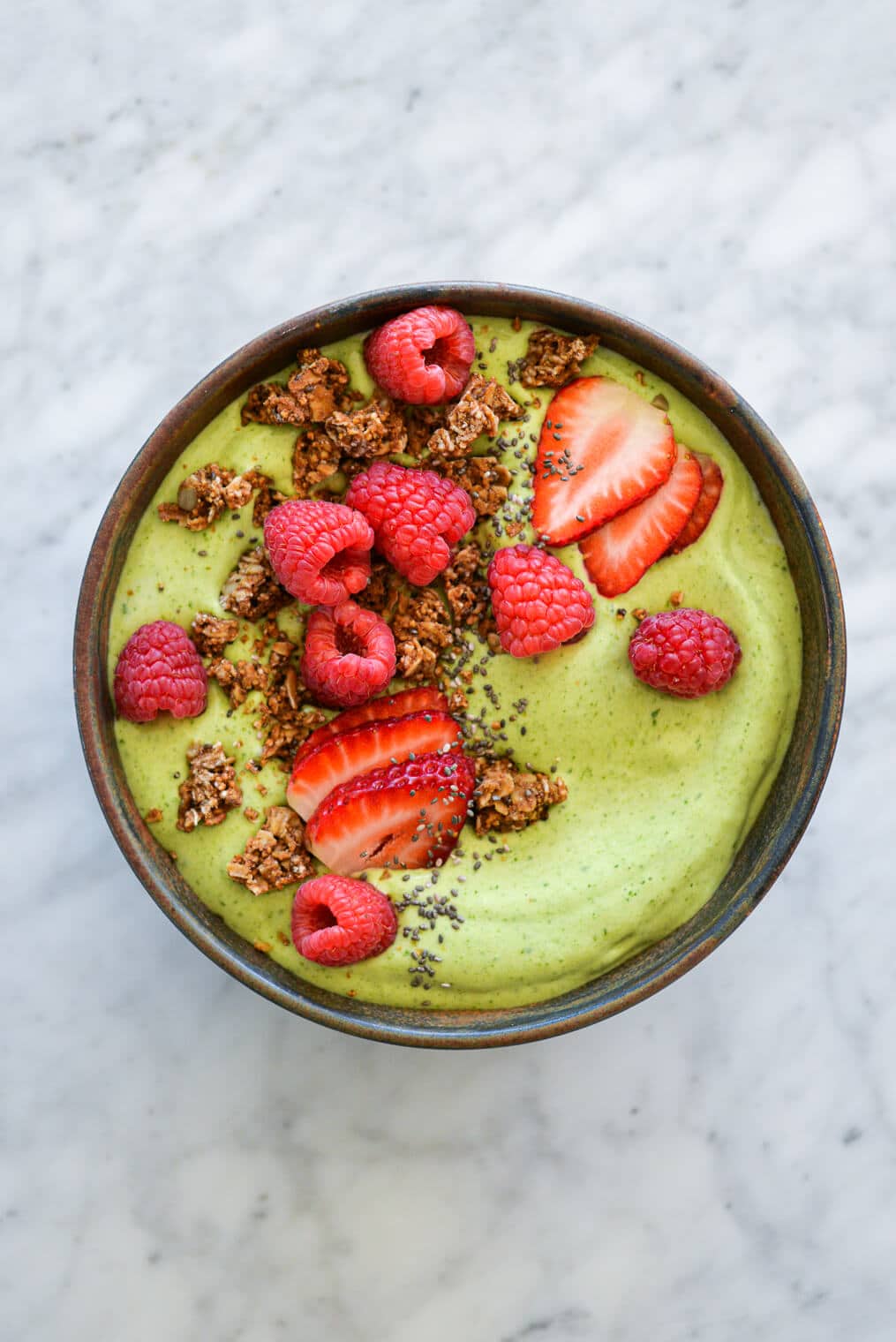 Add ingredients – add all your ingredients to the blender.
Blend – blend on high until smooth.
Pour and add toppings – pour your blended smoothie into a bowl and add toppings (if desired).
Serve and enjoy!
*If you are having difficulty getting your spinach to blend completely, try blending the milk with the spinach first, then add the remaining ingredients.
Variations for Green Smoothie Bowls
This green smoothie bowl is so delicious and nutrient-packed on its own, but there are a plethora of ways that you can change things up. Here are some ideas:
Make it dairy free – coconut milk or your favorite plant-based milk would be really tasty.
Replace the fruit – try a different combination of fruit in place of the banana and mango. Blueberries and strawberries would also make a delicious combo. You could also omit the banana or use half to cut down on sweetness.
Use coconut yogurt – not a fan of avocado in your smoothie? Try subbing coconut yogurt for a similar creamy texture, antioxidants, and healthy fats.
Toppings for a Smoothie Bowl with Avocado
Some favorite toppings for this avocado smoothie bowl:
Granola – adds a crunchy texture. I like a simple one like Purely Elizabeth.
Fresh Raspberries or Strawberries – add a fresh tartness to counterbalance the sweetness.
Chia Seeds – add little pops of texture and crunch as well as fiber and antioxidants.
How do you thicken a smoothie bowl?
The key to a thick smoothie bowl is to use as many frozen ingredients as possible, use a high-powered blender, and as little liquid as possible to bring all of the ingredients together. Frozen bananas, specifically, are key to adding a thick texture to the smoothie bowl.
How to Store a Leftover Banana Avocado Smoothie Bowl
To store any leftover smoothie, place the contents in an airtight container and place in the fridge. It is best to consume within 3 days of blending. Some oxidation (discoloring) may occur from the avocado, but this does not impact the safety of your smoothie.
Can I freeze an avocado smoothie bowl made in advance?
You can portion and freeze your avocado smoothie bowl in an airtight container after blending, but for best results, I recommend making a smoothie pack of all the ingredients (with an exception of the milk) and freezing in individual serving packets. When you're ready to make your smoothie, add your milk and frozen ingredients into the blender and blend away! This is a great hack to have quick and easy assembly plus a fresh smoothie bowl.
Avocado Smoothie Bowl FAQ
Will avocado turn brown in a smoothie?
If consumed immediately, the avocado will maintain its bright green color. Over time, due to oxidation, the avocado will turn brown since it is exposed to more air with blending. It is still safe to drink your smoothie if the avocado starts to brown. It is best to consume within 3 days of blending.
Is putting spinach in smoothies good for you?
Spinach is a powerhouse for nutrients and antioxidants, making it a great add to your smoothie. Especially if you are trying to get some extra servings of vegetables into your daily routine.
What does avocado do in a smoothie?
In addition to adding a rich and creamy texture, avocados add a bounty of healthy, efficient fats to the smoothie.
Are bananas and avocados good together?
Bananas and avocados are a dynamic duo of flavors and textures. They're a great source of antioxidants, folate, and potassium, which help keep you energized.
What's the difference between a smoothie and a smoothie bowl?
The key difference between a smoothie and a smoothie bowl is that a smoothie can be consumed from a glass by drinking and a smoothie bowl is thick enough to be eaten with a spoon. Smoothie bowls also have a thick texture that will withstand having toppings and have a generally creamy texture.
Are smoothie bowls actually healthy?
Yes! Smoothie bowls can be healthy. The balance of macronutrients and choosing foods that are efficient for your body are key to keeping smoothie bowls healthy.
Can you lose weight eating smoothie bowls?
A balanced smoothie with healthy fats, energy-converting carbohydrates, and satiating protein is a great addition to any nutritious meal plan.
More Smoothie Bowl Recipes
Ingredients
1

banana

sliced-then-frozen

½

cup

mango

chunks

½

avocado

½

cup

milk

of choice

1

cup

of packed spinach

or ½ cup of frozen spinach

1

scoop protein powder
Instructions
Add all ingredients to the blender.

Blend on high until smooth.

Pour smoothie into a bowl and add toppings (if desired).

Serve and enjoy!
Nutrition Information
Nutrition Facts
Green Smoothie Bowl with Avocado
Amount per Serving
% Daily Value*
* Percent Daily Values are based on a 2000 calorie diet.
Recipe Notes
If you are having difficulty getting your spinach to blend completely, try blending the milk with the spinach first, then add the remaining ingredients.
To achieve the thickest smoothie bowl:

Use as many frozen ingredients as possible
Use a high powered blender
Use as little liquid as possible