This easy, mango smoothie bowl is the perfect balance of tang and sweet with a delicious twist on tropical flavors.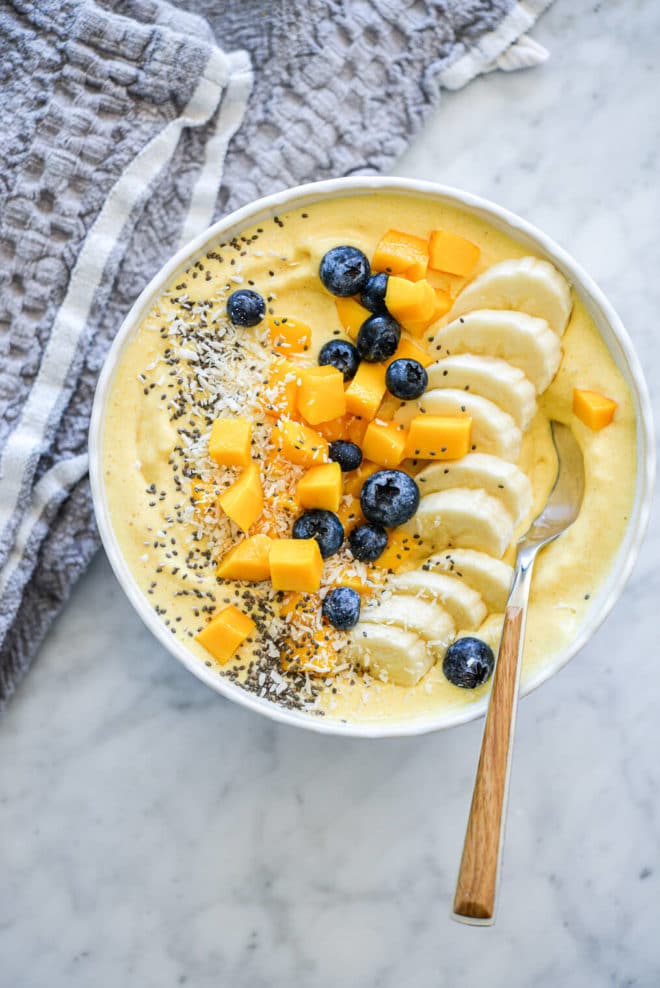 The not-so-secret (because I'm sharing them with you) secret ingredients to this mango smoothie bowl are cardamom and turmeric! The cardamom provides a warmth and sweetness, while the turmeric adds an earthy note and beautiful color!
Recipe Ingredients
This mango smoothie bowl comes together with a few simple ingredients and spices. Here is what you'll need: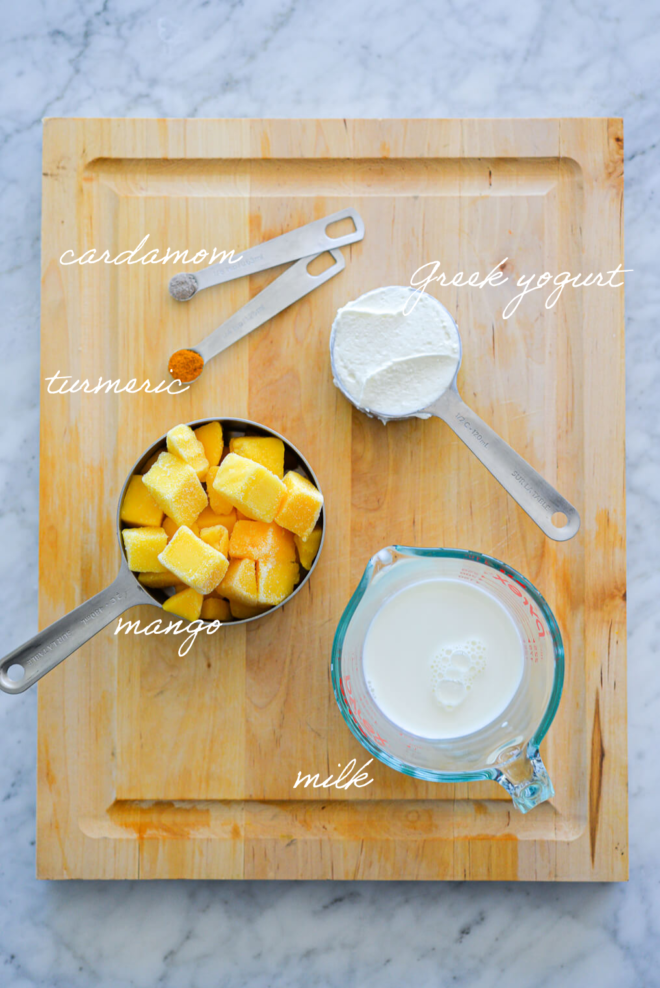 Mango – 2 cups of mango make up the fruit base to this smoothie bowl. You can chop and then freeze the mango chunks or buy frozen chunks from the store.
Greek Yogurt – ½ of a cup of full-fat, unsweetened Greek yogurt gives just the right amount of tang to counter the sweetness of the mango.
Milk – a ½ cup of milk (whatever your preference!) smooths out the texture of the smoothie bowl.
Ground Cardamom – a ¼ of a teaspoon of ground cardamom and….
Turmeric – a ¼ of a teaspoon of turmeric adds a depth of flavor, warmth, and spice to the smoothie.
Ingredient Modifications
This recipe is simple and delicious on its own, but here are some ideas for fun ways to shake things up a bit.
Add a different fruit – sub out a cup of the mango for a cup of another fruit (strawberries, kiwi, raspberries, or blueberries would be yummy) to put a twist on the mango flavor profile.
Omit the spices – while I like the added warmth and flavor of the raw spices, you can omit them for a super clean flavor profile.
Dairy-free – make this recipe dairy-free by using coconut cream or coconut yogurt and a non-dairy milk (almond milk, coconut milk, or oat milk would be delicious!).
How to Make
This process is so easy and only takes a few minutes! To make your mango smoothie bowl: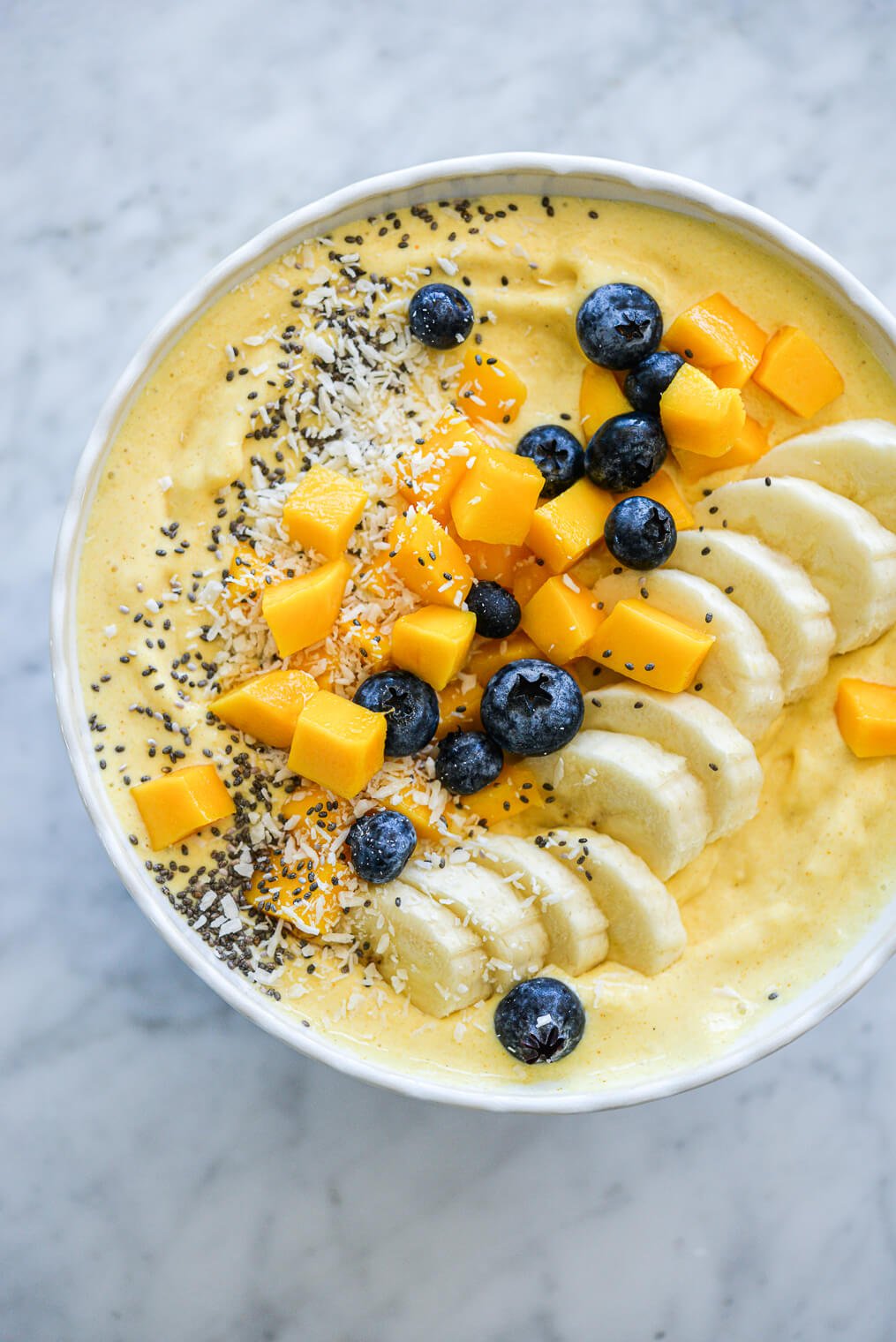 Add ingredients – add all your ingredients to the blender pitcher.
Blend – blend on high until smooth.
Pour and top – pour your blended smoothie into a bowl and add your toppings of choice.
Serve and enjoy!
Mango Bowl Toppings
Toppings are arguably the best part of the smoothie bowl! Here are some of my favorites:
Fresh Mango – adds a fresh, sweet flavor.
Chia Seeds – for extra antioxidants and a little pop of texture.
Shredded Coconut – a sprinkle of unsweetened, shredded coconut provides extra texture and nutty flavor (take your topping to the next level and lightly toast the coconut flakes in the oven).
Fresh Berries – blueberries and raspberries are a healthy add (all those extra vitamins and antioxidants!), not to mention they make for a beautiful, photo-worthy bowl.
Banana – half of a sliced banana gives an extra creamy component.
Can a mango smoothie bowl be made in advance?
This mango smoothie bowl is thickest and creamiest straight from the blender, but you could certainly prepare it in advance and store it in an airtight container in the fridge. It is best consumed within 3 days. Alternatively, you could also measure and prep your smoothie bowl ingredients and freeze them together in individual packs so all you have to do is dump them in the blender and blend when you're ready to enjoy your smoothie bowl.
Can I freeze this mango fruit bowl?
You can absolutely freeze this mango fruit bowl in individual portions once it's blended and defrost in the fridge when you are ready to eat. There may be some natural separation that occurs, but you can stir to recombine ingredients if need be and add toppings as desired.
Frequently Asked Questions
What fruit goes well with mango?
Mango is truly a team player and pairs well with almost every fruit! Some of my favorites are coconut, papaya, berries (strawberries, blueberries, blackberries, raspberries), and peaches.
Are smoothie bowls actually healthy?
Yes, I think so! Mangoes are a great source of potassium and magnesium, both of which support digestion and provide key electrolytes for your body. Greek yogurt is protein-rich, high in calcium, and contains probiotics to support gut health.
How do you thicken a smoothie bowl?
The key to a thick smoothie bowl is to use as many frozen ingredients and as little liquid as possible. Using frozen mango chunks and yogurt cubes will give you the thickest mango smoothie bowl. A high quality blender also has a big impact on achieving the thickest, smoothest purees.
Does ice make a smoothie bowl thicker?
Ice can also thicken your smoothie bowl if you still want a thicker consistency after using frozen fruit and yogurt.
What can I use in a smoothie bowl instead of banana?
Although they are a very popular add to smoothie bowl recipes (in part because the creamy, thick texture of frozen banana adds to the bowl), this recipe actually doesn't call for bananas.
What makes a smoothie bowl creamy?
Frozen fruit is the vital ingredient for a creamy smoothie bowl.
What does a smoothie bowl contain?
While the actual contents of a smoothie bowl will vary, the base of a smoothie bowl is typically composed of an individual or combination of frozen fruits and some kind of liquid (milk or juice) topped with a variety of mix-ins. Additional toppings vary depending on the nutrients you're seeking or flavor profiles you want to create. Common additions include protein powder, greens (such as spinach), yogurt, seeds (flax, chia), nut butters, and spices.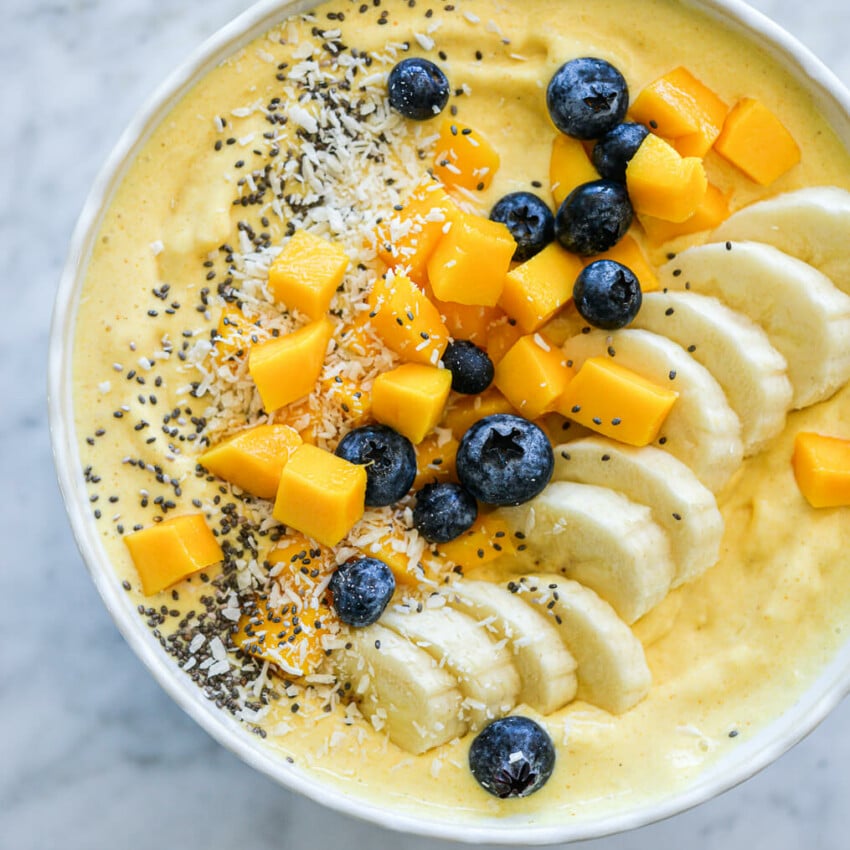 This easy, mango smoothie bowl is the perfect balance of tang and sweet with a delicious twist on tropical flavors.
Ingredients
2

cups

mango

cubed and frozen

½

cup

full-fat

unsweetened Greek yogurt

½

cup

milk of choice

¼

teaspoon

ground cardamom

¼

teaspoon

turmeric
Instructions
Add ingredients to the blender.

Blend on high until smooth.

Pour blended smoothie into a bowl and add toppings of choice.

Serve and enjoy!
Recipe Notes
Tips for a thick smoothie bowl:
Use as many frozen ingredients as possible (frozen mango chunks and frozen yogurt cubes are great in this recipe).
Use less liquid (just enough to help blend the ingredients together).
Use a high powered blender.
Nutrition
Calories:
382
kcal
|
Carbohydrates:
62
g
|
Protein:
19.8
g
|
Fat:
8.5
g
|
Saturated Fat:
3.8
g
|
Cholesterol:
21
mg
|
Sodium:
104.9
mg
|
Fiber:
5.6
g
|
Sugar:
57
g