This smooth and vibrant pitaya bowl has the perfect blend of flavors that feel reminiscent of a tropical sorbet without being overly sweet. The orange juice is the perfect balance to the mild sweetness from the pitaya, the protein powder adds an extra macronutrient punch, and the mango rounds out the flavor while providing a thick and creamy texture to the smoothie bowl. 
What is a Pitaya Bowl?
A pitaya bowl is a smoothie bowl made with pitaya, also known as dragon fruit, as the fruit base. There are a few different types of pitaya that vary in internal color, all with tiny black seeds. The flesh, as it's called, can be white, deep red, and or bright pink, like the ones featured in this smoothie bowl.
Are pitaya and dragon fruit the same thing?
Yes, pitaya and dragon fruit are synonymous with one another. The pitaya fruit is indigenous to Central America and is a beautifully unique cactus fruit. It can be found growing all over the world and was coined "dragon fruit" by Asian countries.
What does a pitaya bowl taste like?
This pitaya bowl combines the slightly sweet, earthy flavor of the dragon fruit, the tang of the orange juice, plus sweetness from the frozen mango for a refreshing smoothie bowl that is the perfect balance of tropical flavors. The pink pitaya tastes like a cross between a watermelon and pear with a hint of berry adding a unique complexity of flavor. The consistency of a pitaya is similar to a kiwi.
Pitaya vs. Acai
The biggest difference between acai and pitaya bowls, aside from the fruit used as the main base, is the flavor. Acai has a stronger, almost blackberry flavor, while pitaya is more mild in taste. Pitaya is an excellent source of vitamin C, magnesium, and iron. Acai is packed with vitamin A. Both are loaded with antioxidants and pack a nutritional punch for your body.
Are pitaya bowls healthy?
There are many health benefits to pitaya bowls.
Rich in antioxidants – to help protect your cells against the effects of free radicals.
Key nutrients – pitaya is rich in magnesium (supports better sleep and muscle recovery), vitamin C (supports your immune system), iron (supports blood cells), and calcium (supports healthy bone development).
Contains prebiotics – which help feed the healthy bacteria in your gut and encourage the growth of probiotics (which help digest food). 
Ingredients Needed
This beautiful pitaya bowl comes together with just a few simple ingredients. Here's what you'll need:
Pitaya – to make the base of this smoothie bowl, you'll start with a 6 ounce frozen, unsweetened pitaya (dragon fruit) smoothie pack.
Orange Juice – for the liquid and a nice tang, you'll add a ½ cup of orange juice.
Protein Powder – 1 scoop of protein powder provides an extra protein boost (collagen peptides pictured).
Frozen Mango – a ½ cup of frozen mango makes for the creamiest consistency.
Where to Buy a Pitaya Packet
You can generally find pitaya smoothie packs at your local health food stores or shop them online.
Ingredient Variations and Modifications
Use milk – instead of orange juice if you prefer less tang and more of a creamy flavor.
Use a different fruit – in place of the mango, substitute frozen blueberries, strawberries, or blackberries for a stronger berry flavor. Or replace it with frozen banana slices to maintain the rich thickness of the smoothie bowl.
How To Make a Pitaya Bowl at Home
This process is so simple! To make your pitaya smoothie bowl:
Add ingredients – add all your ingredients to the blender.
Blend – blend on high until smooth.
Pour and top – pour your blended smoothie into a bowl and add your toppings (if desired).
Serve and enjoy!
Smoothie Bowl Toppings
The mild and tropical flavors of this smoothie bowl pair well with a vast variety of toppings. Here are some favorites:
Almonds – slivered, add healthy fats and a crunchy texture to the bowl.
Sunflower Seeds – another add for healthy fats and texture,
Chia Seeds – provide extra antioxidants and digestive support.
Fresh Kiwi – a perfect compliment to the mild, tropical flavors of the dragon fruit, mango, and orange juice.
Blueberries – bring out the berry flavor notes of the dragon fruit.
Fresh Dragon Fruit – for additional vitamins, minerals, and nutrients plus the fun texture.
Hemp Seeds – rich in healthy fats and essential fatty acids. 
How to Store
This recipe is perfect for a healthy serving, but to store your leftovers, pour your smoothie bowl into an airtight container and store in the fridge. It is best to consume within 3 days.
Frequently Asked Questions
What is a pitaya bowl base?
The base of this pitaya bowl is made of an organic dragon fruit smoothie pack (one simple ingredient, organic red dragon fruit puree). Since it's a tropical fruit, dragon fruit can be tricky to find in season and in stores sometimes. Having smoothie packets on hand in the freezer is a super convenient way to make sure you always have the base for this tasty bowl!
What fruit goes well with dragon fruit?
Dragon fruit is generally mild in flavor with a subtle sweetness, so it pairs well with a wide variety of other fruits. Some of my favorites include kiwi, pineapple, strawberries, watermelon, blueberries, and oranges. You honestly cannot go wrong with any fruit you pick!
How do you thicken a smoothie bowl?
The key to a thick smoothie bowl is to use frozen fruit. The combination of the frozen pitaya smoothie packet and frozen mango chunks is what give this smoothie bowl a thick and luscious texture.
Can I freeze a dragon fruit bowl?
You can certainly freeze your dragon fruit smoothie bowl and thaw it in the fridge when you are ready to eat. However, my best recommendation is to prep the ingredients and freeze them (pre-blended) in separate portions in a freezer bag or container. When you're ready to make your smoothie bowl, simply empty the contents into the blender, add the orange juice (or your milk of choice), and blend!
More Favorite Smoothie Recipes
Pitaya (Dragon Fruit) Smoothie Bowl Recipe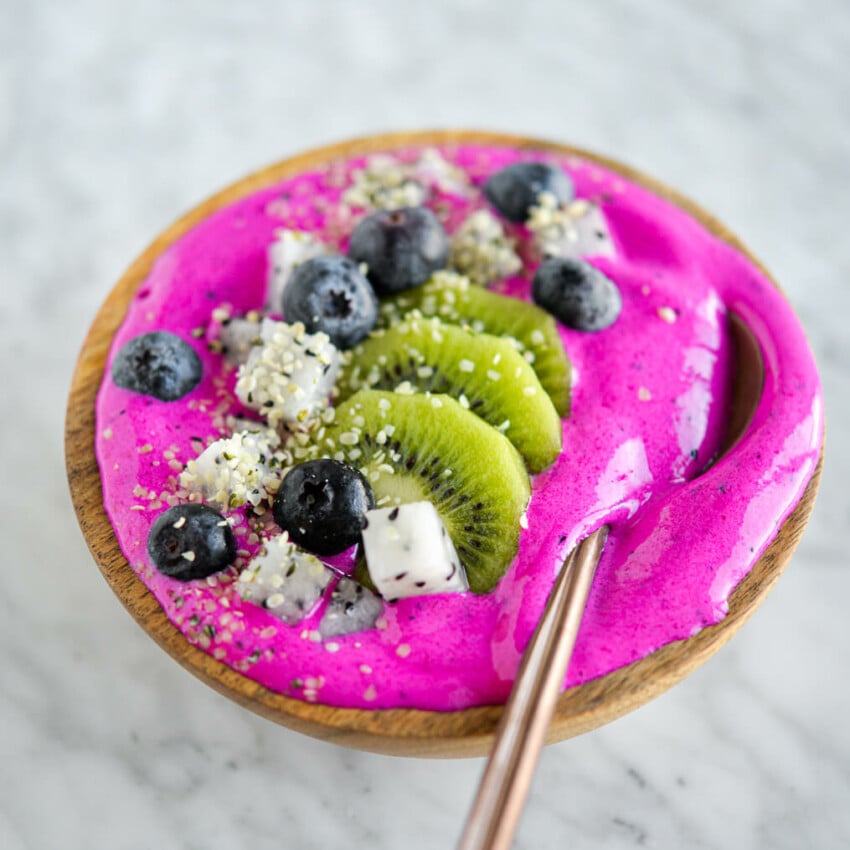 This smooth and vibrant pitaya bowl has the perfect blend of flavors that feel reminiscent of a tropical sorbet!
Ingredients
6

ounces

frozen

unsweetened pitaya (dragon fruit) smoothie pack

½

cup

orange juice

1

scoop protein powder

½

cup

frozen mango
Instructions
Add ingredients to the blender.

Blend on high until smooth.

Pour into a bowl and add toppings (if desired).

Serve and enjoy!
Recipe Notes
Tips for a thick smoothie bowl:
Use as many frozen ingredients as possible. The pitaya smoothie pack and frozen mango chunks should do the trick, but you could also freeze your orange juice in cubes as well. 
Use as little liquid as possible (just enough to bring the blending together).
Use a high powered blender to get the smoothest and creamiest texture. 
Nutrition
Calories:
234
kcal
|
Carbohydrates:
34.6
g
|
Protein:
19.2
g
|
Fat:
2.8
g
|
Saturated Fat:
0.3
g
|
Cholesterol:
3.4
mg
|
Sodium:
229.5
mg
|
Fiber:
1.6
g
|
Sugar:
22
g