This Paleo-friendly Butternut Squash Lasagna tastes like a warm hug feels. It's comforting, delicious, nutritious, and made with so much love.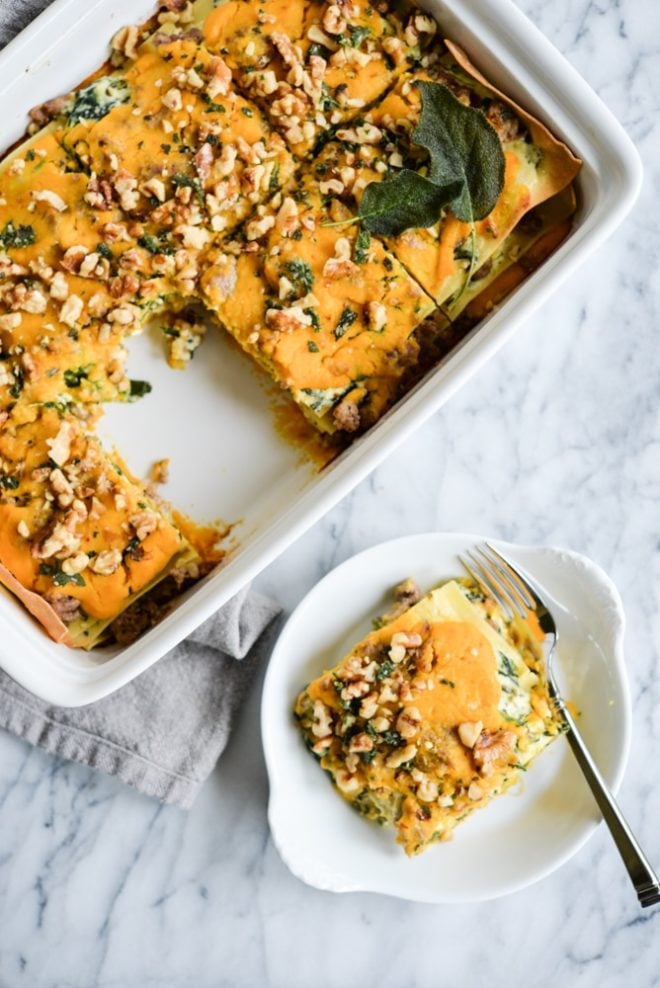 So, before we talk about this lasagna, I want to talk about my house and how I have been struck by the surprising desire to change so much. YOU SEE, I fully anticipated that I'd go through a "nesting" phase of this pregnancy. What I didn't anticipate was the need (no, that's not the right word) the URGENCY I'd feel to change (what feels like) everything in our home. Now, this urgency of course comes with a solid dose of reasonableness. I'm not blowing our savings on all new furniture or alienating my sweet hubby from the decision making process, but I AM looking at my home through a new lens. This home will soon house a sweet, squishy baby that will (before long) become an active little girl. It changes things. It makes me want to move away from some of our more stark pieces of furniture and gravitate towards something more comfortable. Something friendly and inviting that will provide a comfortable setting for lots of giggles, love, and learning curves.
When we bought this house a little over 3 years ago, our decorating budget was tight (everyone who's ever bought a home is nodding their head). Buying a house takes (what feels like) ALL the monies and *then* you have to furnish it. Instead of furnishing our house with a bunch of stuff I kind-of liked, I chose instead to allocate our dollars on the extreme ends of the spectrum: invest in a few key pieces that we REALLY LOVED and save as much as possible on the rest. The key pieces we loved most were our dining room table (a custom marble top that still makes me weak in the knees), 3 gigantic window mirrors, our sturdy kitchen table, a buffet, an entertainment console ….and that's about it. I went into super saver mode on the rest. We got our bedroom furniture for free from a family member (just painted it with chalk pain for a more modern finish), I re-purposed as much of our current furniture as possible, and I went CHEAP on everything else (rugs, wall hangings, dining room chairs, curtains, etc.).
Some of it still works, but some of it needs to be rotated out …like, my entire living room setup (queue the expectant mama nesting urgency). While my chesterfield sofa + armchair combination felt wonderfully luxurious in my single girl apartment, they're swallowed up by my now MUCH bigger home. Also, although we got by the last 3 years by adding 2 additional chairs (*ahem* 40 year-old office chairs) to our living room, it always felt so formal. Lastly, our house is almost all tile. This works fine for 2 adults and a Gus, but I'd prefer our crawling baby have something more comfortable to jet around on in this family-oriented space.
SO, my "nesting" phase has so far resulted in an unpredicted living room makeover. This mama-to-be is now a proud owner of a GIGANTIC comfy (so comfy) new couch and has big plans for a new fluffy rug. I also had half a mind to replace our bedroom furniture with something cozier (I was mildly obsessed with "cozier"), but my husband talked me off the cliff.
In more predictable nesting land, I HAVE planned our nursery! We've ordered several pieces and I can picture it perfectly in my mind. As soon as the two spaces are finished (living room and baby's nursery), I promise to share photos!
In the meantime, I'll be writing to you from my oh-so cozy new couch and daydreaming about when we'll have a little baby Cricket rolling around on our squishy rug.
Back to the butternut squash lasagna!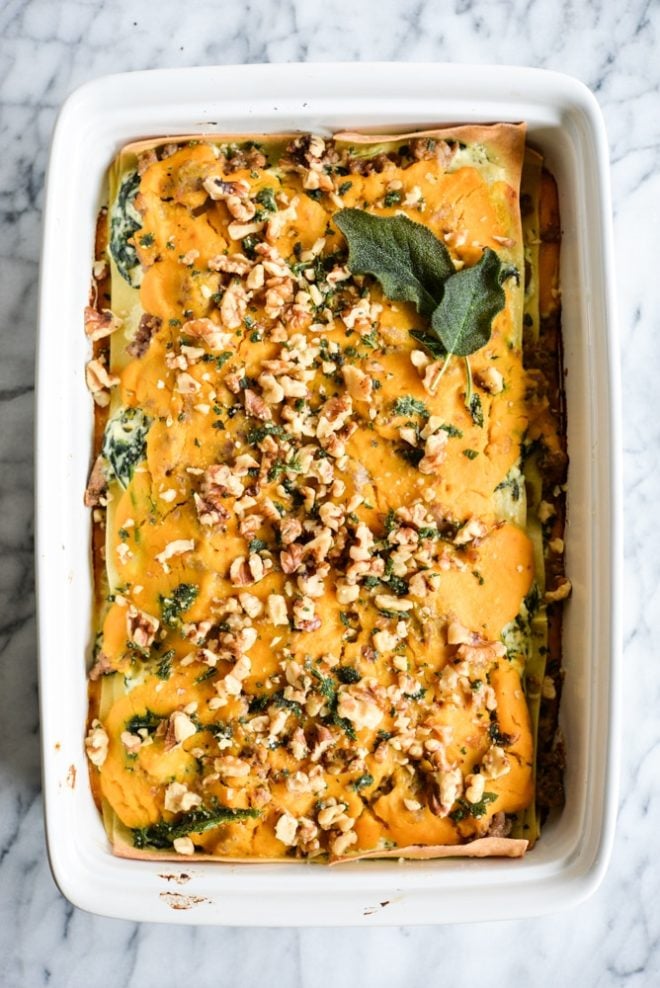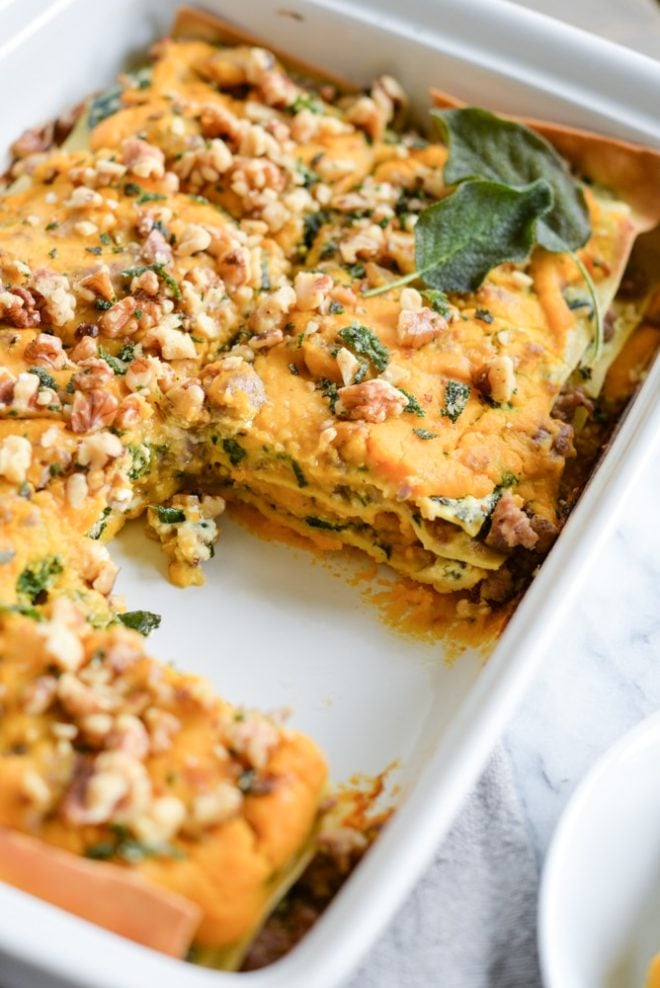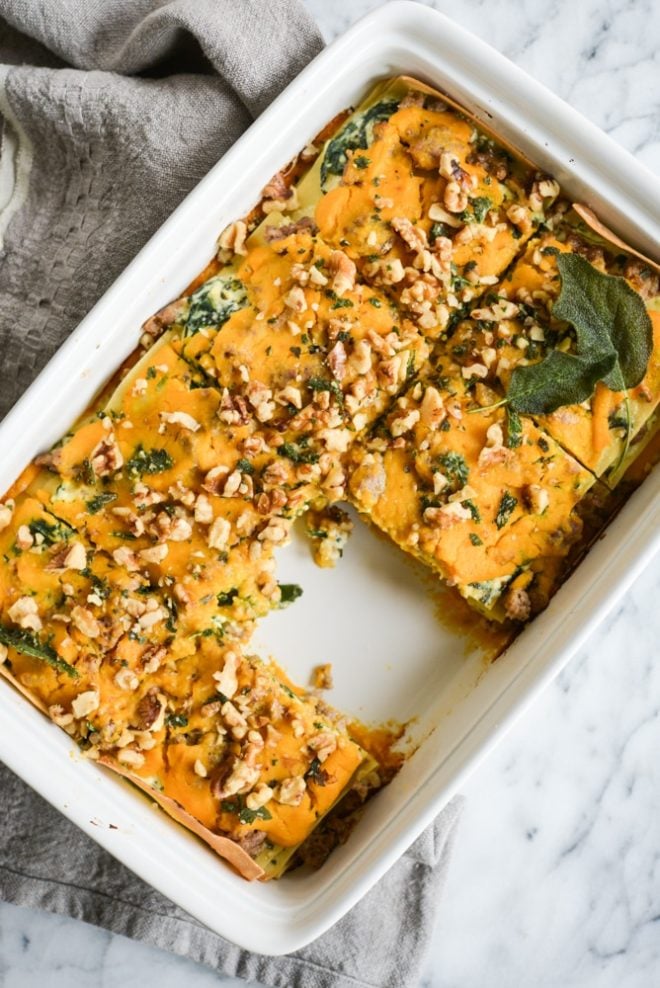 Like I said up top, this butternut squash lasagna is SO comforting. In fact, it's almost as comforting as the worlds biggest fluffy new couch (which I got at a STEAL of a price at Rooms-to-Go). The lasagna, like most lasagnas, has a few steps, but the end product is so worth the extra effort. The layers are simple. First, we start with a roasted butternut squash puree that replaces the traditional tomato sauce. Add some medium-spiced Italian sausage, a layer of sauteed spinach + ricotta, Cappellos lasagna noodles, and a finishing layer of walnuts + fried sage and MY GOODNESS you'll have something tasty on your hands.
If you're dairy-free, know that Kite Hill makes a tasty almond milk ricotta!
I hope you love this butternut squash lasagna as much as I do.  If you're looking for more butternut squash inspired goodness, check out this Curried Butternut Squash soup for one of my all time favorite recipes!
This Paleo-friendly Butternut Squash Lasagna tastes like a warm hug feels. It's comforting, delicious, nutritious, and made with so much love.
Ingredients
2

pounds

Italian sausage

3/4

teaspoon

sea salt

divided

1

package

Capello's lasagna noodles
For the Butternut Squash Sauce:
3

pounds

butternut squash

1/4

cup

plus 2 teaspoons olive oil

divided

3

cloves

of garlic

minced

1/2

onion

diced

1/2

cup

coconut milk

1

teaspoon

lemon juice
For the Spinach and Cheese Layer:
8

ounces

spinach

15

ounces

ricotta cheese

or use Kite Hill cheese

1

egg
For the Topping:
1

cup

chopped walnuts

1

bunch sage leaves
Instructions
Cut the butternut squash in half and scoop out the seeds. Place face down on a baking sheet and bake for 45-60 minutes, until tender. Reduce heat to 350.

While squash is in the oven, heat a large pan over medium heat and add Italian sausage. Using a spoon to break it up as it cooks, cook the sausage until it's brown and slightly crispy, about 10 minutes.

Remove the sausage from the pan, add a teaspoon of olive oil, and saute the onions and garlic. Cook for 5-7 minutes until onions are translucent.

Remove onions and garlic from the pan and add an additional teaspoon of olive oil. Next, add spinach and 1/4 teaspoon salt. Cook 2-3 minutes until wilted, then drain the excess water from the spinach.

Once the butternut squash is finished cooking, scoop the flesh from the shell and place in a largebowl. Add onions, garlic, coconut milk, lemon juice, and 1/2 teaspoon salt. Use an immersion blender to blend ingredients or add to blender or food processor and blend until smooth.

In a medium bowl, combine spinach, egg, and cheese.

In a 9x13 casserole dish, start building the lasagna, dividing ingredients to make 3 layers. Add 1/3 of squash mixture, then layer on lasagna noodles, top with spinach and cheese mixture, and Italian sausage. Repeat three times, ending with a layer of the butternut squash sauce.

Bake the casserole for 35 minutes, until top is slightly browned.

While casserole is baking, heat a large skillet over medium-high heat and add chopped walnuts. Spread the walnuts in a thin layer and occasionally stir them for 4-5 minutes, watching closely to make sure the nuts don't burn.

In a small pan, heat 1/4 cup of olive oil over medium high heat. Fry 6-8 sage leaves at a time until crisp, for about 20-30 seconds. Remove leaves and transfer to paper towel. Once finished crumble the leaves.

Top the lasagna with walnuts and sage. Serve!
Nutrition
Calories:
779
kcal
|
Carbohydrates:
55
g
|
Protein:
28
g
|
Fat:
51
g
|
Saturated Fat:
18
g
|
Polyunsaturated Fat:
10
g
|
Monounsaturated Fat:
20
g
|
Trans Fat:
0.002
g
|
Cholesterol:
107
mg
|
Sodium:
908
mg
|
Potassium:
1079
mg
|
Fiber:
6
g
|
Sugar:
5
g
|
Vitamin A:
16807
IU
|
Vitamin C:
38
mg
|
Calcium:
227
mg
|
Iron:
4
mg