This cheesy chicken broccoli and rice casserole is the ultimate comfort food! We've replaced the traditional canned condensed soup with a simple homemade cream sauce for a healthier take, and there's no need to pre-cook the rice, broccoli, or chicken – simply dump it all into a casserole dish and bake.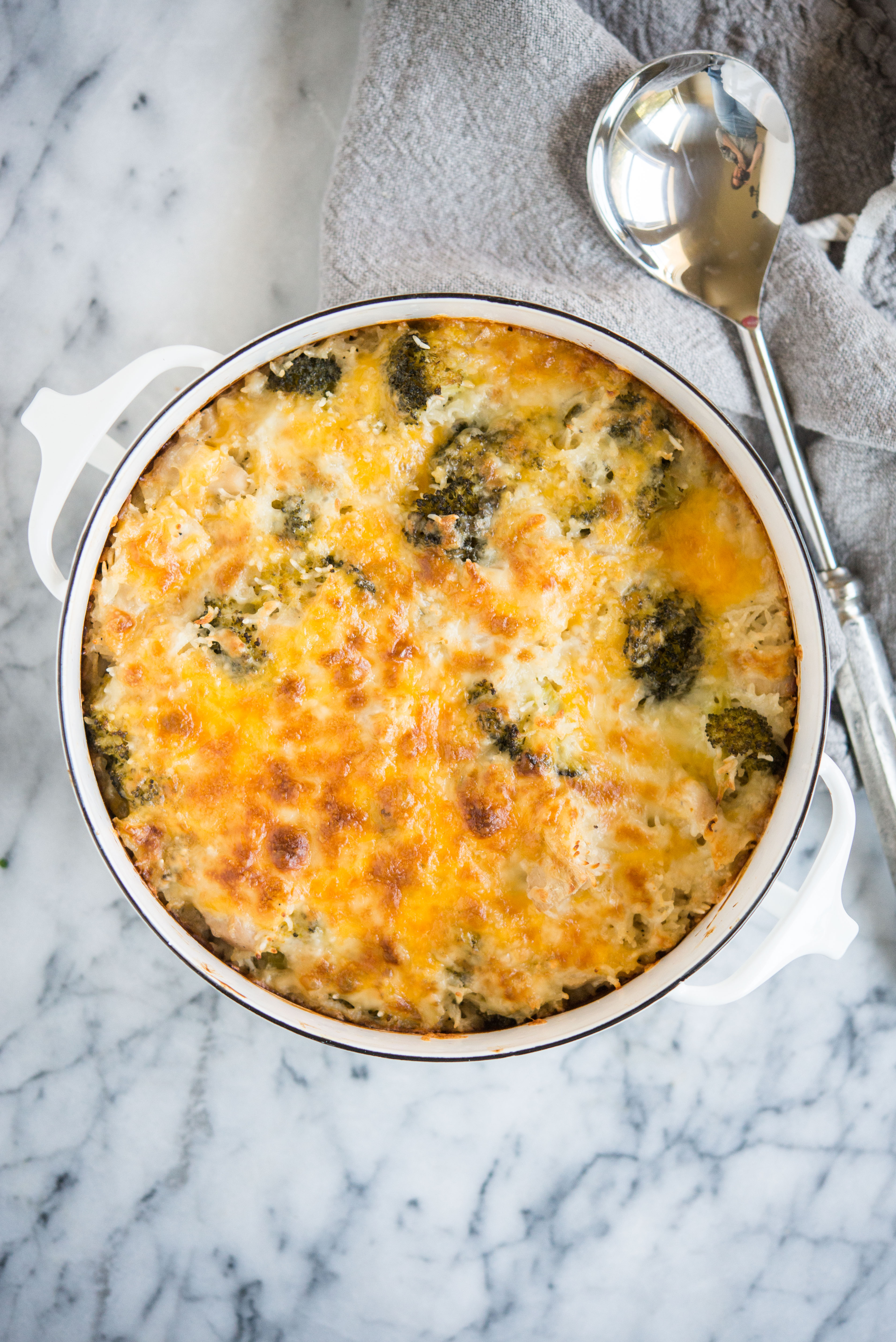 Why We Love Casseroles
Here at Fed and Fit, we love a good casserole. Typically, they're easy to make, a great candidate for hiding veggies, and they can feed an army. This cheesy chicken broccoli and rice casserole is no exception. In fact, it's probably one of the easiest and tastiest casseroles you'll ever make because it doesn't require any cooking ahead of time. Instead, you'll simply mix up the raw ingredients, dump them into a casserole dish, and bake. The resulting dish is creamy, flavorful, and perfectly balanced. Your whole family will love this one!
How to Make Homemade Cream of Chicken Soup
If you ever look at the recipes for the casseroles you ate growing up, you'll probably notice that cream of chicken or mushroom soup was included in the recipe. We wanted to make this chicken broccoli rice casserole a bit healthier, so we decided to skip the traditional gloppy, flavorless, filled-with-odd-ingredients canned soup in favor of a homemade version. Don't be intimidated though – it only takes a few steps and the homemade cream of chicken soup will give this casserole tons of flavor!
Saute onion and garlic. The first step for the soup is to saute half a diced onion and 3 cloves of garlic until they are just lightly browned. If you're short on time, you can skip this step and add in 1 teaspoon each of onion and garlic powder instead!
Whisk in 2 tablespoons flour. Next, you'll sprinkle the flour over the onions and garlic and whisk to combine it with the butter in the pan. This recipe works great with a gluten-free flour like this one as well!
Whisk in the broth and milk. Finally, you'll pour in the chicken broth, whisking constantly, until there are no lumps, then pour in the milk. For a dairy-free version, we recommend substituting full-fat coconut milk.
While making the homemade cream of chicken soup is super easy, you can still rely on canned if you need to! This gluten-free, organic version from Pacific Foods is our go-to. Just use two boxes plus one cup of broth in place of the broth, milk, and flour in the recipe.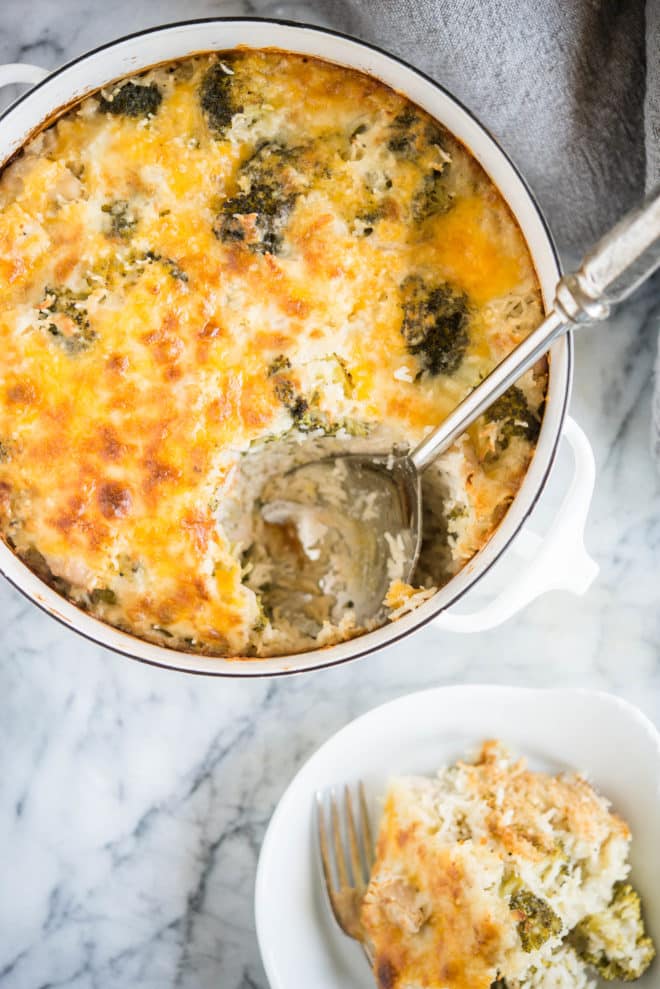 We hope you love this easy chicken broccoli and rice casserole as much as we do!
Chicken Broccoli Rice Casserole Frequently Asked Questions
Do you have to cook the rice before putting it in the casserole?
Nope! Once you've made the sauce, all you have to do is chop up the raw chicken and broccoli, then combine it with the rice and sauce. Then, you'll place it all in the casserole dish, cover with a tight-fitting lid or aluminum foil, and cook for 45 minutes. After 45 minutes, you'll remove the lid from the pot and sprinkle the cheese over, then bake for another 15 minutes to let it melt.
Will raw rice cook in a casserole?
It will. As long as your lid is tight-fitting (if it isn't, feel free to cover tightly with aluminum foil), your rice will steam and cook while in the oven. Pretty amazing, right?!
Can you put raw chicken in a casserole?
YES! That's the beauty of this dish, honestly! Everything goes in the oven raw and comes out perfectly cooked.
Can I freeze chicken broccoli rice casserole?
Yes! This casserole freezes like a dream. You can either freeze a fully-baked casserole whole then reheat it in a 350 F oven for 1 hour, or you can freeze individual portions and reheat them by microwaving for 3-4 minutes or by baking in a 350 F oven for 15-20 minutes.
Can I use frozen broccoli?
Yes! You can use 3/4 pound frozen broccoli florets in place of fresh for this recipe.
Can I substitute cauliflower rice or brown rice for white rice?
Unfortunately, you can't substitute cauliflower rice for white rice. The liquid in this recipe is absorbed by the rice, so substituting cauliflower rice would result in a very soupy texture. BUT the good news is that we've already got a Paleo cheesy broccoli casserole. If you want to make it a full meal, we recommend adding about 4 cups shredded chicken to the broccoli and cauliflower mixture before baking.

We haven't tested substituting brown rice for white rice in this recipe yet. Typically, brown rice requires more liquid to cook than white rice, so we'd recommend adding an extra cup of broth to the recipe.
Can I make this chicken broccoli rice casserole in the Instant Pot?
We tested this casserole in the Instant Pot but found that the Instant Pot failed to come to pressure and the casserole routinely burned the bottom of the pot – so we can only recommend the oven method for now!
Can I make it without chicken?
Many of you have asked about making this casserole without the chicken so you can make it as a side dish for Thanksgiving. You can absolutely leave the chicken out and it will still bake up perfectly.
Video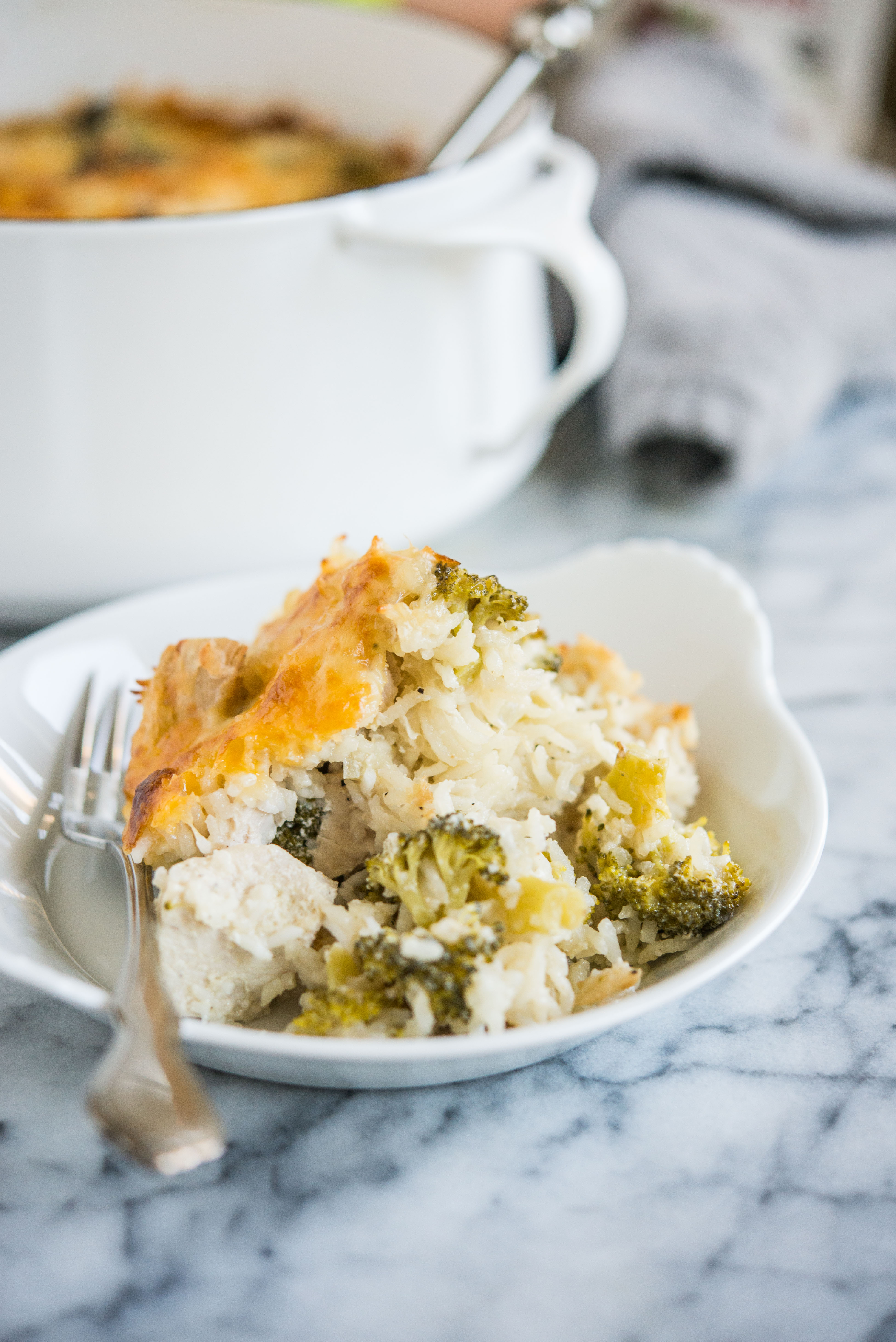 More Favorite Casserole Recipes
Cheesy Chicken Broccoli and Rice Casserole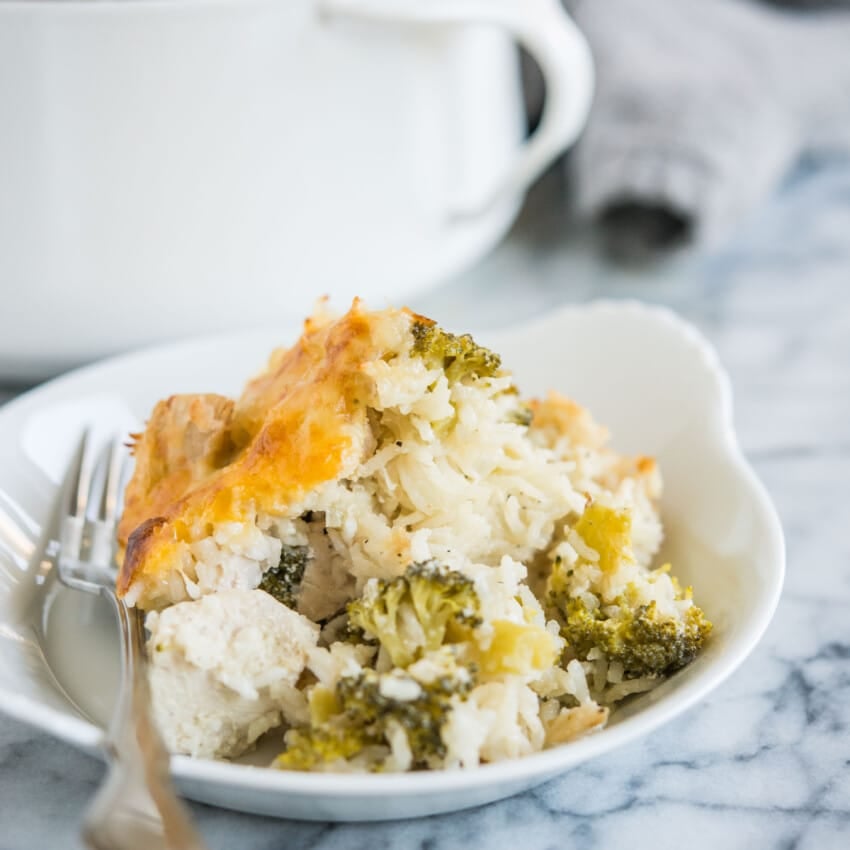 This cheesy chicken broccoli and rice casserole is so comforting and delicious, and comes together in minutes!
Ingredients
For the cream of chicken soup*:
1/2

onion

diced (may substitute with 1 teaspoon onion powder)

3

cloves

garlic

minced (may substitute with 1 teaspoon garlic powder)

3

tablespoons

salted butter or ghee

3

tablespoons

flour

we used this one for gluten-free

2 1/2

teaspoons

coarse salt

1/4

teaspoon

black pepper

1

teaspoon

dried thyme

3

cups

chicken broth

2

cups

milk or full-fat coconut milk
For the casserole:
1 1/2

cups

white rice

1 1/2

pounds

boneless

skinless chicken breast, cut into 1-inch cubes

3/4

pound

broccoli florets

about 5 cups

2

cups

shredded cheddar cheese
Instructions
Preheat the oven to 375 F.

Add the butter to a saute pan over medium heat, once melted, add the onion and garlic and cook for 3-4 minutes, until softened.

Add the flour to the pot and whisk to combine, then slowly pour in the chicken broth, whisking the mixture constantly to ensure there are no lumps. Once smooth, whisk in the milk, salt, pepper, and thyme and let cook for 1-2 minutes, until the sauce is thick and bubbling.

Add the rice, chicken, and broccoli to a 4-quart baking dish, then pour the sauce over and toss to combine. Make sure that the sauce completely covers the rice mixture, if it doesn't, add another 1/2 cup of broth or switch to a different dish. Cover the dish with foil and make sure that the foil is secured very tightly. It needs to steam to ensure the rice cooks through.

Bake for 50 minutes, until the rice is fully cooked through and the liquid is absorbed, then remove the foil and sprinkle with cheese and bake for an additional 10-15 minutes, until cheese is melted.
Recipe Notes
If you'd like to save time, you can use 2 boxes of this cream of chicken soup plus one cup of chicken broth in place of making the homemade version.
For dairy-free: use full-fat canned coconut milk in place of the milk.
Nutrition
Calories:
520
kcal
|
Carbohydrates:
48.7
g
|
Protein:
38.9
g
|
Fat:
18.1
g
|
Saturated Fat:
9.4
g
|
Cholesterol:
126.8
mg
|
Sodium:
1641.6
mg
|
Fiber:
2.3
g
|
Sugar:
5.2
g