Chicken Enchilada Casserole
jump to recipe
This easy chicken enchilada casserole is a cheesy, flavorful, comforting meal the whole family will love that's easy enough to make on a weeknight!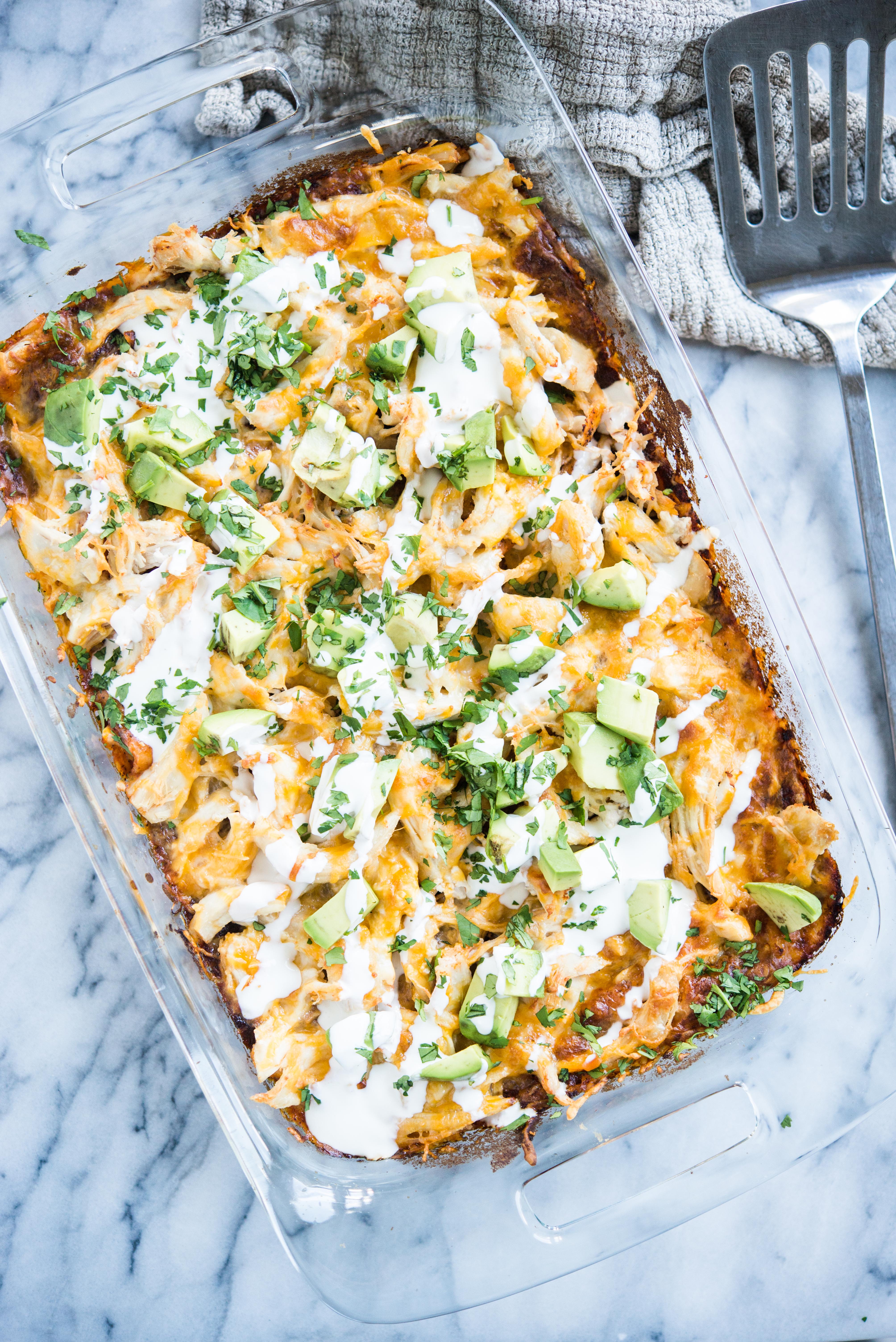 Easy Chicken Enchilada Recipe
Chicken enchilada casserole is one of those dishes that really brings me back to childhood. It was one of my mom's go-to dishes, which was absolutely fine with us because we loved it so much! The beauty of enchilada casserole is that you get all of the flavor of enchiladas without the work. If you've never made enchiladas before – it can be a long process that involves dipping tortillas in hot oil, rolling them around cheese and chicken and hoping they don't tear, then topping with sauce and cheese and baking.
Instead of going through all of that work (and mess) this chicken enchilada casserole is made lasagna-style! You'll layer the sauce, add tortillas, chicken, cheese, more sauce, and repeat. For a fun little spin on the traditional casserole, we also topped it with diced avocado, a sour cream lime sauce, and cilantro. That's the stuff of Tex-Mex dreams!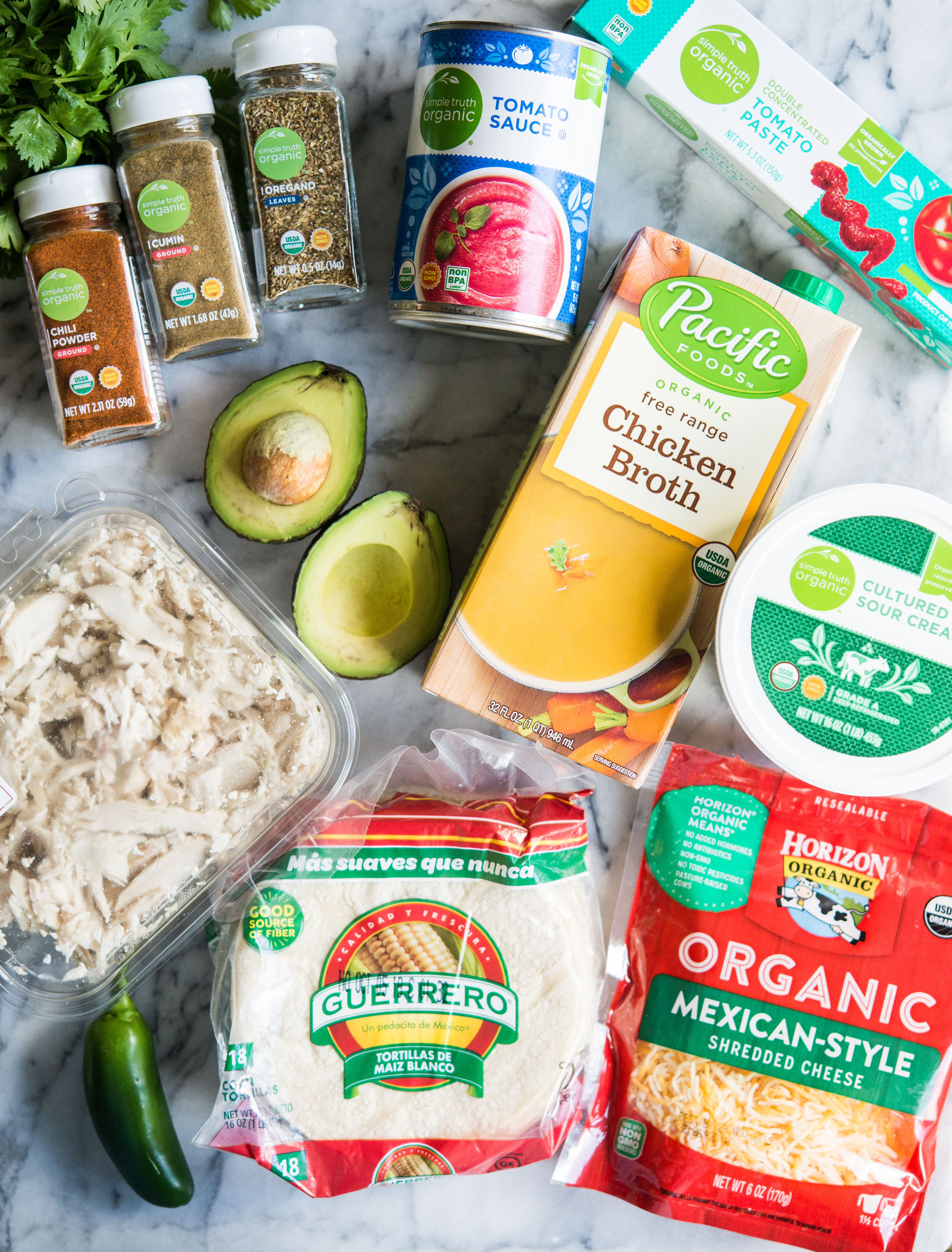 Are enchiladas healthy?
This may surprise you (because restaurant enchiladas are often not the healthiest choice), but if you can tolerate dairy, this recipe is actually a pretty balanced, well-rounded meal! With corn tortillas, shredded chicken, and cheese, you'll get a healthy dose of carbohydrates, protein, and healthy fats.
Chicken Enchilada Casserole Ingredients
For this recipe, you'll need:
Tomato Sauce – 2 (8-ounce) cans of tomato sauce,…
Tomato Paste – …2 tablespoons of tomato paste,…
Chicken Broth – …1½ cups of chicken broth,…
Spices + Seasonings – …1 teaspoon of sea salt, 2 tablespoons of chili powder, 2 teaspoons of cumin, 2 teaspoons of oregano, a ½ teaspoon of ground black pepper…
Shredded Chicken – …4 cups of shredded chicken (or about 2 pounds of chicken breast, cooked and shredded!),…
Corn Tortillas – …6 corn tortillas (torn in half),…
Mexican Blend Cheese – …and 3 cups of shredded Mexican blend cheese.
Sour Cream – for the delicious sauce, you'll need a ½ cup of sour cream and…
Lime Juice – …a 1/4 cup of lime juice. When it comes to lime juice, we think that fresh is best, so you'll need about 2 limes to get a ¼ cup of juice!
Avocado – 1 large diced avocado and…
Cilantro – …a ¼ cup of fresh chopped cilantro make for the best garnishes here!
The Enchilada Sauce Recipe
This enchilada sauce is SO EASY and can be used for so many different things. Here's how you'll whip it up in ONE simple step:
Whisk Together the Enchilada Sauce – combine the tomato paste, tomato sauce, chicken broth, and spices to a bowl and whisk to combine.
How To Make Chicken Enchilada Casserole
The beauty of enchilada casserole is that it is so easy to make…here's how you'll do it!
Prepare the Chicken – the first thing you'll want to do is shred your chicken. We actually used shredded chicken from our local grocery store, but if you don't have this option, a storebought rotisserie chicken is a great option, too, or you can make your own!
Make the Enchilada Sauce – While you can use a pre-made enchilada sauce, this one comes together super fast with pantry staples and adds tons of flavor. You'll simply add some tomato paste, tomato sauce, chicken broth, and spices to a bowl and whisk to combine.
Assemble – now you're ready to make the casserole! You'll spoon a bit of sauce on the bottom of the dish, then break the corn tortillas in half and spread 6 of them across the bottom of the dish to cover it. Next, layer on the chicken, then the cheese, then pour more sauce over and add another layer of tortillas, shredded chicken, and cheese to finish!
How To Bake Chicken Enchilada Casserole
Once assembled, bake your enchilada casserole at 350°F for 30 minutes, until the cheese is browned and bubbling.
Enchilada Casserole Variations
This chicken enchilada casserole is easily adaptable. Here are some of our favorite variations!
Change the sauce. Salsa verde or a classic Tex-Mex chili gravy are both great options.
Use a different protein. If you don't have chicken on hand, or just prefer a different protein, ground beef or turkey both work beautifully here.
Make it Paleo. If you're on a Paleo diet, or simply don't do well with grains, you can easily substitute Siete Foods tortillas here.
Add beans. Mixing a can of black beans in with the chicken would be a wonderful addition.
Add veggies. If you want to get your daily serving of veggies in with this casserole, you can easily add in some spinach, diced bell peppers, onions, or even shredded zucchini!
Can you use salsa instead of enchilada sauce?
You totally can! You may lose a little bit of that signature "enchilada" flavor without the enchilada sauce, but it'll still be really flavorful and delicious!
What do you put inside enchiladas?
A standard chicken enchilada filling includes enchilada sauce, shredded chicken, and cheese. This casserole has all of those ingredients in layer form!
Can I use flour tortillas for enchiladas?
Absolutely! This enchilada casserole can be made with either corn or flour tortillas – you pick whichever you like best! Do note that flour tortillas tend to get a little bit soggier than corn tortillas, but the end product is still REALLY delicious.
What are the best tortillas to use for enchiladas?
We opted for corn tortillas here because they fall in line with a more traditional take on enchiladas, but truly, any tortilla will work! So, go to the store, grab your favorite tortillas, and get to cooking!
How do you keep corn tortillas from falling apart in enchiladas?
While traditional enchiladas require rolling tortillas around an enchilada filling, this enchilada casserole recipe doesn't actually require rolling the tortillas at all – the tortillas lay in a flat layer here, meaning that you shouldn't run into any issues with the tortillas falling apart.
How do you keep flour tortillas from getting soggy in enchiladas?
Though sogginess is definitely a pitfall when it comes to using flour tortillas, there's no real way to avoid it when it comes to enchilada casserole. Oftentimes, traditional enchilada recipes will call for frying the tortillas ahead of time, but we aimed to make this recipe as no-fuss as possible, so we won't be asking you to do that!
More Mexican Food Favorites
Print
Easy Chicken Enchilada Casserole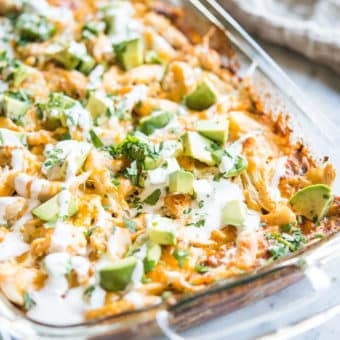 This chicken enchilada casserole is cheesy, flavorful, comforting, and a breeze to make!
Author:
Prep Time:

15 minutes

Cook Time:

30 minutes

Total Time:

45 minutes

Yield: Serves

6

1

x
Category:

Dinner

Method:

Oven

Cuisine:

Mexican
2, 8 ounce cans tomato sauce
2 tablespoons tomato paste
1 ½ cups chicken broth
1 teaspoon sea salt
2 tablespoons chili powder
2 teaspoons cumin
2 teaspoons oregano
½ teaspoon ground black pepper
4 cups shredded chicken (or about 2 pounds chicken breast, cooked and shredded)
6 corn tortillas, torn in half
3 cups shredded Mexican blend cheese
½ cup sour cream
1/4 cup lime juice
1 large avocado, diced, for garnish
¼ cup fresh chopped cilantro, for garnish
Instructions
1. Preheat the oven to 350 F.
2. Whisk together the tomato sauce, tomato paste, chicken broth, salt, chili powder, cumin, oregano, and pepper, until smooth.
3. Spread ½ cup enchilada sauce in the bottom of a 3-quart, 9×13 inch pan, then layer 6 tortilla halves over the sauce, until it is fully covered. Layer 2 cups shredded chicken over the tortillas, then pour over 1 cup of enchilada sauce, and 1 ½ cups shredded cheese.
4. Repeat Step 3 to build the next layer, using up the rest of the tortillas, enchilada sauce, and cheese, then bake the casserole at 350 F for 30 minutes, until the top is browned and bubbling. Remove the casserole from the oven and let cool.
5. In a small bowl, whisk together the lime juice and sour cream, then drizzle it over the casserole. Garnish with the avocado and cilantro, then serve!
Notes
If you'd like to use store-bought enchilada sauce, you'll need 2 (15 ounce) cans.
INSTANT POT SHREDDED CHICKEN: if you don't have pre-cooked and shredded chicken available, you can cook about 2 pounds of chicken in the Instant Pot with 1 cup water, on high pressure, for 12 minutes. Then shred with the paddle attachment of your stand mixer, a hand mixer, or two forks.
Keywords: chicken, casserole, enchiladas, enchilada sauce, Mexican food