Today I'm sharing a healthier spin on the classic Chicken Enchiladas Verde using Paleo-friendly chia seed tortillas!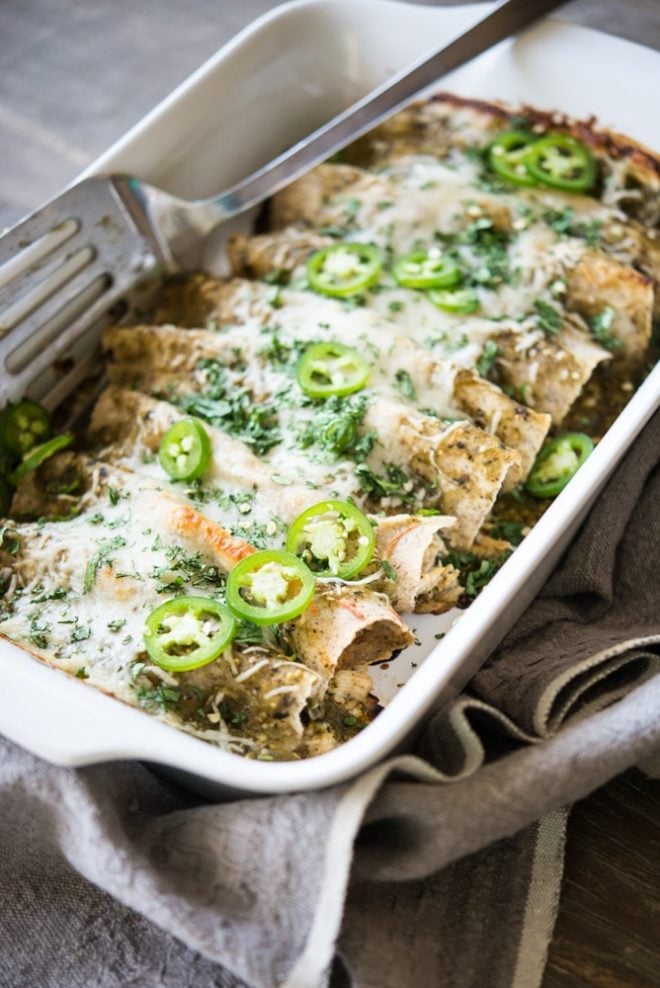 Today, I'd like the share the story about how I learned that I actually CAN keep a plant alive.
Once upon a time, 27 years of my life went by with me *convinced* that I had two black thumbs. To illustrate just how exceedingly well I killed plants, I'd like to start with a contrasting story about my amazing Dad. You see, my Father is one of those green-thumbed miracle workers. He can take a leaf off a "neat looking plant," stick it in a pot, and nurture it into a whole new plant. It always amazes me. His entire back porch is full of the beautiful, thriving plants he's grown from little stubs and seeds. His back porch is also full of the half-dozen plants he "rescued" from me over the years. Each of THOSE plants had very near-death experiences and are now living large under his sage care.
Like I said before, I was CONVINCED that I just killed all plants! I watered them, loved them, and made sure they weren't too cold or too hot. I thought I was doing all the right things, but slowly each one would start dropping one heart breaking leaf at a time. THEN, I bought a back porch-only plant and started watering it with the nearest source of water, the outside hose. A few weeks went by, I held my breath, and the plant LIVED. In fact, it thrived! I was so amazed, I rushed out and bought another plant for the backyard. It lived, too! Now it was time to do some deductive reasoning …what variables had changed? THE WATER.
This is where something so simple can make such a huge difference. You see, I WAS watering all the plants with our inside water. Our inside water runs through a water softener (San Antonio, TX) …so, I was watering our plants with salted water. AWESOME. Poor little buggers were being burnt with salty water! The outside water does *not* go through the softener, which is why the plants did well.
The moral of this story, don't write anything off just because you have 27 years of failures on your resume. Your big breakthrough to success could be as simple as using different water.
Now onto today's recipe! I have been planning this Chicken Enchiladas Verde recipe for a long, long time. In FACT, I first committed to making these enchiladas when I invited two of the incredible folks behind Siete Tortillas on my podcast! Tune into Episode 66 for their show.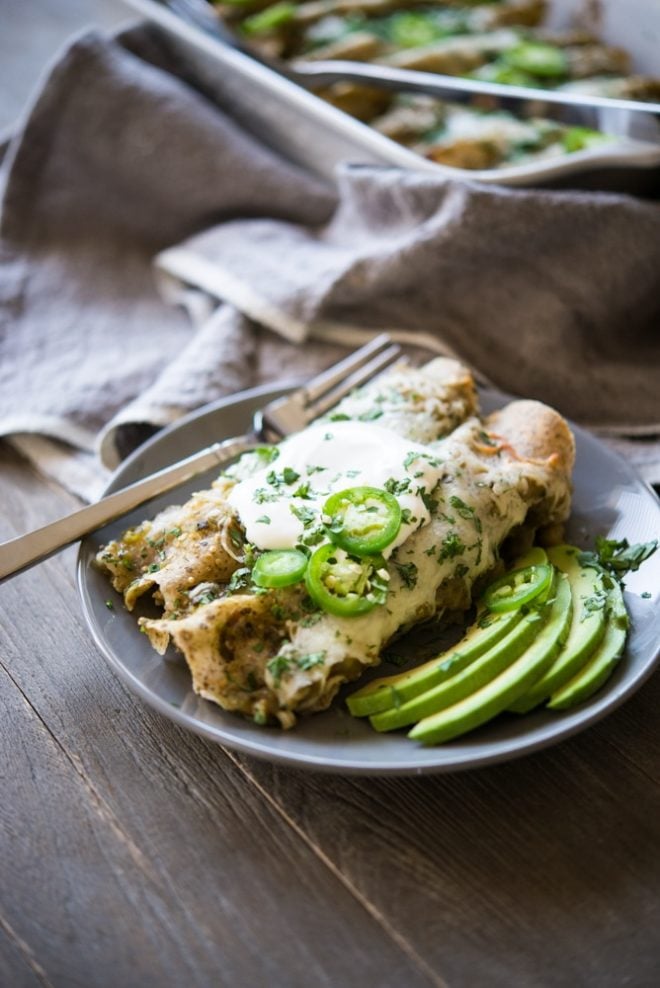 Seite makes these lovely grain-free, Paleo-friendly tortillas and I vowed to author up an authentic enchiladas recipe. So here you have it! From the bottom of my great big Garcia heart, I bring you some darn good Chicken Enchiladas Verde. These are SIMPLE to make, so please do not be intimidated. I personally bought salsa verde from the store (easy) but you could absolutely use the Salsa Verde recipe in my 'Fed & Fit' book!
The salsa is mixed in with simple shredded chicken plus a few spices. Roll the defrosted tortillas (I personally prefer the new Chia Seed tortillas) around the chicken, line them up in a casserole dish, and top with more salsa!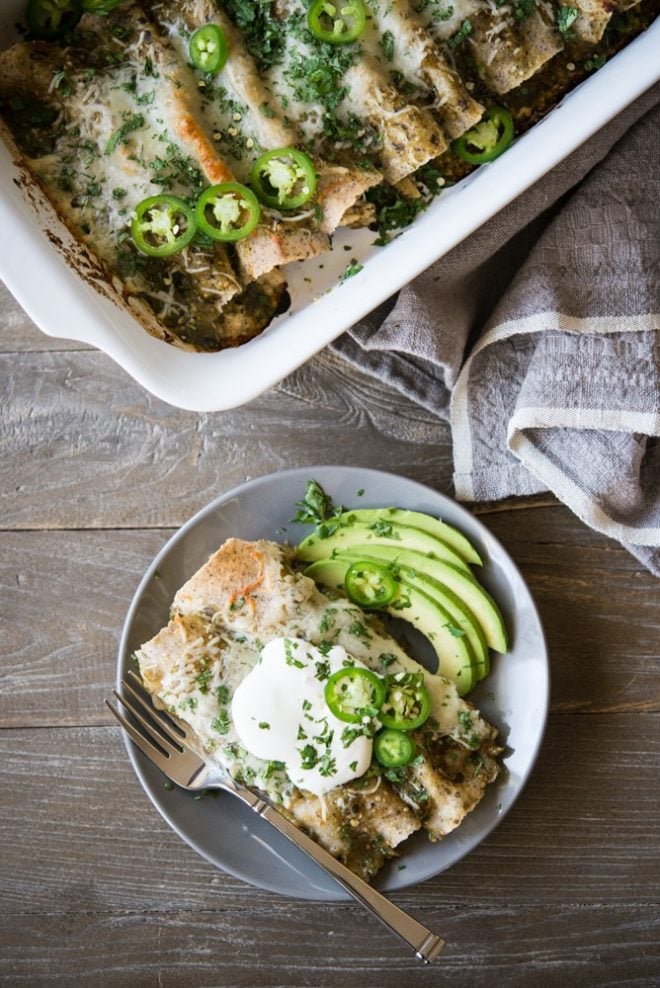 Note that while this recipe calls for cheese, you can ABSOLUTELY omit it. I've made it both with and without cheese, they're both great.
Serve up your Chicken Enchiladas Verde alongside some sour cream (real or the Paleo version from my book) and enjoy!
More Favorite Chicken Recipes
Chicken Enchiladas Verdes
This stuffed calabacita squash is packed with delicious shredded pork, lots of great seasonings, and a cilantro lime cream sauce!
Ingredients
1

tablespoon

butter

ghee, or other cooking fat

2

pounds

chicken breast

1

teaspoon

fine sea salt

divided

1

tablespoon

ground cumin

1

teaspoon

garlic powder

1/2

teaspoon

onion powder

1/4

teaspoon

ground black pepper

1

cup

shredded mozzarella cheese

divided

2

cups

salsa verde

divided

16

siete chia tortillas

defrosted

fresh cilantro

for garnish (optional)

fresh jalapenos

for garnish (optional)

sour cream

for garnish (optional)
Instructions
For the shredded chicken, melt the butter in a saute pan over medium/high heat. Season both sides of the chicken breast with the 1/2 teaspoon sea salt and then sear each side for 3 to 4 minutes, or until lightly browned. Cover with water (about 3 cups), place a lid on the pan, reduce heat to medium, and let simmer for 20 minutes. Pull the chicken from the water and place in a large mixing bowl. Shred using two forks or your stand mixer.

To season the chicken, add the cumin, garlic powder, remaining 1/2 teaspoon of sea salt, onion powder, pepper, 1/2 cup of cheese, and 1/2 cup of the salsa. Mix to combine.

To stuff the enchiladas, place about 1/4-cup of seasoned chicken into each tortilla, roll, and then place in a casserole dish with the seam-side facing down. Repeat for the rest of the batch.

Pour the remaining salsa over the enchiladas and then sprinkle with the remaining cheese. Bake at 350 for 25 minutes, or until the top is bubbly and starting to turn golden.

Let cool for about 5 minutes and then garnish with your favorite toppings. Enjoy!
Nutrition
Calories:
426
kcal
|
Carbohydrates:
35
g
|
Protein:
40
g
|
Fat:
13
g
|
Saturated Fat:
5
g
|
Polyunsaturated Fat:
2
g
|
Monounsaturated Fat:
3
g
|
Trans Fat:
0.1
g
|
Cholesterol:
117
mg
|
Sodium:
1268
mg
|
Potassium:
873
mg
|
Fiber:
4
g
|
Sugar:
6
g
|
Vitamin A:
715
IU
|
Vitamin C:
5
mg
|
Calcium:
165
mg
|
Iron:
2
mg