With 5 different recipe ideas that span a White Winter Sangria, Cranberry Mimosa, and even a non-alcoholic Apple Cider Cranberry Fresca, this Cranberry Agua Fresca is a healthy, holiday-friendly base that you and your guests can customize to make a drink you absolutely love!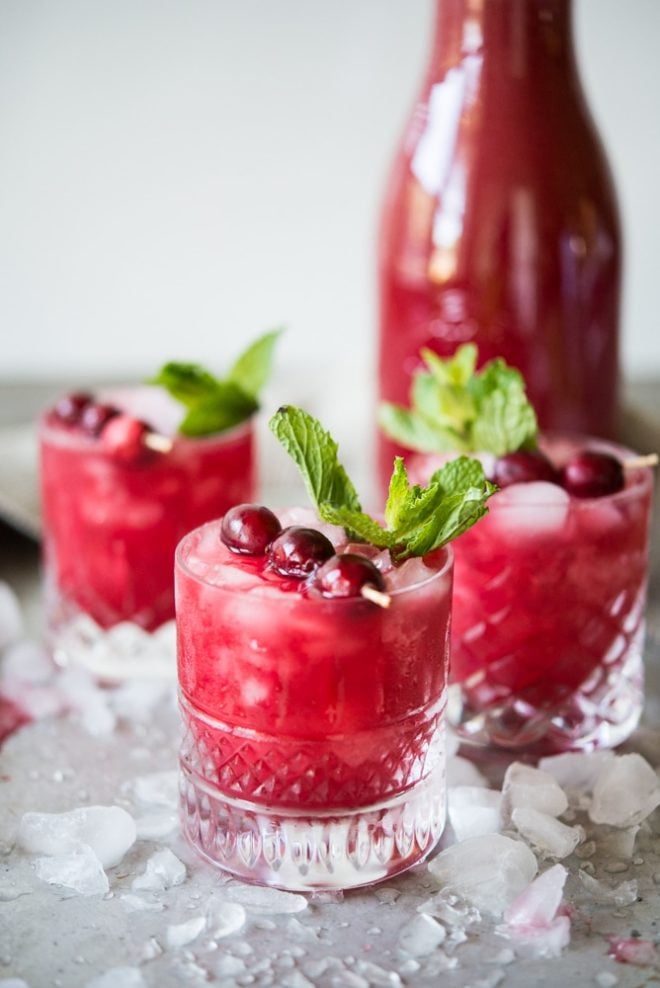 A really neat company out of Dallas, TX hired me to give a wellness presentation to their employees in the format of a lunch & learn yesterday! I absolutely ADORE these opportunities for a few specific reasons. First, I simply love being with people. I am a true blood people person and it fills my tank all the way up when I get to be around other lovely humans in an engaging conversation! Second, I cherish the opportunity to share the Real Food GOOD NEWS. Though I may not be the *first* person to mention the benefits of an anti-inflammatory lifestyle direction such as Paleo, it's likely that I am one of the first to present it in my unique fashion. What's that fashion? A stern (but fun) stance on diets are out, real food is in, more sleep + water are feel-good low hanging fruit, know thyself, toss the scale, let's pursue progress – not perfection.
It always makes me giggle a bit when I make my way to the part of my presentation about the beverages to enjoy, enjoy moderately, and which to avoid. Of course, I recommend that folks avoid sodas! Especially diet sodas. I also recommend that we avoid sugar-washed drinks (think sports drinks, vitamin waters, energy drinks, even some fruit juice). After I say this, I look out to wide, blinking eyes audience that plead "well, what the heck am I supposed to drink?" After touting water, sparkling water, black tea, herbal tea, the occasional cup of coffee, kombucha, and homemade juices, the air in the room is still heavy with, "but you took away all my flavor!" I GET IT. I used to be a loyal Diet Dr. Pepper gal. L.O.Y.A.L. I would guzzle 3 to 4 of those bad boys in a day …all in the name of health, of course. I would sip water in the early AM (maybe), and then the rest of my liquids were in the form of diet soda and orange juice. The thought of giving up ALL my flavorFUL beverages made me cringe. SO, I took baby steps.
First, I swapped out the soda for sparkling water. What I discovered surprised me! After I recovered from the intense caffeine and fake sugar withdraws, I realized that habitually I would keep turning back to the soda because I liked the BUBBLES. Sparkling water has lots of bubbles, comes in a can, and filled that need. WIN! Plus, the absence of fake sugars in my body helped me feel clean, healthy, and like I had more energy. DOUBLE WIN.
When sparkling water wasn't enough to keep me entertained, I experimented with herbal teas (ginger tea is still a personal favorite) and kombucha.
Eventually, I wanted MORE. That's when I stumbled on the agua fresca! An agua fresca is typically made with fresh fruit blended with water. The fruit pulp is strained out, more water added, and then a generous amount of sugar is dissolved in before serving. I followed these steps, but omitted the sugar. What I was left with, was the tastiest, most refreshing, exciting sip I'd sipped in a long while! I got busy experimenting with various flavors and mixtures. What I landed on is my favorite formula for a healthy agua fresca: one part fruit and one part fresh herb. FIVE of these frescas made their way into my 'Fed & Fit' book, in fact! There's a Strawberry Lime, Lavender Grapefruit, Blackberry Rosemary, Cucumber Mint, and a Lemon Thyme. They're all stunningly delicious (can be found on page 324 if you have the book) and are GREAT flavor-boosters to keep on hand. Whether you mix them with water or sparkling water, they'll add that healthy punch of flavor you were missing.
THIS *finally* brings me to today's post! The holiday season has me dreaming of bright red colors and party-friendly eats/drinks. Wanting to bring you an additional agua fresca for your recipe Rolodex, I crafted up this flavorful mix. We simply blend fresh cranberries (though you could use defrosted from frozen) with fresh mint. Blend for AT LEAST 3 minutes to get that deep read color, strain through your favorite nut milk bag or cheese cloth, and then choose how you'd like to use the concentrated mix! To help give you some ideas, I've drafted FIVE holiday party-friendly ideas below (3 without alcohol and 2 spiked).
The Simple Option (non-alcoholic): add 3 cups chilled water, stir, and either serve immediately over ice or store for up to one week in your refrigerator. This is a great option for someone who just wants a healthy, flavorful drink on hand throughout the week!
The Bubbly Option (non-alcoholic): pour the mix into a large pitcher and add 3 cups of *sparkling* water. Serve immediately over ice or in champagne flutes! Garnish with fresh cranberries and mint to be especially fancy.
The Apple Cider Option (non-alcoholic): add 3 cups of apple cider (recipe in my Holiday Feast eBook), stir, and enjoy chilled.
The Mimosa Option: pour about 2 tablespoons worth of the mix into a champagne flute and top with your favorite chilled prosecco! Garnish with fresh cranberries and mint.
The White Winter Sangria Option: pour HALF of the mix into a large pitcher and then add one bottle of a sweet white wine (think Riesling), toss in a handful of fresh cranberries, a handful of fresh mint leaves, stir, and serve over iced. Bonus option: ALSO add in a bottle of prosecco to stretch the beverage even further and add a fun bubbly texture! Note: this recipe makes TWO batches.
Remember, for MORE healthy holiday party recipe inspiration, be sure to check out my GIANT recipe roundup! I scoured my blog, book, and holiday eBook in an effort to bring you an organized list of recipes to help you design a holiday table you and your family love.
This Cranberry Agua Fresca is a healthy, holiday-friendly base that you and your guests can customize to make a drink you absolutely love!
Ingredients
12

ounces

3/4 pound fresh cranberries (may use defrosted from frozen)

1/4

cup

fresh mint

stems and leaves

3

cups

water

fresh cranberries for garnish

optional

fresh mint for garnish

optional
Instructions
Place the cranberries, mint, and 3 cups water in a high-powered blender. Blend on high for at least 3 minutes, or until completely smooth and the mix has a deep red color. Pour the mix through a

nut milk bag

, cheesecloth, or fine-mesh strainer into a large pitcher.

Follow one of the 5 options listed above to finish the mix and enjoy!

Note: even though the mix was strained, small fruit particles left behind may settle to the bottom of the pitcher; just give it a stir and serve.
Nutrition
Calories:
16
kcal
|
Carbohydrates:
4
g
|
Protein:
0.2
g
|
Fat:
0.1
g
|
Saturated Fat:
0.01
g
|
Polyunsaturated Fat:
0.03
g
|
Monounsaturated Fat:
0.01
g
|
Sodium:
5
mg
|
Potassium:
34
mg
|
Fiber:
1
g
|
Sugar:
1
g
|
Vitamin A:
68
IU
|
Vitamin C:
5
mg
|
Calcium:
8
mg
|
Iron:
0.1
mg