Print
Fennel Pesto Chicken & Zucchini Spaghetti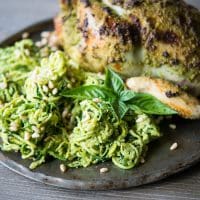 Author:
Prep Time:

15 minutes

Cook Time:

45 minutes

Total Time:

1 hour

Yield:

4 serings
Ingredients
For the pesto::
1 cup

packed fresh basil leaves

1

bulb fennel, trimmed

1/2 cup

pine nuts

2

small cloves fresh garlic (optional)

1/4 cup

fresh lemon juice (about

2

lemons)

1/4 cup

extra virgin olive oil

1/4 teaspoon

fine sea salt
black pepper to taste

1

whole chicken, rinsed and dried

4

–

5

large zucchini

2 teaspoon

s fine sea salt (optional – see step

4

below)

1 tablespoon

butter, ghee, or coconut oil

1/4 cup

pine nuts, for garnish
fresh basil, for garnish
Instructions
For the pesto, blend all the ingredients together in a food processor until smooth and creamy. Place half the pesto in a bowl for dressing the chicken.
To prepare the chicken, use your hands to separate the skin on the breast and legs of the chicken away from the muscle. Spoon the small bowl of pesto over the outside of the bird and under the skin until it's evenly coated. Bake at 375 F for 45 minutes, or until the internal temperature reaches 165 F. Note: check the chicken after 30 minutes to make sure it isn't burning. If it's getting too brown, use a single piece of aluminum foil to tent the top until it's finished cooking. Let the chicken rest at least 5 minutes before carving.
To prepare the zucchini pasta, spiral slice the zucchini using a spiral slicer (I love THIS ONE).
Optional Noodle Step: place the noodles in a large bowl and sprinkle with the 2 teaspoons sea salt. Toss the noodles so that the salt evenly coats each side of every noodle. Let them sit for at least ten minutes. To drain, place the noodles in either a nut bag or colander. Rinse with fresh water and squeeze out as much water as you can. This step will help the noodle texture and will prevent them from becoming too watery during cooking!
Melt the butter in a large frying pan over high heat. Add the drained and strained zucchini noodles to the pan, toss to combine in the butter, and let them heat through – this should take about 5 minutes. Turn off the heat, add the remaining pesto to the pan, toss to combine, and serve!
Plate with extra pine nuts and fresh basil. Enjoy!