With a buttery graham cracker base and melted chocolate, these S'Mores Bars are one of the easiest (and most portable) dessert options out there!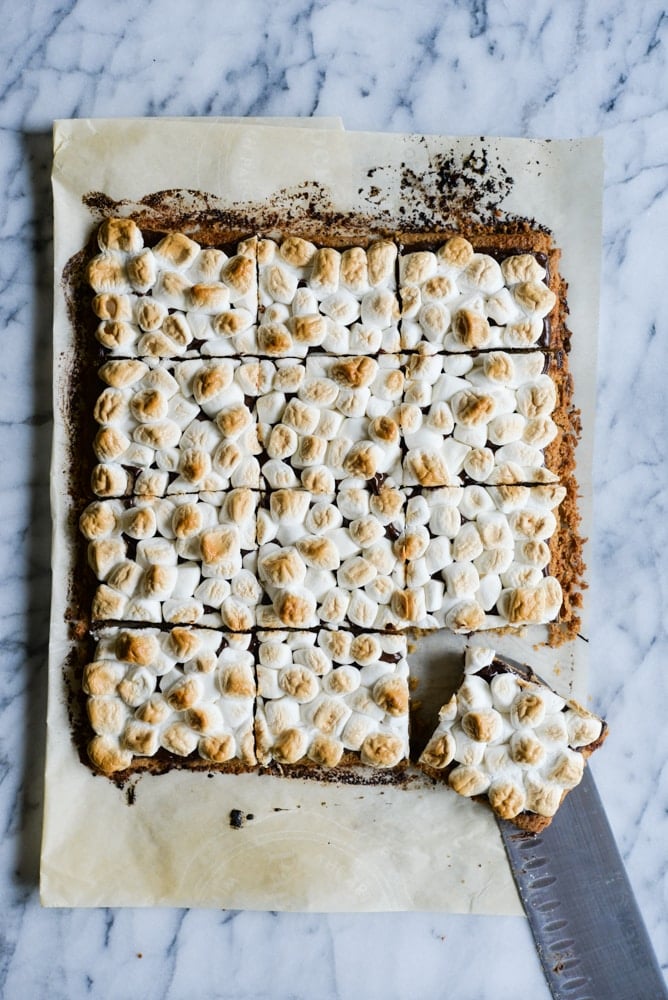 When our friends Amber and her hubby Joe (+ their 3 amazing kiddos) moved near us in San Antonio, we got together 1-2 times a month for dinner. Amber/Joe cooked, Austin tossed giggling boys up in the air, I played arts & crafts with their oldest, and then we'd all sit down to eat together. After dinner, Amber would bring out a thoughtful dessert, the kids would each grab their serving, and then they'd head to bed while us 4 adults stayed up late listening to music and playing a board or domino game. These were some of my favorite nights, and you know, as much as I love exploring new restaurants, I'd still choose those evenings in over getting dressed up and going out. You just can't beat a home-cooked meal, baby "night night" hugs, and games with friends that go too late into the morning hours because we'd keep upping it with, "best 2 out of 3 … now 3 out of 5 …etc." This was back before our own baby arrived, so our late nights out have slowed way, way down. Thinking back on these sweet memories, one of my most FAVORITE nights over at their house involved Amber introducing me to a new sweet treat.
I still remember the first time I had these gluten free s'mores bars. Amber (an amazing cook who is also responsible for these fajitas) had these s'mores bars (the ole camping favorite in bar form!) sitting on the counter. At first glance, I thought it was a baking project just for the kids (like dirt worm pudding or birthday cupcakes). I asked her about them and her eyes lit up (she loves s'mores, too). "They're S'MORES BARS!" I hadn't ever seen one before, so she explained further, "you take a graham cracker, douse it in butter, cover in chocolate, and then roast marshmallows on top." Essentially, they're the easiest, tastiest way to get your s'mores fix without sitting by a camp fire!
A bit of drool fell out. I needed one immediately, and goodness gracious they were delicious. I spent the rest of that evening sneaking back into her kitchen under the guise of grabbing "another glass of water" so that I could sneak another one of these delicious smores bars. My generous friend shared her recipe and I've been making these bars ever since. They are SO EASY, my friends, and SO TASTY.
Ingredients for S'mores Bars
It's almost hard for me to believe how incredibly delicious such a simple, 5-ingredient (and one of them is optional!) dessert can be. Do not underestimate these simple s'mores bars, y'all! In fact, jot these ingredients down on your grocery list ASAP:
Gluten-Free Graham Crackers – you'll need one box, and truthfully, even if you're not gluten-free, I think these graham crackers

are the way to go. They're thicker than normal graham crackers and make a great base for the bars.

Butter or Ghee – we'll drizzle the melted butter right over the graham crackers for an irresistible buttery graham cracker crust. If you're dairy-free, know that you can easily use coconut oil as a substitute for the butter.
Chocolate Chips – what are s'mores without chocolate?! You'll need 1 cup of chocolate chips – feel free to use dark or milk chocolate (these

are our favorite!).

Marshmallows – a s'mores bar must! You'll use one 10-ounce bag here. You can use regular or mini marshmallows, though mini will be a bit easier to cut – these

are the ones we use and love!

Coconut Sugar – the coconut sugar (or brown sugar, if you'd prefer that) is totally optional, but adds a really nice touch to the bars. You'll need 2 tablespoons!
How to Make
Ready for the easiest dessert ever? Seriously, when you bite into these bad boys, you're going to be shocked at how *delicious* they are even though they required such little effort to make! Here's how you'll whip these layer bars up:
Prep – first, preheat oven to 400°F, and line a rimmed baking sheet with parchment paper.
Make + Bake the Crust – place the graham crackers on the parchment paper (leave them whole…don't crumble them!), and drizzle with the butter, ghee, or coconut oil. Sprinkle with single layer of the coconut sugar (if you'd like), and bake the graham crackers for 5 minutes.
Add the Chocolate Chips – once the graham cracker crust is out of the oven, sprinkle the chocolate chips over it. If they don't melt completely, stick the pan back in the oven for 2-3 minutes. Once they're melted, use a rubber spatula to spread the chocolate evenly over the graham crackers.
Add the marshmallows – sprinkle the marshmallows over the melted chocolate.
Bake Smores Bars – bake the assembled s'mores bars for 3-5 minutes – keep an eye on the bars, so that the marshmallows brown, but don't burn!
Let Cool + Serve – once your baked gooey marshmallows are browned, remove the s'mores bars from the oven, let cool, then serve and enjoy!
How to Store
These bars have become one of my go-to desserts that I make when we're having a BBQ or when we're headed to a potluck-style dinner, and one of the reasons for that is because they can be made in advance and are EASY to store. Store these bars in an airtight container (these are our favorites!) on the counter for up to 5 days.
More Favorite Dessert Recipes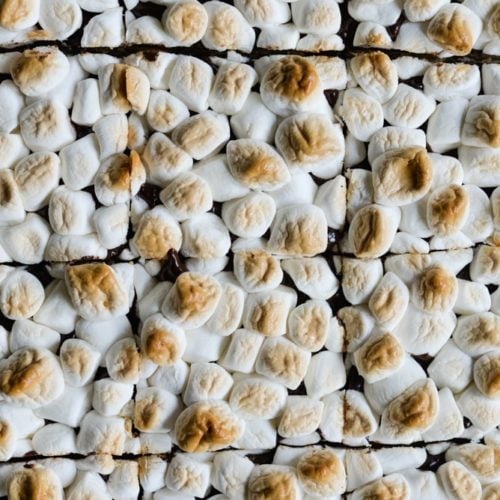 These s'mores bars are the perfect summer treat! You get all the best parts of s'mores, without the mess or need for a campfire.
Instructions
Preheat oven to 400 F.

Line a rimmed baking sheet with parchment paper. Place graham crackers on parchment paper and line them up into a rectangle, then drizzle with butter. It is ok if they are slightly uneven. Sprinkle with the sugar (if you like). Bake for 5 minutes, then remove from oven.

Once the graham cracker crust is out of the oven, sprinkle the chocolate chips over it. If they don't melt completely, stick the pan back in the oven for 2-3 minutes. Once they're melted, use a rubber spatula to spread the chocolate evenly over the graham crackers.

Sprinkle the marshmallows over the melted chocolate.

Bake for 3-5 minutes, watching closely until marshmallows are browned. If the marshmallows still aren't browning at the 5-minute mark, switch the oven to broil and cook for an additional 1-2 minutes, until toasted. This will ensure that the graham crackers don't overcook.

Remove from oven, let cool, then serve!
Nutrition
Calories:
295
kcal
|
Carbohydrates:
43
g
|
Protein:
3
g
|
Fat:
13
g
|
Saturated Fat:
7
g
|
Polyunsaturated Fat:
0.5
g
|
Monounsaturated Fat:
4
g
|
Trans Fat:
0.2
g
|
Cholesterol:
14
mg
|
Sodium:
186
mg
|
Potassium:
124
mg
|
Fiber:
2
g
|
Sugar:
25
g
|
Vitamin A:
165
IU
|
Calcium:
28
mg
|
Iron:
2
mg
Just for You
Dessert Recipes
Want more recipes and ideas like this?