Every item on this page was chosen by The Fed & Fit team. The site may earn a commission on some products (read more here).
After weeks of testing just about every oven baked bacon tip and trick and method out there, we found a process that will yield reliable, perfect, crispy results every single time.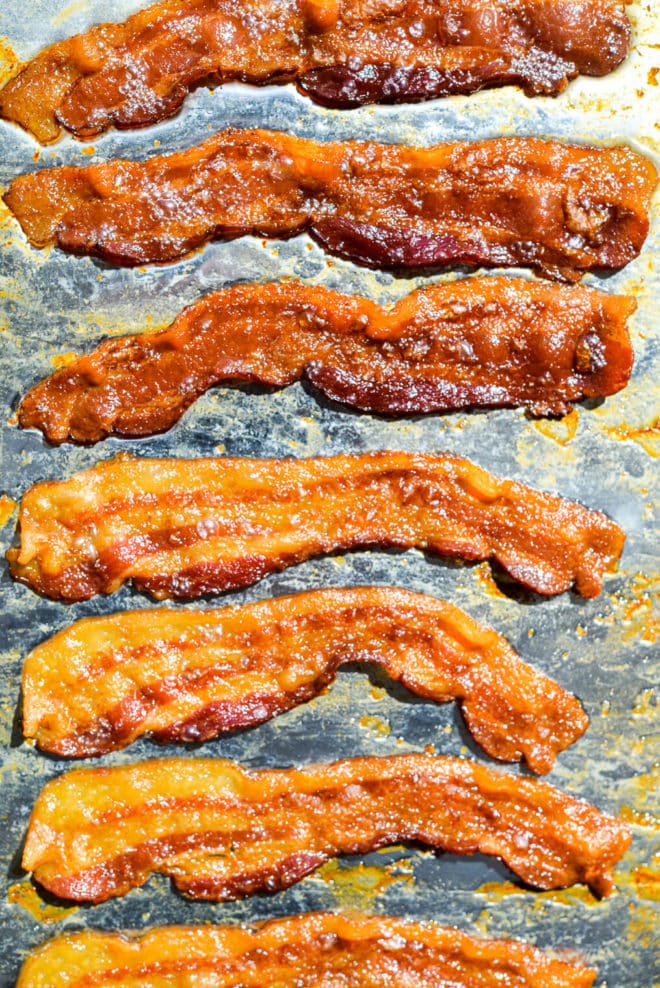 Looking for baked bacon hacks? We've got you covered! We took our baked bacon research very seriously, baking pound after pound after pound of the delicious stuff. We tested methods, temperatures, thickness, how to candy the bacon, how to ensure maximum crispiness, how to reduce time in the oven, and if baking racks or parchment are really necessary. What we found is that perfectly crispy baked bacon follows a simple formula and reduces kitchen cleanup by a LOT (especially if you're used to pan-frying on the stove).
Whether it's alongside fried eggs and lemony kale for breakfast, crumbled into an egg salad for lunch, or over top BBQ bacon burger loaded potatoes, bacon just has this salty, delicious quality that tends to take most meals to the next flavor level.
If you're tired of using the frying pan to fry bacon (it needs to be done in batches, tends to take a while, and the grease splatter can be a pain to clean up) or if your baked bacon method is giving you inconsistent results, this method is for you.
This is the easy, obvious, mess-free solution that follows a simple method that will yield perfect results every time.
Cooking Bacon In The Oven
Why cook bacon in the oven? There are a few reasons, actually!
Mess-free – this method results in virtually no mess (aside from the sheet pan, but even that is pretty minimal and easy to clean up).
Easy – the only hands-on time involved in the entire recipe is the amount of time it takes to lay bacon strips on a sheet pan. Easy peasy!
It's quick – cooking bacon in the oven takes 20-30 minutes and can be done in one batch (as opposed to several batches when frying bacon).
How To Cook Bacon In The Oven
The process is so simple, y'all! Line the sheet pan with the raw bacon (being careful to not overlap it!), pop it in the oven, and then sit back while the oven does all of the hard work for you. Yes, it really is that easy!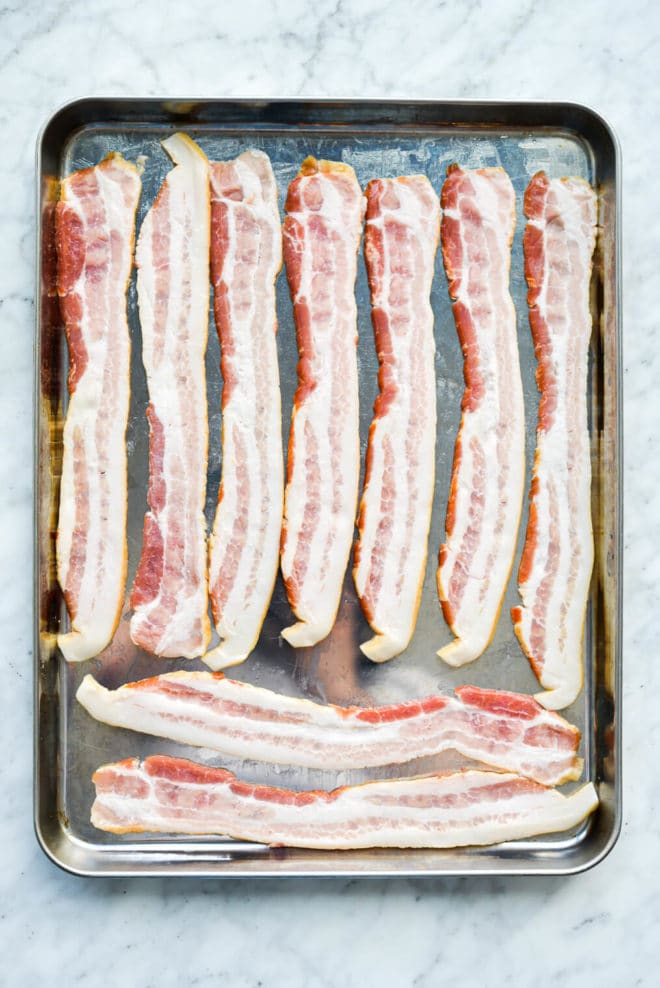 Oven Baked Bacon – In 3 Steps
Lay out the bacon – to start, lay the bacon out in an even layer on the sheet pan being careful not to overlap any of the pieces.
Bake – bake the bacon at either 375°F or 400°F (more on that below!) for 20-25 minutes. 
Drain the grease – once your bacon is out of the oven, pull it off of the sheet pan, blotting away any excess grease (if desired). Let your bacon grease cool, and pour it into a mason jar to save for later!
Benefits of Cooking Bacon In The Oven
One of the very best reasons to cook bacon in the oven is the lack of cleanup that the process requires – the entirety of the mess is contained to sheet pan, making the cleanup silly-easy! Other benefits of cooking bacon in the oven:
It cooks evenly
It's crispy
It requires very little effort
It's splatter-free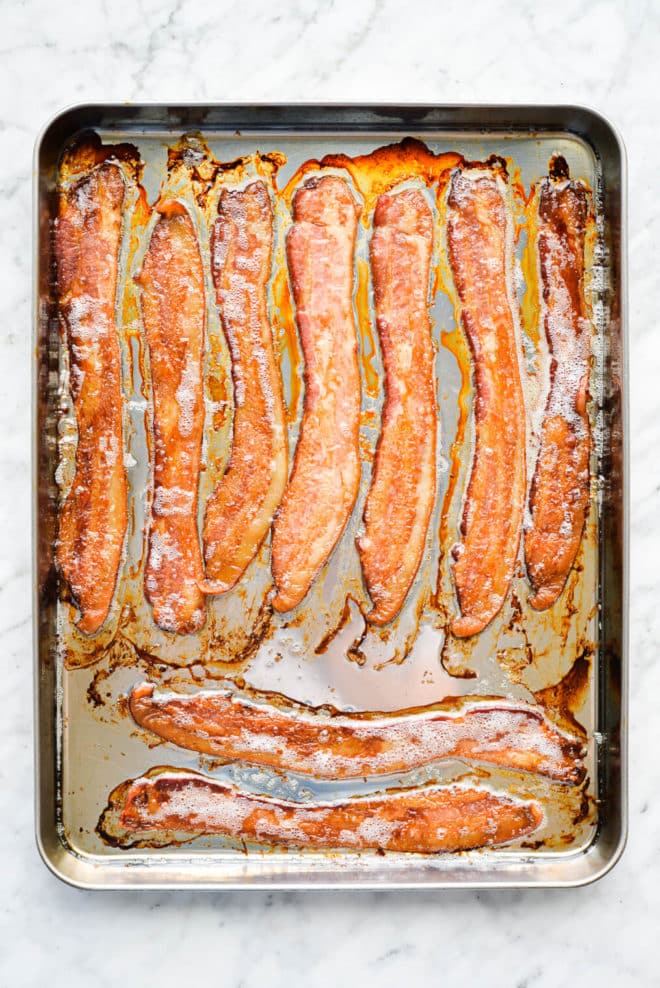 More of our Favorite
Bacon Recipes
Bacon In The Oven Tips
Bacon in the oven is super easy, but it is important to keep a few things in mind. Here are our best tips for getting perfectly crispy bacon every single time:
Don't overlap – lay your bacon on the sheet pan in one layer and try to avoid overlapping any of the raw bacon. This will help your bacon to cook and crisp evenly.
Add/remove time as needed – the thickness of your bacon will determine the amount of time it needs in the oven. If your bacon seems really thin, shave off 3-5 minutes of the cooking time and if it seems thicker than normal, add 3-5 minutes onto the cooking time.
Keep it simple – baking the bacon on foil or parchment paper isn't necessary. Keep things simple and put your bacon straight on the sheet pan. Bacon is inherently non-stick and the cleanup is super easy without the added step of lining with parchment paper/foil!
Add honey or maple syrup – for candied bacon, drizzle the raw bacon with honey or maple syrup before baking it. Cooking times will stay the same for this!
Add chipotle powder – for spicy bacon, sprinkle your raw bacon with chipotle powder before popping it in the oven, and for spicy candied bacon, sprinkle the chipotle powder over a drizzle of honey or maple syrup.
If overlapping, add time + flip – if you're baking a whole bunch of bacon at once and you don't have enough space on the sheet pan to avoid overlap, know that cooking overlapped bacon in the oven *is* possible, it'll just add about 20-30 minutes to the total cook time and you'll likely have to flip it.
Look for the bubbles – you'll know your bacon is done when it has foam-like bubbles on top.
How to Use Bacon as Leftovers
Bacon saves really well, so don't be afraid of having bacon leftovers! Our best recommendation here is to pat the bacon dry with a clean towel or paper towel, crumble it, and store the crumbled bacon in an airtight container or baggy in the fridge. Crumbled bacon makes for an excellent salad topper (like in this BBQ Chicken Cobb), the tastiest addition to a loaded baked potato, the perfect breakfast frittata filler, among so many other things!
Bacon in the Oven Frequently Asked Questions
Q
What is the Best Temperature To Bake Bacon In The Oven?
A
We tend to cook our bacon somewhere between 375-400°F. Why the range, you ask? Thicker-cut bacon tends to need a little higher-heat (400°F) while regular bacon does really great at 375°F (though you can shave off a few extra minutes by cooking regular-cut bacon at 400°F). If you aren't sure which kind of bacon you have, we recommend sticking to 375°F and just adding a little bit more time at the end if needed.
Regular-cut bacon

375°F for 25 minutes (perfectly crispy)

400°F for 20 minutes (perfectly crispy)

Thick-cut bacon

400°F for 20 minutes (just under crispy)

400°F for 25 minutes (perfectly crispy)
Q
How Long To Cook Bacon In The Oven?
A
Bacon takes anywhere from 20-25 minutes in the oven, again, depending on thickness. Thick-cut bacon will take closer to 25 minutes while regular bacon should take right about 20 minutes. It's best to start with 20 minutes and then add time at the end as needed (remember, you can always add more time, but you can't take any away once your bacon is burnt!).
Q
Are You Supposed To Flip Bacon In the Oven?
A
Nope! No need to flip your oven bacon (thank goodness!). Because the cooking time is so quick and the oven temperature is relatively high, no flipping is necessary! 
Q
Is parchment paper or a cooling rack necessary?
A
It's not. The cooling rack just gives you something else to clean, and while the grease might drain away from it while it cooks, it can also help it from getting crispy because bacon that cooks in its own grease gets crispier. As for the parchment paper, it can make for a harder cleanup (pouring bacon fat off of parchment paper is more difficult than off of a firm, sturdy pan).
Q
What to Do with Leftover Bacon Fat
A
Don't throw away your bacon fat! And definitely do not pour it down the sink drain. Once the grease is cool but not solid (this may take 20-30 minutes), pour it into a mason jar and then use it as a cooking fat. Bacon fat is excellent for sauteing vegetables, frying eggs, pan-searing fish, chicken, pork, or beef.
Q
How long is bacon grease good for?
A
We recommend using your leftover bacon grease within 6 months. 
Q
Where is the best place to store bacon fat?
A
Feel free to store your mason jar of bacon fat on the counter (just like you would ghee). You can store it in the fridge too if you'd like, but it's not necessary.
Ingredients
1

pound

of bacon

regular or thick-cut
Instructions
For regular bacon: Preheat the oven to 375 F and lay the bacon on a rimmed baking sheet, making sure there is no overlap. Bake the bacon on the center rack of the oven for 20 minutes, until crisp, then remove from the oven. Transfer the bacon to a paper towel-lined plate to remove the excess grease, then enjoy!

For thick-cut bacon: Preheat the oven to 400 F and lay the bacon on a rimmed baking sheet, making sure there is no overlap. Bake the bacon on the center rack of the oven for 20 minutes for just under-crisp, or 25 minutes for perfectly-crisp, then remove from the oven. Transfer the bacon to a paper towel-lined plate to remove the excess grease, then enjoy!
Nutrition Information
Nutrition Facts
How to Cook Bacon in the Oven
Amount per Serving
% Daily Value*
* Percent Daily Values are based on a 2000 calorie diet.
Recipe Notes
If you need your bacon done a bit faster, you can cook regular bacon at 400 F for 20 minutes.
Don't forget to save that bacon grease! Once you remove the bacon from the pan, pour the grease into a mason jar and store in the refrigerator for later use.