These Balsamic Roasted Brussels Sprouts are perfectly crispy and make for an incredibly healthy, delicious (hello, bacon!) veggie side!
Crispy Brussels sprouts are my love language, y'all. Well, that and bacon (but isn't bacon everybody's love language?!). This recipe combines both of these + balsamic vinegar and pomegranate seeds for a truly show-stopping veggie side dish. This Brussels sprouts dish is stunning enough for a holiday table but easy enough for any ole night of the week, and is sure to convert any Brussels sprouts naysayers in your life to immediate super-fans!
I used to think of Brussels sprouts as weird, soggy, stinky vegetables that had no place in my kitchen (let alone my holiday plate!), but then, I was introduced to GOOD, well-cooked Brussels sprouts, and my opinion of the tiny veggie was forever changed. Now, I roast a baking sheet of Brussels almost weekly, and everyone in my house loves them (10 month old included!).
What are brussels sprouts?
Brussels sprouts look like tiny little heads of cabbage, and for good reason! Though they aren't actual "baby cabbages" like many assume, they are a part of the cabbage family. Brussels sprouts are actually buds that grow along a thick stalk (if you haven't ever seen Brussels sprouts while still on the stalk, give it a quick Google – it's wild!) as opposed to heads that grow out of the ground (like cabbage). Brussels sprouts have a *slightly* bitter taste when eaten raw (though shredded Brussels sprouts make for an excellent salad base), but once cooked, they're slightly sweet, a tad bit nutty, and REALLY yummy!
Baked Brussel Sprouts Ingredients
These oven-roasted Brussels sprouts require just a few basic ingredients! Here's what you'll need:
Brussels Sprouts – to start, you'll need 1 pound of Brussels sprouts, halved and trimmed.
Extra-Virgin Olive Oil – you'll also need to grab (or check your pantry for) 1 tablespoon of extra-virgin olive oil,…
Balsamic Vinegar – …1 tablespoon of balsamic vinegar,…
Salt + Pepper – …1 teaspoon of salt, a ¼ teaspoon of black pepper,…
Garlic Powder – …a ½ teaspoon of garlic powder,…
Bacon – …3 strips of bacon (YUM!), and…
Pomegranate Seeds – …2 tablespoons of pomegranate seeds, for an (optional) garnish!
How to Prepare Brussels Sprouts
To start, we recommend giving your Brussels sprouts a good rinse in the sink. Once they're nice and clean, feel free to peel off any outer leaves that are super shriveled, otherwise, the outer leaves are good to stay on the Brussels sprouts. Then, give the thick stalk-side a good trim, slice the Brussels sprouts in half length-wise.
How to Roast Brussels Sprouts
The best thing about roasted veggies (besides the fact that roasting always results in an ultra-crispy, yummy end product) is that it is a SUPER easy cooking method (we're talking 5 or fewer instructions steps)! Here's how you'll get this side dish going:
Preheat the Oven – first, preheat the oven to 425°F.
Toss the Brussels Sprouts with EVOO, Vinegar, and Seasonings – place the halved Brussels sprouts on a rimmed sheet pan and toss with olive oil, vinegar, salt, pepper, and garlic powder. We always opt for tossing the Brussels sprouts, olive oil, vinegar, and seasonings right on the sheet pan (fewer dishes used = fewer dishes to wash), but feel free to toss everything in a large bowl and then transfer to the sheet pan if you'd like!
Roast – bake for 35 minutes, tossing halfway through, until the sprouts are nice and crisp.
Cook the Bacon – while the Brussels sprouts bake, cook the bacon in a skillet over medium heat for about 2-3 minutes per side, until crisp, then transfer to a paper towel-lined plate to drain the excess fat.
Toss, Garnish, and Serve – once cool, crumble the bacon and toss it with the Brussels sprouts, then garnish with pomegranate seeds, serve, and enjoy!
How to get Brussels Sprouts Crispy
There isn't anything quite like crispy Brussels sprouts, and these are our best tips for ensuring crispy sprouts every single time:
Use Plenty of Oil – don't skimp on the oil, and make sure that all of the Brussels sprouts are fully coated before roasting.
Don't Overcrowd – spread your sprouts out on the baking sheet in a single layer, and give them some space to roast! Overcrowding the pan will cause the sprouts to steam rather than roast, resulting in soggy (far from crispy) Brussels sprouts.
Flip Halfway Through – be sure to flip the sprouts halfway through roasting so that both sides get crisp!
Use a High-Quality Balsamic Vinegar – higher-quality balsamic vinegars tend to be thicker and really create a great crispy crust (think: a slightly sticky, crispy balsamic glaze) on the sprouts! My favorite:

this Napa Valley Naturals Grand Reserve balsamic vinegar

.

Keep an Eye on the Sprouts – keep in mind that smaller sprouts will need a shorter roasting time while larger ones will take a bit longer, so be sure to keep an eye on your sprouts while they're roasting!
Roasted Brussel Sprouts Bacon Variations
Feel free to mix things up and really make this brussel sprout recipe your own! Try one of these yummy variations, and then come up with a few variations of your own!
Add Parmesan – if you're a parmesan lover like I am, add some shredded parmesan cheese to your sprouts!
Add Nuts – chopped pecans, walnuts, or pine nuts would add a lovely crunch to this dish!
Swap Balsamic for Lemon Juice – if balsamic vinegar isn't your thing, feel free to swap it for lemon juice instead! The goal here is just to add a touch of acidity and brightness to the roasted Brussels sprouts.
Swap Balsamic for Dijon Mustard – for a really yummy tangy flavor, swap the balsamic vinegar for Dijon mustard!
Omit the Bacon – not a fan of bacon (gasp!) or just don't have any? Feel free to leave it out!
Omit the Pomegranates – the same thing goes for pomegranate seeds – if they aren't your thing, omit them!
Add Dried Cranberries – for a nice subtle sweetness, omit the pomegranate seeds and add dried cranberries instead!
Add Honey or Maple Syrup – for a bolder sweetness, add a tiny drizzle (a little goes a long way!) of honey or maple syrup just before popping these bad boys in the oven!
Add Fresh Herbs – to up the herby-ness here, sprinkle a tinge of fresh thyme or rosemary overtop your Brussels sprouts before roasting.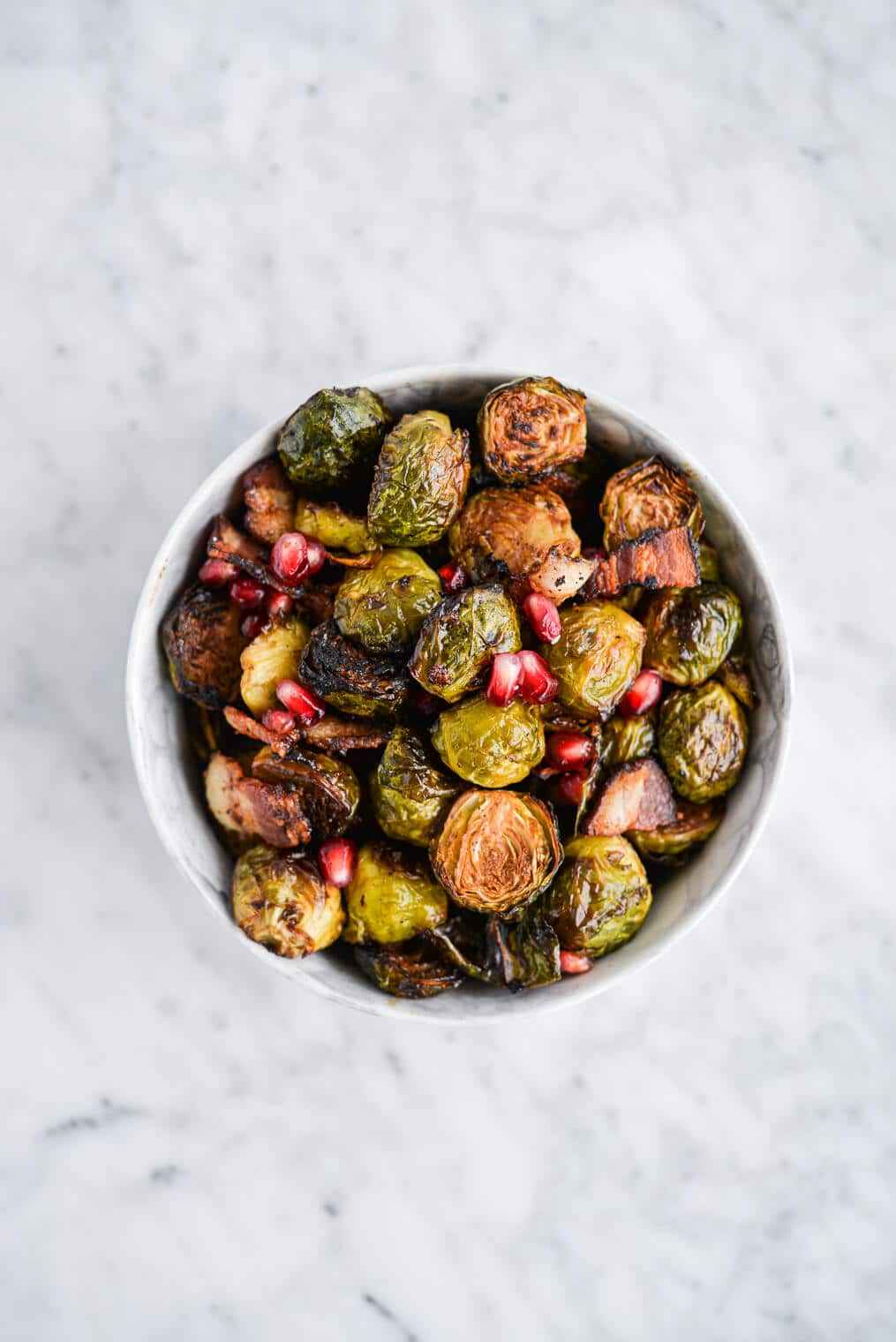 Do you wash brussel sprouts before roasting?
Yes! Be sure to wash and completely dry your Brussels sprouts before trimming, halving, and roasting them!
Should you cut Brussels sprouts in half before roasting?
We think so! While whole roasted Brussels sprouts are absolutely delicious, cutting them in half helps to really get them nice and crispy!
Why are my roasted Brussel sprouts soggy?
You may try roasting them on a bigger, more shallow baking sheet! This large rimmed baking sheet is really perfect for this recipe – it allows the Brussels sprouts to have plenty of room so that they roast rather than steam.
How to Store and Reheat Brussels Sprouts
Store your roasted Brussels sprouts in an airtight container or Ziploc bag in the refrigerator. To reheat, simply microwave them (they won't be as crispy as the first time around, but the flavor will still be absolutely delicious), saute them in a pan with a little bit of olive oil (this will result in crispier reheated sprouts!), or toss them back in the oven (this also makes for a crispier reheat) until warmed through.
What goes with brussels sprouts?
ANYTHING! In fact, a lot of restaurants serve dishes very similar to this one as an appetizer because it's *just that good*! You'll serve this delicious side the same way you would any other green veggie – next to a protein (think: this delicious turkey breast tenderloin, a filet mignon with herb butter, pork chops, grilled chicken, etc.) and a starchy veggie (think: mashed potatoes, hasselback potatoes, simple buttered pasta, etc.). This dish would also make for a lovely addition to your holiday spread!
We hope you enjoy these Balsamic Brussels Sprouts as much as we do!
Roasted Brussel Sprouts with Bacon
These brussels sprouts are perfectly crisp, tangy, sweet, and salty thanks to the addition of bacon and balsamic vinegar!
Ingredients
1

pound

brussels sprouts

halved and trimmed

1

tablespoon

extra virgin olive oil

1

tablespoon

balsamic vinegar

1

teaspoon

salt

1/2

teaspoon

garlic powder

1/4

teaspoon

black pepper

3

strips bacon

2

tablespoons

pomegranate seeds

for garnish (optional)
Instructions
Preheat the oven to 425 F.

Place the Brussels sprouts on a rimmed baking sheet and toss with olive oil, vinegar, salt, pepper, and garlic powder.

Bake for 35 minutes, tossing halfway through until the sprouts are crisp.

While the sprouts bake, cook the bacon in a skillet over medium heat for about 2-3 minutes per side, until crisp, then transfer to a paper towel-lined plate to drain the excess fat.

Once cool, crumble the bacon and toss it with the brussels sprouts. Garnish with pomegranate seeds and serve!
Nutrition
Calories:
160
kcal
|
Carbohydrates:
13
g
|
Protein:
6
g
|
Fat:
10
g
|
Saturated Fat:
3
g
|
Polyunsaturated Fat:
2
g
|
Monounsaturated Fat:
5
g
|
Trans Fat:
0.02
g
|
Cholesterol:
11
mg
|
Sodium:
720
mg
|
Potassium:
502
mg
|
Fiber:
5
g
|
Sugar:
4
g
|
Vitamin A:
862
IU
|
Vitamin C:
97
mg
|
Calcium:
52
mg
|
Iron:
2
mg