These Maple Bacon Pancake Muffins are a pre-maple'd, pre-bacon-packed pancake that you bake as a muffin! I'm sharing the secrets behind this crowd-pleasing recipe AND a special discount for Thrive Market!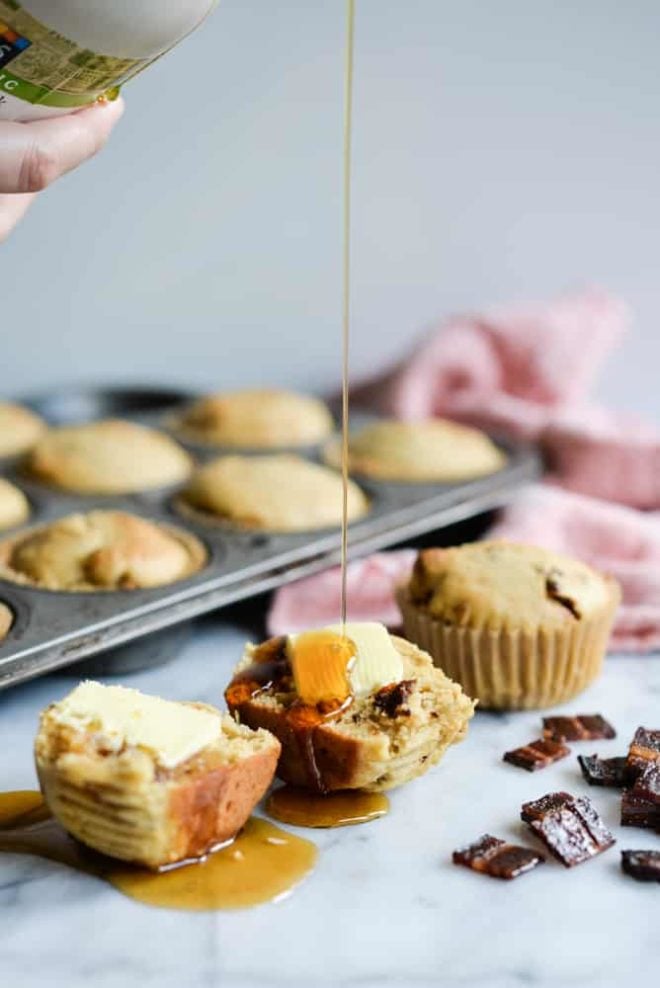 We have a couple things to cover here today …but first, I want to have a heart to heart about this recipe. I need you to know that these are not your ordinary muffins, nor are they your ordinary pancakes (obvious?). I need you to know, (to really, really know), that these Maple Bacon Pancake Muffins are nothing short of absolutely EPIC. If you've ever taken a perfectly fluffy pancake and rolled it around a piece of bacon and then dipped THAT pancake + bacon "taco" into a luscious pool of real maple syrup, THESE ARE FOR YOU. Also, if you love pancakes but wish there were a more efficient way to make them, THESE ARE FOR YOU, TOO.
For these Maple Bacon Pancake Muffins, we start off with a gluten-free "pancake mix" that our very own knockout gluten-free baking wiz Amber helped us develop in the Fed & Fit Kitchen. That mix is sweetened with maple syrup and then crispy pieces of bacon are stirred in.
But wait, it gets even better…
While you COULD spoon this pre-bacon'ed and pre-maple'd pancakes onto a griddle for individual little pancakes, we propose the muffin approach. Spoon your mix into a muffin tray and then BAKE your Maple Bacon Pancake Muffins into golden, fluffy perfection.
How do you serve them up? Exactly as you would a pancake! I suggest a tab of fresh butter and maybe just a bit more maple syrup.
The next time you want pancakes but you don't want to go through the individual spoon, cook, flip, cook, transfer-to-a-plate pancake dance, remember this recipe!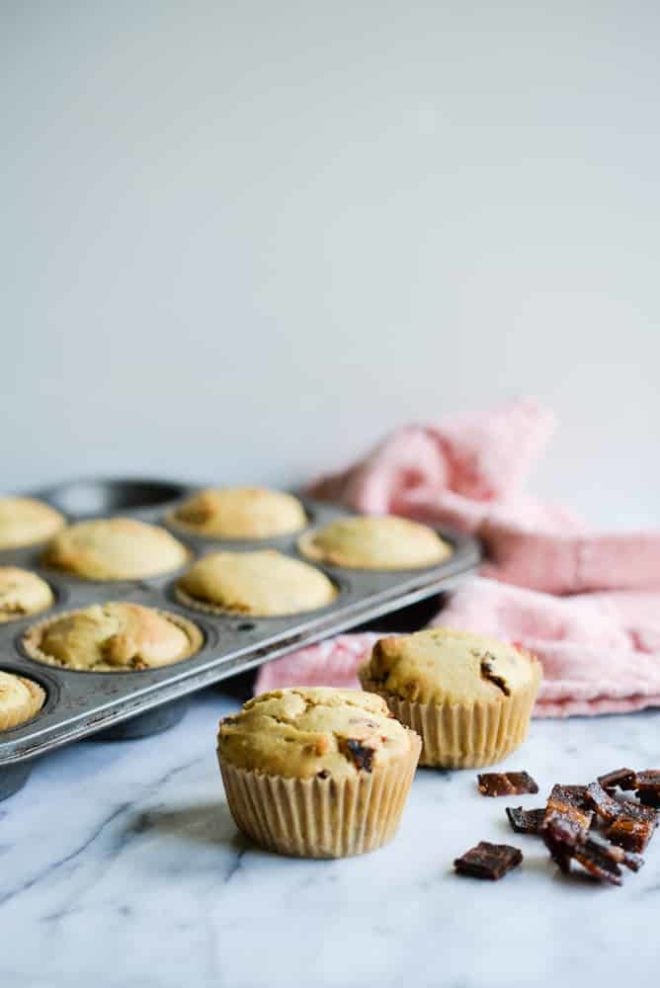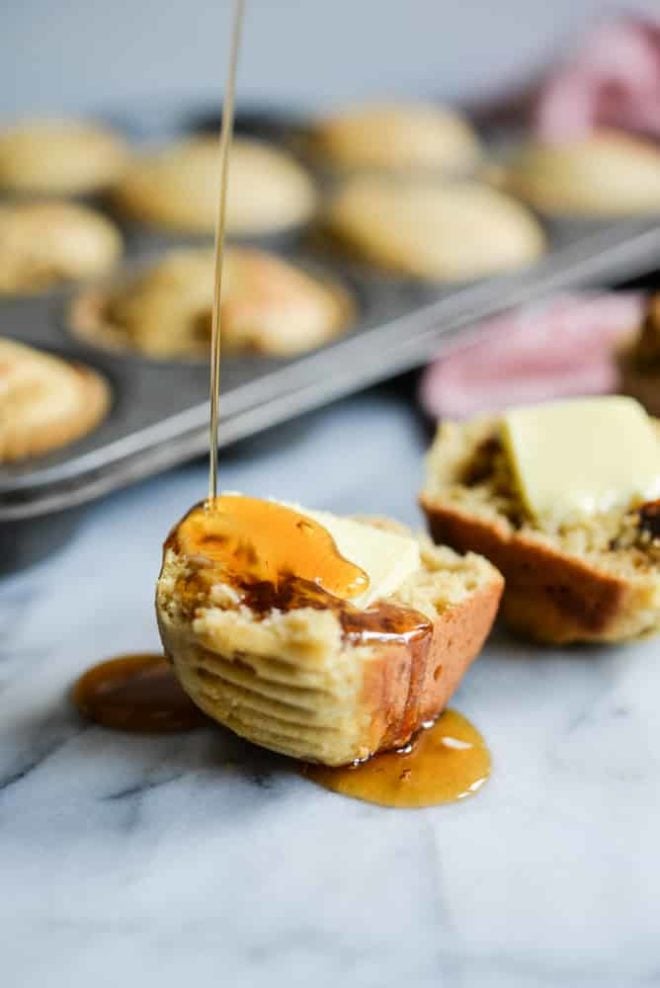 Can this be made egg-free?
It can! In fact, we tested a TON of different egg substitutes in several different baked goods, took all kinds of notes, and then laid it all out for you in this super helpful guide to egg-free baking. For muffins, we recommend subbing in plain Greek yogurt (¼ cup of yogurt per egg) – Greek yogurt made for fluffy and slightly crisp on the outside muffins that had a really delicious flavor and held together really well.
Now introducing, Thrive Market!
NEXT order of business, we need to talk about Thrive Market!!
If you follow me over on Instagram, you've heard me talk about Thrive a few times. I'm (in just a few words) entirely obsessed. Thrive is an online marketplace on a mission to make healthy living easy and affordable for everyone. There, you can shop for thousands of the best-selling organic foods and natural products at 25-50% below traditional retail prices. One of my favorite aspects of Thrive (aside from the savings) is that I can filter the catalog of products by MY values and dietary preferences. Whether you are Paleo, gluten-Free, raw, vegan or feeding a family, you can shop along 80+ qualities, including non-GMO, fair-trade certified, BPA-free, and more. 
I get just about everything from Thrive. That includes: non-GMO food, snacks, vitamins, supplements, personal care products, eco-friendly cleaning supplies, safe and nontoxic beauty products, kitchen staples, organic BABY products, GUS TREATS, and much, much more.
The company's Thrive Gives initiative also makes it possible for low-income families, teacher, and veteran to access natural, organic, and non-GMO foods and products for the first time. 
This company is just amazing!!!
I actually purchased the bacon bits, maple syrup, and gluten-free flour for these muffins from Thrive!!
THE DEAL
Here's the best news …a SPECIAL DISCOUNT!
If you click HERE, Thrive Market will give you an EXTRA 25% off your first purchase PLUS a free 30 day trial. That's 25% off the already low prices that Thrive Market offers.
Maple Bacon Pancake Muffins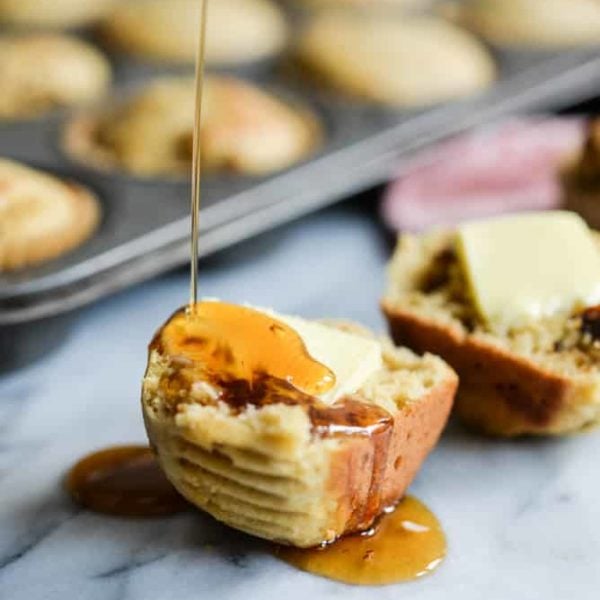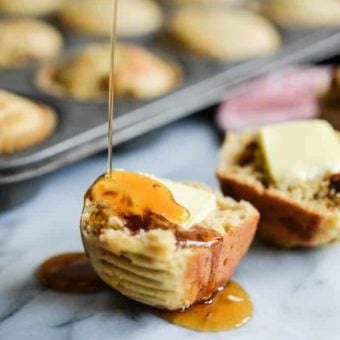 These Maple Bacon Pancake Muffins are a pre-maple'd, pre-bacon-packed pancake that you bake as a muffin! I'm sharing the secrets behind this crowd-pleasing recipe.
Ingredients
For the Pancake Muffins:
1 1/2

cups

gluten free flour

2

teaspoons

baking powder

1/4

teaspoon

baking soda

1/4

teaspoon

sea salt

6

tablespoons

butter

melted

2

eggs

1

teaspoons

vanilla extract

1/2

cup

maple syrup

1/2

cup

full-fat coconut milk

or regular milk
Instructions
Preheat the oven to 350 F.

Mix together the maple syrup and coconut sugar in a small bowl.

Lay the bacon on a rimmed baking sheet, then brush with maple mixture on both sides. Place in the oven and bake for 15 minutes, then flip and bake for an additional 15-20 minutes until browned and crisp and remove from oven. Keep the oven heated to 350 F.

Once cooled, chop the bacon into bite-sized pieces.

In a medium-sized bowl, whisk together the gluten free flour, baking powder, baking soda, and sea salt.

In a large bowl, add the melted butter, eggs, vanilla extract, maple syrup, and coconut milk. Mix together with a hand-held electric mixer or stand mixer until frothy.

Add the flour mixture to the egg mixture 1/2 cup at a time, beating continuously, until smooth. Stir in the bacon bits until they're evenly distributed in the batter.

Line 12 muffin tins with a parchment baking cups and fill halfway with the muffin mixture.

Bake for 25 minutes at 350 F until a toothpick comes out clean.
Recipe Notes
*If you don't want to make candied bacon, you can substitute with 1/3 cup Epic maple bacon bits.
Nutrition
Calories:
228
kcal
|
Carbohydrates:
25
g
|
Protein:
4
g
|
Fat:
13
g
|
Saturated Fat:
7
g
|
Polyunsaturated Fat:
1
g
|
Monounsaturated Fat:
4
g
|
Trans Fat:
0.2
g
|
Cholesterol:
50
mg
|
Sodium:
277
mg
|
Potassium:
93
mg
|
Fiber:
2
g
|
Sugar:
12
g
|
Vitamin A:
219
IU
|
Vitamin C:
0.1
mg
|
Calcium:
76
mg
|
Iron:
1
mg