Every item on this page was chosen by The Fed & Fit team. The site may earn a commission on some products (read more here).
This not-sweet green juice (or smoothie) packs a nutritional punch with kale, cilantro, cucumbers, and lemon to leave you feeling like a million bucks!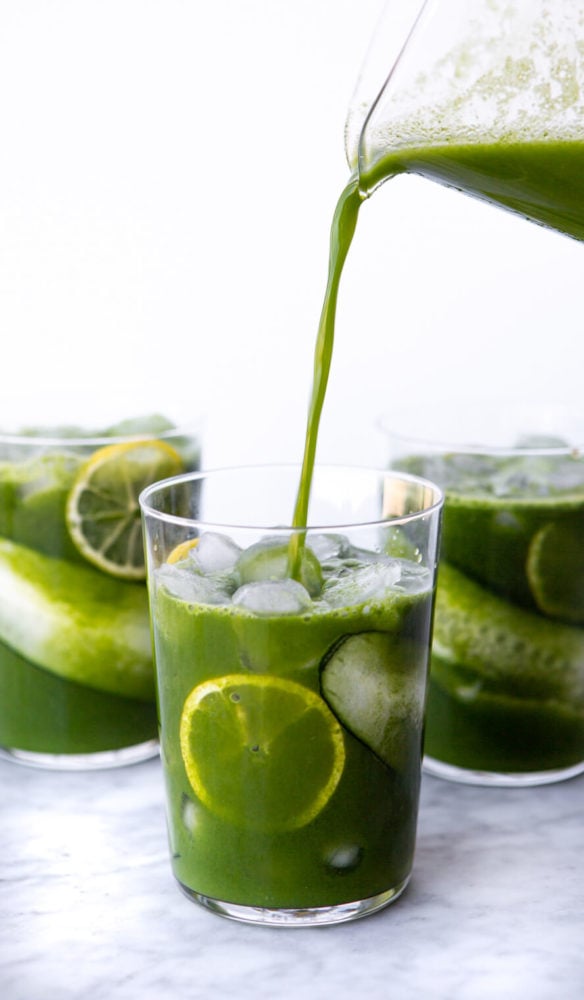 Ginger Smoothie Recipe
One batch of this lemon ginger green juice makes enough for 5 days of flavorful pick-me-ups. This juice is vegetable-based and packed FULL of beneficial plants and nutrients. It's super cost efficient to make! The cost savings of what you can make at home vs. what you can purchase is 5:1. That's a lot of money saved! I like to whip up a batch, keep it in a pitcher in the refrigerator, and enjoy over ice for a refreshing afternoon drink.
What are green juice benefits?
There are several benefits to adding this green juice into your daily routine.
Antioxidants – kale, lemon, and ginger are loaded with antioxidants, which help fight stress and damage to your body.
Supports digestion – lemon and ginger both aid in digestion and saliva production. There is also a high prevalence of dietary fiber in the kale and lemon to keep digestive health on track!
Vitamins and minerals – this green juice is a tremendous source of vitamins A, C, K, and iron which are key in supporting a healthy immune system and maintaining proper iron levels (which helps with energy!).
Omega 3 fatty acids – kale contains very little fat, but the fat it does contain is part of the omega-3 fatty acid chain (specifically alpha linolenic-acid), which is an essential fatty acid you can only get from foods.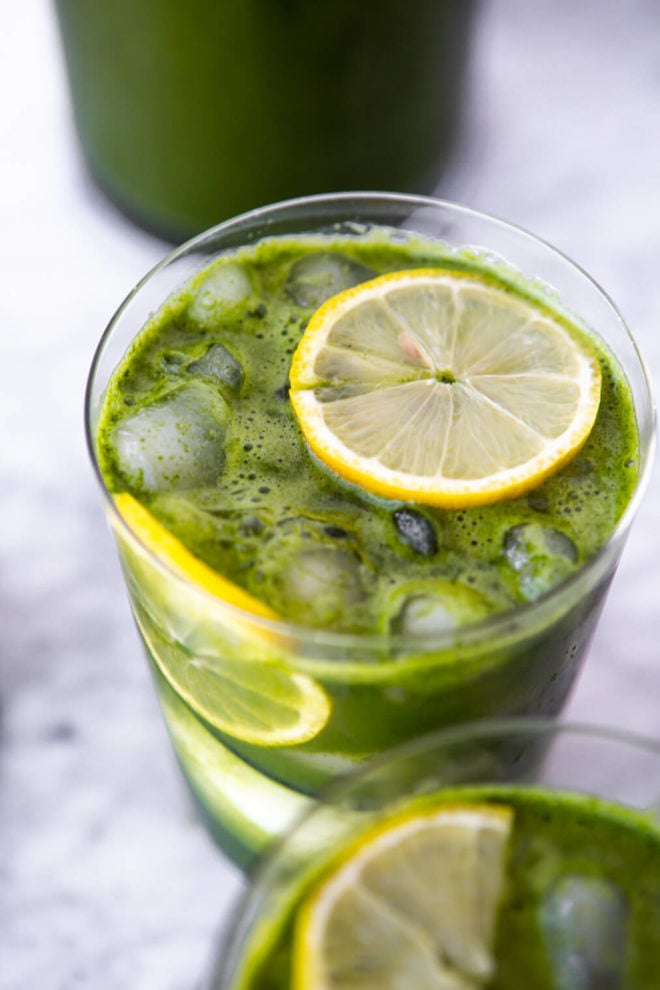 How is kale a superfood?
Kale is one of the most nutritious plant foods on the planet and is truly a powerhouse of health benefits! It's considered a superfood because it's a great source of vitamins and minerals.
Vitamins – one cup of kale contains 2 times the recommended daily value of vitamin A (more specifically, it contains beta-carotene which the body converts into vitamin A), 6 times the value of vitamin K, and 1.5 times the value of vitamin C. It also contains vitamin B6, manganese, calcium, copper, potassium, and magnesium.
Antioxidants – kale is loaded with antioxidants to help your body fight free radicals and provide anti-inflammatory support, including beta-carotene.
Calcium – kale is a good, plant-based source of calcium that is important for supporting bone health and cell function.
Kale Smoothie Ingredients
To make this kale smoothie or juice, you have a couple of options depending on which route you take!
To make a kale smoothie (single serving):
Kale – you'll want 1 cup of chopped kale (densely packed in the measuring cup).
Cilantro – a ¼ cup of chopped-and-packed cilantro adds a zesty, citrus note.
Ginger Root – a ¼-inch of peeled, fresh ginger root gives a spicy and slightly sweet note.
Lemon – you'll quarter a full lemon, leaving the peel in tact, to get the benefits of the citrus and bitters in the peel (if you prefer not to leave the peel on, that's ok too! Just peel and quarter the lemon).
Cucumber – use 1 cucumber to add a fresh, hydrating component (may substitute with 1-2 cups water).
To make kale juice (5 servings):
Kale – you'll use 10 cups of chopped kale (densely packed in the measuring cup).
Cilantro – 2 cups of chopped-and-packed cilantro add the fresh, herby note.
Ginger – cut and peel 2-inches of fresh ginger root
Lemon – quarter 5 lemons, leaving the peel in tact (same with above! If you prefer no peel, simply cut off the peel before quartering).
Cucumbers – 6 cucumbers make for the bulk of the water content (may substitute with 3 cups water).
Kale Smoothie Modifications
This kale smoothie is veggie-herb forward and so refreshing as it is, but can certainly be modified if you want to play with the flavor profile!
Substitute water – if you're not a fan of cucumbers or don't have any on hand, you can substitute water for the ultra hydrating component of this smoothie or juice.
Add green apple – if you are looking to add a fruit component, a green apple adds a tasty tart and slightly sweet component, plus the additional health benefits of a green apple (think fiber, vitamin C, vitamin A, and antioxidants).
Omit the cilantro – cilantro taste like soap? You can omit the cilantro or sub in parsley to add for the herby note.
Supplies Needed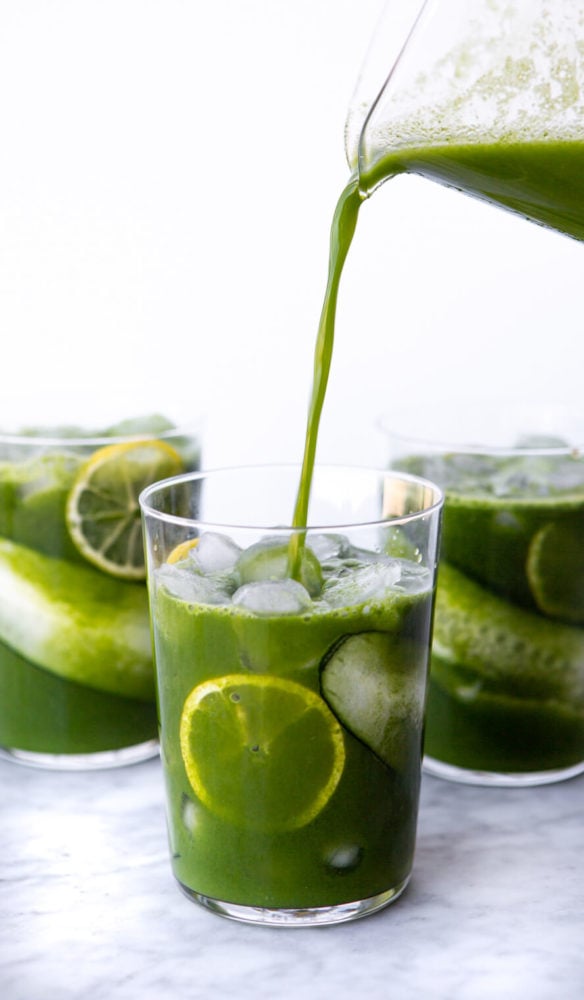 Is it ok to put raw kale in a smoothie?
In most cases, consuming raw kale is absolutely ok! Cooking kale (and any vegetable for that matter) alters its nutritional value and starts to break down antioxidants, vitamins, and minerals, so consuming it in its raw form packs the biggest nutritional punch. That said, raw kale does contain goitrins, which can impact iodine levels and thyroid function if consumed in very high amounts. However, research indicates a moderate intake of kale is unlikely to have any lasting impacts on thyroid health and is safe for most individuals to consume.
What is better in smoothies spinach or kale juice?
Kale truly is the ultimate superfood when it comes to leafy greens and plants. Kale is superior when it comes to vitamin K, vitamin C, and calcium, but spinach contains more vitamins and minerals overall (the density of those nutrients varies). However, kale is low in oxalate, which is a substance present in some plants that prevents mineral absorption, making the nutrients of kale more readily available for your body to use. Kale is going to have a more fibrous texture and bitter flavor than spinach, so also depends on personal preference between the two! When it comes to smoothies or juice, kale is going to provide more volume and content (either blended or juiced) than smoothies because of the fibrous stems and rich leaves.
How to make ginger green smoothie
To make the ginger green smoothie:
Combine and blend -using your home blender or NutriBullet, combine all the ingredients together and blend until smooth.
Serve and enjoy!
To make the ginger green juice:
Juice – using your juicer, put all the ingredients through, saving the cucumber for last as it will help wash out the machine.
Serve and enjoy! – stir and drink right away or store in the refrigerator.
Can you juice ginger?
You can absolutely juice ginger! Simply peel the ginger (using a spoon to scape the peel off is the easiest way!). Fresh ginger juice is a great addition to help reduce inflammation soothe digestion, and enhance immune function.
How hard is juicing ginger without a juicer?
While it is possible to juice ginger without a juicer, it is definitely a little more labor intensive. To juice your ginger sans juicer, you'll grate fresh ginger, then squeeze the ginger in a cheesecloth over a container.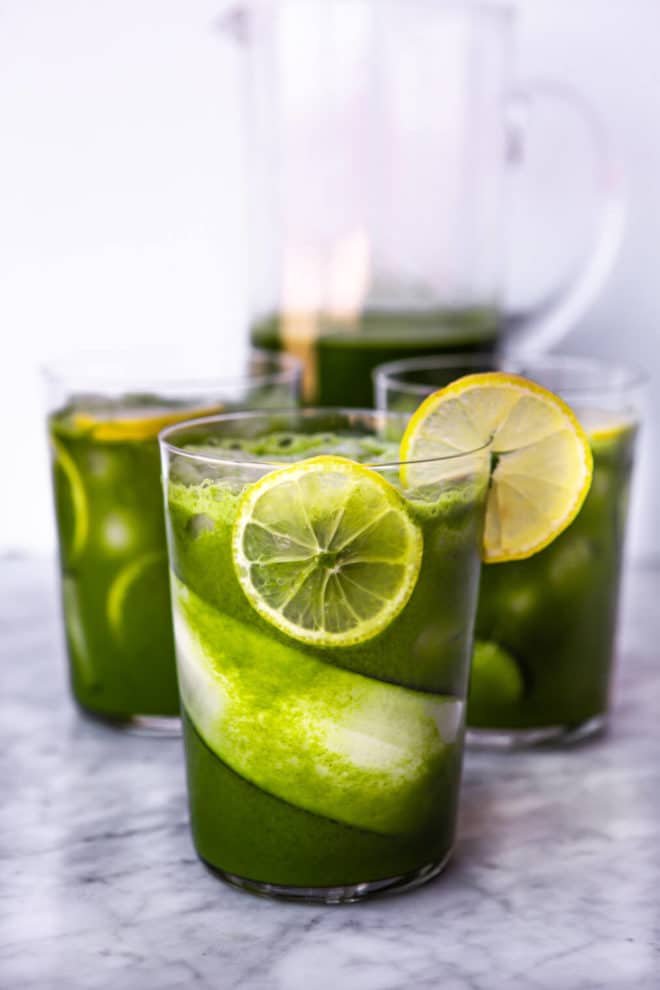 What are the side effects of eating kale?
Consuming raw kale may cause bloating and gastrointestinal distress for those who have difficulty digesting FODMAPs (fermentable oligosaccharides, disaccharides, monosaccharides and polyols). Blending the raw kale gives your body a head start on digestion and make the nutrients more easily absorbed. Juicing removes a good deal of the fiber content, but bloating may still occur.
How much green juice should you drink a day?
If you choose to go the juicing route, I recommend drinking one glass of green juice a day.
Should I drink green juice on an empty stomach?
While this juice can be consumed any time of day, it is best paired with a meal that contains healthy fats to aid in the absorption of nutrients.
Is it ok to drink kale ginger smoothie at night?
This kale ginger smoothie makes for a bright and refreshing addition to your meal to start the day or refresh as the day progresses, but can be consumed at any time of day. Every body reacts differently to different foods, so if you find that drinking before bed makes it difficult to fall asleep or has any inefficient impacts on your body, try consuming earlier in the day.
Ingredients
Lemon Ginger Green Juice (makes 5 servings):
10

cups

kale

chopped and densely packed

2

cups

cilantro

chopped and packed

2

inches

fresh ginger root

peeled

5

lemons

cut into quarters (not peeled)

6

cucumbers

may substitute with 3 cups water
Lemon Ginger Green Smoothie (makes 1 serving):
1

cup

kale

chopped and densely packed

1/4

cup

cilantro

chopped and packed

1/4

inch

fresh ginger root

peeled

1

lemon

cut into quarters (not peeled)

1

cucumber

may substitute with 1-2 cups water
Instructions
Lemon Ginger Green Juice
Using your

home juicer

, put all the ingredients through, saving the cucumber for last as it will help wash out the machine.

Stir and drink right away or store in the refrigerator.
Lemon Ginger Green Smoothie
Drink right away!
Nutrition Information
Nutrition Facts
Kale Ginger Smoothie (or Juice) with Lemon
Amount per Serving
% Daily Value*
* Percent Daily Values are based on a 2000 calorie diet.
Recipe Notes
Note 1: I like to just cut my lemons whole and put them in with the peel on. The bitters found in the peel are really beneficial, but feel free to peel them if you like.  Note 2: you can substitute the 6 cucumbers with filtered water. Just add the water to the rest of the juice and stir to combine. Note 3: the juice will separate as it sits - this is normal! Just give it a stir before you pour a glass. It will last for up to 5 days in the refrigerator.  Note 4: if it breaks your heart to throw away all the veggie pulp, put it in a freezer-safe plastic bag to save for making crackers in the future.