Paleo BBQ Sauce
This Paleo BBQ Sauce is free of refined sugars and junky oils, and features 4 different renditions to customize to your tastes!
Here we are! Officially smack in the middle of spring and officially daydreaming of pool parties, margaritas, and BBQ. Are you with me?
I can see it now…it's a leisurely, sunny Saturday afternoon. The weather is warm, the grill is hot, and the pool is inviting. Well, it's inviting right up to the point where you dip your toe in for a temperature test and remember how you're not 13 anymore and have no "just jump in the cold water" bravery to prove. You shake your toe off and rejoin your friends on the back patio to instead sip margaritas from sweaty glasses.
The conversation drifts from the latest Costco finds, to whether Stitch Fix actually worked out for you, finding a consensus on favorite new books, and finally to everyone's thoughts on all-natural skincare.
Eventually, a late lunch/early dinner of grilled goodies, kale salad, veggies with Paleo ranch dressing, and sweet potato fries is laid out on a big "come help yourself" buffet.
You wonder over to the counter, fill your plate up with all kinds of colorful vegetables, grab your favorite cuts of meat, and then stop to carefully analyze which of the 5 different bottles of open BBQ sauce you will choose.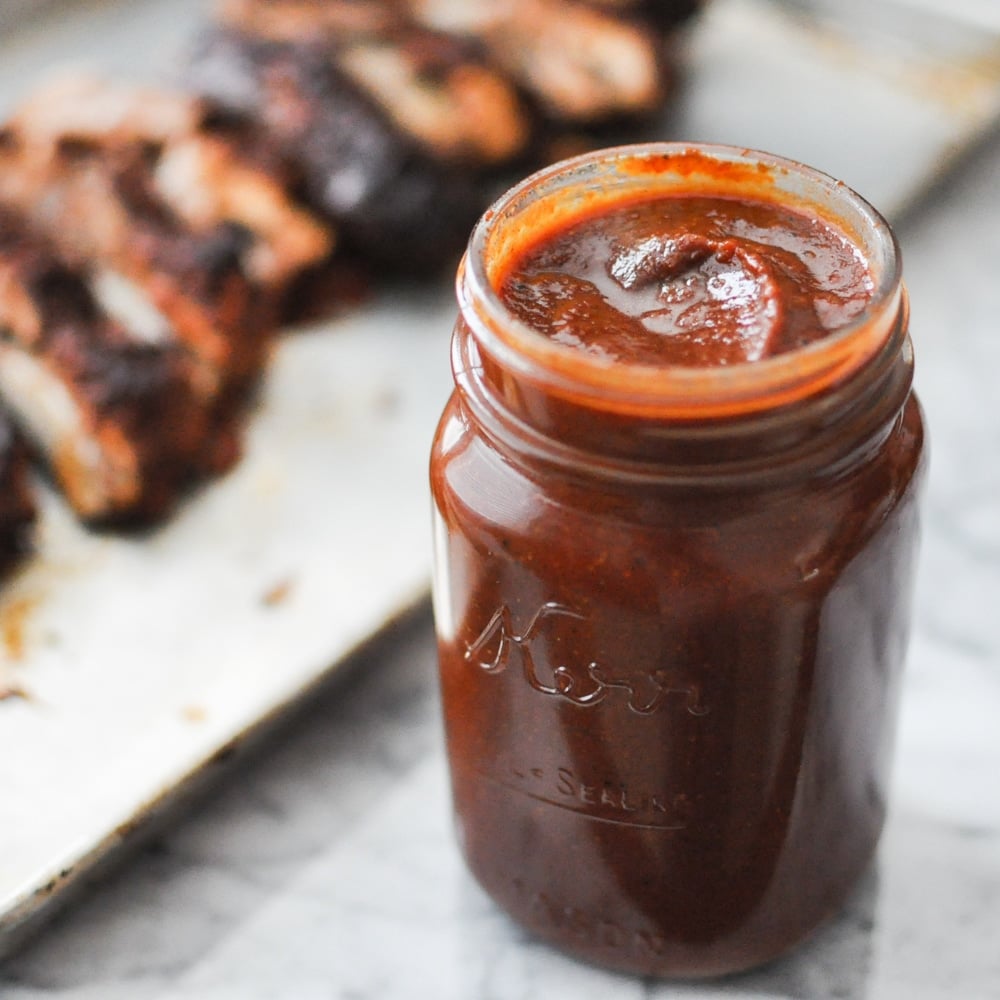 Sound familiar?
For as long as I can remember, there has never been a shortage of options or opinions when it comes to BBQ sauce. Having grown up in Texas, I was raised to prefer sauce that's a little tangy, just a little bit sweet, and with deep rich, slightly spicy flavors that really highlight our prized smoky cuts of meats.
I have tasted, tested, and agonized over what makes up the perfect Paleo BBQ sauce. It's taken years. Years, I say! This is not something to rush.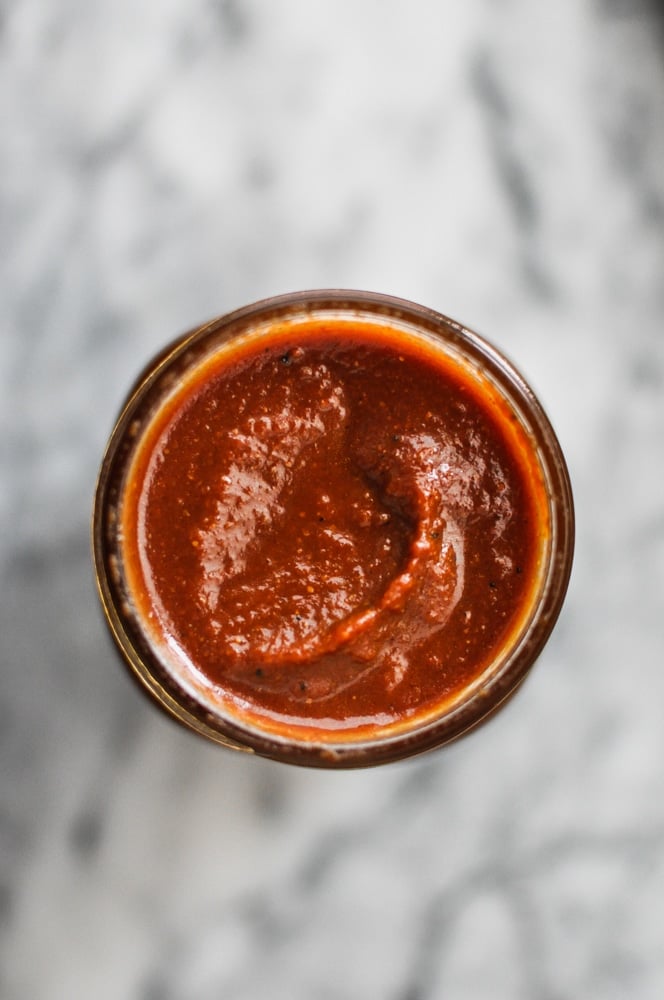 BBQ sauce from a bottle is, typically, loaded with refined oils and unnecessary sugars or other sweeteners. So, those are out.
Next, we turn to homemade renditions! I've seen some BBQ sauce recipes that take hours and more ingredients than I have letters in my name. Those are out, too. I don't like complicated.
I put my recipe development hat on and got to work. It took a few batches, but what we have here is a Paleo BBQ sauce template that I'm really, really proud of. It's got the perfect combination of tangy, sweet, smoky, and spicy. It'll stand up to your steaks, pork chops, grill, oven, and toddlers.
That being said, I do have an appreciation for individual taste. Do you like your BBQ sauce on the tangier side? I've got you covered. How about with a noticeable sweetness? I've got directions for you, too! You like it with a kick? Good for you! Just make the adjustments I outlined below.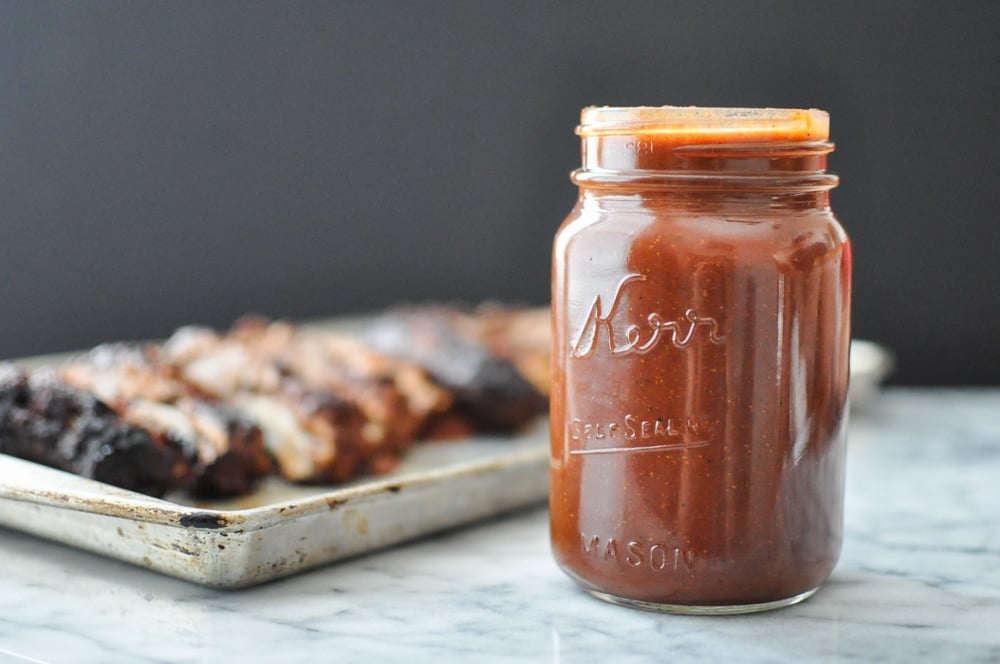 I hope you love this sauce as much as I do and have fun making it your own.
Now, let's get cookin'!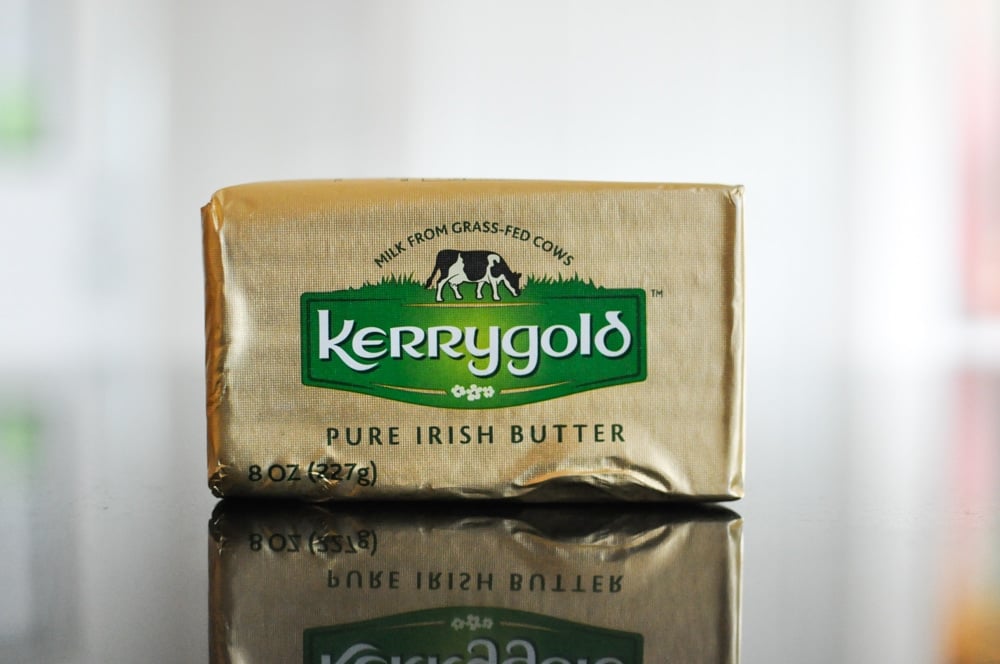 Like so many good things in this world, our recipe starts with butter. I prefer this grass-fed Kerrygold's butter.
Measure out about 2 Tbl of the tasty deliciousness.
Add it to a hot sauce pan.
Grab a bottle or a few cans of strained tomatoes. You'll need about 24 ounces total.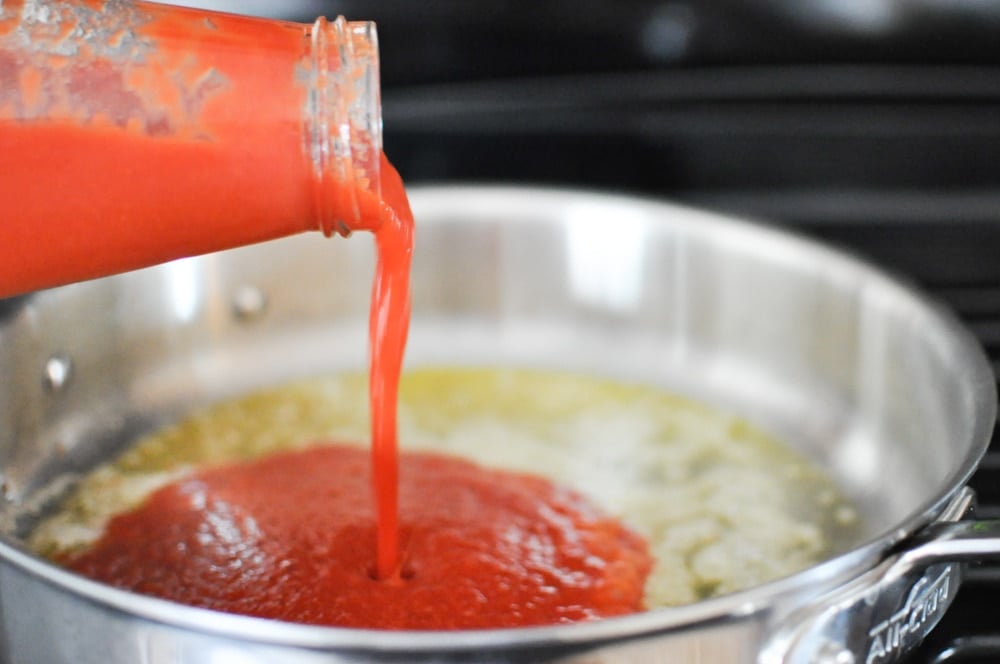 After the butter is melted and bubbly, add the tomatoes and turn the heat down to medium.
Next, let's grab about 7 ounces of tomato paste.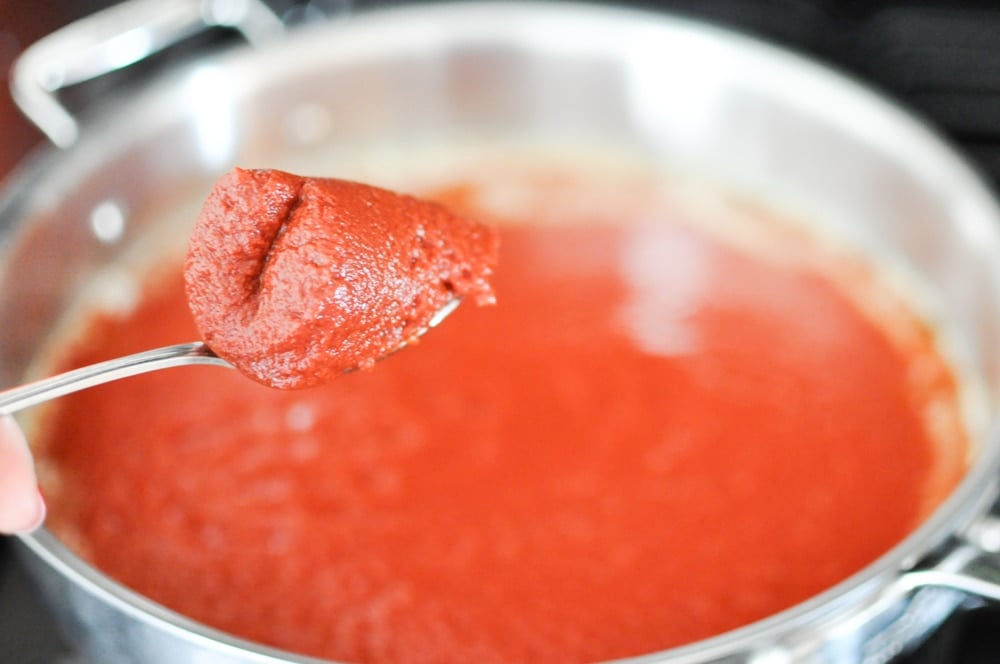 Add it to the strained tomatoes in the pan.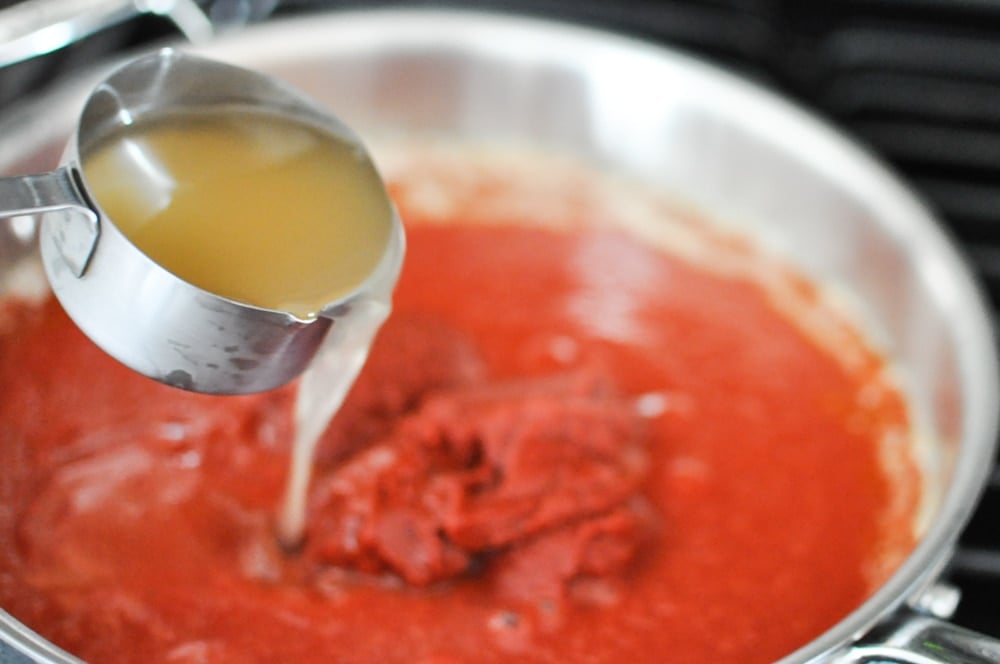 Pour in ½ cup of apple cider vinegar if you're making the REGULAR sauce. If you want a TANGY sauce, add 1 cup.
Add 1/3 cup of coconut aminos.
Coconut aminos taste similar to soy sauce but they're minus all the hormone-disrupting negative affects of soy! At least, that's just one benefit they present over soy sauce. I could go on …but you're probably hungry and just want some BBQ. We'll save that discussion for another day!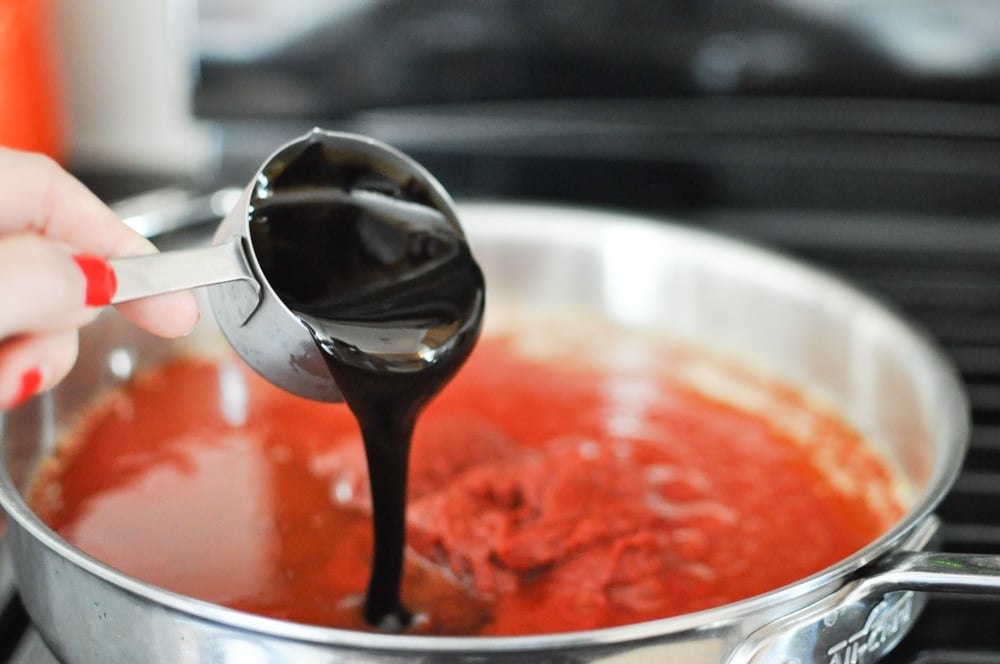 Add in 1/3 cup of blackstrap molasses if you're making the REGULAR sauce. If you want a SWEET sauce, add 1/3 honey cup in addition to the molasses. If you want a REALLY SWEET sauce, add 2/3 cup honey.
Now add 1 Tbl of garlic powder.
And then add 1 Tbl of onion powder.
Chili powder is what turns this sauce from a "strangely tangy marinara" into BBQ sauce! While normal "chili powder" will work perfectly fine, if you can find Ancho powder, grab it. It will make your BBQ sauce sing!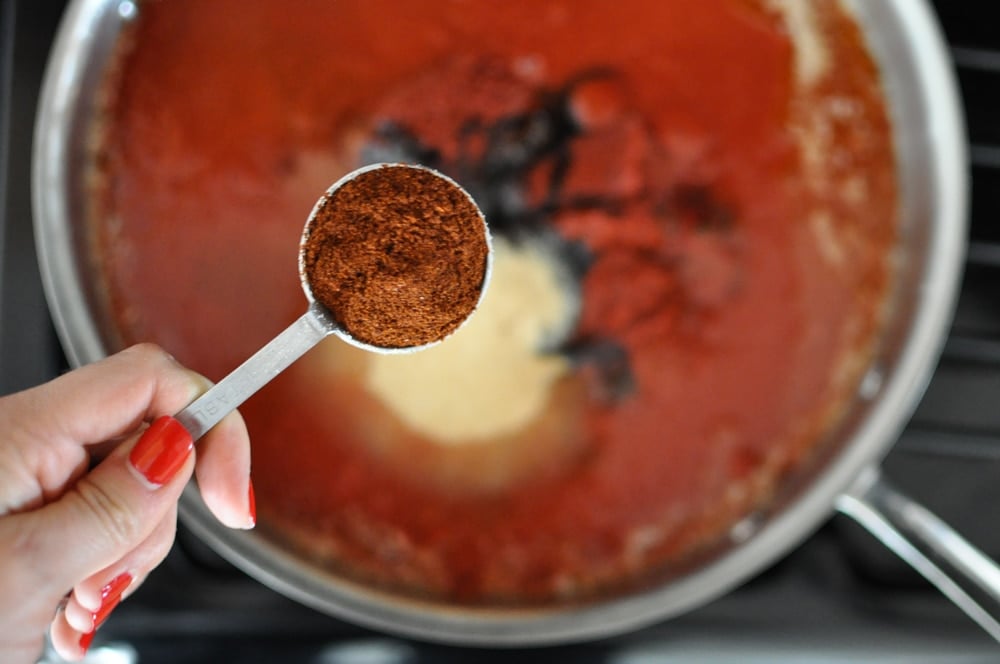 Add 1 Tbl to the sauce pan.
Next, add 1 tsp of salt.
Then add 1 tsp of black pepper for REGULAR. Add 2 tsp for SPICY or 3 tsp for REALLY SPICY.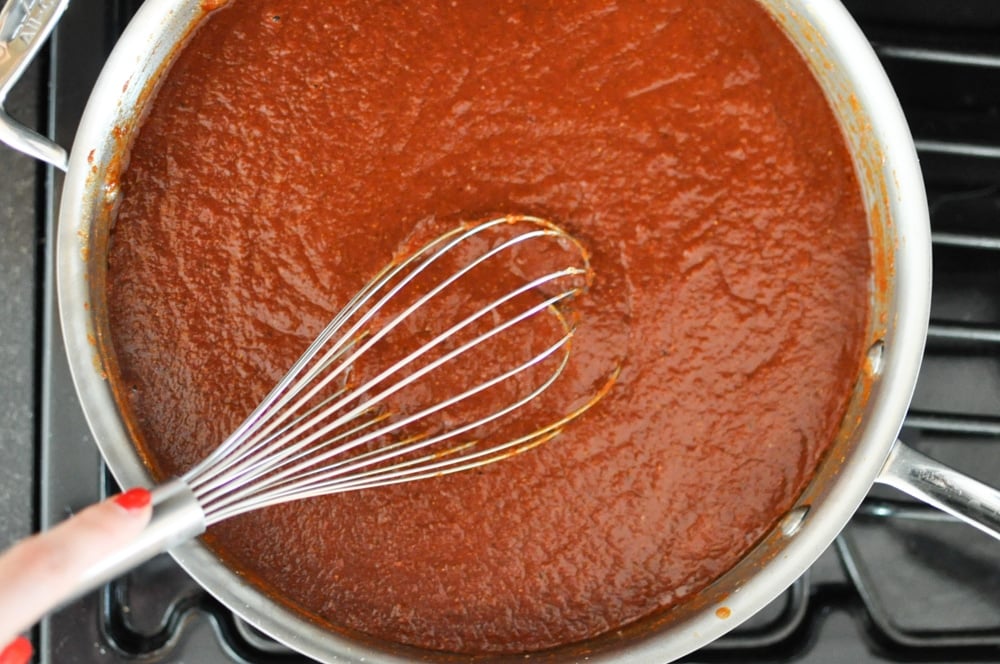 Give it a thorough whisk and then let it come to a slight simmer for just a couple minutes. Take it off the heat, let it cool, then pour into jars!
This recipe makes about 4 cups of sauce. I like to pour them into two mason jars – one for immediate use and one for the freezer.
Enjoy!
Print
Paleo BBQ Sauce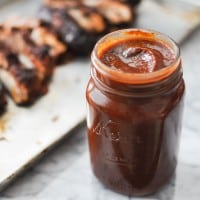 Author:
Cook Time: 10 minutes
Total Time: 10 minutes
Yield: 2 batches, 2 cups each
Ingredients
REGULAR:
TANGY:
SWEET:
SPICY:
Instructions
Melt the butter in a large saucepan.
Add the rest of the ingredients and whisk together.
Let it simmer on low for 5 minutes, stirring occasionally.
Remove from heat and either use immediately or can to store.
Related Posts
55 Responses to "Paleo BBQ Sauce"
Leave a Comment