Corned Beef Breakfast Hash
jump to recipe
This corned beef breakfast hash is a balanced plate complete with tender corned beef, crispy potatoes, collard greens, pickled purple onions, and a poached egg to bring it all together. This is the perfect breakfast to whip up for company or for a week of make-ahead meals!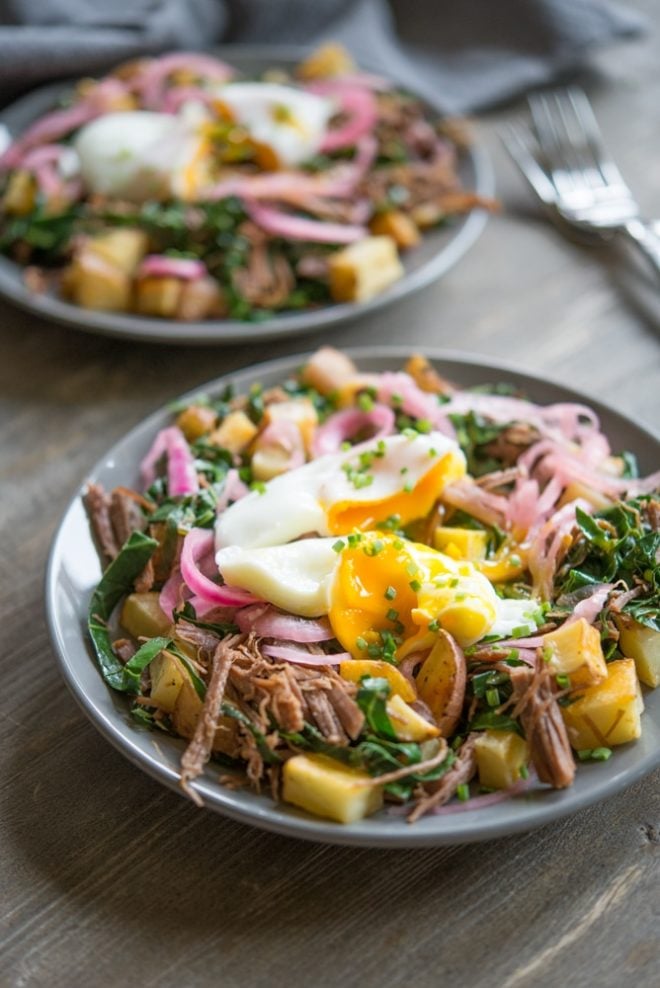 Truth: I cannot see "corned beef hash" on a breakfast or brunch menu without ordering it. I MUST order it! I love corned beef breakfast hash. That being said, I'm sorry to report that most of the corned beef hashes I've had in restaurants were a miss. I don't know if it's because the corned beef was bland, the potatoes mushy, or that there's a lack of overall flavor, but they missed! SO, it was high time I created my own. This corned beef breakfast hash is essentially the complete vision of everything I've ever wanted. It's got perfectly flavored corned beef (made with only the cleanest ingredients), crispy potatoes, bright collard greens, a runny-yolk egg, pickled onions, and fresh chives. It's the bomb.com.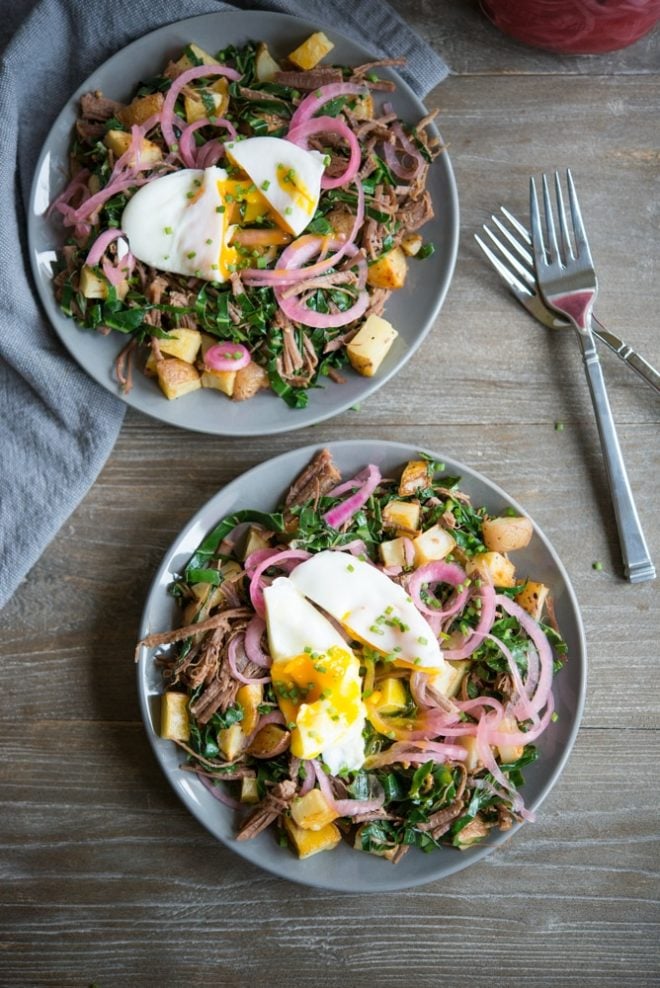 Best of all, this is one more meal that works well with my mission to keep my freezer stocked with ready-made healthy breakfasts! I simply portioned out the hash into individual containers and tossed them in the deep freeze. I defrost as I need and add a fresh egg with pickled onions!
We're right in the middle of our Summer CSA Recipe Series and I couldn't think of a better way to kick off our second month than with this hearty breakfast! It takes advantage of these summer veggie finds: potatoes, collards, onions, and chives.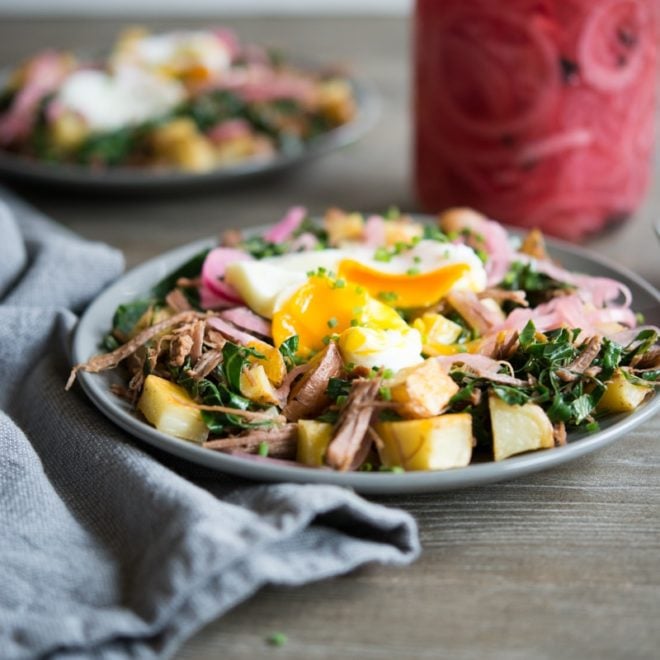 Print
Corned Beef Breakfast Hash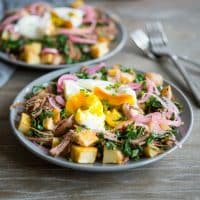 Author:
Prep Time:

10 minutes

Cook Time:

50 minutes

Total Time:

1 hour

Yield:

8-10 servings
Ingredients
4

pounds red skinned potatoes, cut into

1

-inch cubes

2 tablespoons

extra virgin olive oil

1 teaspoon

fine sea salt

1 teaspoon

garlic powder

1 teaspoon

paprika

1 tablespoon

butter

2

bunches collard greens, de-stemmed and finely chopped

1 tablespoon

fresh lemon juice (about

1/2

a lemon)

1

batch of paleo corned beef

1

–

2

eggs per serving, soft boiled, poached, or fried
pickled onions, for garnish
fresh chopped chives, for garnish
Instructions
For the potatoes, toss the cubed potatoes in the olive oil. Spread them out evenly on two baking sheets. Sprinkle the tops evenly with the salt, garlic, and paprika. Bake at 375 F for 40 to 45 minutes, or until they start to brown and crisp, but not burn.
Melt the butter in a large frying pan or pot. Add the chopped collards, toss to combine, and cover to steam. Once the collards are wilted, add the lemon juice, stir to combine, and remove from heat and set aside.
In a large mixing bowl, toss the potatoes with the collards and corned beef. Plate and top with the eggs (cooked however you like), pickled onions, and chives.
Enjoy!
Don't forget to check out what Lexi and Juli cooked up for you this week, too!
From Lexi: Jicama Kale Salad with Orange Lime Vinaigrette
A delicious light summer salad packed with kale, red bell peppers, jicama, cilantro, and carrots from the farm- plus additional pops of flavor with mango and avocado! Tossed with a delicious orange lime dressing everyone will love. Make it as a side, or top it with grilled chicken or shrimp for a fabulous main dish!
From Juli: Summer Vegetable Gnocchi
A summer gluten free pasta dish that is bursting with fresh seasonal flavors from the spring onions, zucchini, yellow squash, bell pepper, and baby plum tomatoes. The dish is finished off with lemon, basil and parsley to make you truly enjoy all the flavors summer has to offer!