Every item on this page was chosen by The Fed & Fit team. The site may earn a commission on some products (read more here).
We are thrilled to be partnering with King Arthur Flour to bring you these Paleo apple cinnamon muffins today! These muffins are light, fluffy, and filled with fall flavors.
This post is sponsored by King Arthur Flour
When I think fall, my mind usually goes straight to pumpkin. With pumpkin being everywhere this time of year, it's easy to forget about the original fall favorite – apples! That's where these Paleo apple cinnamon muffins come in. These muffins are easy to make (you don't even have to pull out your mixer), will fill your house with warm Autumn spices while baking, and result in a perfectly moist, lightly sweet muffin that is perfect for breakfast or even dessert!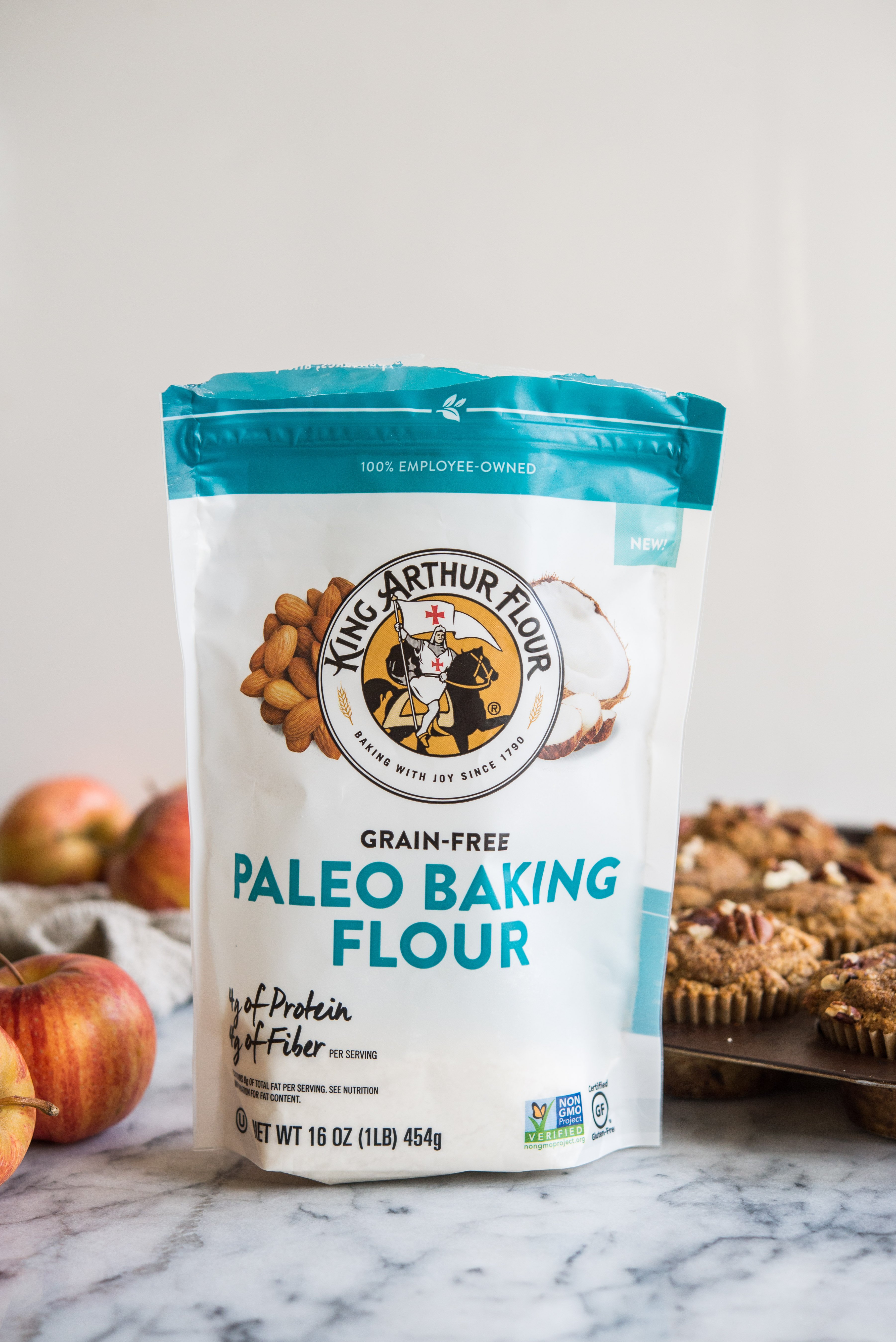 King Arthur Paleo Baking Flour
To make these muffins, we used King Arthur's new Paleo Baking Flour as the base. If you've been around here for a while, then you know that King Arthur has been our recommended flour brand for gluten-free baking for years, so we were thrilled when we heard that they had a new grain-free flour option! This flour is a blend of cassava, almond, and coconut flours and can be used as a 1-to-1 substitute for all-purpose flour, so you can make all of your favorite baked goods grain-free.
If you've tried converting traditional baked goods to Paleo before, you probably know that it can be difficult as Paleo flours behave so differently than traditional flours. In this blend, the fats from the almond flour keep baked goods moist, tender, and fresh for longer. Meanwhile, cassava flour helps lighten up the baked goods while coconut flour helps thicken the batters and provides a healthy dose of fiber. Together, these properties make a blend that is perfect to substitute for regular flour.
Where can I find Paleo Baking Flour?
You can find Paleo Baking Flour on King Arthur's Website, on Amazon, or at your local Publix, Walmart, Harris Teeter, Meijer, and more!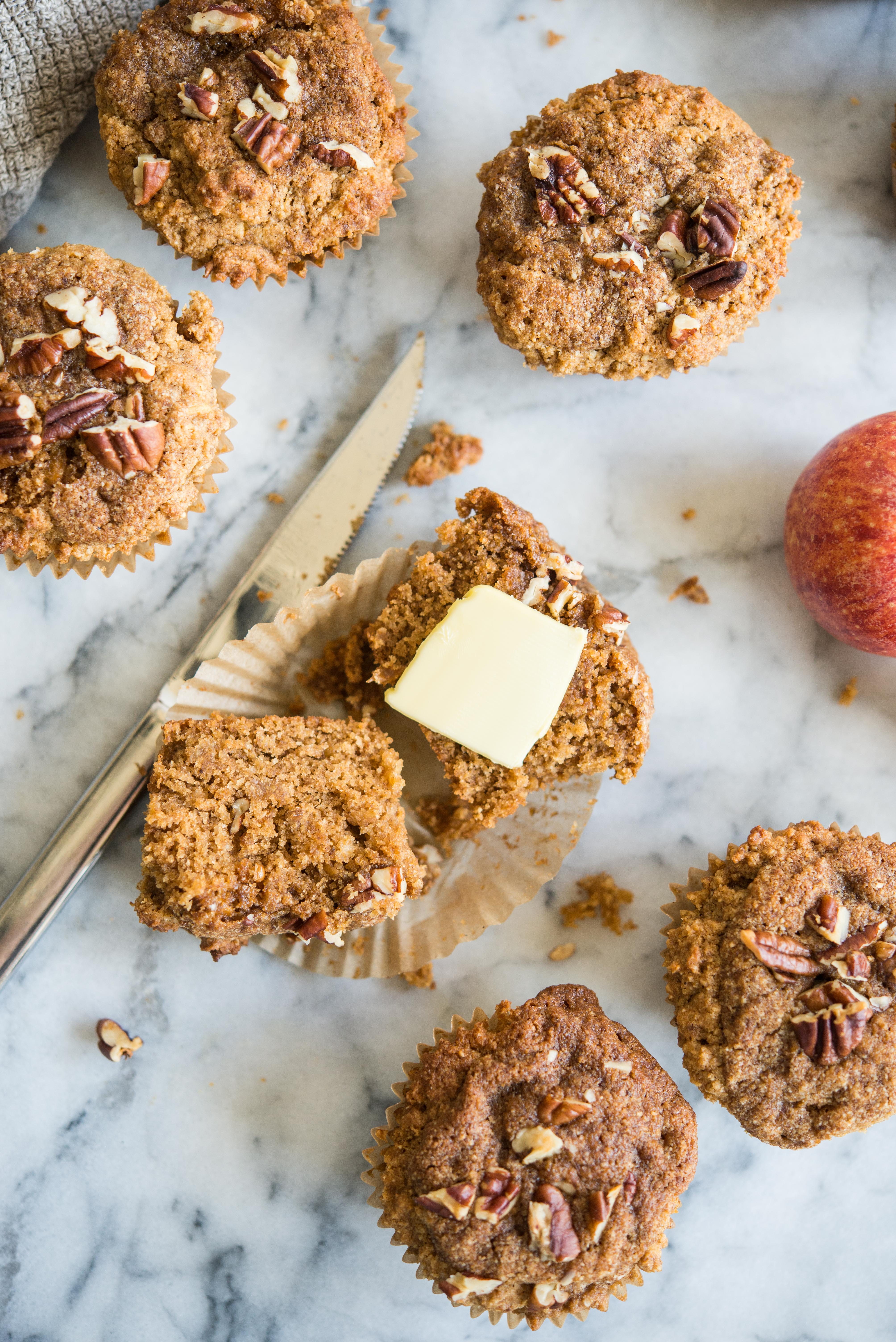 How to Make Paleo Apple Cinnamon Muffins
Now, let's jump into how to make these delicious apple muffins!
Whisk together the dry ingredients. The first thing you'll do for this recipe is to whisk together the flour, coconut sugar, baking powder, and spices. Once the mixture is fully incorporated, set it aside.
Combine the wet ingredients. Next, you'll whisk together the eggs, vanilla, and butter or ghee in a separate bowl, until fully blended.
Add the dry ingredients to the wet ingredients. Now you'll stir the dry ingredients into the wet ingredients until the batter is fully combined. The batter will be slightly stickier and wetter than a traditional batter. Once the batter is formed, you'll stir the grated apple into it until it is evenly distributed.
Make the crumble. For the crumble topping, you'll add the butter, sugar, and coconut flour to a small bowl and work the mixture with your hands until it is fully combined. It will be more of a paste-like consistency than a traditional crumble.
Bake the muffins. Finally, you'll fill your muffin tins about 3/4 of the way full, take a bit of the crumble and flatten it with your hands to make enough to cover the muffin, place it on top of the muffin, sprinkle on pecans, and bake for 17-20 minutes, until a toothpick inserted into the center of the muffin comes out clean. Let the muffins cool slightly, then enjoy!
Can this be made egg-free?
It can! In fact, we tested a TON of different egg substitutes in several different baked goods, took all kinds of notes, and then laid it all out for you in this super helpful guide to egg-free baking. For muffins (though this isn't a Paleo option), we recommend subbing in plain Greek yogurt (¼ cup of yogurt per egg) – Greek yogurt made for fluffy and slightly crisp on the outside muffins that had a really delicious flavor and held together really well.
These muffins will keep for up to 5 days, so they are perfect to make over the weekend and eat for breakfast during the week! For the best texture, we recommend storing your muffins in the refrigerator then quickly microwaving or toasting them before eating. We hope you love these muffins as much as we do!
Instructions
Preheat the oven to 350 F and line a muffin tin with parchment paper liners.

Add the flour, coconut sugar, baking powder, baking soda, cinnamon, ginger, nutmeg, cloves, and salt to a medium-sized bowl and whisk to combine, smoothing out any lumps.

In a large bowl, beat the eggs, melted butter, and vanilla extract. Then, mix the dry ingredients into the wet and whisk until fully combined. Stir the grated apple into the batter until evenly distributed Spoon the batter into the muffin tins until they are almost all of the way full.

To make the crumble, combine the softened butter, coconut sugar, and coconut flour in a small bowl and work the mixture with your hands until it takes on a paste-like consistency.

Flatten the crumble mixture with your hands to make enough to cover a muffin, and place it on top of the muffin batter. Repeat for each muffin.

Sprinkle the pecans over top of the muffins, then bake for 18-20 minutes, until a toothpick inserted into the center of the muffin comes out clean. Let cool then enjoy!