Every item on this page was chosen by The Fed & Fit team. The site may earn a commission on some products (read more here).
This white Alabama-style BBQ sauce is equal parts sweet, spicy, tangy, and delicious!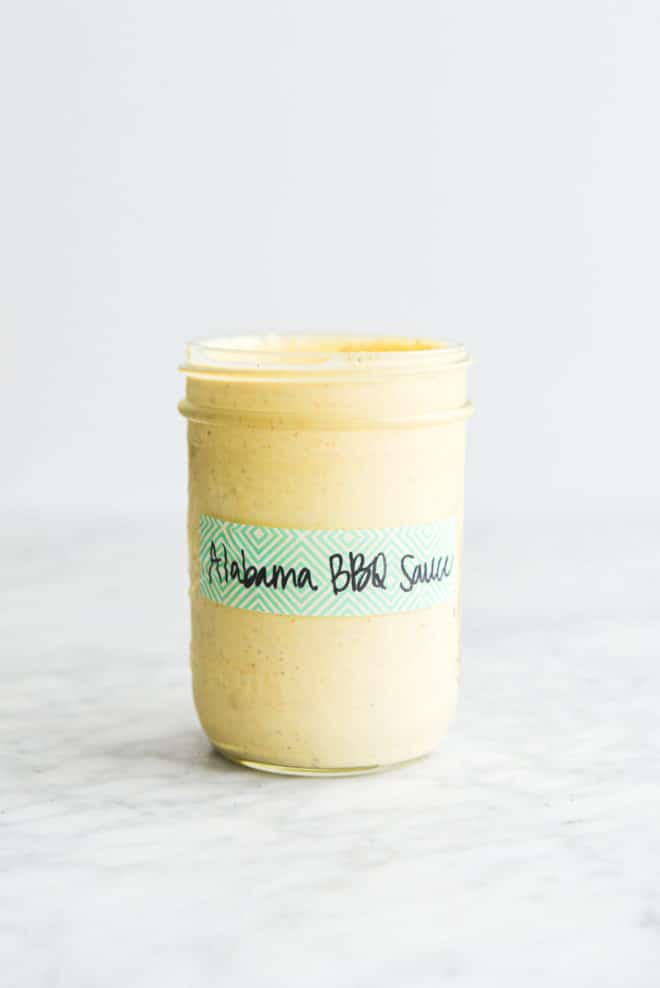 White BBQ Sauce Recipe
Team Fed + Fit decided that it was high time that we added more BBQ sauce recipes to the website, so we did just that! We started with tomato-based BBQ sauces (that, being from Texas, we're all very familiar with), and then we looked to see what other BBQ sauces were out there. As it turns out, a lot of people go crazy for this Alabama-style BBQ sauce, so we did a lot of research, and then put our own spin on this different-but-delicious take on BBQ sauce.
Alabama-style white BBQ sauce is tangy, sweet, and has a hint of spice. While this sauce is typically served on (or with) chicken, it's really delicious and has the potential to be used in all of the same ways as tomato-based BBQ sauce.
What is white BBQ sauce made of?
Mayonnaise makes up the base of white BBQ sauce, and a bunch of other ingredients (like brown mustard, honey, and horseradish) give it a bold, unique flavor.
What does Alabama White Sauce taste like?
White Alabama-style BBQ sauce is really different than red, tomato-based BBQ sauce. It's got a lot going on: it's slightly sweet, very tangy, and has a hint of spice.
Alabama White Barbecue Sauce Ingredients
If you're used to a regular, ketchup (or tomato paste)-based BBQ sauce, the ingredients here may throw you off a little bit, but once combined, they're really delicious. Here's everything you'll need: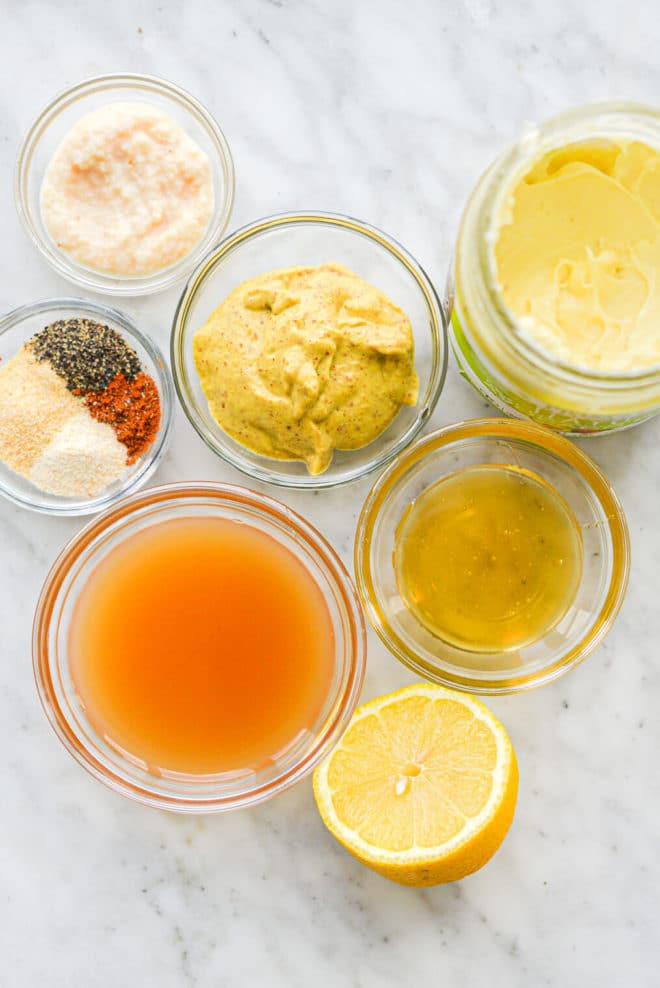 Mayonnaise – to start, you'll need 1 cup of mayonnaise. THIS is our favorite store-bought option.
Apple Cider Vinegar – 2 tablespoons of apple cider vinegar add some tang and acidity to the sauce.
Brown Mustard – you'll also need 2 tablespoons of brown mustard.
Honey – 1 tablespoon of honey provides a touch of sweetness.
Lemon Juice – just like the apple cider vinegar, 1 tablespoon of lemon juice adds acidity and tang, while also brightening everything up a bit.
Horseradish – 2 teaspoons of prepared horseradish adds a touch of spice to the finished sauce.
Spices and Seasonings – to add more flavor, you'll need a ½ teaspoon of onion powder, a ½ teaspoon of garlic powder, a ½ teaspoon of salt, a ¼ teaspoon of black pepper, and to top it all off, a ½ teaspoon of cayenne pepper.
How to Make Alabama White Sauce
Just like most of our other BBQ sauce recipes (classic + keto-friendly), the process here is really easy and requires no heat or cooking at all. You'll just need to add all of the ingredients to a large bowl and then whisk well, until everything is fully combined. Once combined, transfer to a jar (we used a mason jar!) for storage.
How do you use Alabama white sauce?
Having only really experienced tomato-based BBQ sauce, when I first heard about this mayo-based sauce I was left wondering how to use it. Could you slather it on like regular BBQ sauce? The answer is yes! This sauce pairs best with pork and chicken. You can baste your meat with it, and it's especially delicious for dipping.
What can I add to white sauce for flavor?
To be quite honest with you, this recipe is already really flavorful, and because of the thoughtful balance between sweet (from the honey), tangy (from the mustard, apple cider vinegar, and lemon juice), and spicy (from the horseradish and cayenne pepper), we wouldn't recommend adding anything more to the sauce.
How do you know when white sauce is done?
Because this sauce doesn't require cooking of any sort, you'll know it's done once all of the ingredients are fully combined and the sauce is nice and smooth.
How do you thicken Alabama white sauce?
If you're done whisking your sauce and it seems too runny, try adding a bit more mayonnaise to thicken it up!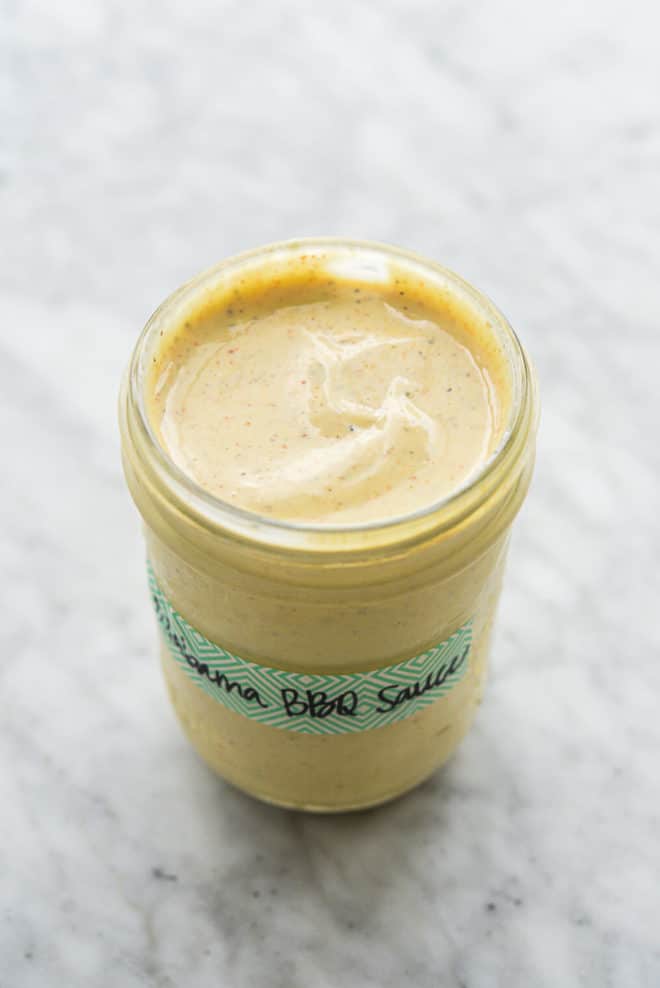 Can I make white BBQ sauce ahead of time?
Absolutely. This sauce can be made and stored up to 2 weeks in advance. Make it when you have time, and enjoy it when you're ready!
How do you store this white barbecue sauce recipe?
Just like any other homemade BBQ sauce (or any sauce, really) recipe, you'll store this one in an airtight container or jar (we used a mason jar — this size works great!) in the refrigerator.
How long does Alabama White Sauce last in the fridge?
Stored in an airtight container, your white sauce will last for up to 2 weeks.
What can you do with leftover white BBQ sauce?
This BBQ sauce is just as versatile as the classic, tomato-based stuff! You can use it on any cooked animal protein, as a dipping sauce for french fries or chicken tenders, or as a sandwich spread (especially a hot sandwich or melt). Get creative here — it may even make for a really fun twist on a traditional pasta salad sauce/dressing!
Ingredients
1

cup

mayonnaise

2

tablespoons

apple cider vinegar

2

tablespoons

brown mustard

1

tablespoon

honey

1

tablespoon

fresh lemon juice

2

teaspoons

prepared horseradish

½

teaspoon

onion powder

½

teaspoon

garlic powder

½

teaspoon

salt

¼

teaspoon

ground black pepper

½

teaspoon

cayenne pepper
Instructions
Add all of the ingredients to a large bowl and then whisk well, until everything is fully combined.
Nutrition Information
Nutrition Facts
Alabama White Sauce Recipe
Amount per Serving
% Daily Value*
* Percent Daily Values are based on a 2000 calorie diet.
Recipe Notes
Makes about 1 1/2 cups of sauce