This Thai-inspired peanut sauce is versatile, so delicious, and the perfect balance of salty, spicy (just a little bit!), and sweet!
Peanut Sauce
This sauce is SO GOOD, y'all. In fact, when we first published it (with our Thai-Inspired Chopped Chicken Salad recipe), everybody LOVED it. Here are some of the things we heard (er, read):
"The dressing is so good, I could drink it." – Jessica
"The dressing is perfect. I was worried it wouldn't be sweet enough but it was the perfect blend of sweet and salty." – Sam
"The peanut dressing is super yummy!" – Caitlin
"This is so yummy and the best peanut sauce (although I used almond butter ) I have ever made! Will definitely make again!" – Victoria
"The peanut sauce is amazing! My husband and I went crazy for it." – Michelle
"The peanut sauce is incredible and it makes me feel good that I can slather it on a bit, since it has such clean ingredients!" – Dani
"The dressing is amazing!! Make a double batch!" – Becca
"The dressing is GOLD. I could drink it. I used to buy Thai Peanut Dressing because I didn't know how to make it but it's simple ingredients and SO delicious." – Sarahi
"I could put that peanut sauce on almost anything!" – Erinn
"The peanut dressing was SO good- my 6 yr old just wanted to eat it by the spoonful lol." – Ashley
"The peanut sauce is better than anything I've ever had from a bottle or even in a restaurant. SO GOOD!" – Laura
Need I say more?!
What is Thai Peanut Sauce?
Thai peanut sauce is a slightly sweet (and sometimes, slightly spicy) dipping sauce made with peanut butter, among several other ingredients. It's really delicious as a dressing or dipping sauce!
Why make peanut dipping sauce from scratch?
This sauce is so darn easy to make from scratch, the ingredients are highly accessible, and the end product is so much more delicious than any store-bought equivalent.
Asian-Inspired Peanut Sauce Ingredients
Many of the ingredients on this list (coconut aminos/soy sauce, honey, sesame oil, and red pepper flakes) may be hanging out in your kitchen right now! Here's everything you'll need to make this really delicious sauce:
Peanut Butter – to start, you'll need a ¼ cup of natural peanut butter (the kind that is drippy and has very minimal ingredients).
Coconut Aminos or Soy Sauce – 2 tablespoons of either coconut aminos or soy sauce give this sauce the perfect salty, umami punch!
Fresh Lime Juice – to brighten (and thin out) the sauce, you'll need 1 tablespoon of fresh lime juice (the juice from about ½ of a large lime).
Honey – 2 teaspoons of honey adds the perfect hint of sweetness to the finished sauce!
Sesame Oil – to really deepen the flavor and add that quintessential Asian flavor, you'll need 1 teaspoon of sesame oil.
Red Pepper Flakes – a pinch of crushed red pepper flakes adds the perfect (very minor, though) kick of spice!
How to Make Peanut Sauce
To make this sauce, you'll just add all of the ingredients to a blender (a single-serve blender is our favorite for blending sauces like this) or a bowl, and either blend or whisk until completely smooth!
Note: to thin the sauce, add a tablespoon of water at a time until your desired consistency is reached!
How do you use spicy peanut sauce?
This sauce can be used in SO MANY ways! One of our absolute favorite ways is as a salad dressing (like in this Thai-inspired chopped salad), but it's also really delicious as a dipping sauce for grilled chicken or chicken kabobs!
What do you eat with this easy peanut sauce?
A lot of things go really well with this sauce. It's delicious as a dipping sauce for grilled chicken or grilled shrimp, and it's also really yummy drizzled over a salad, any combination of roasted veggies, or a lunch/dinner bowl (think: white rice, steamed broccoli, and shredded chicken).
Do you refrigerate peanut sauce?
Yes! Leftover peanut sauce is best kept in an airtight container in the refrigerator. Because the refrigerator may cause the sauce to slightly thicken, there's a chance that you'll need to whisk in a teaspoon of water the next time you use it!
How do you fix broken peanut sauce?
If your sauce has broken (or separated), simply vigorously whisk or blend again until it's well combined again.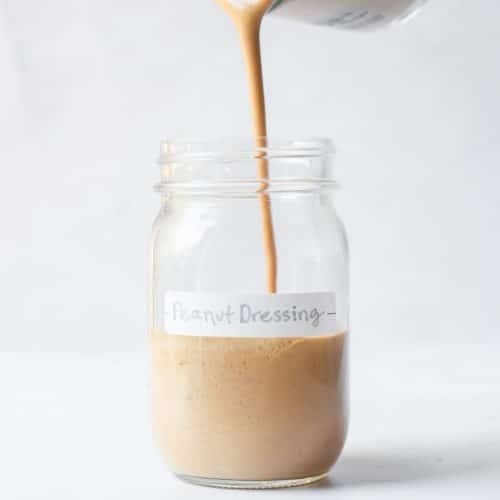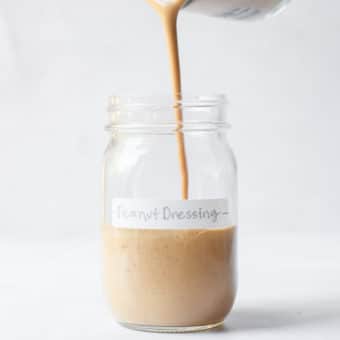 This peanut sauce is perfect for dressing noodles, salad, or for dipping but it's so good, you just might want to eat it straight!
Ingredients
1/4

cup

natural peanut butter

2

tablespoon

coconut aminos or soy sauce

1

tablespoon

lime juice

2

teaspoons

honey

1

teaspoon

sesame oil

Pinch

crushed red pepper flakes
Instructions
Add all ingredients to a blender and blend until smooth. If you need to thin the sauce out, add water one tablespoon at a time.

Serve immediately or store in the refrigerator for up to two weeks.
Nutrition
Calories:
130
kcal
|
Carbohydrates:
9.6
g
|
Protein:
3.7
g
|
Fat:
9.5
g
|
Saturated Fat:
1.8
g
|
Sodium:
219
mg
|
Fiber:
1
g
|
Sugar:
4.7
g