Pecan Pie Bars (GF)
jump to recipe
Finally, a gluten-free Pecan Pie Bar that tastes like the real thing! These bars sit on a flaky, thick gluten-free shortbread crust and are made with thoughtful ingredients. They're the perfect sharable treat to make during the holidays.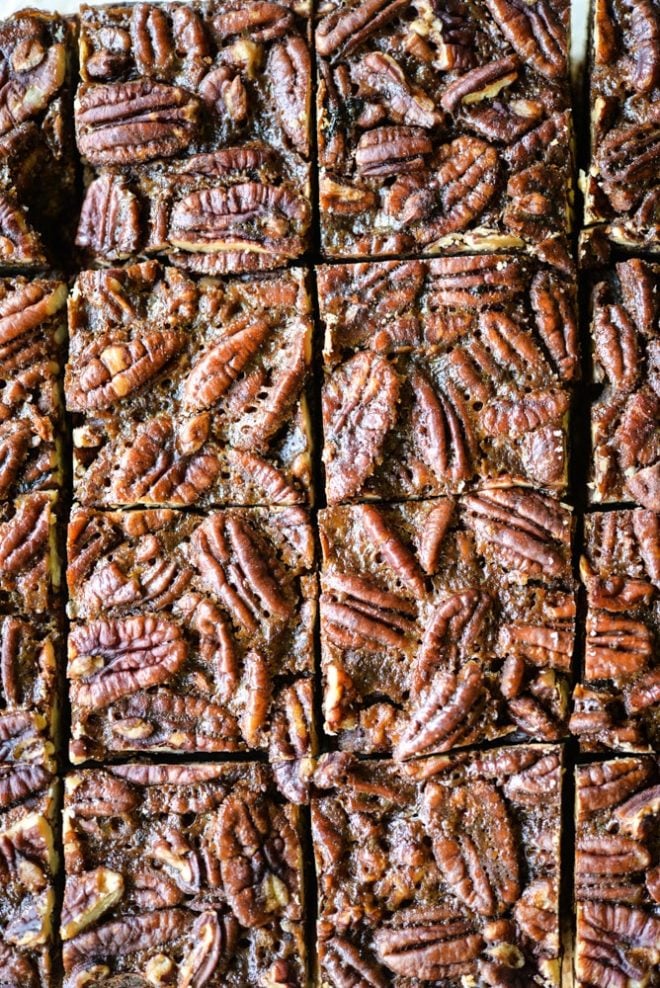 These Pecan Pie Bars mark the beginning of TWO things for the blog:
Holiday Season 2017 if officially upon us! This is just the tip of the festive iceberg and I cannot WAIT for you to see what else I have up my sleeve. You can expect recipes for a gluten-free stuffing, roasted turnip pesto, collagen hot chocolates, roasted duck, thumbprint cookies, and so much more!
A decidedly less legalistic approach to my blogging.
Let's talk about that 2nd one, because a lot of thought has gone into the decision. My life is about to change BIG TIME (re: our first baby is due in January) and I've been having some real heart-to-hearts with myself about how I represent myself here on the blog. Earlier this year, I decided to share more details of our lives with honest trimester pregnancy updates (baby announcement HERE and 1st trimester update HERE). I love sharing these details with you! Yes, I keep a few pieces of information close to home (out of respect for my family), but being an open-book is truly in my nature. I *know* the more I share, the more I invite outside opinions of our personal family decisions. These opinions aren't always easy to navigate, but they're real life.
In this vein, I've made the decision that I want the blog to be a representation of my own personal, honest, and not Paleo-perfect "perfect you plan."
Side note: if you're new here, the "perfect you plan" (or PYP) is the ultimate destination of my signature online food + fitness + healthy lifestyle program, the Fed & Fit Project. I coined this phrase with the purpose of helping to direct you to the healthy lifestyle "plan" perfectly designed by and for YOU. It includes the right amount of water for you, the healthy mindset habits that help you feel great, the best-for-you sleep habits, the right fitness routine for your preferences/budget/time, and (of course) the list of foods + amounts of those foods that make you feel YOUR BEST. The PYP can allow for the occasional piece of wedding cake because wedding  cake is REAL LIFE. The PYP can guide you towards sautéed kale in the morning, baked sweet potatoes during your luteal phase (ladies), and the replacement of soda with a sparkling water that you really love. The PYP is the answer to a naturally, eventually effortless healthy lifestyle. It frees you from the burden of dietary dogma and gives you a compass to navigate this great big world of endless decisions.
…can you tell I'm passionate about it? I AM. This program is my pride and joy. If you want to learn more, please click HERE and be sure to get your name on the email list. We'll send you a note when it opens up for a new round each month. 
Though sometimes I only cook up the squeakiest-clean Paleo recipes, other times I have a hankering for an as-close-to-the-real-thing-as-possible gluten-free Pecan Pie Bar. I live out my "perfect plan" (aka, balance) in my every day life and I've decided that I want to share more of that here. I want to share MORE than just squeaky-clean inspiration. Having a baby is going to bring out even more of the messy, not-perfect, but somehow-it-all-works side of how we make decisions and I want to build a platform that expects (and SUPPORTS) such honesty.
WHO KNEW Pecan Pie Bars could mean so much? Ha!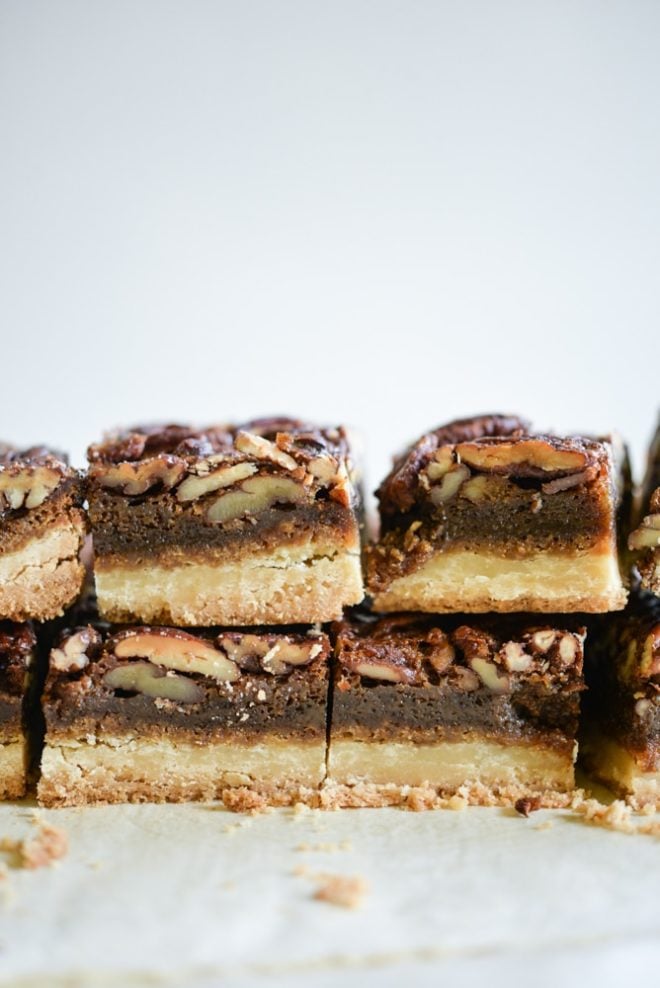 So, about these bars. They're ridiculously delicious. NO, they are not Paleo …not by a long shot. The recipe calls for a measure-for-measure (or cup-for-cup) gluten-free flour substitute, powdered sugar (gasp!), and more sweetness in the form of maple syrup and coconut sugar. Like I said, they're as-close-to-the-real-thing-as-possible and I feel confident that my grandmother would take a bite and nod her approval.
These bars sit on a THICK gluten-free shortbread crust (it's so good) which is baked first. While the crust bakes, prepare the filling in the most traditional pecan pie sense. We're going to (in essence) melt butter with sugar on the stove, add in some eggs (strategically, so follow the directions below), and then pour in our pecans. The whole thing goes back in to the oven to set into delicious Pecan Pie Bar perfection.
Once the bars are cooled (you can do this in either the refrigerator or overnight on the counter), slice and enjoy!
I hope this really-not-Paleo recipe brings you and your family some joy this Holiday season. These delicious bars are from the heart and I hope they help you get a homemade dessert option on the table that you really, truly look forward to enjoying with loved ones.
Print
Pecan Pie Bars (GF)
Finally, a gluten-free Pecan Pie Bar that tastes like the real thing! These bars sit on a flaky, thick gluten-free shortbread crust and are so good!
Author:
Prep Time:

30 minutes

Cook Time:

1 hour 20 minutes

Total Time:

1 hour 50 minutes

Yield:

16

Category:

Dessert

Method:

Baked

Cuisine:

Holiday
Ingredients
For the Crust:
2 cups

gluten-free flour

1 cup

butter, chilled

1/2 cup

powdered sugar
For the Pecan Pie bars:
1

stick of butter

1 cup

coconut sugar

1/2 cup

maple syrup

2 teaspoons

vanilla

1/4 teaspoon

sea salt

4

eggs

2 cups

pecan halves
Instructions
For the Crust:
Preheat the oven to 350.
Combine flour and powdered sugar in a medium sized bowl. Cut butter into 1/4 inch pieces and add to flour mixture. Using a pastry cutter or your hands, combine the butter with the flour until the mixture becomes crumbly.
Press crust mixture into the bottom of an 8×8 pan lined with parchment paper. Bake for 30 minutes or until the top is golden brown.
For the Pecan Pie Bar Filling:
Melt butter in a saucepan over medium heat. Add coconut sugar, and whisk until smooth.
Remove pan from heat and whisk in maple syrup, vanilla, and salt. Let cool 5-10 minutes.
In a medium bowl, beat the eggs, then slowly pour the filling mixture into the eggs, whisking the whole time to ensure the eggs don't cook.
Place pecans on top of the baked shortbread crust, then pour the filling over the pecans.
Bake for 50 minutes, until filling is completely set and no longer jiggles in the center.
Let cool for one hour, then refrigerate. When ready, cut bars into 16 equal squares and serve!
Keywords: gluten free, holiday, baked good