These Paleo-friendly Yellow Curry Salmon Bowls are brought to you in partnership with my friends at Pride of Bristol Bay! The yellow curry is squeaky-clean Paleo and really delicious. You and your families are going to love this nutritious meal!
I am so STINKING exited to bring you this new recipe! My excitement stems from two main things. First, it's featuring a very special piece of salmon that represents something IMPORTANT. Second, I'm darn proud of this yellow curry. Without the use of dairy, this totally Paleo curry is thick, creamy, and luscious.
Before we get to the curry, let's talk about this special salmon! If you haven't listened to Episode 125 of my Fed & Fit Podcast, I HIGHLY recommend you do so as soon as possible. Note: you can subscribe to the show HERE in iTunes. I interviewed Matt Luck, the owner and founder of Pride of Bristol Bay. Matt has been in the wild salmon industry for decades and, as such, he's learned a lot. He's learned where the healthiest, most sustainable fish come from (hint: Alaska's Bristol Bay is at the tippy-top of the list); he's witnessed ideal AND less-than-ideal ways to process the precious fish; and he's seen seafood fraud (you're not getting the fish you think you're getting) become an epidemic. After years of working hard to responsible catch, process, and advocate for the healthiest fish, he decided to take his "be a part of the solution" to the next level: starting his own direct-to-consumer wild salmon service.
THIS IS EPIC.
Now, because of Matt, his family, and his team of hard-working partners, Pride of Bristol Bay makes it possible for us (as consumers) to get the healthiest salmon possible on our table. Nutritionally, this salmon is top-notch and sustainability-wise, these salmon fishing grounds are setting records. Best yet, Matt dedicates a significant portion of his proceeds towards the research and preservation of protecting salmon and the integrity of the industry.
How COOL is that?! SO, we can get the best tasting, most nutritious salmon on our table while also supporting a small group of dedicated fishermen and women, working hard to turn seafood fraud on its head.
Click HERE to order yourself some (truly) wild-caught salmon filets or portions delivered right to your door. They show up skin-on, deboned, and frozen solid in individually sealed packages making it EASY to store and defrost as you like.
If you're reading this before 10/31/17, be sure to enter the code "fedandfit" at checkout for a discount!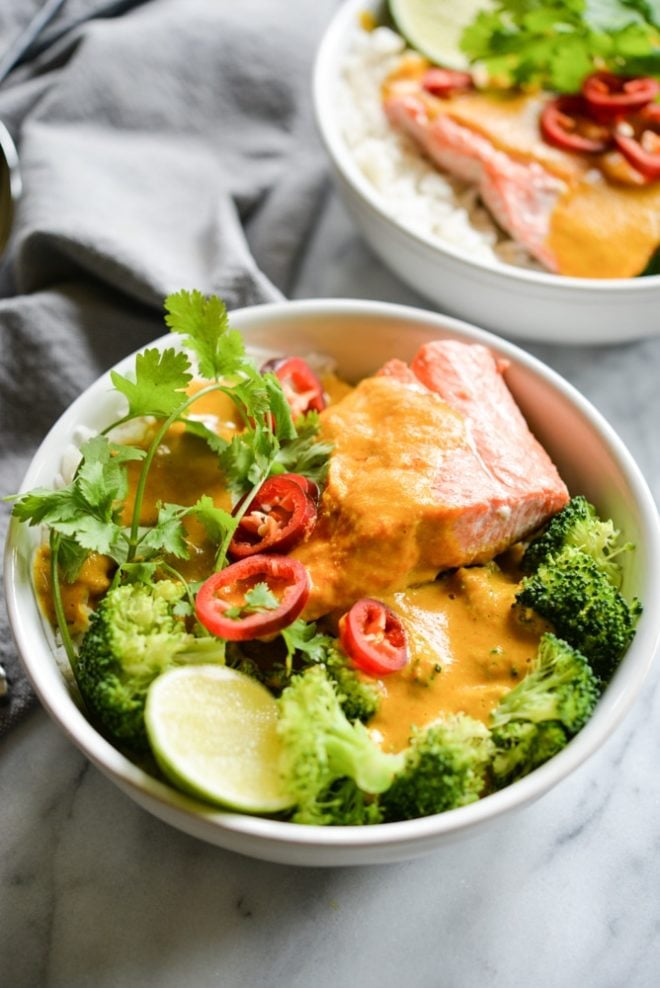 OKAY, now let's talk about this curry. I wanted to create a recipe for you that married nutritious salmon with this beloved comfort food season. Curry is always at the top of my comfort food list and I am THRILLED with how this dish came out! The curry has a great flavor and is made possible by some strategically cooked carrots which are then blended into the sauce. Pour this sauce over pan-seared salmon that you serve over fresh white or cauliflower rice and steamed broccoli for a complete meal. Finish it off with your favorite fresh toppings (I love cilantro and jalapenos) and settle in for a truly nutritious meal.
I hope you love this recipe and this truly special salmon!
Yellow Curry Salmon Bowls
 The yellow curry is squeaky-clean Paleo and really delicious. You and your families are going to love this nutritious meal!
Ingredients
For the Curry:
1

tablespoon

ghee

1

pound

carrots

peeled and chopped

1

shallot

minced

3-4

cloves

garlic

minced

1

can full-fat coconut milk

1

tablespoon

turmeric

2

tablespoons

curry powder

1/8

teaspoon

corander

1/8

teaspoon

cumin

1/8

teaspoon

cinnamon

1/8

teaspoon

cardamom

2

tablespoons

lime juice

1/2

teaspoon

sea salt
For the Salmon:
4

salmon fillets

about 5-6 oz each, skin-on

2

tablespoons

ghee or olive oil

salt and pepper to taste
For the Salmon Bowls:
2

cups

cooked white rice or cauliflower rice

2

heads broccoli florets

steamed

1/4

cup

chopped cilantro

for garnish

1

jalapeno

thinly sliced, for garnish
Instructions
For the Curry:
Melt ghee in a medium-sized saucepan over medium heat. Once melted, add carrots. Saute carrots until browned, then add shallots and garlic and saute until fragrant.

Add coconut milk, turmeric, curry powder, coriander, cumin, cinnamon, cardamom, lime juice, and sea salt to the pan. Stir together until fully combined and set heat to medium-low. Let simmer for 15 minutes while salmon cooks.
For the Salmon:
In a large skillet, heat ghee or olive oil over medium heat.

Pat salmon fillets dry with a paper towel. Season with salt and pepper on both sides.

Place salmon skin-side down into the skillet. Cook for 4-6 minutes over high heat, or until skin is browned/crispy, and then flip. Cook 3-5 minutes on the second side until top of salmon is also browned. Remove from heat. Note: this will result in a medium/well salmon filet. If you prefer your salmon less-cooked, adjust the cooking time accordingly.
To Assemble the Salmon Bowls:
Using an

immersion blender

, blend the curry sauce until smooth. If using a regular blender, allow sauce to cool 5-10 minutes before blending.

Divide the ingredients into 4 servings. Add rice and broccoli to each bowl, top with a salmon fillet, pour on the curry sauce, and garnish with cilantro and jalapeno. Serve!
Nutrition
Calories:
707
kcal
|
Carbohydrates:
42
g
|
Protein:
40
g
|
Fat:
44
g
|
Saturated Fat:
27
g
|
Polyunsaturated Fat:
5
g
|
Monounsaturated Fat:
8
g
|
Cholesterol:
122
mg
|
Sodium:
463
mg
|
Potassium:
1597
mg
|
Fiber:
5
g
|
Sugar:
6
g
|
Vitamin A:
19187
IU
|
Vitamin C:
21
mg
|
Calcium:
114
mg
|
Iron:
7
mg