Brining pork chops is the easiest, most effective way to get tender, juicy, flavorful pork every single time.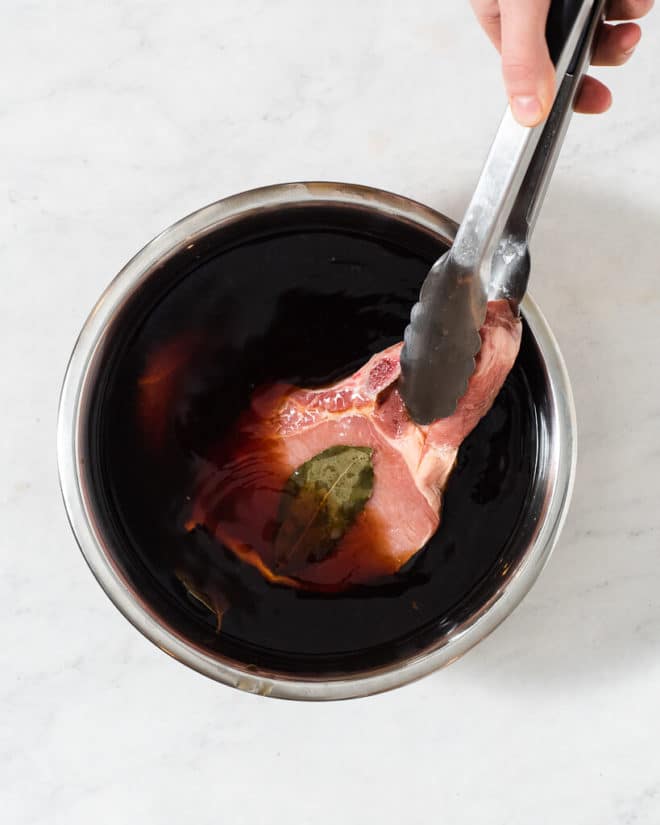 What is Brine?
A brine is, essentially, saltwater (plus several different flavor-boosting ingredients) that you use to soak your raw proteins in before cooking. While this may sound like an extra, unnecessary step, it is so worth it — especially when it comes to pork chops. Here's what happens when pork chops soak in saltwater before cooking:
The meat will be juicy and flavorful – saltwater travels into the muscle tissue in an effort to establish an equilibrium with the surrounding medium. Even though all meats lose water while they're cooked, this process results in a finished product that is juicier and more flavorful — it's like plumping your meat up while also seasoning it from within.
The meat will be more tender – the salt and vinegar will also encourage the muscle tissues and fibers to relax a bit, making for a more tender finished product.
Wet Brine vs. Dry Brine
Both wet and dry brines work to season meat from the inside out while also breaking it down for a juicier, more tender end product. Dry brines consist of putting a bunch of salt on the surface of the meat and letting it sit for about 30 minutes before cooking. If you're short on time (or brining a really large cut of meat), this is the way to go.
A wet brine (what we're doing here), on the other hand, requires you to boil water with a bunch of different ingredients to create a flavorful soak for the meat. Once the brine is cooled, the meat will soak for anywhere between 30 minutes and 4 hours in the mixture. The process obviously takes a little bit longer than a dry brine and can be really messy and impractical for large cuts of meat, but is well worth it for smaller cuts if you have the time.
Why brine my pork chops when I can just season them?
Brining your pork chops is preferable for a couple of different reasons. First, the flavorful brine infuses into the pork, seasoning the entire chop (rather than just the outside). The ingredients in the brine also help to break down the meat and make it extra-tender. If you're in a pinch, seasoning will work fine, but you'll definitely get the very best results from brining ahead of time.
Ingredients for wet brine for pork chops?
Though the ingredient list may feel extensive, I promise each ingredient brings a really delicious, unique flavor to the mix. Here's everything you'll need:
Water – the bulk of the brine is actually made up of water. You'll need 3 cups here — distilled and tap both work great.
Sea Salt – you'll want to make sure to add PLENTY of salt to your brine — about 3 tablespoons should do!
Bay Leaves – 2 bay leaves go into the mix for some added flavor also.
Garlic – 2 cloves of crushed garlic add a ton of delicious flavor to the brine.
Apple Cider Vinegar – the ACV really helps to break down and tenderize the meat — you'll need a ¼ cup.
Crushed Red Pepper – to further the flavor, you'll also add a teaspoon of crushed red pepper to the brine.
Fresh Ginger – 2 inches of thinly sliced fresh ginger go in also.
Honey – while this ingredient is optional, we recommend keeping it in the brine. 2 tablespoons of honey add a touch of sweetness to the brine that make it really delicious.
Coconut Aminos – the last ingredient you'll need here is a ¼ cup of coconut aminos.
How to Make the Perfect Wet Brine
The process is really easy: you'll just need to whisk together all of the ingredients in a medium-sized saucepan, and bring the mixture to a boil for 2-3 minutes, until the salt is completely dissolved. Once the salt is dissolved, you'll take the brine off of the heat and let it cool completely.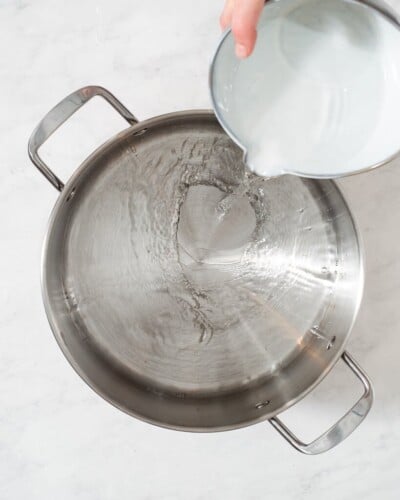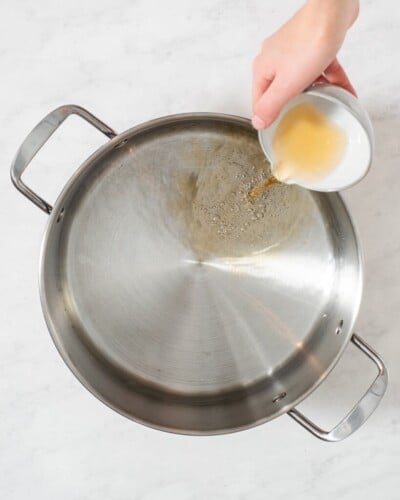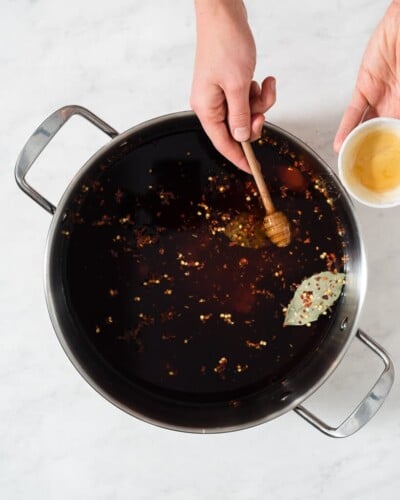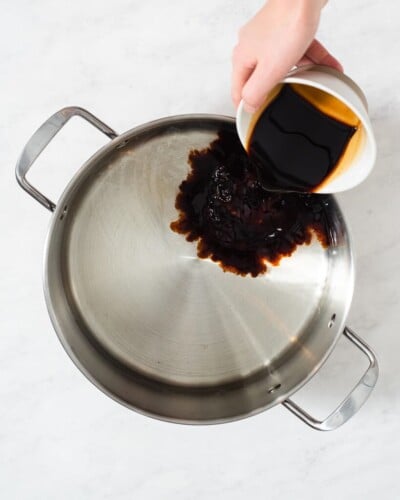 How to Brine Pork Chops
Once the brine mixture is at room temperature, pour it into a large bowl along with the pork chops, and let the chops brine for at least 30 minutes or up to 4 hours.
How Long to Brine Pork Chops
Your pork chops can brine for as little as 30 minutes or as long as 4 hours.
Can you brine pork too long?
​​I don't recommend letting your pork chops sit in the brine for longer than 4 hours — letting them sit for longer than this actually runs the risk of your pork tasting overly salty and the texture breaking down too much.
After brining pork chops, do you rinse them before cooking?
You don't! The brine actually infuses into the interior of the pork chop (to season it from within, if you will), so rinsing won't help much in that regard anyway. You'll just want to pull them out of the brine, pat them dry, season them with any seasoning that you love, and then cook!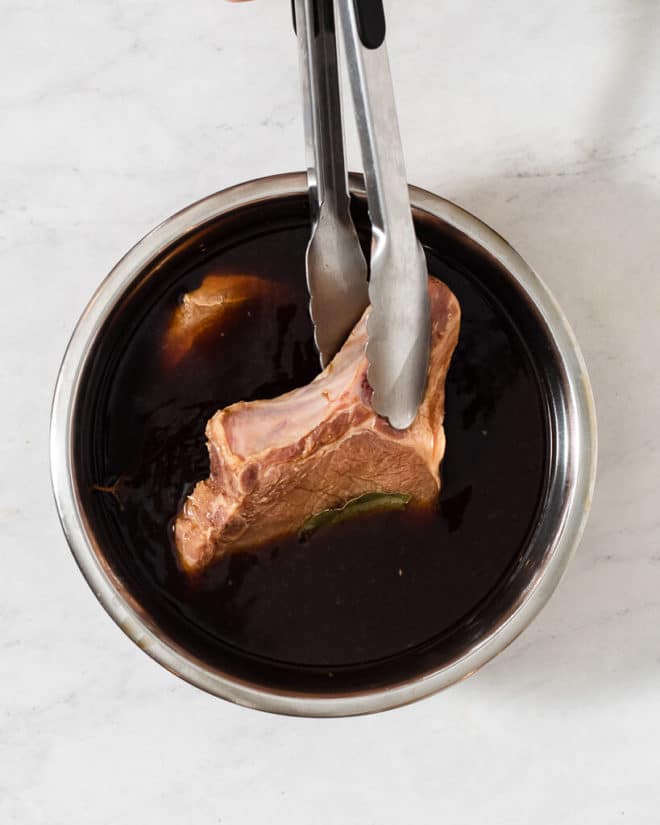 Can I store my wet brine for later use?
If you've already soaked raw meat in your brine, we recommend dumping it out once the meat is finished and whipping up another brine mixture next time you need it.
How to Cook Brined Pork Chops
We have a couple of different options on the website! Pick which works best for you and enjoy: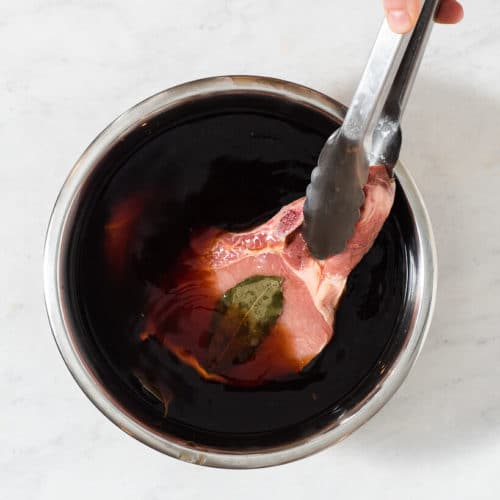 Brining your pork chops guarantees a juicy, flavorful, tender end product every time!
Ingredients
3

cups

water

3

tablespoons

sea salt

2

bay leaves

2

cloves

crushed garlic

1/4

cup

apple cider vinegar

1

teaspoon

crushed red pepper

2

inches

fresh ginger

thinly sliced

2

tablespoons

honey

omit for Whole 30

1/4

cup

coconut aminos
Instructions
Combine all brine ingredients in a medium saucepan. Bring the ingredients to a boil for 2-3 minutes until the salt is dissolved, then set aside and let cool.

Once water has come to room temperature, pour it into a large bowl along with the pork chops. Let brine for at least 30 minutes and up to 4 hours.

Cook pork chops as desired and enjoy!
Nutrition
Calories:
243
kcal
|
Carbohydrates:
60.1
g
|
Protein:
0.9
g
|
Fat:
0.5
g
|
Saturated Fat:
0.1
g
|
Sodium:
22164.8
mg
|
Fiber:
1.1
g
|
Sugar:
35.4
g