Every item on this page was chosen by The Fed & Fit team. The site may earn a commission on some products (read more here).
These pan seared pork chops will turn even the biggest pork chop skeptic into a pork chop lover! The method is possible because of two key considerations: quality pork and strategic preparation.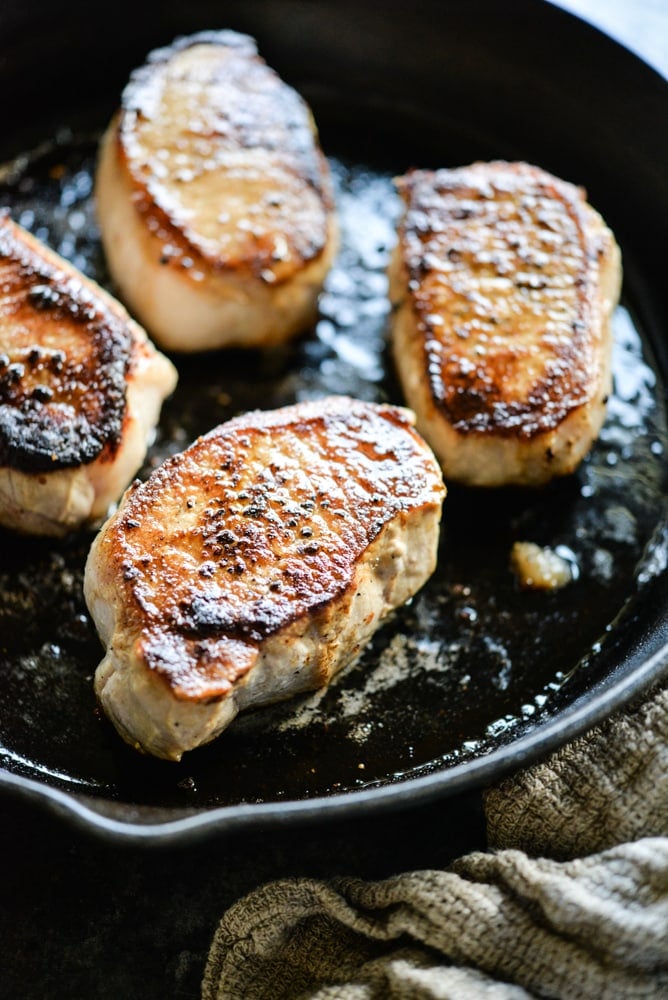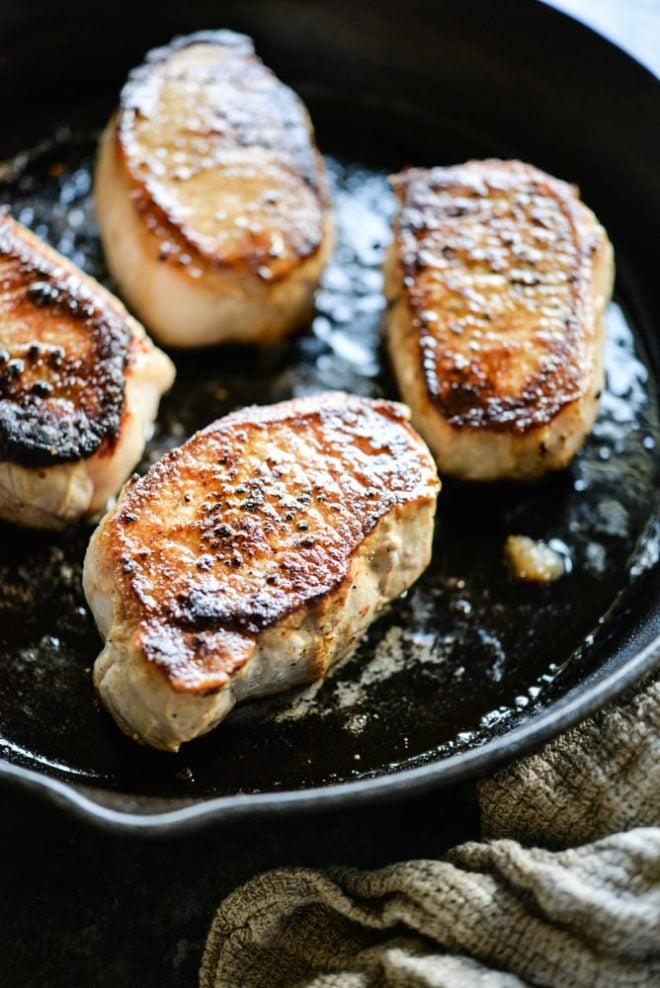 Pork chops …what comes to mind when you think of them? Before I got my hands on quality chops and THEN figured out how to cook them, I used to think, "dry, rubbery, no flavor." I would read "pork chop" on a menu and instantly skip ahead. I also didn't like making them for us at home because they always turned out (you guessed it): dry, rubbery, and with no flavor.
I stayed slightly optimistic about pork chops and kept trying them out. After years of dry, flavorless experiments, I stumbled on a chop that blew my little pork chop-loathing socks right off. I, in my own kitchen with my own humble cooking skills, managed to cook a pork chop that was moist, tender, and bursting with flavor. These pork chops were craveable …a word I NEVER thought I'd associate with pork chops.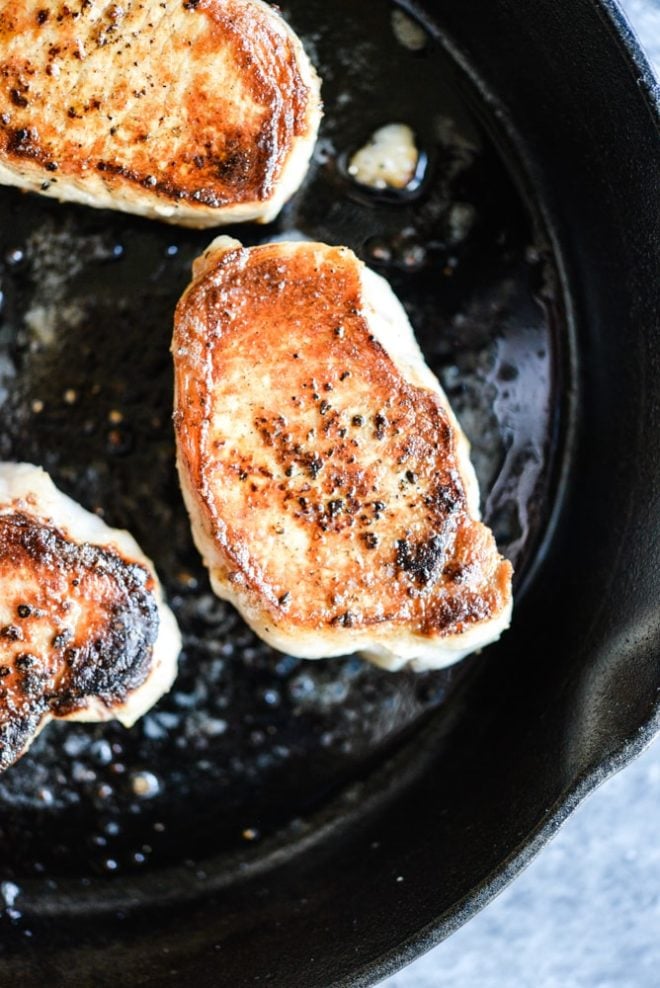 What is the best pork to use?
Let's address how to find quality chops! Though we've become accustomed to looking for "hormone + antibiotic-free" on labels for beef, the rules are slightly different for pork. For example, hormones are already forbidden in pork in the US. A label stating "hormone-free" (which is likely followed by a statement that reads "Federal regulations prohibit the use of hormones") is pretty misleading. So, what do we look for in pork? "Heritage Breed" is a great place to start. Heritage Breeds are known for pastured upbringing and end cuts that have more flavor and more marbling. WHERE ON EARTH can you find Heritage Breed pork? Local ranchers are a great place to start, but I get mine from ButcherBox.
Here's a little about the Heritage Breed Pork from ButcherBox:
Our pork is heritage breed and free of antibiotics and hormones, and never fed ractopamine – a growth promotant frequently administered to pork. We source predominantly pork with Duroc, Berkshire and Red Wattle genetics. These are pigs that have not had the flavor bred out of them. Over the last generation or so, in pursuit of more rapid weight gain, pig breeders cut out the marbling that gives pork its flavor, resulting in dry, bland product. Our pork is different. It is a rich color and beautifully marbled.
The pork is either pastured or meets the following standards: raised in open barns with space to engage in natural behaviors and given bedding. No tail docking or other physical alterations are allowed.
I haven't had a bad pork chop from ButcherBox in many years of monthly deliveries!
Ingredients
The bulk of the ingredients called for in this recipe are for the brine, but they're all super accessible and many of them are even pantry staples! Here's what you'll need:
Pork Chops – First you'll need 4 pork chops (a little over 1 pound total) that are about 1 inch thick.

Water – 3 cups of water makes up the bulk of the liquid for the brine.

Sea Salt – a brine isn't a brine without sea salt! For 3 cups of water, you'll need 3 tablespoons of sea salt.

Bay Leaves – in addition to the water and salt, you'll also need to add 2 bay leaves,…

Garlic – …2 cloves of crushed garlic,…

Apple Cider Vinegar – …a 1/4 cup of apple cider vinegar,…

Crushed Red Pepper Flakes – …1 teaspoon of crushed red pepper,…

Fresh Ginger – …2 inches of thinly sliced fresh ginger,…

Honey (optional) – …2 tablespoons of honey (optional but highly recommended!), and…

Coconut Aminos – …and a 1/4 cup of coconut aminos.

Ghee – to sear the chops, you'll use 2 tablespoons of garlic ghee, regular ghee, butter, olive oil, avocado oil, or another fat of choice.
More of our Favorite
Pork Chop Recipes
How to Cook Pork Chops So They Are Juicy and Tender
Here's how you'll bring this pork chop recipe together:
Boil the brine ingredients

– whisk together all of the brine ingredients (water, sea salt, bay leaves, garlic, ACV, red pepper flakes, ginger, honey, and coconut aminos) in a medium saucepan. Bring the mixture to a boil for 2-3 minutes until the salt is dissolved, then set aside and let cool.

Brine

– once the brine mixture has come to room temperature, pour it into a large bowl along with the pork chops. Let the chops brine for at least 30 minutes or up to 4 hours.

Preheat the oven to 350°F.

Remove from brine + sear

– add the ghee to a large cast iron skillet and heat over medium-high heat, then remove the pork chops from the brine, pat dry, and season with salt and black pepper on both sides. Add the brined and seasoned pork chops to the skillet, and pan sear for 3-4 minutes, until browned, then flip and cook for an additional 1-2 minutes.

Bake – place the seared pork chops in the oven to bake for 10 minutes.

Let the pork chops rest, then serve and enjoy – remove the pork chops from the oven, and let them rest for 5-10 minutes.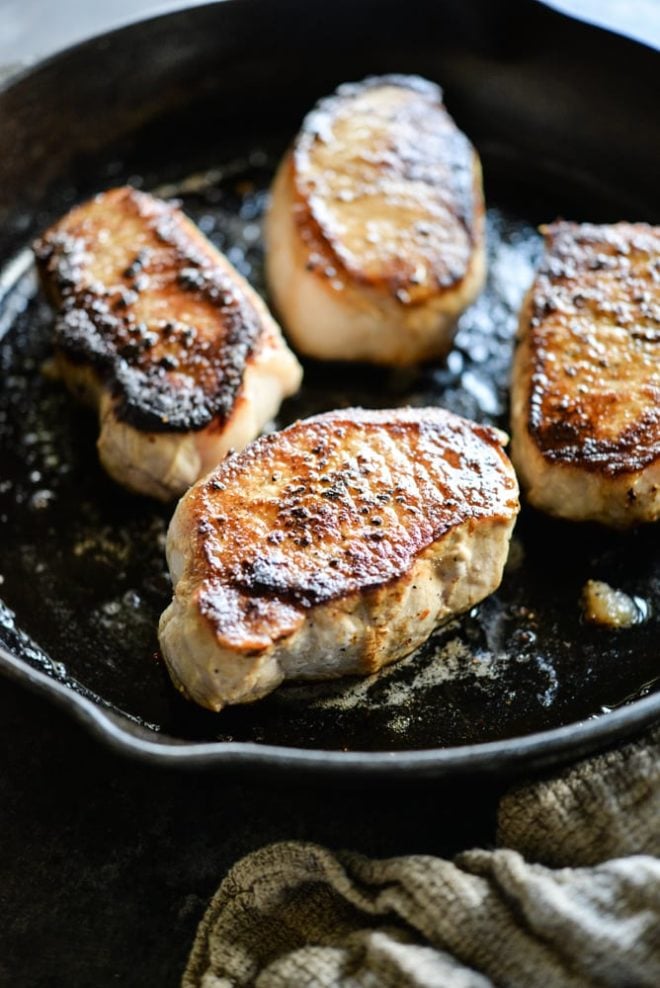 Tips For Making The Best Pan Seared Pork Chops
Our biggest tip when it comes to truly delicious chops? Don't skip or skimp on brining, searing, or baking! Here's why each of these 3 ESSENTIAL steps work together to create the best pork chops ever:
The Brine
A typical brine is essentially saltwater that you use to "bathe" your raw proteins before cooking. Brines may sound like an extra, unnecessary step, but believe-you-me, they are WORTH IT. Especially when it comes to pork chops. When we allow our uncooked cuts of meat to sit in a bath of saltwater, a couple of things happen…
The meat will be juicy and flavorful – saltwater will travel into the muscle tissue (think: osmosis) in an effort to establish an equilibrium with the surrounding medium. Even though all meats lose water while they're cooked, this process results in a finished product that is juicier and more flavorful. It's like plumping your meat up and also seasoning from within.

The meat will be more tender – the salt will also encourage those muscle tissues to relax a bit, making for a more tender finished product.
The Sear
Here's why searing the pork chops in a hot-hot pan is an essential step:
It keeps the juices in – first, it creates a firm barrier so that more juice stays IN the cut while it finishes cooking.

It creates a YUMMY crust – it also yields one of those oh-so-delicious crusts that we all just crave.
The Bake
While you can absolutely cook your pork chop entirely on the stove, I'm a big fan of an oven finish. After your initial sear on one side, I like to transfer the chops to an oven because the ambient temperature there helps finish cooking the pork chops evenly on all sides. You will get a fabulous crust on both sides and the outside (of a thicker chop) won't become too tough as you wait for the inside to finish cooking.
What to Serve with Pork Chops?
We love serving tender, juicy pork chops alongside a green veggie (think: a simple arugula salad, whole roasted brussels sprouts, oven-roasted green beans, or a generous helping of lemony kale) and a starchy side (think: quinoa, no-stir polenta, baked potatoes, or mushroom risotto.)
Pork Chop Video
Just for You
Pork Recipes
Want more recipes like this?
Instructions
Combine all brine ingredients in a medium saucepan. Bring the ingredients to a boil for 2-3 minutes until the salt is dissolved, then set aside and let cool.

Once water has come to room temperature, pour it into a large bowl along with the pork chops. Let brine for at least 30 minutes and up to 4 hours.

Preheat the oven to 350 F.

Add ghee to a cast iron and heat over medium-high.

Remove the pork chops from the brine, pat dry, and season with salt and pepper on both sides. Add the pork chops to the pan and cook for 3-4 minutes, until browned, then flip and cook for an additional 1-2 minutes, until slightly browned (they will continue to brown in the oven) then place in oven to cook for an additional 10 minutes.

Remove pork chops from oven and let rest for 5-10 minutes.
Nutrition Information
Nutrition Facts
Best Pork Chops Ever
Amount per Serving
% Daily Value*
* Percent Daily Values are based on a 2000 calorie diet.