Every item on this page was chosen by The Fed & Fit team. The site may earn a commission on some products (read more here).
People are going to beg you for this pork tenderloin dry rub recipe, mark my words. It's a little smokey, a little sweet, perfectly salted, and will change how you think about pork tenderloin.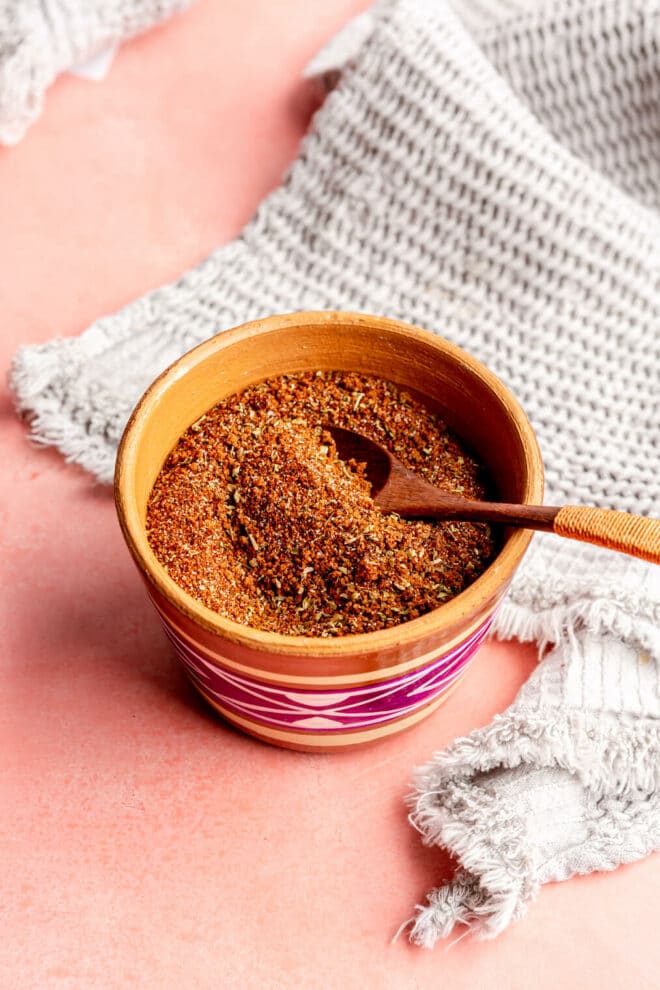 Pork Tenderloin Rub Recipe
This pork tenderloin dry rub recipe is the most flavorful I've ever tried (and I've experimented with a lot). Best of all, these ingredients can be easily found at just about every grocery store. While the recipe is meant for a small batch, I have a feeling you're going to double (maybe quadruple) the recipe, keep it in a mason jar, and start sprinkling it on everything …especially pork.
What is a good dry rub for pork tenderloin?
I'm a big fan of a combination of flavors for a really well-rounded dry rub, especially a dry rub for pork. This recipe calls for chili powder, brown sugar, and cinnamon (in addition to a few others). The fun combination makes the pork incredibly irresistible!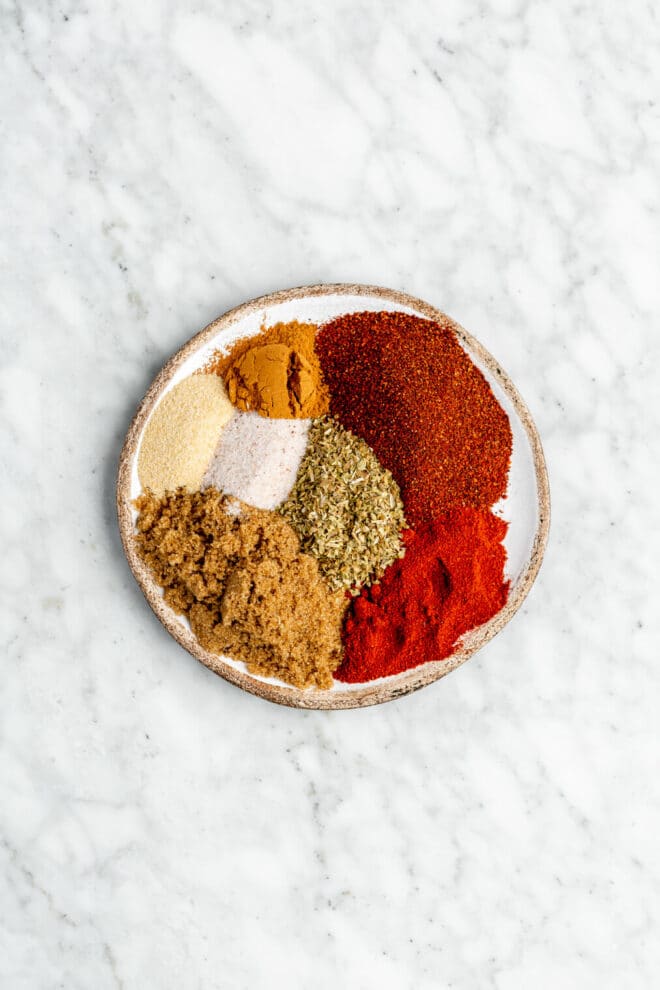 Pork Tenderloin Dry Rub Ingredients
1 tablespoon of chili powder
1 tablespoon of brown sugar or coconut sugar
½ tablespoon of dried oregano
½ tablespoon of paprika
½ teaspoon of ground cinnamon
½ teaspoon of garlic powder
½ teaspoon of fine sea salt
How to Prepare this Dry Rub Recipe for Pork Tenderloin
This dry rub is insanely easy to prepare. You ready for this? First, you'll get a bowl that's large enough to fit your pork tenderloin, then add all of the spices to the bowl, and stir until well combined. That's it!
How to Apply a Rub to Pork Tenderloin
Now that your dry rub is mixed and ready to go, go ahead and add the pork tenderloin to the bowl, and using tongs, toss the pork tenderloin in the mixture until it's fully coated.
How many tablespoons of rub should I use on a pork tenderloin?
This recipe makes about 4 tablespoons of rub. Though you may have leftover in your bowl after coating your pork, it's actually easier to work with a little more rub vs not quite enough. The mission here is to get the pork tenderloins coated completely in the rub!
How Long to Leave Dry Rub on Pork
Unlike a liquid marinade, the dry rub doesn't need to stay on the pork for any amount of time before baking. You'll just coat your pork tenderloin completely and then cook it in either the air fryer or oven!
How to Cook Dry Rub Pork Tenderloin
Now that you've got your pork tenderloin coated in a delicious, flavorful spice rub, it's time to cook it! You've got a couple of options here – you can either pop your pork tenderloin into a 400°F air fryer for about 17 minutes (full recipe HERE) or into a 425°F oven for about 15 minutes (full recipe HERE). Either way, you'll want to use an in-oven thermometer to make sure that your pork reaches 145°F before digging in!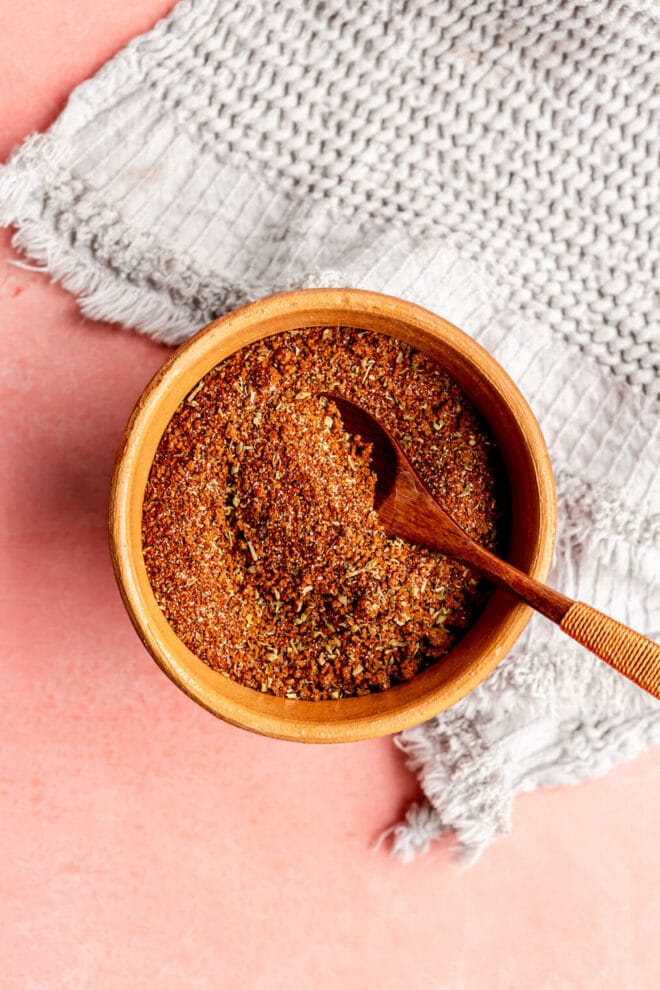 Pork Tenderloin Dry Rub Recipe FAQs
Q
Should I put rub on pork overnight?
A
You don't *need* to let dry rub sit on the pork overnight, but if you want to get ahead on dinner prep, you certainly can. Simply season your pork, then store it (raw and covered) in the refrigerator until you're ready to cook. The more the seasonings sit on the pork, the more flavorful they'll become! 2-3 days in advance is plenty of time to max it out.
Q
How do you cook pork tenderloin so it's not dry?
A
This is a great question! Pork tenderloin has a pretty bad rap for being dry, tough, and bland, but the reasons for these are preventable.
Want to avoid bland pork? Use a flavorful dry rub or marinade! Want your pork to be juicy and tender? Use an in-oven thermometer to determine doneness (rather than a length of time) and pull it out of the oven (or air fryer) when the internal temperature reaches 145°F!
Q
What spices work well on pork?
A
After experimenting with a lot of pork tenderloin, I find myself gravitating towards spices that are bold and smokey. Smoked paprika, chili powder, cumin, cloves, cinnamon, garlic, onion, and oregano are all great candidates. I also really love a touch of maple sweetness on pork, and in the application of a dry rub, brown sugar is the best bet. If you're looking for even more variety, check out these 3 marinade that the internet is obsessed with.
Just for You
Pork Recipes
Want more recipe ideas like this?
Ingredients
1

tablespoon

chili powder

1

tablespoon

brown sugar or coconut sugar

½

tablespoon

dried oregano

½

tablespoon

paprika

½

teaspoon

ground cinnamon

½

teaspoon

garlic powder

½

teaspoon

sea salt
Instructions
Add all of the ingredients to a bowl and mix until well combined.

Place the pork tenderloin in the bowl with the seasoning mixture, and toss to fully coat.
Nutrition Information
Nutrition Facts
Best Pork Tenderloin Rub
Amount per Serving
% Daily Value*
* Percent Daily Values are based on a 2000 calorie diet.
Recipe Notes
This makes the perfect amount to use all at once, so no need to store.