Every item on this page was chosen by The Fed & Fit team. The site may earn a commission on some products (read more here).
These 10-Minute Pumpkin Pie Custards are the perfect Paleo addition to your Thanksgiving dinner!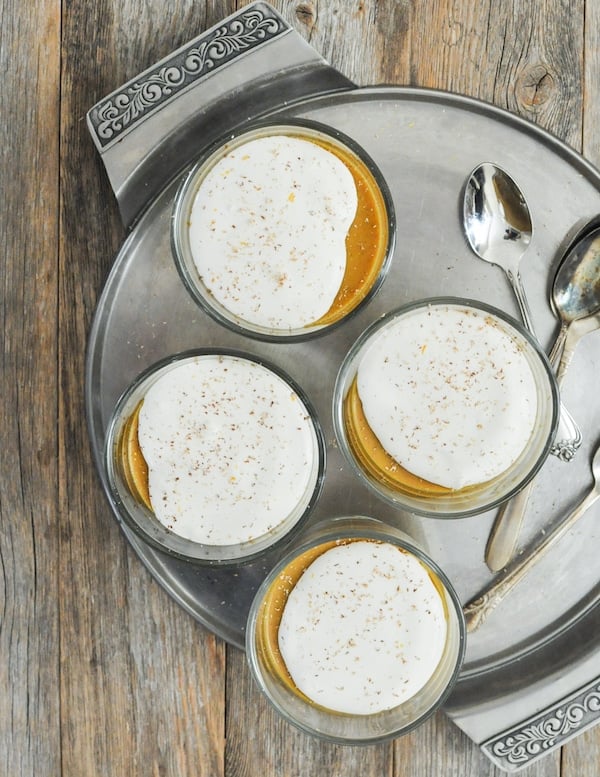 Happy Thanksgiving-eve, my sweet turkeys!
For our first Thanksgiving as husband and wife, we're actually headed BACK to San Angelo, TX (where we got married) to spend the weekend with Austin's family. I tell you what, getting married in October, with the holidays and even more family time just around the corner, has got me down-right spoiled. I love family time (especially family time centered around the dinner table) more than I love my neon yellow Kate Spade pumps …which is a lot.
Because us birds of a feather flock together, I'm sure most of you have your Thanksgiving menu planned out to the T. You've already been to the grocery store and started prepping all the wonderful goods you've got planned for your lovely families. I know some of you leaned on my Fed+Fit Holiday Feast for a jump start on menus and shopping lists. To you, wonderfully and thoroughly prepared kitchen divas, I tip my hat. I hope you're reading this while you curl up on the couch with a cup of coffee (or wine, depending/not depending on the hour) while your carefully planned dinner party practically cooks itself.
This pumpkin pie custards recipe is a shout-out to the rest of us (i.e. the other side of my personality). I'm talking to that person who looked up from their computer on Tuesday morning and said, "Thanksgiving is Thursday? THIS THURSDAY?!" We've had our head so buried in our work, school, kids, etc., that we haven't done any planning. In fact, we're considering ordering Chinese food for Thanksgiving dinner because …can you even defrost a turkey in less than 12 hours? (answer is: yes …been there, but it's tricky).
I'm posting this recipe because it's a SLAM DUNK, sure to be a Thanksgiving family favorite, dessert recipe that wont have you standing in line for a not-very-good pumpkin pie at your local BBQ restaurant. Here, in no particular order, are the reasons I love this recipe so much:
It takes, literally, 10 minutes to make. The fridge does the rest of the work (you'll need 4ish hours for it to set). PERFECT for whipping up Thursday morning.
There's a REALLY good chance you've already got all these ingredients on-hand. The gelatin is the only curve-ball and, let's be honest here, you can probably borrow some packets from the neighbors.
IT TASTES LIKE PUMPKIN PIE. Bam. No pumpkin pie needed because you found a super tasty alternative.
It's dang healthy.
Don't want to mess with the whipped cream? Then don't mess with it! Just sprinkle a little cinnamon or extra nutmeg on top of the pumpkin pie custards and voilà, it's still gourmet and delicious.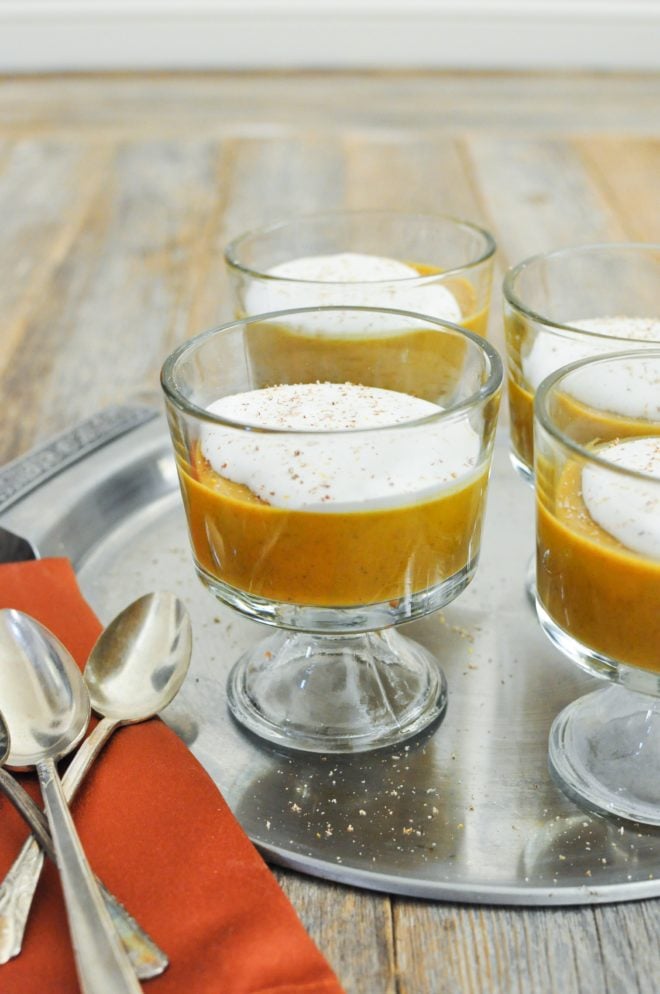 I think that covered most of it.
Whether you're feeling rushed, overwhelmed, underwhelmed, with-it, without-it, loved, giddy, blessed, and/or all the above, please know that I know YOU'VE GOT THIS. Don't worry about the meal. At the end of the day, it's the time we spend with our loved ones that truly matters most.
With love and gratitude overflowing,
Cassy Joy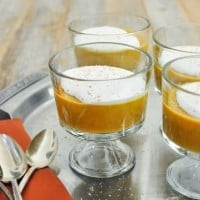 Ingredients
For the Puddings:
1/2

cup

full-fat coconut cream

1

tablespoon

grass-fed gelatin

15

ounces

1 can pumpkin puree

1/4

cup

honey

omit for AI and 21-DSD

1/2

teaspoon

vanilla

1

teaspoon

ground cinnamon

1/4

teaspoon

freshly grated nutmeg

omit for AI

1/4

teaspoon

allspice

omit for AI

1/4

teaspoon

ground cloves

1/4

teaspoon

sea salt
For the whipped coconut cream:
1

can's-worth of coconut milk solids

chilled

1

tablespoon

honey

omit for Low-Carb, AI, and 21-DSD

1/2

teaspoon

vanilla
Instructions
Heat the coconut milk until it's starting to simmer (either via stovetop or 30 seconds in the microwave). Pour the hot milk into a blender or food processor and sprinkle in the gelatin. Blend for 2 minutes so that the gelatin is evenly incorporated.

Add the pumpkin puree, honey, vanilla, cinnamon, nutmeg, allspice, and salt. Puree until smooth.

Pour into 4 glass jars and refrigerate to set for 4 hours or overnight.

To make the whipped coconut cream: Combine the coconut milk solid, honey, and vanilla in a chilled mixing bowl and turn stand mixer on medium/high for 5 minutes, or until stiff peaks form.

Top this puddings with a healthy dollop of Coconut Whipped Cream and a sprinkle of fresh grated nutmeg.

Store refrigerated until ready to serve.

Whipped Cream Tips

Place your mixing bowl and whisks in the freezer at least 30 minutes before you plan to make the whipped cream – this will help the texture set more quickly.

The whipped cream keeps really well as a leftover, so feel free to make in advance!
Nutrition Information
Nutrition Facts
Pumpkin Pie Custards
Amount per Serving
% Daily Value*
* Percent Daily Values are based on a 2000 calorie diet.
Recipe Notes
Autoimmune and 21-DSD friendly