Sausage & Tomato Frittata
jump to recipe
Another sneak peek from the 'Fed & Fit' book, this Sausage & Tomato Frittata is simple, delicious, and a great option for anyone who cooks for a crowd or likes to meal prep for a week of healthy eating!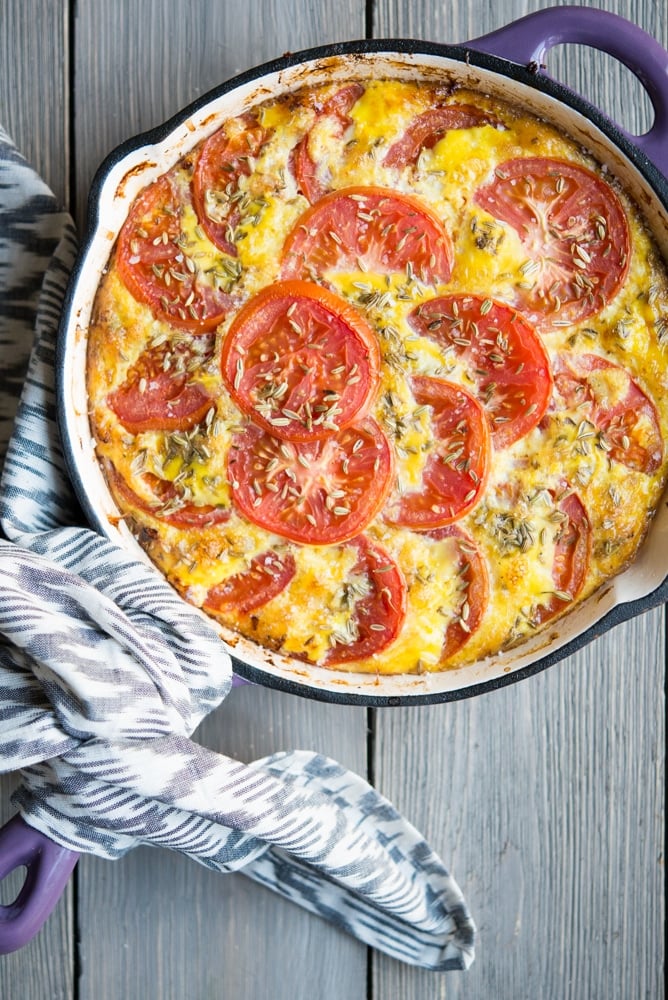 I have made this frittata more times than you can shake a stick at. Seriously! It calls for 6 ingredients (two of which are salt and pepper), making it a wonderfully simple breakfast option to keep at the top of my head. I can always remember to snag a few extra tomatoes, dozen eggs, breakfast sausage, and fennel seeds (if I'm out) while I'm at the store. This dish is incredibly easy to pull together, makes a large number of servings, and tastes GREAT.
There's some kind of magic that happens between the tomatoes, sausage, and fennel …it sounds simple, but the flavors are big and satisfying. I love to make this frittata on days when we have company for breakfast or brunch! I also like to whip it up so that I can have a good 4 to 5 days worth of leftovers. Ready-to-go breakfasts can be a total healthy day game changer if your mornings are as fast-paced as mine.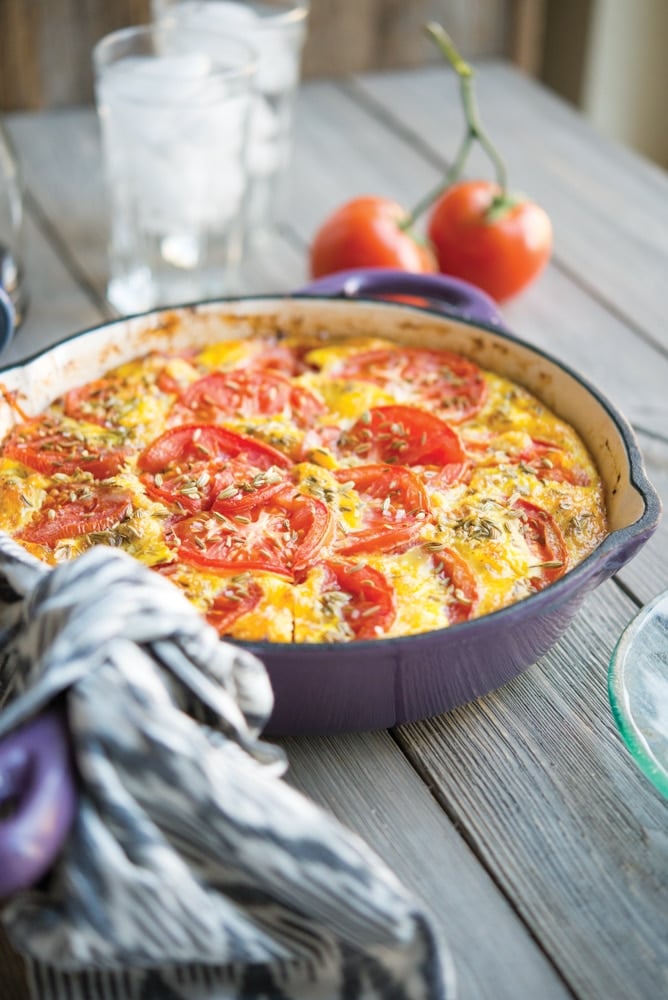 The tomatoes on top are a strategic add-on for two reasons: 1) bonus veggie content and 2) a beautiful topping so that you DON'T miss the cheese!
As with so many of my recipes, feel free to make this your own, too! Use the sausage you like best (I know some people have successfully made it with ground turkey, for example), add in extra veggies, and season with your favorite spices! This particular combo is a personal favorite that just never bores me.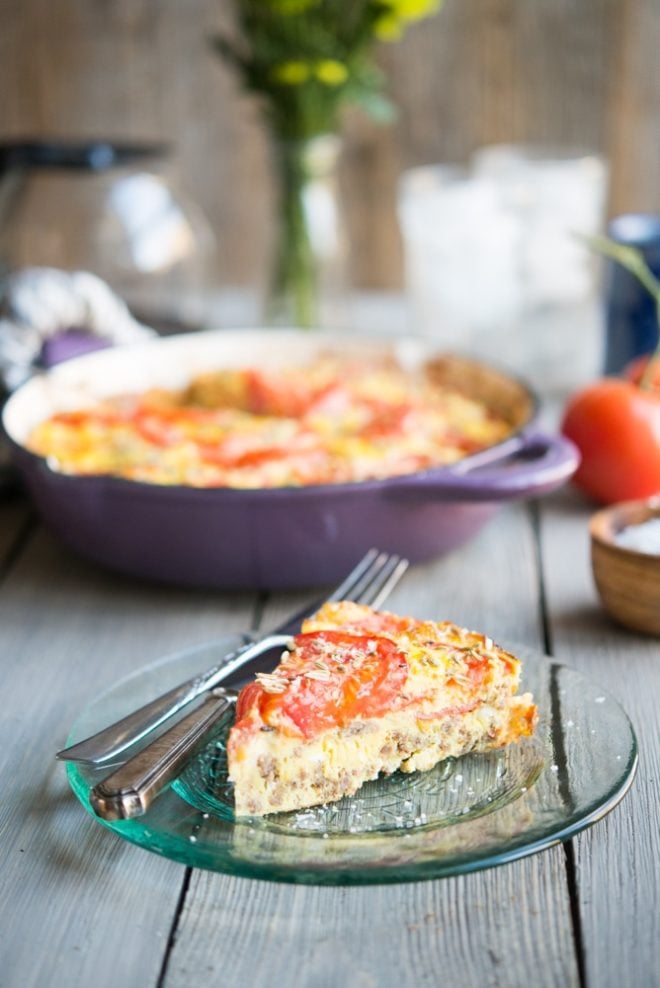 For MORE recipes like this, remember to check out my 'Fed & Fit' book! It's available in Barnes & Noble OR you can order on Amazon online today!
Print
Sausage & Tomato Frittata
Program Compliance: Nut-Free, low-FODMAP, GAPS*
Author:
Prep Time:

5 minutes

Cook Time:

45 minutes

Total Time:

50 minutes

Yield:

4 to 6 servings
Ingredients
1

pound bulk breakfast sausage or ground pork*

1

dozen large eggs, lightly beaten

3

or

4

medium tomatoes, sliced into

1/4

-inch rounds

1 1/2 teaspoons

fennel seeds

1/2 teaspoon

fine sea salt

1/4 teaspoon

ground black pepper
Instructions
Preheat the oven to 350°F.
In a large ovenproof sauté pan over medium heat, brown the sausage for 10 to 15 minutes, or until crispy and brown. Drain off the excess grease, then pour the eggs over the sausage and stir the mixture together over medium heat until the eggs just start to set, after about 4 minutes.
Lay the tomato slices evenly over the top of the eggs. Sprinkle the top of the tomatoes with the fennel seeds, salt, and pepper.
Transfer the frittata to the oven and bake for 25 minutes, or until the middle of the frittata doesn't jiggle when the pan is shaken. Let cool for 5 minutes, then serve warm.

*Read label for breakfast sausage to make sure ingredients are GAPS compliant or use ground pork.
Notes
Tips
Leftovers will keep refrigerated for up to 4 days. To reheat, either place the frittata in a preheated 350ºF oven for 20 minutes, microwave for about 2 minutes, or heat it up on the stovetop in a frying pan over medium heat for about 10 minutes.