4-Ingredient Sausage Tomato Frittata
jump to recipe
This 4-Ingredient Sausage Tomato Frittata is simple, delicious, and a great option for anyone who cooks for a crowd or likes to meal prep for a week of healthy eating!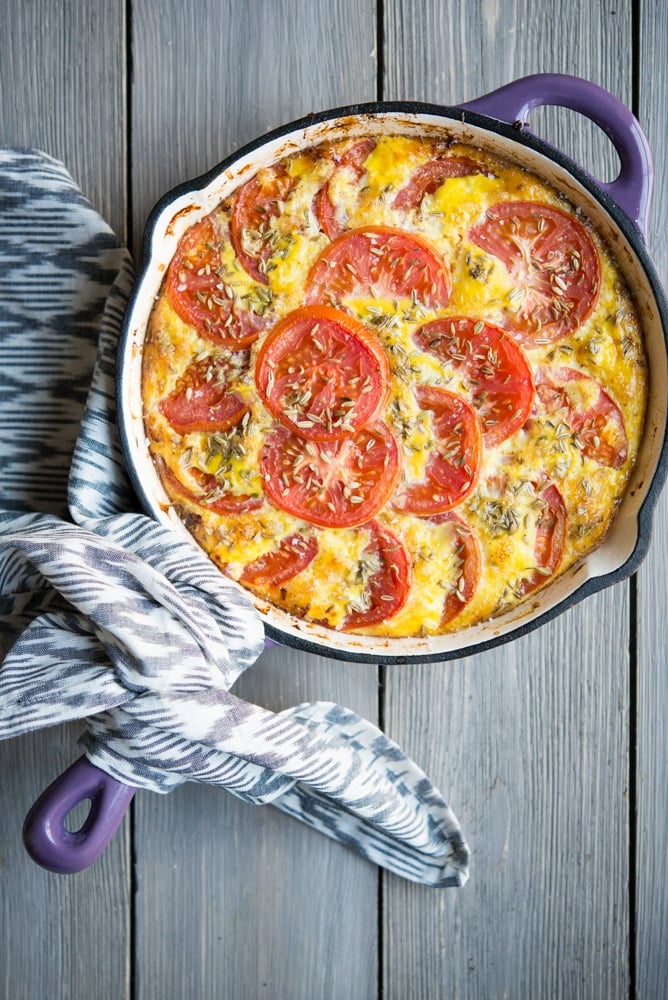 I have made this frittata more times than you can shake a stick at. Seriously! It calls for 6 ingredients (two of which are salt and pepper), making it a wonderfully simple breakfast option to keep at the top of my head. I can always remember to snag a few extra tomatoes, dozen eggs, breakfast sausage, and fennel seeds (if I'm out) while I'm at the store. This dish is incredibly easy to pull together, makes a large number of servings, and tastes GREAT.
There's some kind of magic that happens between the tomatoes, sausage, and fennel …it sounds simple, but the combination brings so much flavor and is incredibly satisfying. I love to make this frittata on days when we have company for breakfast or brunch! I also like to whip it up so that I can have a good 4 to 5 days worth of leftovers. Ready-to-go breakfasts can be a total healthy day game changer if your mornings are as fast-paced as mine.
What is a frittata?
If you're wondering what makes a frittata different from a quiche or breakfast casserole, you're not alone! Below, you'll find the 3 main differences between a quiche, frittata, and breakfast casserole. If you're looking for a guide on how to make a breakfast casserole, click HERE!
The Crust – the biggest difference between quiche and frittata (or breakfast casserole) is that quiches are typically baked in a pie crust. Frittatas and breakfast casseroles, on the other hand, are crustless.
The Filling – frittatas and breakfast casseroles are almost entirely egg-based. You'll typically use anywhere from 8-12 eggs when you're making one of these (depending on the size), but a classic quiche, like this Gluten-Free Quiche Lorraine, only requires 4-5 eggs and 1 cup milk or cream to make a custard. The large amount of cream creates the rich texture that quiche is known for.
The Cooking Method – a quiche is traditionally baked in the oven and, because of the custard filling, takes a longer time to cook. Frittatas and breakfast casseroles cook more quickly since they're made from only eggs. While breakfast casseroles are cooked entirely in the oven, frittatas actually begin cooking on the stove before finishing in the oven.
Sausage and Tomato Frittata Ingredients
This frittata is pretty simple (as is the ingredient list), but don't let that fool you – it packs some serious flavor for an absolutely delicious and crowd-pleasing breakfast!
Breakfast Sausage – you'll need 1 pound of breakfast sausage to start. We prefer pork breakfast sausage, but you choose whatever you love best.
Eggs – because frittatas are made up of mostly eggs, you'll need quite a few of them to make a substantial frittata! For this recipe, you'll need 1 dozen lightly beaten large eggs.
Tomatoes – another key ingredient in this recipe! You'll need 3 or 4 medium tomatoes sliced into 1/4-inch rounds here. If you're making this during a summer month, you're in for a treat – juicy, in-season tomatoes are absolutely divine in this recipe!
Fennel Seeds – to season, you'll need 1 1/2 teaspoons of fennel seeds,…
Sea Salt – …1/2 teaspoon of fine sea salt, and…
Black Pepper – …1/4 teaspoon ground black pepper.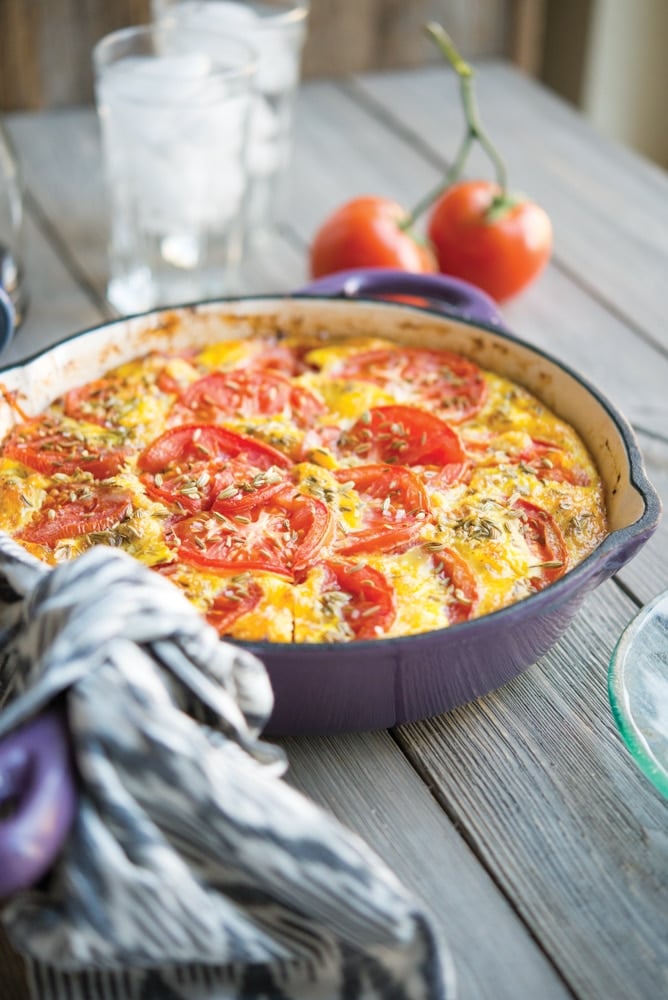 How to Make a Sausage & Tomato Frittata
The beauty of a frittata lies in its unfussiness (is that a word? It is now!). No, really – frittatas are extraordinarily simple to make and turn out delicious every single time! Here's how to throw this sausage frittata together:
Preheat the Oven – preheat the oven to 350°F.
Brown the Sausage – in a large ovenproof sauté pan over medium-high heat, brown the sausage for 10 to 15 minutes, until crispy and brown, and drain off the excess grease. While your sausage is browning, beat a dozen eggs in a medium bowl.
Add the Eggs – once your sausage is cooked and the grease is drained, pour the lightly beaten eggs over the sausage and stir the mixture together over medium heat until the eggs just start to set (this should take about 4 minutes).
Layer the Tomato Slices + Season – lay the tomato slices evenly over the top of the eggs, and sprinkle the top of the tomatoes with the fennel seeds, salt, and pepper.
Bake – transfer the frittata to the oven and bake for 25 minutes, until the middle of the frittata doesn't jiggle when the pan is shaken.
Let Cool + Serve – let the frittata cool for 5 minutes, and then serve warm!
Add-Ins and Variations
Though the tomato, sausage, fennel combination is one of my very favorites, feel free to make this frittata your own by adding and/or omitting things to suit your preferences!
Use Bacon – if you're a bacon lover, swap out the sausage for bacon!
Use Fully Cooked Sausage – if you're short on time, feel free to use fully cooked sausage links instead of browning your own breakfast sausage. Just chop up the links, add them to the pan, and pour the eggs over top!
Add More Veggies – sauteed red bell peppers, onions, spinach, and mushrooms would all be really great here, but honestly, any veggie you love would make a great addition!
Add Cheese – for a more decadent cheese frittata, add your favorite cheese on top! Parmesan cheese, goat cheese, and mozzarella cheese would all be great choices!

How to Store Leftover Frittata
Breakfast frittata stores really well! Simply cut it into individual slices, and store in an airtight container in the fridge. You can also wrap each individual slice in parchment paper, store them in a gallon-sized bag, and pop the bag in the freezer for a longer storage solution! Simply pull out a slice + warm it up in the microwave when you're ready to enjoy!
More Breakfast Egg Recipes
For MORE recipes like this, remember to check out my 'Fed & Fit' book! It's available in Barnes & Noble OR you can order on Amazon online today!