Clean Start Paleo Breakfast Casserole
jump to recipe
This "clean start" Paleo breakfast casserole aims at offering just that: a clean start to your day! A balanced meal in each slice, this casserole offers up healthy starch, protein, and leafy greens. Using frozen hashed browns and spinach to help this dish come together, it's an absolute breeze to whip up.
HAPPY NEW YEAR! I'm pretty dang excited about this New Year and all the possibility ahead! I've drafted my content calendar for the next two months and by golly, it's going to be fun. To kick things off, I want to offer up a "clean-start" Paleo breakfast casserole. I know that it can be difficult to hunker down each morning in the kitchen to make a brand new, fresh breakfast. I personally love the idea of meal prepping for breakfast specifically! With a healthy breakfast ready to go, my day falls into place much more easily.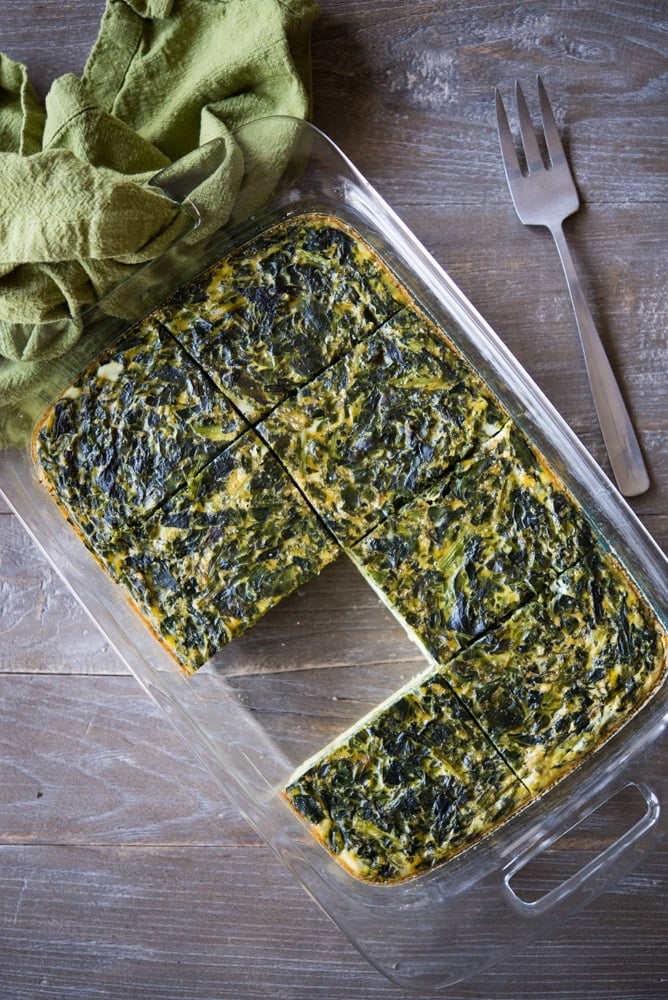 Today's Paleo breakfast casserole is extremely simple and extremely balanced. We have healthy carbohydrate from the potato crust, protein from the eggs, and a good dose of leafy greens from the spinach! Though you can absolutely use fresh ingredients to make the hashed browns and spinach, I wrote this recipe to call for frozen! The frozen hashed browns and frozen spinach help make our kitchen efforts EVEN easier. After a quick prep, you'll have 8 whole servings to feed or family or to store away for a week of healthy breakfasts!
If you're looking for additional Paleo breakfast casserole recipes try my Plantain and Sausage Breakfast Casserole, my Sausage and Tomato Frittata, or my Chile Relleno Breakfast Casserole!
Print
Clean Start Paleo Breakfast Casserole
This clean start Paleo breakfast casserole comes together quickly, makes great leftovers, and offers a balanced meal with protein, carbohydrates, and leafy greens in each slice!
Author:
Prep Time:

10 minutes

Cook Time:

35 minutes

Total Time:

45 minutes

Yield:

8
Ingredients
2 tablespoons

butter, ghee, or coconut oil, divided

1

pound frozen hashed browns

1/2 teaspoon

fine sea salt

1

pound frozen spinach

18

eggs
fresh cracked pepper, to taste
Alternate for the hashed browns if you can't find frozen:
1

pound yellow potatoes, shredded

1/2 teaspoon

fine sea salt

1/4 teaspoon

garlic powder

1/4 teaspoon

onion powder
Instructions
Melt 1 tablespoon of the butter in a large frying pan over medium heat. Once melted, add the fresh homemade or frozen hashed browns to the pan. Cover and let steam for 4 minutes. Uncover, stir, and let them cook for 5 minutes before stirring again. Stir again and let cool for 5 more minutes, or until the potatoes start to brown and are cooked through. Transfer the cooked hashed browns to a 9 x 13″ glass casserole dish. Using a spatula, spread the potatoes out into one even layer.
Melt the remaining butter in the frying pan and return to medium heat. Once melted, add the frozen spinach and cover. Let the spinach steam for about 4 minutes then uncover, stir, and continue to stir until it's completely melted.
In a large bowl, whisk the eggs together. Pour the cooked spinach into the eggs and whisk to combine. Pour the egg mixture over the hashed browns in the casserole dish and season with the salt.
Bake at 350 F for 35 minutes, or until the center of the dish is firm when shaken.
Let cool for at least 10 minutes and then slice and serve. Add additional salt and pepper to taste.
Note: the casserole is less likely to stick the longer you let it cool.