Today, I'm showing you the easiest, most efficient way to get two really delicious dinners on the table using ground beef and quinoa! Meal 1 is a really bold, delicious Greek-style meatball dinner and Meal 2 is a Tex Mex take on stuffed bell peppers.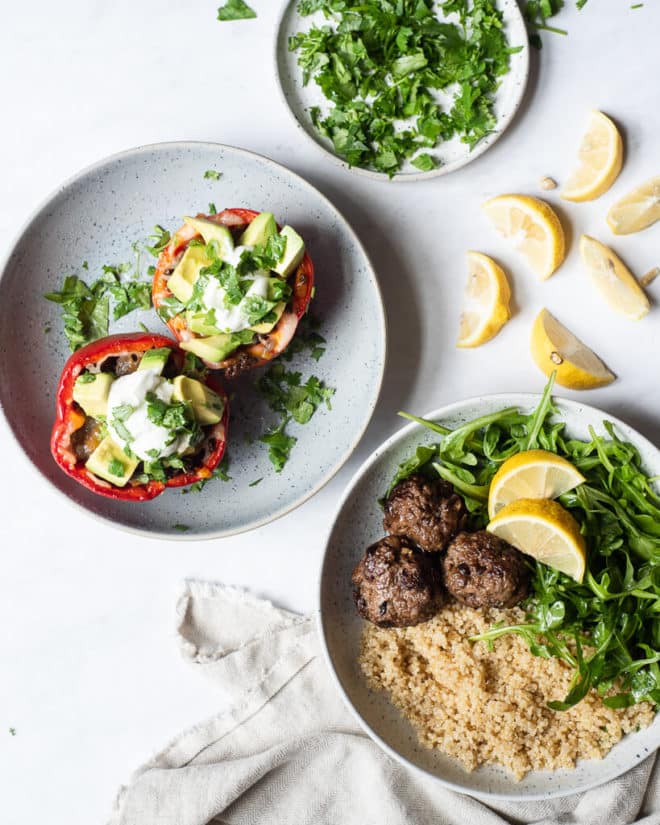 I'm so thrilled to continue talking about this dinner series concept! In my new book, Cook Once Dinner Fix, I show you how to create a delicious and healthy dinner, then transform it into an entirely different dish on another night. These recipes are designed to help you be as efficient as possible in the kitchen without sacrificing flavor. In this Dinner Fix-style series, I focus on ground beef as our main ingredient!
Our Two Ground Beef Dinner Recipes
These ground beef recipes are really delicious and while ground beef is certainly the star of the show here, this dinner series is really fun and different in that I get to walk you through how you can apply this concept to a side (quinoa, in this case) too.
Dinner #1: Greek-Inspired Beef Meatballs with Quinoa and Arugula Salad
This meal is so fun! The bold, Greek-inspired flavors in the beef meatballs really bring something different to the table, and because of these bold flavors, simple sides like quinoa and arugula add a little something special to the finished meal without overwhelming the plate.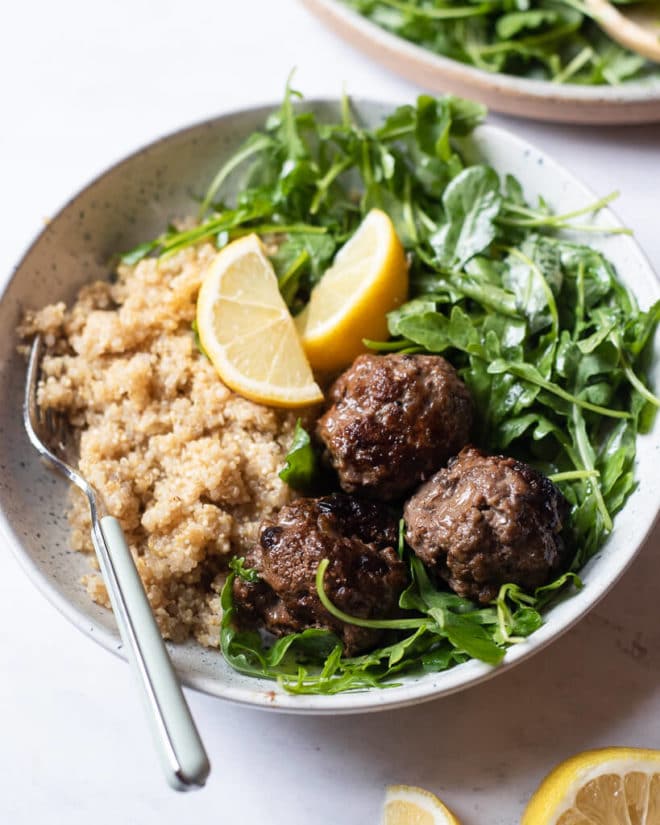 Dinner #2: Tex Mex Stuffed Peppers
Meal 2 brings another really bold flavor profile to the table with Tex Mex Stuffed Peppers. These peppers are REALLY delicious. They're loaded with quinoa (planned-for leftovers from last night's meal) and Tex Mex ground beef and then topped with cheese.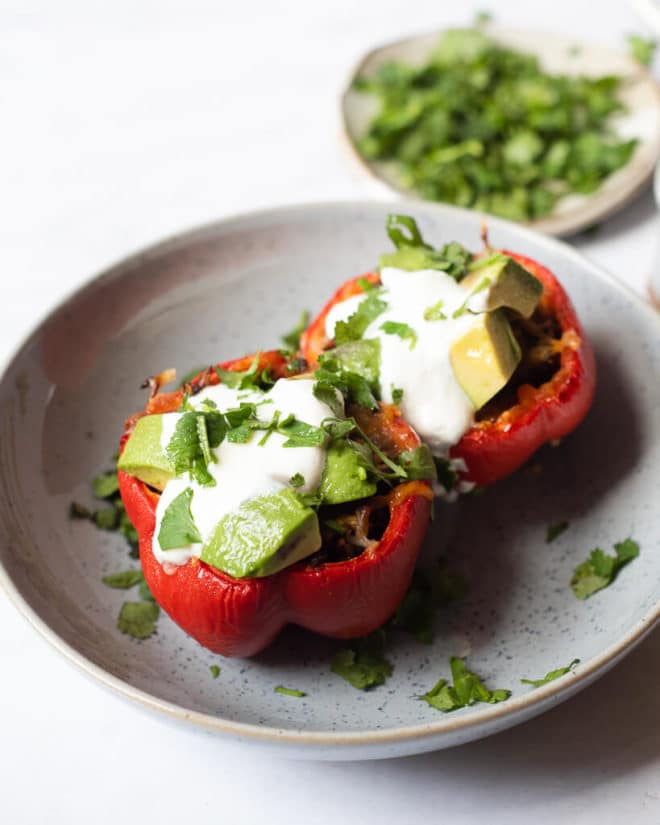 Combined Shopping Lists
Here's everything you'll need to make these two dinners:
Meat
Produce
Arugula, 4 cups
Avocado, 1
Bell peppers, red, 4
Cilantro, 1 bunch
Lemons, 2
Lime, 1
Onion, yellow, ½
Dairy/Refrigerated
Butter, 2 tablespoons *may use EVOO instead
Mexican-blend cheese, shredded, ½ cup
Sour cream, for serving (optional)
Pantry
Extra virgin olive oil, 3 tablespoons
Quinoa, white, 2 cups
Raisins, ⅓ cup
Seasonings
Cayenne pepper, pinch (optional)
Cinnamon, ground, ½ teaspoon
Coriander, ground, ½ teaspoon
Taco seasoning (store-bought or homemade), 1 tablespoon
How These Recipes Work Together
While each of these recipes have their own home on the website, this article is meant to show how you can make the two work together in the most efficient way possible.
Meal One
Here's what you'll do for the Greek-Inspired Meatball meal:
Cook the meatball meal according to the recipe here. Instead of purchasing 1½ pounds of ground beef, you'll purchase 3 pounds so that you have leftovers for meal 2, and instead of cooking 1 cup of quinoa for meal 1, you'll cook 2 cups and reserve half for meal 2.
Meal Two
Here's what you'll do for the Tex Mex Stuffed Peppers:
Cook the peppers according to the instructions here. Skip the step that calls for cooking the quinoa, though, since you did that last night!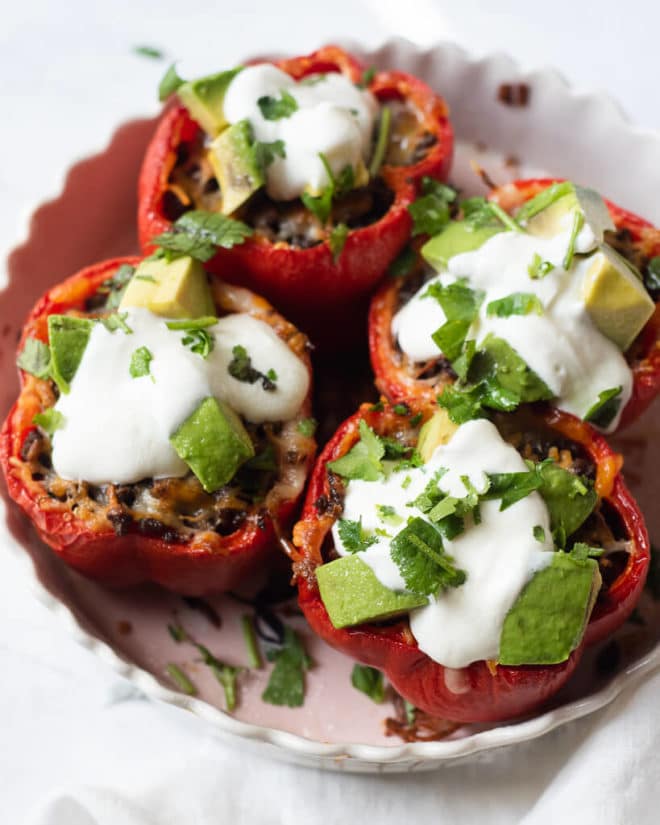 There you go: two really delicious, flavorful meals made as efficiently as possible through strategic planning.
How to Make these Recipes as Separate Meals
If you'd rather enjoy these meals independently of one another, find the Greek-Inspired Meatball Meal HERE and the Tex Mex Stuffed Peppers HERE.
If this method piques your interest, you can find 60 more dinner series (120 dinners + a bunch of side dishes!) in my book, Cook Once Dinner Fix, coming out on September 14, 2021. Learn more about the book + pre-order it HERE.