Today we're showing you how to make two dinners using pork tenderloin. The first meal is a delicious slow cooker teriyaki pork tenderloin, and for the second meal, you'll turn the leftovers into pork chili verde!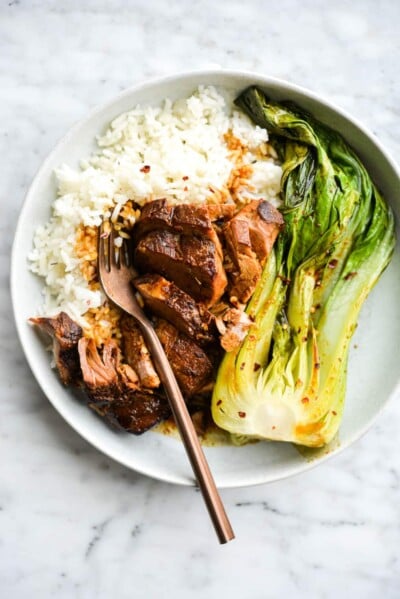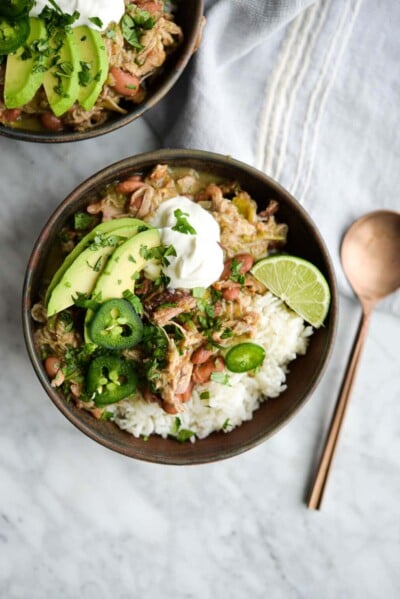 I'm so excited to introduce you to this dinner series concept today! In my new book, Cook Once Dinner Fix, I show you how to create a delicious and healthy dinner, then transform it into an entirely different dish the next night. These recipes are designed to help you be as efficient as possible in the kitchen without sacrificing flavor. In this first series, we'll be focusing on pork tenderloin as our main ingredient!
Our Two Pork Tenderloin Dinner Recipes
My goal for Cook Once Dinner Fix was to make sure that even though you're using the same main ingredient in two dishes (in this case, pork tenderloin), you feel just as excited to eat the second meal as the first one. One way to make this happen? Bold flavors! That's exactly what I've done with the two dishes you'll see below.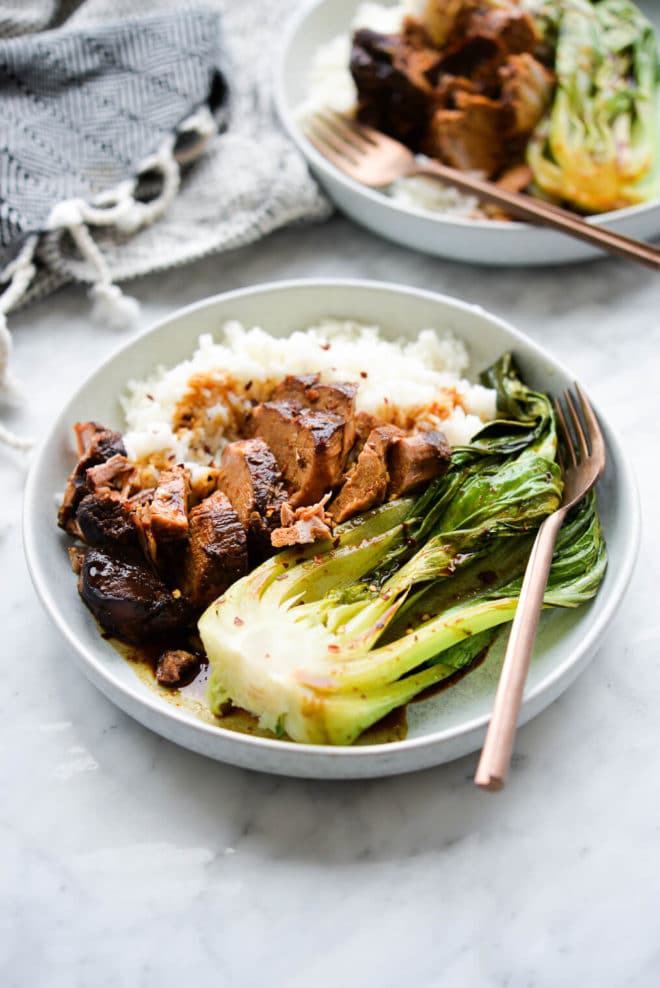 Dinner #1: Slow Cooker Teriyaki Pork Tenderloin
For meal one, you'll make this delicious slow cooker teriyaki pork tenderloin. It cooks until it's ultra-tender and sliceable alongside baby bok choy. Once it's done cooking, you'll thicken up the sauce a bit, if you like, then serve it over white rice. Both the leftover pork and rice will be used again for the second meal!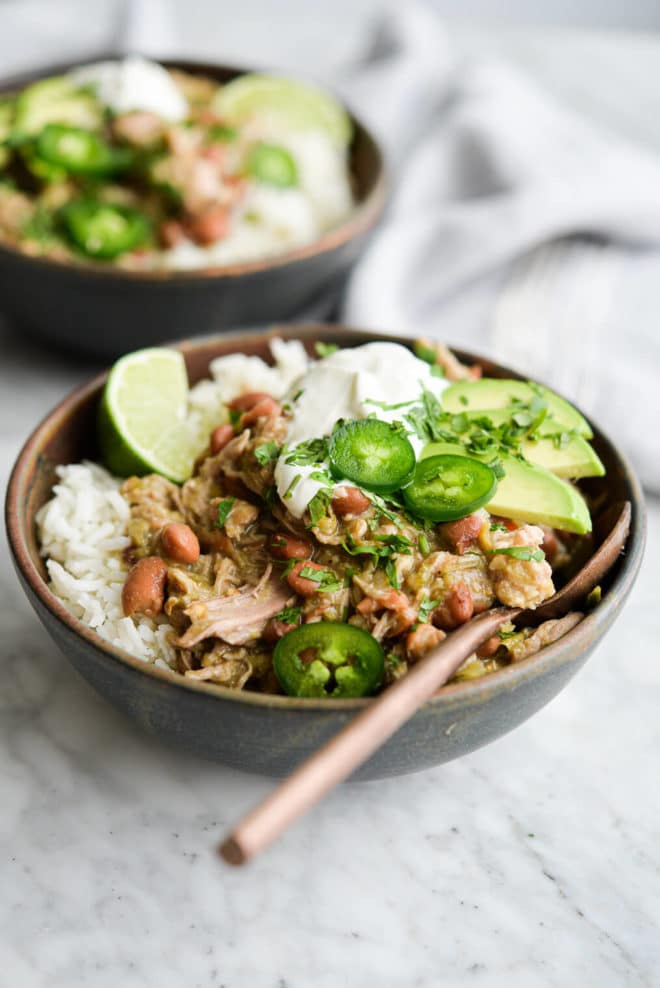 Dinner #2: Pork Chili Verde
When you're ready to enjoy meal 2, you'll throw together this delicious chili verde! Since the pork is already cooked, this dinner comes together in no time. You'll quickly chop an onion and a bit of garlic, add everything to the pot, let it heat up for about 15 minutes, then serve it over rice. 
Shopping List
Here's what you'll need to make these dishes:
Meat:
2 pork tenderloins (about 2-2 ½ pounds total)
Dairy:
Sour cream, ¼ cup (optional)
Produce:
Baby bok choy, 1 pound
Cilantro, fresh, ¼ cup (optional)
Garlic, 5 cloves
Ginger, 1 inch fresh, or 1 teaspoon ground
Jalapeno pepper, 1 (optional)
Limes, 5
Onion, white, 1
Pantry:
Coconut aminos, 1 8-ounce bottle
Coconut milk, full-fat, 1 13.5-ounce can
Green chiles, 1 4-ounce can
Pinto beans, 2 15.5-ounce cans
Salsa verde, 1 16-ounce jar
Sesame oil, 1 tablespoon
White rice, 2 cups
Seasonings:
Cumin, ground, 1 teaspoon
Red pepper flakes, 1 teaspoon
How These Recipes Work Together
While we've listed out the individual recipes in each article, below we'll show you how to make them work together!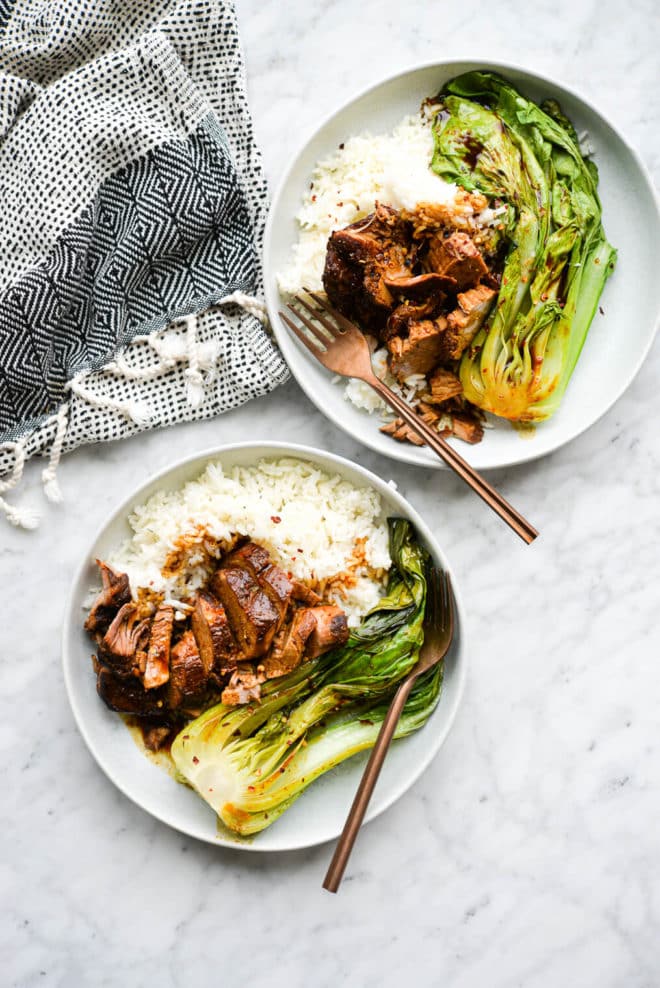 Meal One 
Here's what you'll do to make the first meal:
Cook both of the pork tenderloins in the slow cooker following the recipe here. There's no need to change the time!
Instead of cooking one cup of white rice, you'll cook two cups total.
Before you serve your meal, set aside 1 of the pork tenderloins and 3 cups of the cooked white rice for tomorrow's dinner. I personally like to go ahead and shred the pork tenderloin on the first night, but if you're in a hurry you can do it tomorrow!
Meal Two
Here's what you'll do to make the second meal:
Shred the pork tenderloin if you haven't already.
Make the chili verde according to the instructions here. Instead of cooking the pork, you'll just need to saute the onion and garlic, then add the cooked pork and other ingredients to the pot. After about 15 minutes it'll be fully warmed through and ready to eat!
While the chili verde is cooking, reheat the white rice. You can either put it in a pot on the stove over medium-low heat for about 5 minutes, or microwave it for around 90 seconds. If you have any clumps in the rice, you can mix in about a tablespoon of water and reheat a bit more until you're able to break up the clumps.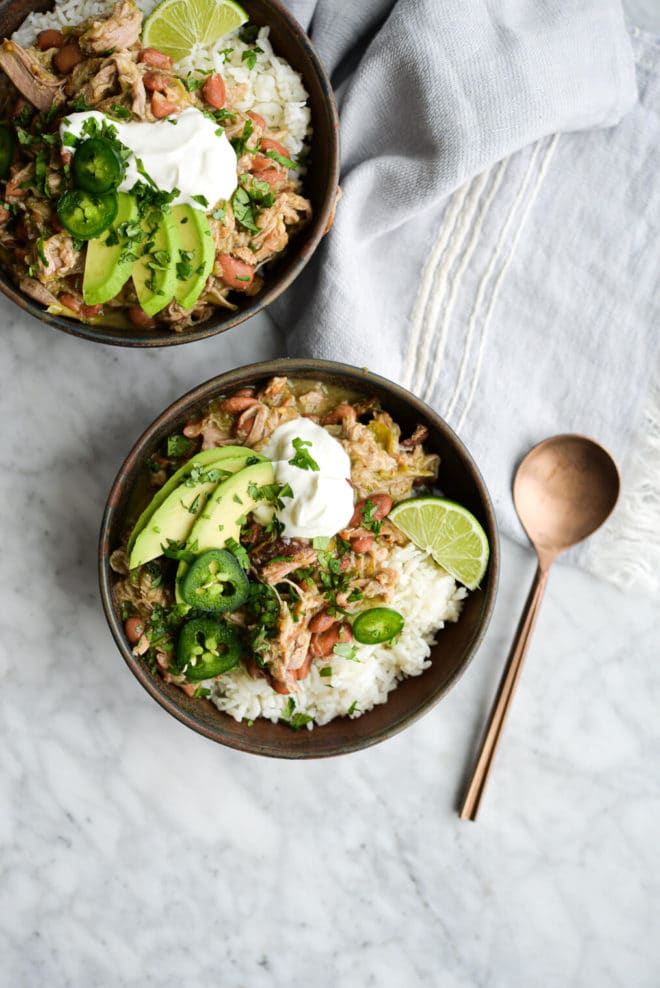 That's it! With this method, you'll have a mostly hands-off dinner on night one, then dinner ready in under 30 minutes on night two. 
How to Make these Recipes as Separate Meals
If you'd rather make these meals independent of one another (as opposed to in a dinner-series format), that's great too! They're both incredibly delicious. Find the Teriyaki Pork Tenderloin HERE and the Pork Chili Verde HERE.
If you like this method, you can find 60 more dinner series (that's 120 recipes!) in my book Cook Once Dinner Fix coming out this fall on September 14, 2021. You can find out more about the book and pre-order HERE.