Today, I'm showing you the easiest way to make two dinners using shrimp! For meal 1, you'll make the easiest/most-flavorful shrimp boil. Then, for meal 2, you'll transform the planned-for leftover shrimp into some light and refreshing shrimp rolls.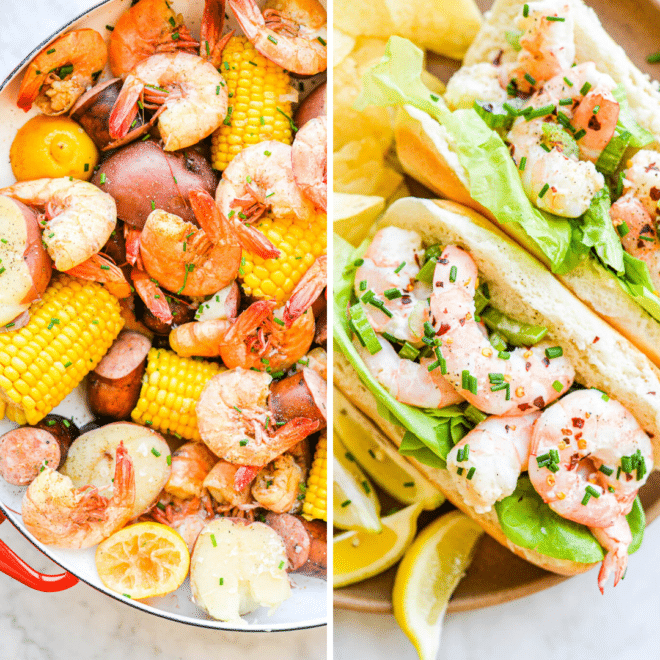 I'm REALLY excited to introduce you to this dinner series concept! In my new book, Cook Once Dinner Fix, I show you how to create a delicious and healthy dinner, then transform it into an entirely different dish on another night. These recipes are designed to help you be as efficient as possible in the kitchen without sacrificing flavor. In this first series, I focus on shrimp as our main ingredient!
Our Two Shrimp Dinner Recipes
I am especially proud of this dinner series because finding a way to incorporate seafood into a Cook Once-style approach was a riddle. While "leftover seafood" doesn't have a great ring to it, I do have some tricks up my sleeve that can help you have a fresh meal AND get ahead on prep for the next. In this case, you'll enjoy a fresh shrimp boil on one night, then when you're ready for the next meal, you'll turn that already-cooked shrimp into really delicious shrimp rolls.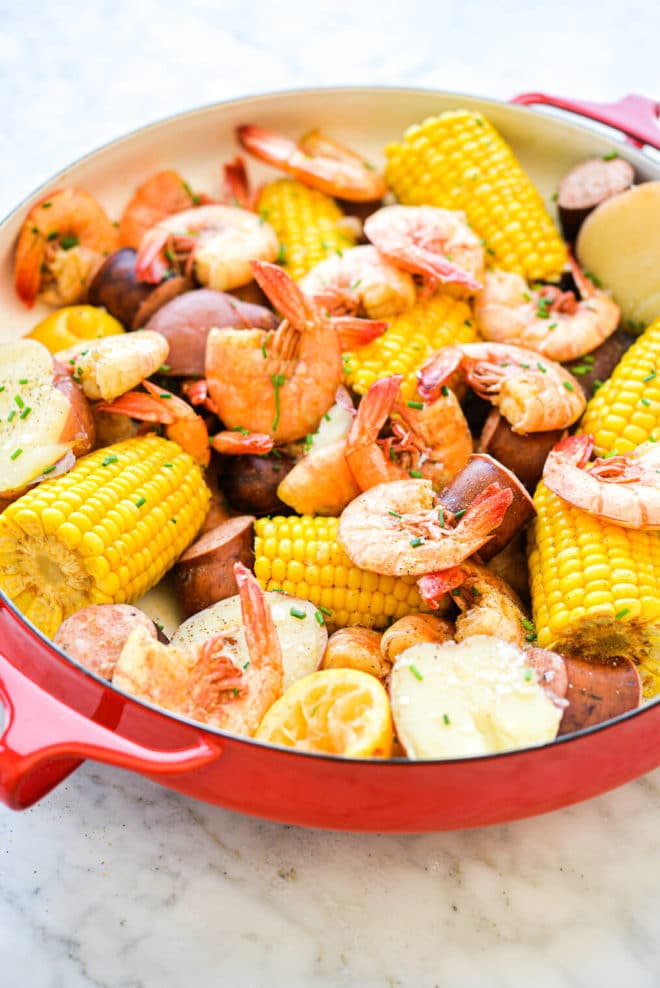 Dinner #1: Shrimp Boil
Let's talk about this shrimp boil for a second. Complete with shrimp, andouille sausage, corn, potatoes, and lots of flavor boosters, it's an incredibly EASY one-pot meal that will really knock your socks off. This meal is best enjoyed family-style (set the platter in the middle of the table + let everyone grab what they want). Before digging in, though, you'll grab ½ of the cooked shrimp to reserve for the 2nd meal!
Dinner #2: Shrimp Rolls
Just when you thought seafood leftovers were something to be avoided, these shrimp rolls happen. Y'all. These are SO GOOD! The entire Fed and Fit team came over (after I snapped this photo) for a "taste" and then, all of the rolls vanished. Half of the cooked shrimp from yesterday's shrimp boil has been chilling in the refrigerator overnight, and it is officially ready to be mixed with mayo, lemon juice, celery, garlic, and a few spices. Stuff that luscious chilled shrimp filling into a roll to be enjoyed next to your favorite crunchy, salty potato chips (or, at least, that's how I served it!).
Combined Shopping List
Here's everything you'll need to make these two dinners:
Meat
Andouille sausage, 12 ounces
Shrimp, large, shell-on, 3 pounds
Produce
Butter lettuce, 1 head (optional)
Celery, 2 stalks
Chives, 1 bunch
Corn, 4 ears
Garlic, 11 cloves
Lemons, 6
Onion, red, 1
Red potatoes, 3 pounds
Pantry
Mayo, 2 tablespoons
Rolls or hot dog buns, 4
Seasonings
Cracked black pepper, to taste
Old Bay seasoning (or another Cajun seasoning of choice), ¼ cup
Red pepper flakes, to taste
Sea salt, ¼ teaspoon
How These Recipes Work Together
While I've given each of these recipes their own home on the website to show how they can be made independently of one another, this is how you'll make the two work together in the most efficient way possible.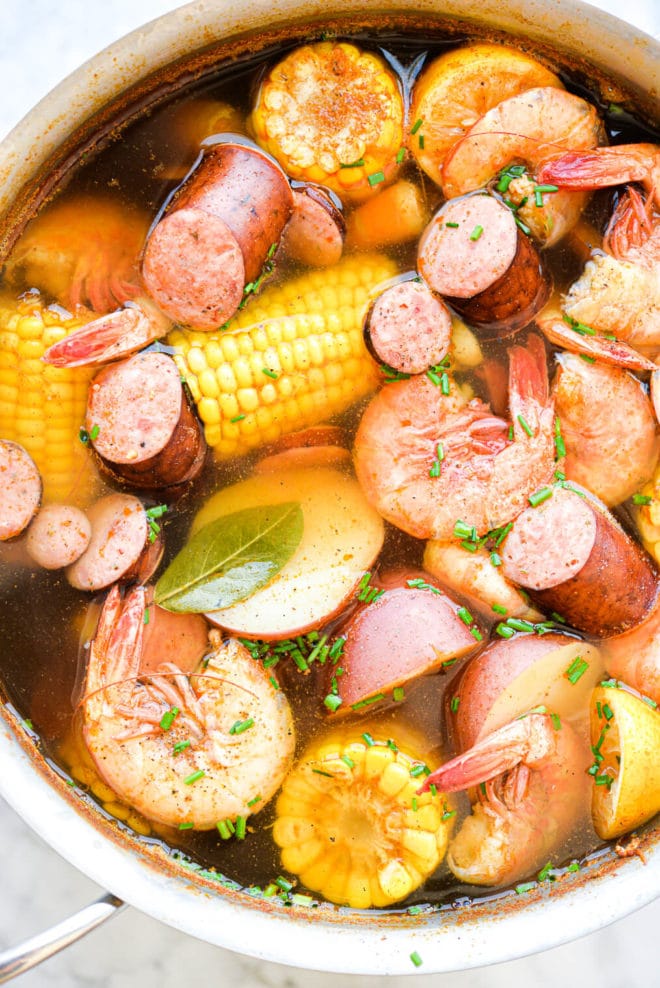 Meal One
Here's what you'll do for the first dinner, the Shrimp Boil:
Cook the shrimp boil according to the recipe here, but instead of 2 pounds of shrimp, you'll use 3 pounds of shrimp.
Before serving the shrimp boil, set aside a little less than ½ of the shrimp (just eyeball it!) in an airtight container for tomorrow's dinner. Feel free to peel the shrimp at this time, or save that for tomorrow night — whichever works better for your schedule.
Meal Two
Here's what you'll do for the second dinner, the Shrimp Rolls:
Peel the leftover shrimp if you haven't already.
Make the shrimp rolls according to the instructions here. Just skip the directions for cooking the shrimp, since yours are already ready to go!
There you have it! Do all of your cooking on day one (which still happens to be pretty minimal) + then make dinner in less than 15 minutes for the 2nd meal.
How to Make these Recipes as Separate Meals
If you'd rather enjoy these meals independently of one another, find the Shrimp Rolls HERE and the Shrimp Boil HERE.

If this method piques your interest, you can find 60 more dinner series (120 dinners + a bunch of side dishes!) in my book, Cook Once Dinner Fix, coming out on September 14, 2021. Learn more about the book + pre-order it HERE.