Made with cream cheese, cacao butter, and fresh raspberries, these white chocolate raspberry cheesecake fat bombs are the perfect low carb dessert to satisfy your sweet cravings!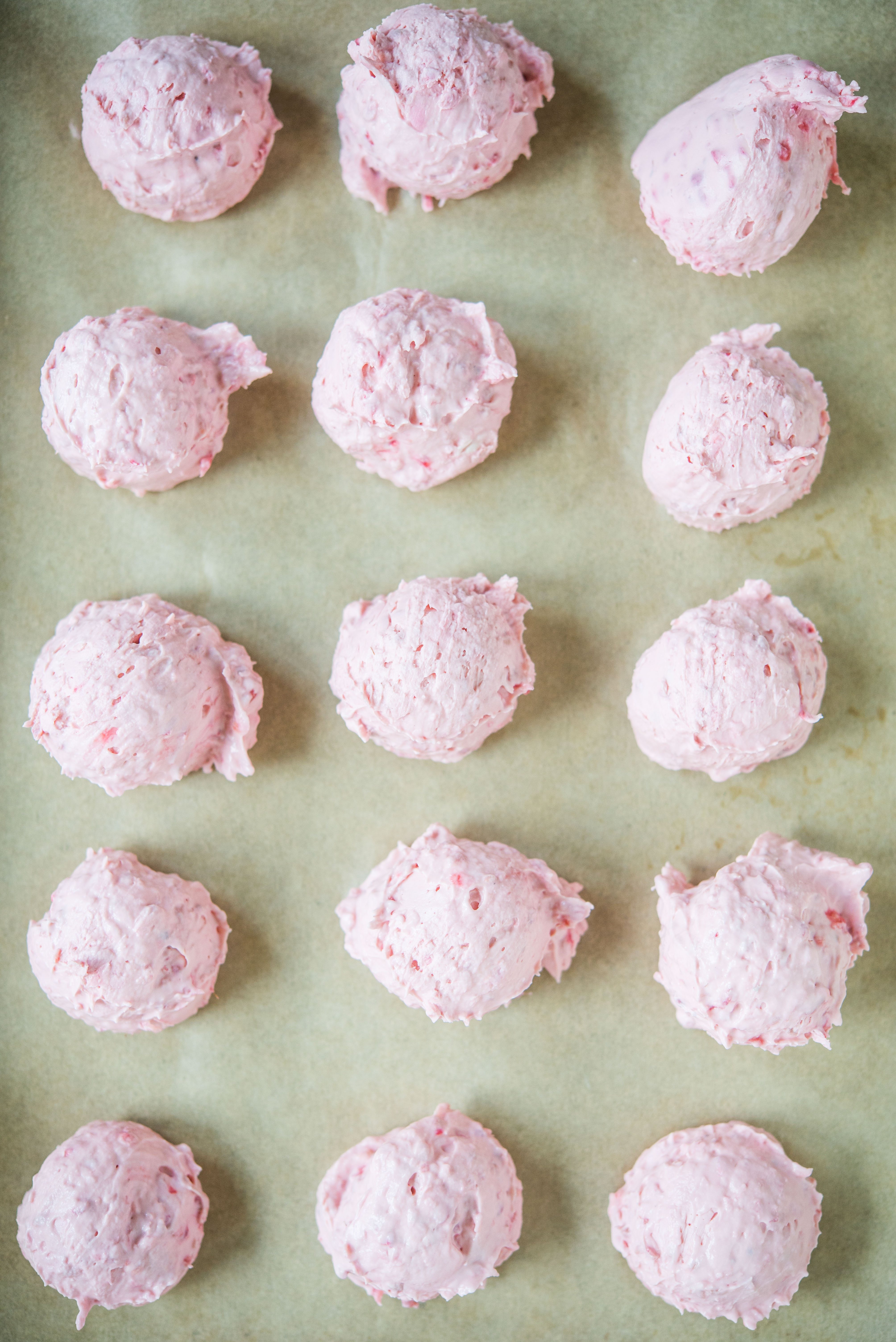 When we started thinking on a fat bomb recipe, we knew we could get behind one with cream cheese as the main component. And since we love a good cheesecake, a white chocolate raspberry flavor was a no-brainer. These cheesecake fat bombs are perfect for keeping on hand to quell your sweet cravings without added sugar and are sure to keep you full and satisfied!
What are fat bombs?
Fat bombs were originally created for those on low-carb, high-fat ketogenic diets as a tasty snack that would help satisfy hunger between meals and serve as an easy way to meet daily fat intake goals. They are similar in concept to salted chocolate peanut butter energy balls – quick bites filled with energy-boosting ingredients that will help tide you over to your next meal. However, whereas energy balls are often made from a base of nuts, dates, and sometimes oats, fat bombs are low-carb and made from sources of fat like coconut oil, cream cheese, butter, and nut butter that harden as they cool.
When you are on a keto diet, your body switches from using carbohydrates as its main source of fuel to using fats, which provide a longer, slower-burning source of energy. These cheesecake fat bombs can be a great way to increase your fat intake on a ketogenic diet and save you from an energy slump. Even if you aren't on a low-carb diet though, these fat bombs are a wonderful option if you're trying to stay away from sugar but still craving something sweet. The fat in the bombs will help satiate your cravings so you'll be satisfied after just one or two!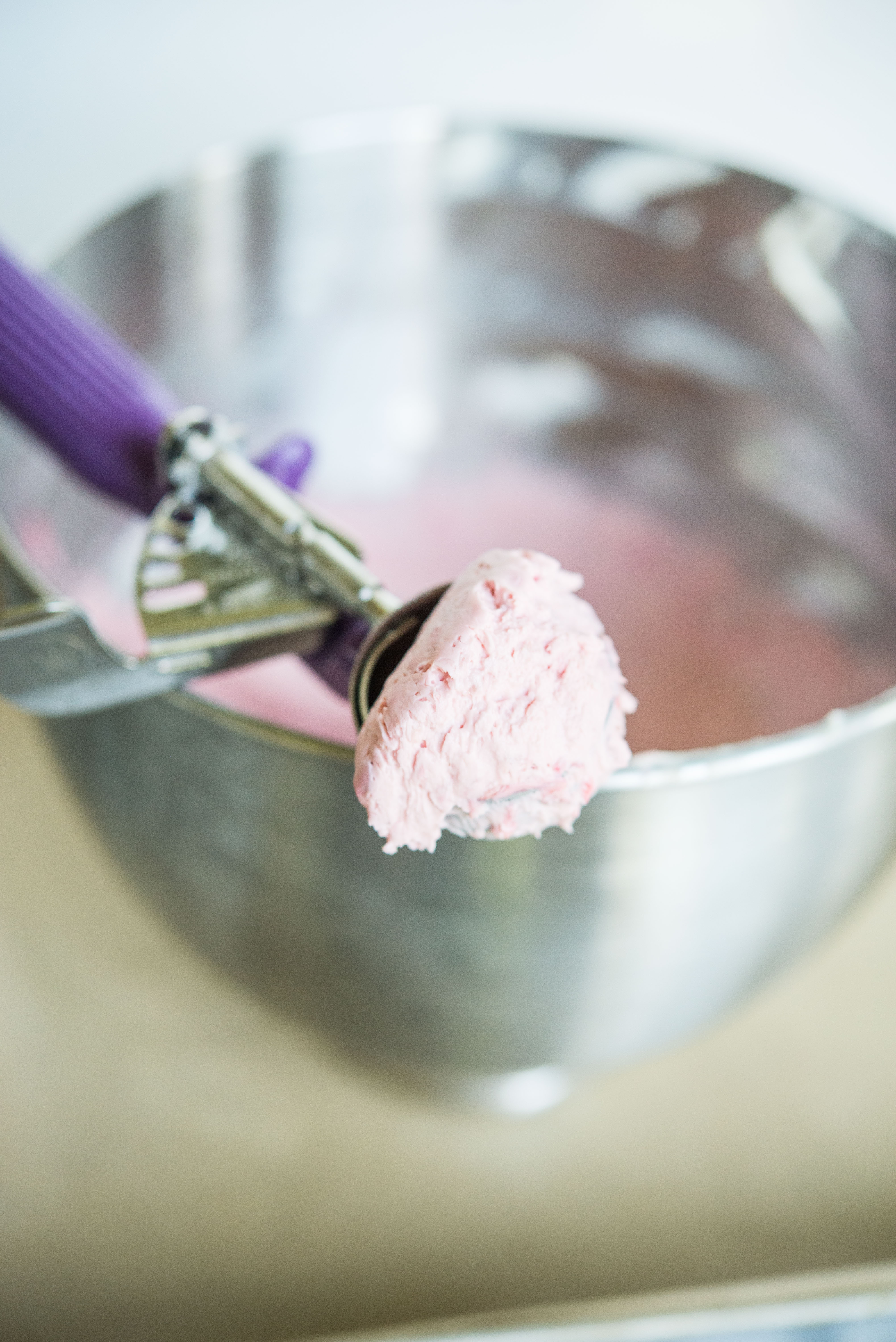 Ingredients
Here's everything you'll need to make these white chocolate raspberry cheesecake fat bombs:
Cream Cheese – it wouldn't be cheesecake without cream cheese, after all! Cream cheese serves as the base of this recipe and helps provide a delicious richness to the fat bombs.
Cacao Butter – cacao butter both gives these fat bombs their white chocolate flavor and helps them solidify.
Raspberries – you'll need one pint of fresh raspberries. Berries are lower in sugar and lend just enough sweetness to this recipe.
Stevia – we chose liquid stevia as the sweetener for these fat bombs.
Vanilla Extract – a touch of vanilla extract rounds out the flavor for these fat bombs!
How to Make Cheesecake Fat Bombs
To make the fat bombs, all you need to do is crush the raspberries, then mix everything together! You'll then refrigerate the mixture for a few hours, and once it firms up you can scoop it into 1 1/2 inch balls. From there, you can eat them immediately and store the rest in the refrigerator for later use for up to one week. If you won't be able to eat them in time, you can also freeze these for up to 3 months!
Can these be made dairy-free?
Yes! If you'd like to make these fat bombs dairy-free, you can substitute an equal amount of Kite Hill almond cream cheese instead.
Where can I find cacao butter?
You can grab cacao butter on Amazon or at your local health foods store. Cacao butter is a must-have in this recipe because it solidifies the ingredients.
Can I use something other than Stevia?
If you don't enjoy stevia, we recommend substituting 1/4 cup powdered erythritol in its place.
White Chocolate Raspberry Cheesecake Fat Bombs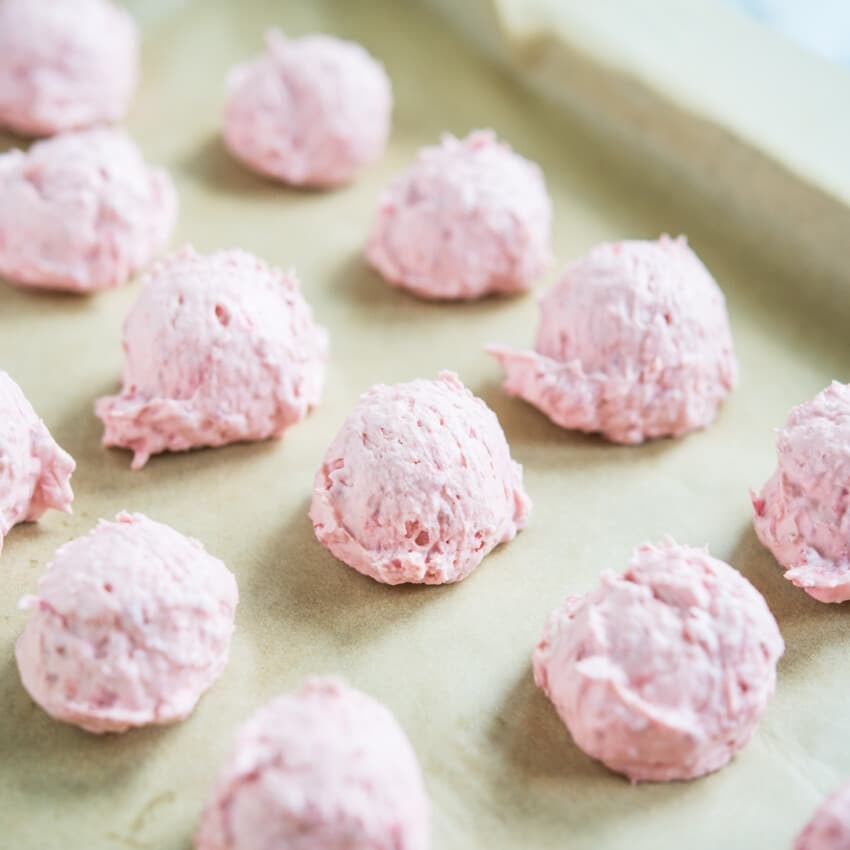 These white chocolate raspberry fat bombs are the perfect low carb treat to satisfy your sweet tooth!
Instructions
Place the raspberries in a large bowl and beat with an electric mixer until muddled.

Add the cream cheese, cacao butter, vanilla, and stevia and beat until smooth. Place the mixture in the refrigerator for 2-4 hours, until set.

Scoop the mixture into 2-inch balls, then store in the refrigerator for up to one week.
Nutrition
Serving:
2
fat bombs
|
Calories:
123
kcal
|
Carbohydrates:
2
g
|
Protein:
1
g
|
Fat:
13
g
|
Saturated Fat:
9
g
|
Polyunsaturated Fat:
0.4
g
|
Monounsaturated Fat:
2
g
|
Cholesterol:
15
mg
|
Sodium:
48
mg
|
Potassium:
37
mg
|
Fiber:
1
g
|
Sugar:
1
g
|
Vitamin A:
207
IU
|
Vitamin C:
3
mg
|
Calcium:
18
mg
|
Iron:
0.1
mg