Chicken is one of the most versatile proteins ever, and these 5 totally different and totally easy chicken marinades prove that!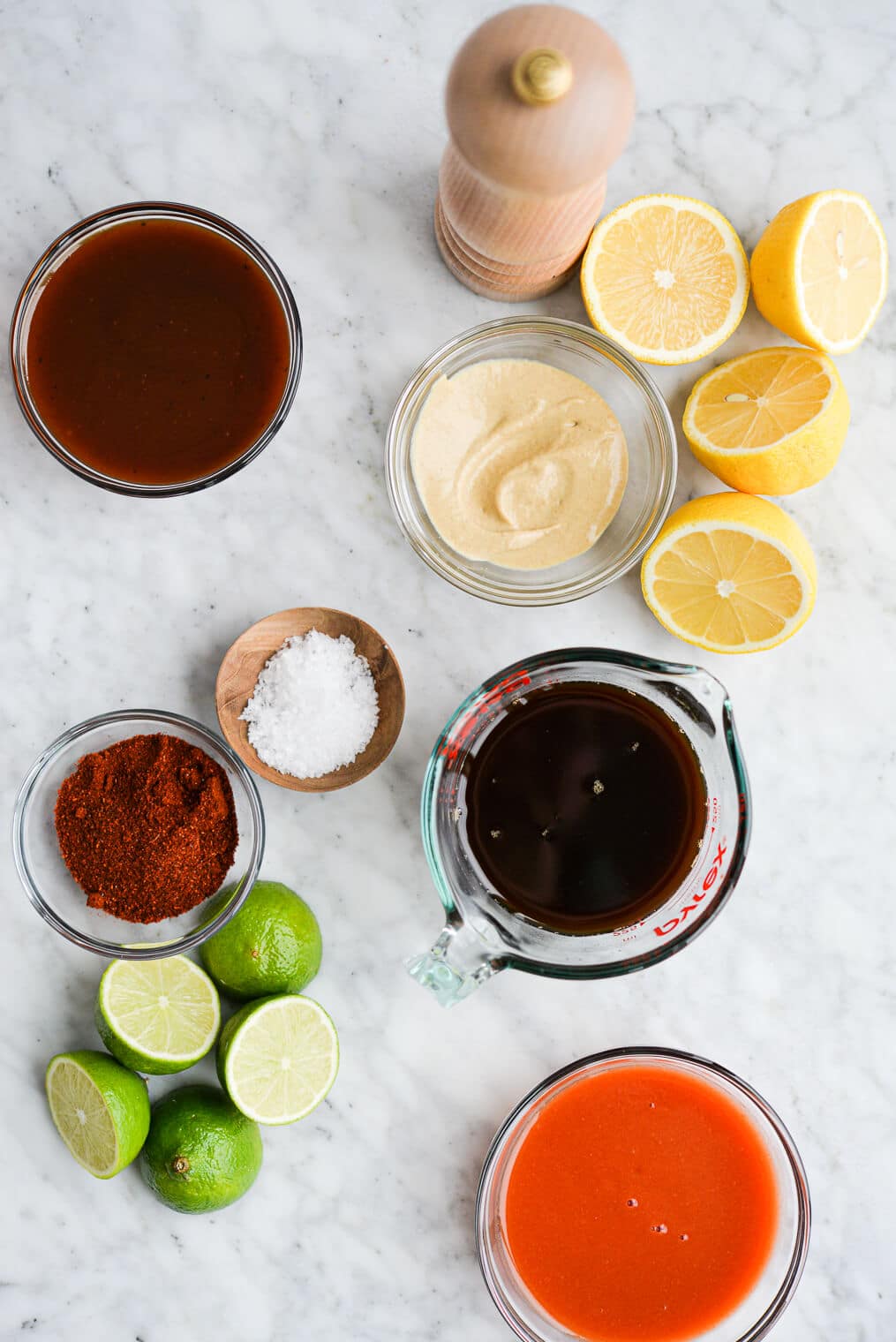 I'm going to state a (maybe) slightly unpopular opinion…are you ready? Plain chicken is not good. There, I said it! Chicken is one of *the* most versatile proteins out there; it can be jazzed up in SO many ways, so for me, keeping it plain is just not an option!
With these 5 marinades, you can fix chicken for dinner every night of the week, never get sick of it, and never feel like you're eating the same thing over and over again. Score!
What is a chicken marinade?
A chicken marinade is essentially just a combination of liquid and seasonings that your chicken sits in for a period of time in order to become super tender, juicy, and flavorful when cooked!
Why marinate your chicken?
Marinating your chicken allows the flavors to really infuse the chicken so that once cooked, you've got a really yummy, flavorful piece of meat (as opposed to bland and boring). Marinating chicken also really locks moisture in, so your chicken comes out juicy every single time!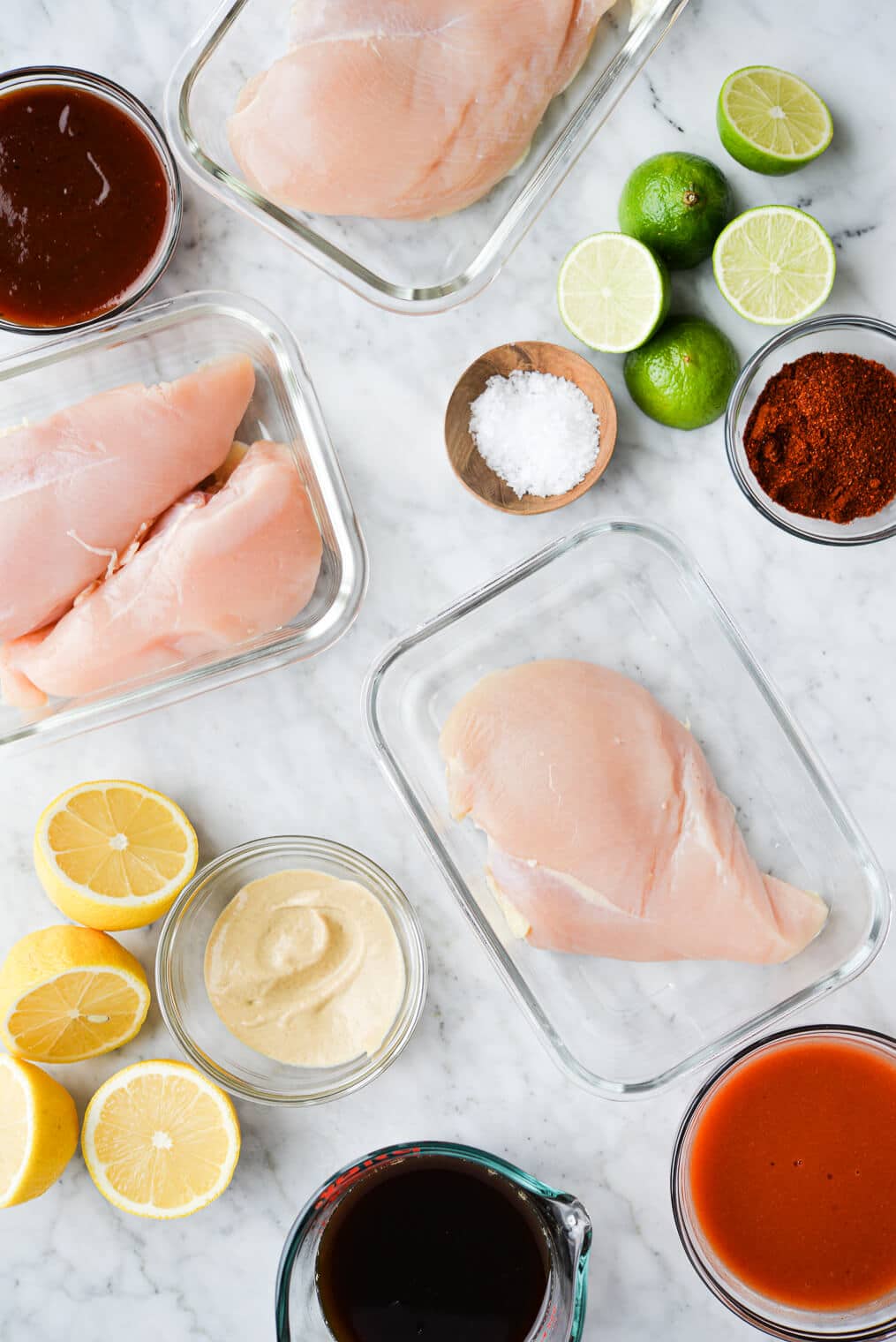 How to Marinate Chicken
For these easy marinade recipes, you'll simply whisk together all of the marinade ingredients in a small bowl, then combine the marinade with the raw chicken in either a bag or large bowl, seal or cover it, and then let it sit in the refrigerator for at least 30 minutes (or up to 24 hours)!
How much marinade do I need for 1 pound of chicken?
The marinades below make enough for about 1 pound of chicken! You'll need about 1/2 cup of marinade per pound of chicken, so simply scale the recipes accordingly depending on your needs.
The Marinades
With these 5 really easy (like 4-ingredients or less easy) marinades, introducing variety and flavor to your weekly dinner routine will be *so* easy! While most marinades include oil, we decided to leave it out because oil can actually interfere with the transfer of flavor to the chicken. If you bake or grill your chicken, though, we recommend drizzling a bit of extra-virgin olive oil over the top of the chicken beforehand.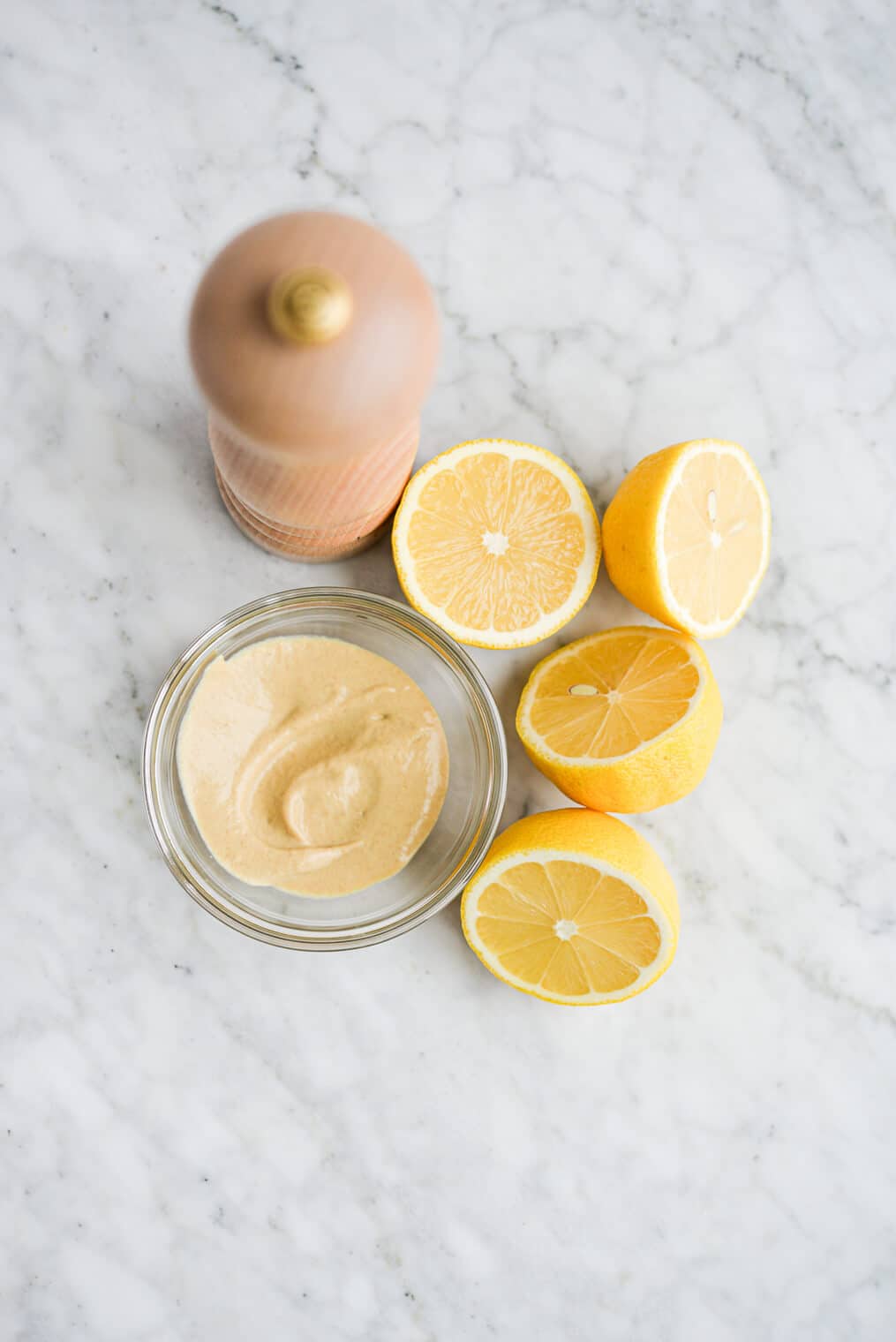 Lemon Dijon
What you need: lemon juice + dijon mustard
What it tastes like: this simple marinade is light, bright, and tangy!
What to serve with it: serving lemon dijon chicken with a simple side of rice (white or brown) and a green veggie like broccoli or green beans would be really delicious!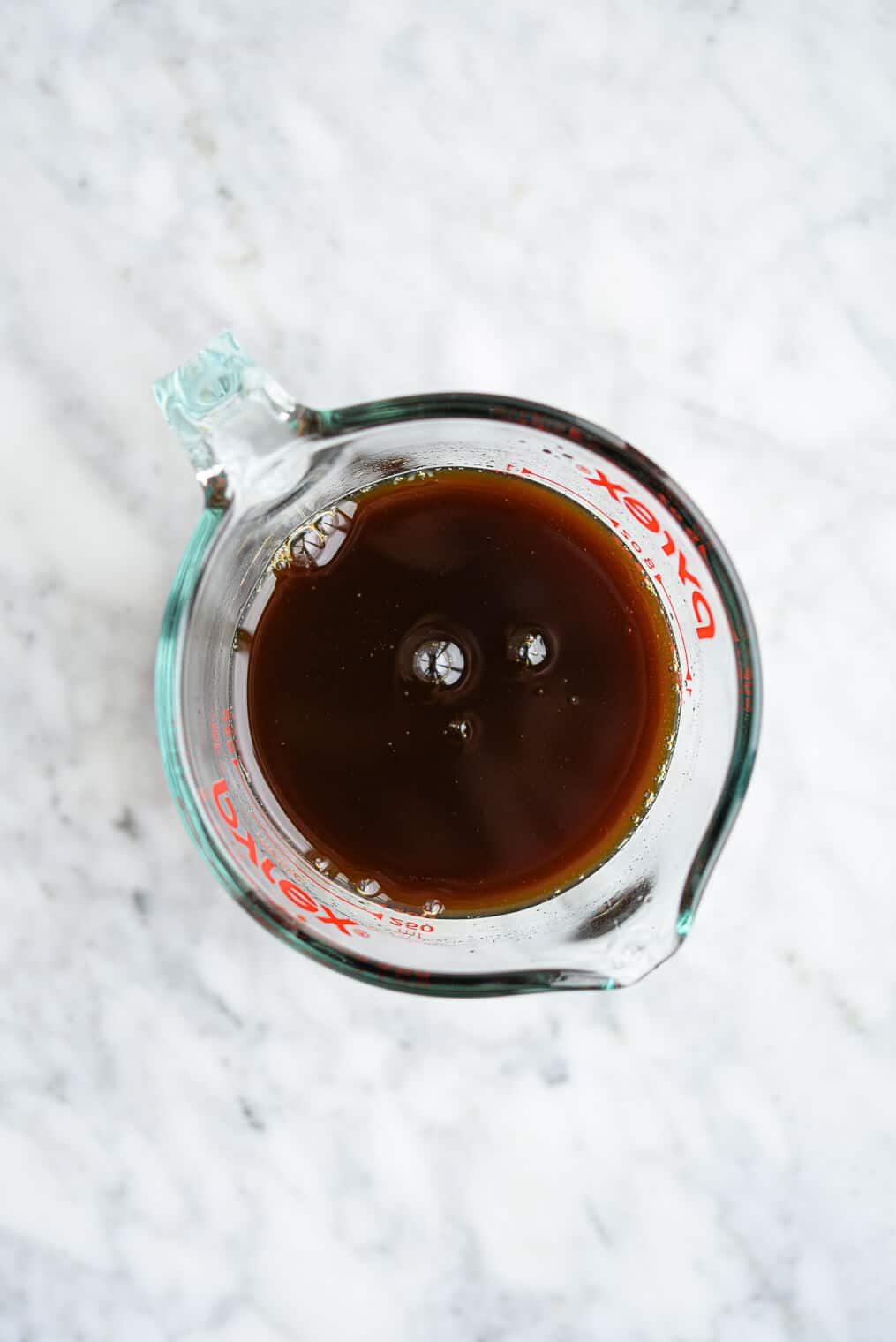 Teriyaki
What you need: fish sauce + coconut aminos + honey
What it tastes like: YUM! Is that a good indication of taste?! This teriyaki marinade is slightly sweet, slightly salty, and REALLY yummy.
What to serve with it: this one would be really yummy with white rice and broccoli or bok choy.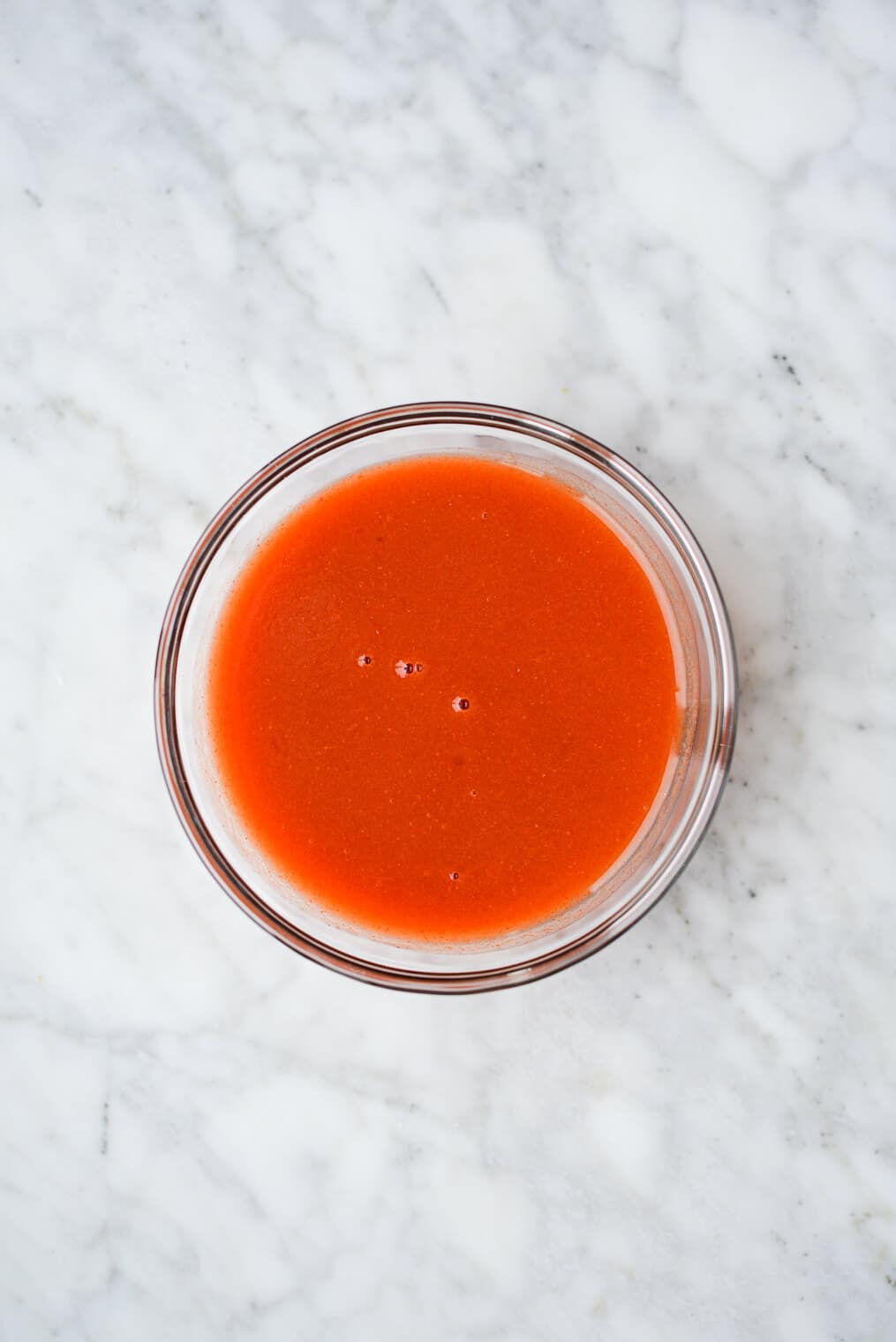 Buffalo
What you need: Frank's Red Hot Sauce + lemon
What it tastes like: buffalo wings! This marinade is spicy and delicious. If you love buffalo wings, you'll love this marinade.
What to serve with it: we love the idea of chopping up your cooked buffalo marinated chicken and stuffing it into a baked white or sweet potato! A drizzle of ranch on top would be really good too.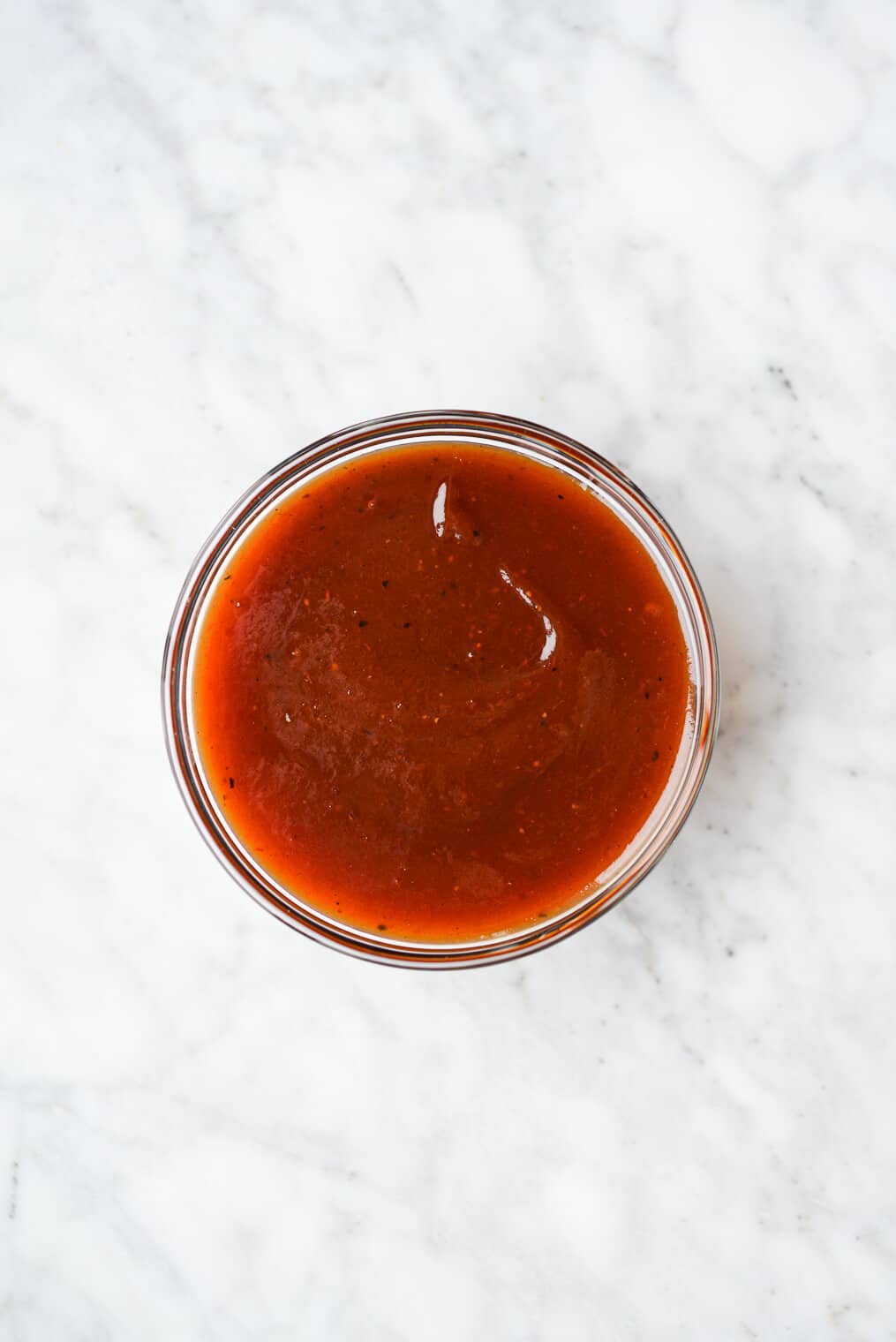 BBQ
What you need: your favorite store-bought BBQ sauce (OR if you'd like to make your own, you can follow our

homemade BBQ sauce recipe

)

What it tastes like: BBQ chicken! How sweet/spicy your finished product is will depend on the BBQ sauce that you chose. The really great thing about using BBQ sauce as a marinade is that it gets nice and caramelized when cooked.
What to serve with it: this one would also be great stuffed into a baked potato or served alongside potato salad and a simple green salad.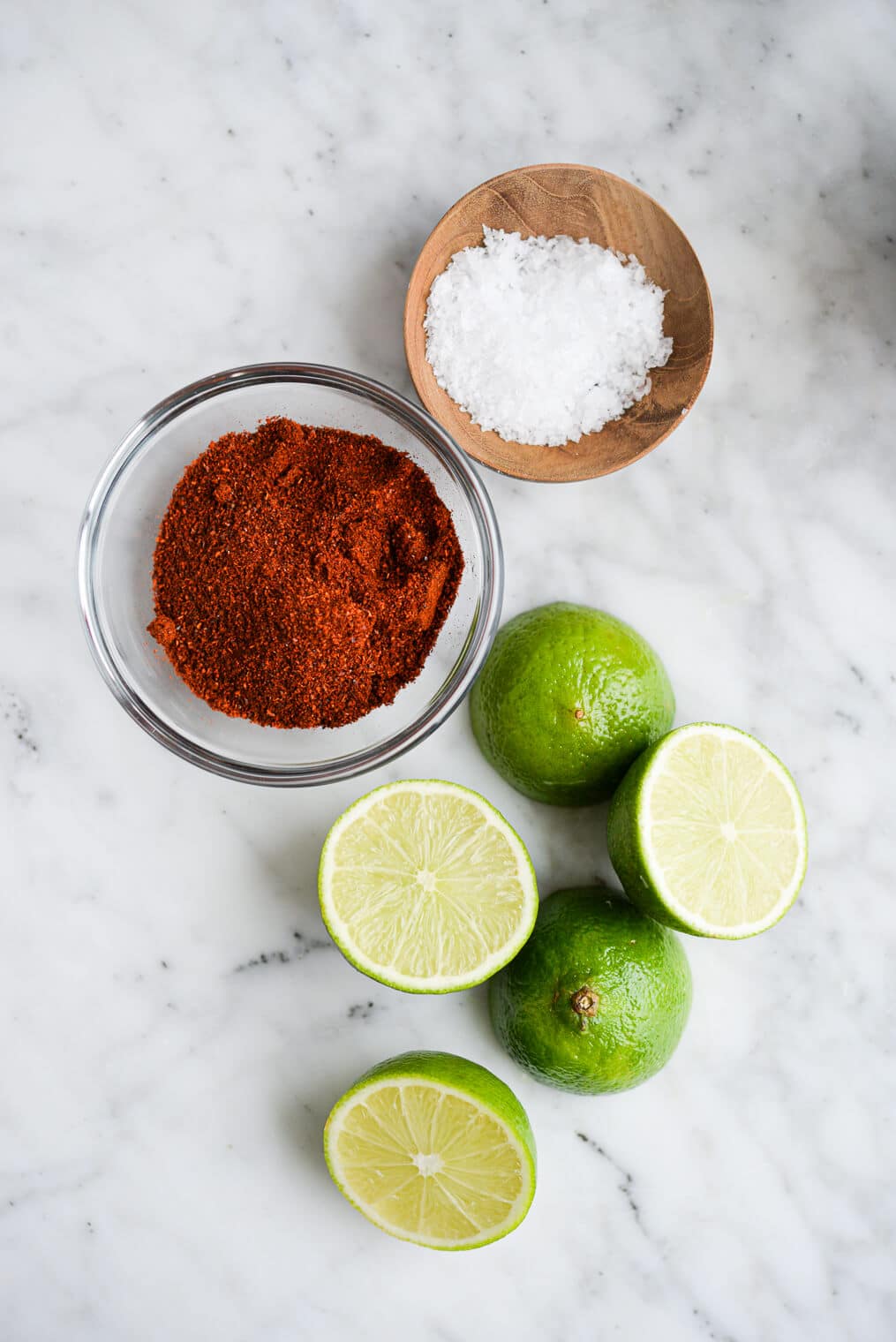 Taco
What you need: chili powder + lime juice + salt
What it tastes like: a little bit spicy from the chili powder and nice and tangy from the lime.
What to serve with it: we love the idea of making chicken tacos or burrito bowls (rice, black beans, peppers, onions, cilantro, sour cream, etc.) with this simple marinated chicken.
How to Cook Marinated Chicken
Once it's marinated, there are several ways to go about cooking your chicken. You can…
Bake it – head to our perfect oven-baked chicken breast recipe for full instructions on how to get juicy, flavorful baked chicken.
Pan sear it

– add a tablespoon of olive oil to a skillet over medium heat and cook for 7-10 minutes per side.

Grill it

– grill the chicken over high heat for 4-5 minutes per side, until the chicken is browned and has reached an internal temperature of 160°F, or the juices run clear.

Pressure cook it

– Add the chicken and any additional marinade in your bag/bowl to the Instant Pot along with a ½ cup of chicken broth, then cook on high pressure for 15 minutes.

Slow cook it

– add the chicken and any additional marinade to the slow cooker, then cook on low for 6-8 hours or high for 3-4 hours.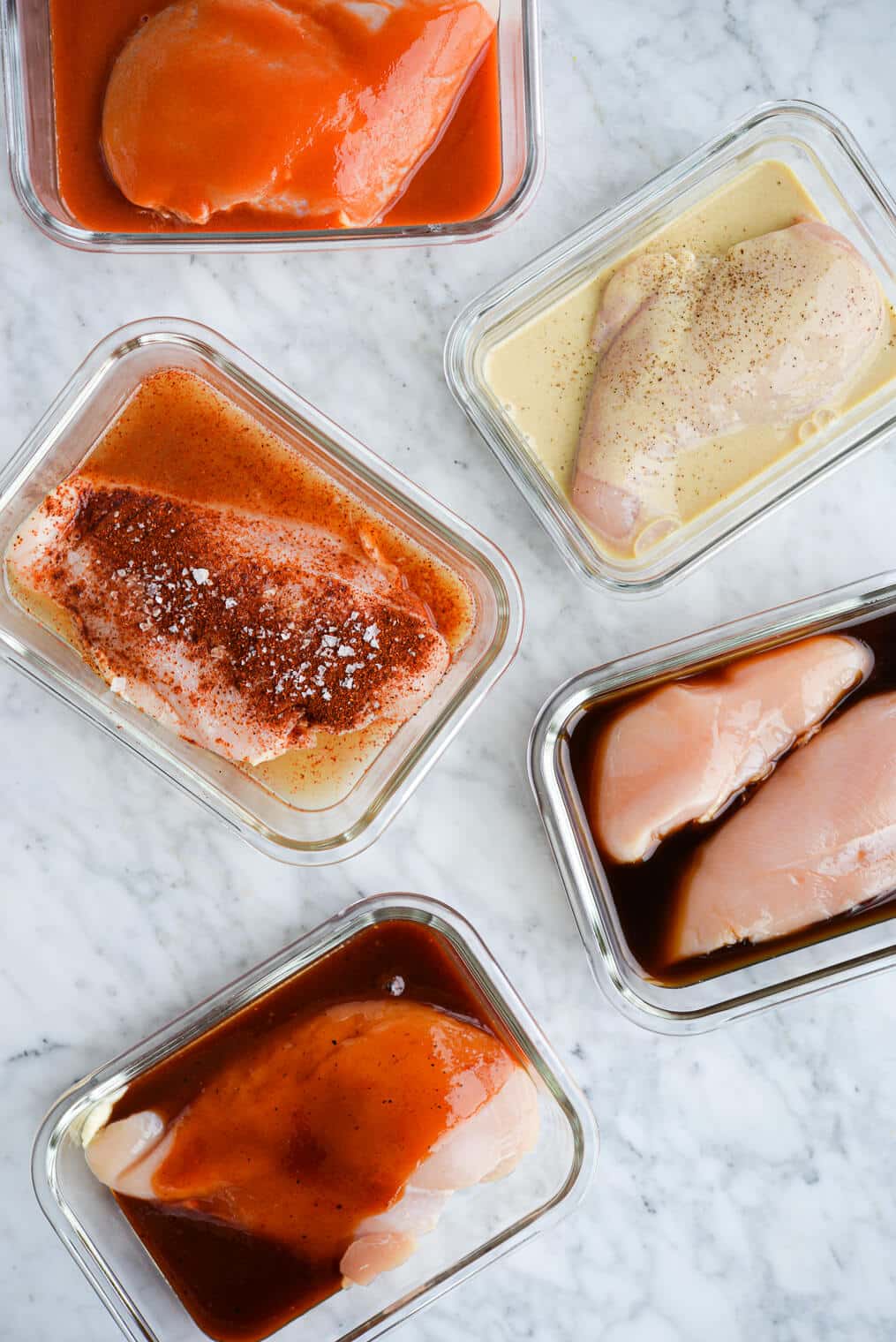 How to Freeze Marinated Chicken
We love freezing marinated chicken! Simply place the chicken and marinade in a gallon-size Ziplock, squeeze out as much air as you can, then place it in the freezer. When you're ready to cook it, defrost it overnight in a bowl of water in the refrigerator, or in the sink in cold water for about two hours. The chicken will marinate as it freezes and then defrosts, making it super tender and flavorful! Once it is fully defrosted, cook it according to your desired method.
More Favorite Marinade Recipes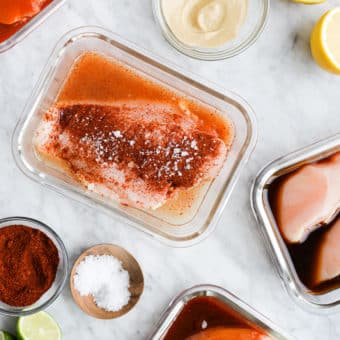 These 5 easy chicken marinades give you flavor-packed chicken with just a few ingredients!
Ingredients
Lemon Dijon
Juice of 2 large lemons

2

tablespoons

dijon mustard
1/2 cup store-bought BBQ sauce, or 1/2 cup of this homemade BBQ sauce:
8

ounces

tomato sauce

2

tablespoons

tomato paste

2

tablespoons

apple cider vinegar

2

tablespoons

molasses

2

tablespoons

coconut aminos

1

teaspoon

garlic powder

1

teaspoon

onion powder

1

teaspoon

chili powder

1/4

teaspoon

sea salt

1/4

teaspoon

ground black pepper
Taco
3

limes

juiced

1

tablespoon

chili powder

1

teaspoon

sea salt
Instructions
Whisk together the ingredients for your chosen marinade until fully combined.

Pour the marinade into a large bowl or gallon-sized Ziplock bag, then add the chicken breast and toss to coat. Each marinade makes enough for about 2 large chicken breasts or about 1 pound of chicken.

Seal the bag or cover the bowl that the chicken is marinating in, then refrigerate for at least 30 minutes, up to overnight. The longer you let the chicken marinate, the more flavor it will have.
Recipe Notes
Nutrition is for Lemon Dijon.
Nutrition
Calories:
20
kcal
|
Carbohydrates:
4
g
|
Protein:
1
g
|
Fat:
1
g
|
Saturated Fat:
0.1
g
|
Polyunsaturated Fat:
0.1
g
|
Monounsaturated Fat:
0.4
g
|
Sodium:
165
mg
|
Potassium:
72
mg
|
Fiber:
1
g
|
Sugar:
1
g
|
Vitamin A:
14
IU
|
Vitamin C:
19
mg
|
Calcium:
12
mg
|
Iron:
0.3
mg